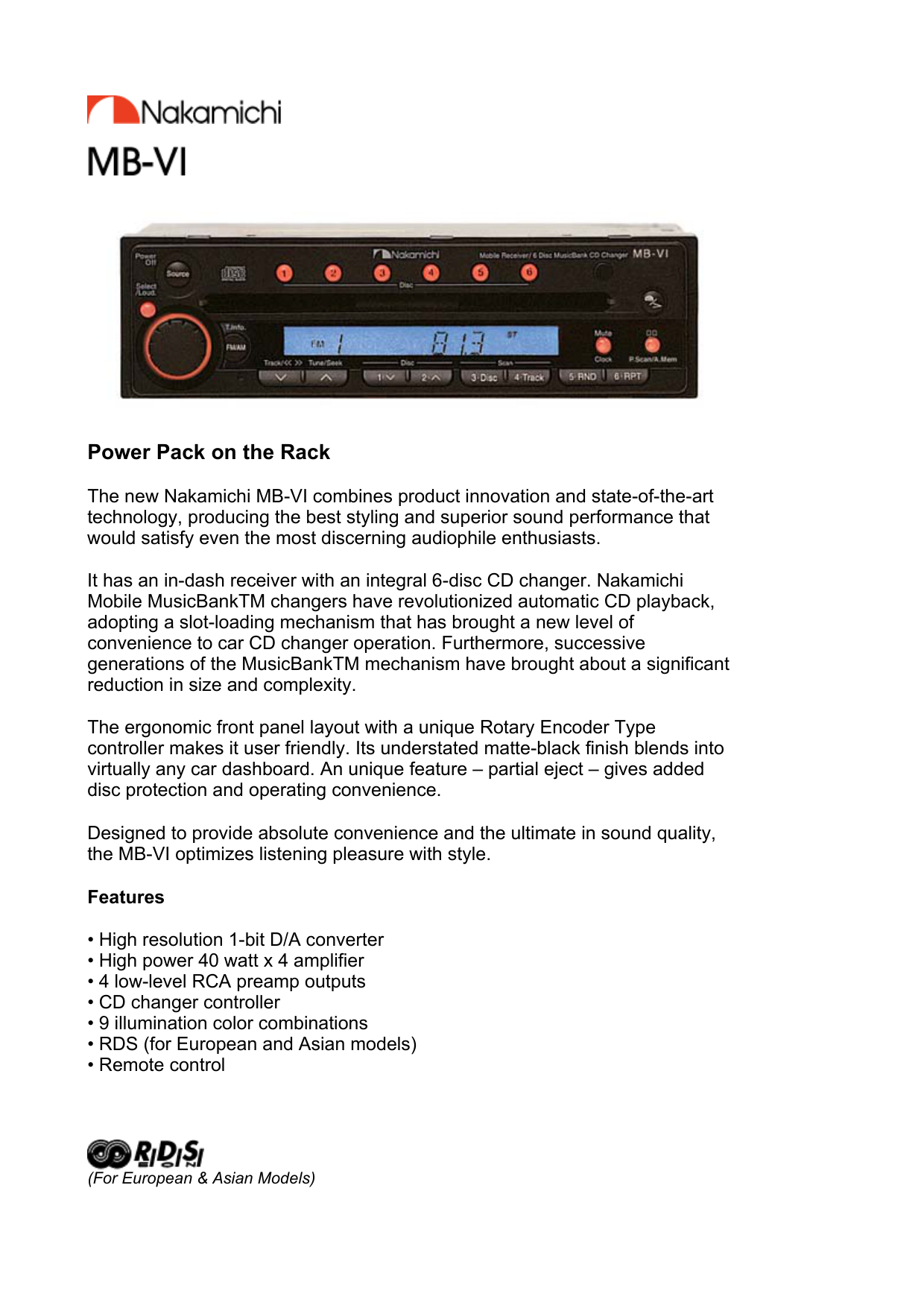 Power Pack on the Rack
The new Nakamichi MB-VI combines product innovation and state-of-the-art
technology, producing the best styling and superior sound performance that
would satisfy even the most discerning audiophile enthusiasts.
It has an in-dash receiver with an integral 6-disc CD changer. Nakamichi
Mobile MusicBankTM changers have revolutionized automatic CD playback,
adopting a slot-loading mechanism that has brought a new level of
convenience to car CD changer operation. Furthermore, successive
generations of the MusicBankTM mechanism have brought about a significant
reduction in size and complexity.
The ergonomic front panel layout with a unique Rotary Encoder Type
controller makes it user friendly. Its understated matte-black finish blends into
virtually any car dashboard. An unique feature – partial eject – gives added
disc protection and operating convenience.
Designed to provide absolute convenience and the ultimate in sound quality,
the MB-VI optimizes listening pleasure with style.
Features
• High resolution 1-bit D/A converter
• High power 40 watt x 4 amplifier
• 4 low-level RCA preamp outputs
• CD changer controller
• 9 illumination color combinations
• RDS (for European and Asian models)
• Remote control
(For European & Asian Models)
SPECIFICATIONS
Amplifier Section
Maximum Power Output
40 W x 4
Frequency Response (Pre Out)
15 - 30,000 Hz ±1 dB
Total Harmonic Distortion
0.1% (4 ohms, 1 kHz, 5 W x 4)
CDC Input Level / Impedance
0.5 V / 10 kohms
Output Level (Pre Out)
1.0 V
Tone Controls
Bass
20 Hz ±12 dB
Treble
20 kHz ±12 dB
Loudness
20 kHz ±12 dB
FM Tuner Section
Frequency Range
U.S.A.
87.5 - 107.9 MHz in 200 kHz steps
Other Area
87.5 - 108.0 MHz in 50 kHz steps
Sensitivity
10 dBf 0.9 µV / 75 ohms
Signal-to-Noise Ratio
60 dB (Mono)
Stereo Separation
35 dB (1 kHz)
Antenna Input
75 ohms (Unbalanced)
AM Tuner Section
Frequency Range
U.S.A.
530 - 1,710 kHz in 10 kHz steps
Other Area
531 - 1,602 kHz in 9 kHz steps
Sensitivity
32 dBµ
Signal-to-Noise Ratio
45 dB
CD Player Section
Changer Principle
6-Disc MusicBank™ system
System
Compact Disc Digital Audio
Error Correction
CIRC Principle
Sampling Frequency
44.1 kHz
D/A Converter Type
1-bit D/A convertor with 8-times over-sampling
digital filter
Frequency Response
5 ~ 20,000 Hz ±1 dB
Signal-to-Noise Ratio
Better than 90 dB
Dynamic Range
Better than 90 dB
Total Harmonic Distortion
0.05% (1 kHz)
General
Power Source
14.4 V DC, negative ground
(10.8 - 15.6 V allowable)
Current Consumption
7.0 A (At rated power output)
Installation Dimensions*
Without Amp Block
178 (W) x 50 (H) x 159.5 (D) mm
7 (W) x 1-15/16 (H) x 6-1/4 (D) inches
With Amp Block
178 (W) x 50 (H) x 196.7 (D) mm
7 (W) x 1-15/16 (H) x 7-1/16 (D) inches
Mass (approx.)
Main Unit
1.4 kg / 3 lbs 1 oz
Amp Block
0.2 kg / 7 oz
Remote Control Unit
Principle
Infrared pulse system
Power Supply
3 V DC (1.5 V x 2)
Dimensions*
49 (W) x 26 (H) x 110 (D) mm
1-15/16 (W) x 1 (H) x 4-5/16 (D) inches
Mass
Approx. 60 g / 2 oz (including batteries)
Specifications and product features are subjected to change without notice.
MusicBank™ is a registered trademark of Nakamichi Corporation.
*Dimensions do not include protruding parts. Height is the panel height.

* Your assessment is very important for improving the work of artificial intelligence, which forms the content of this project