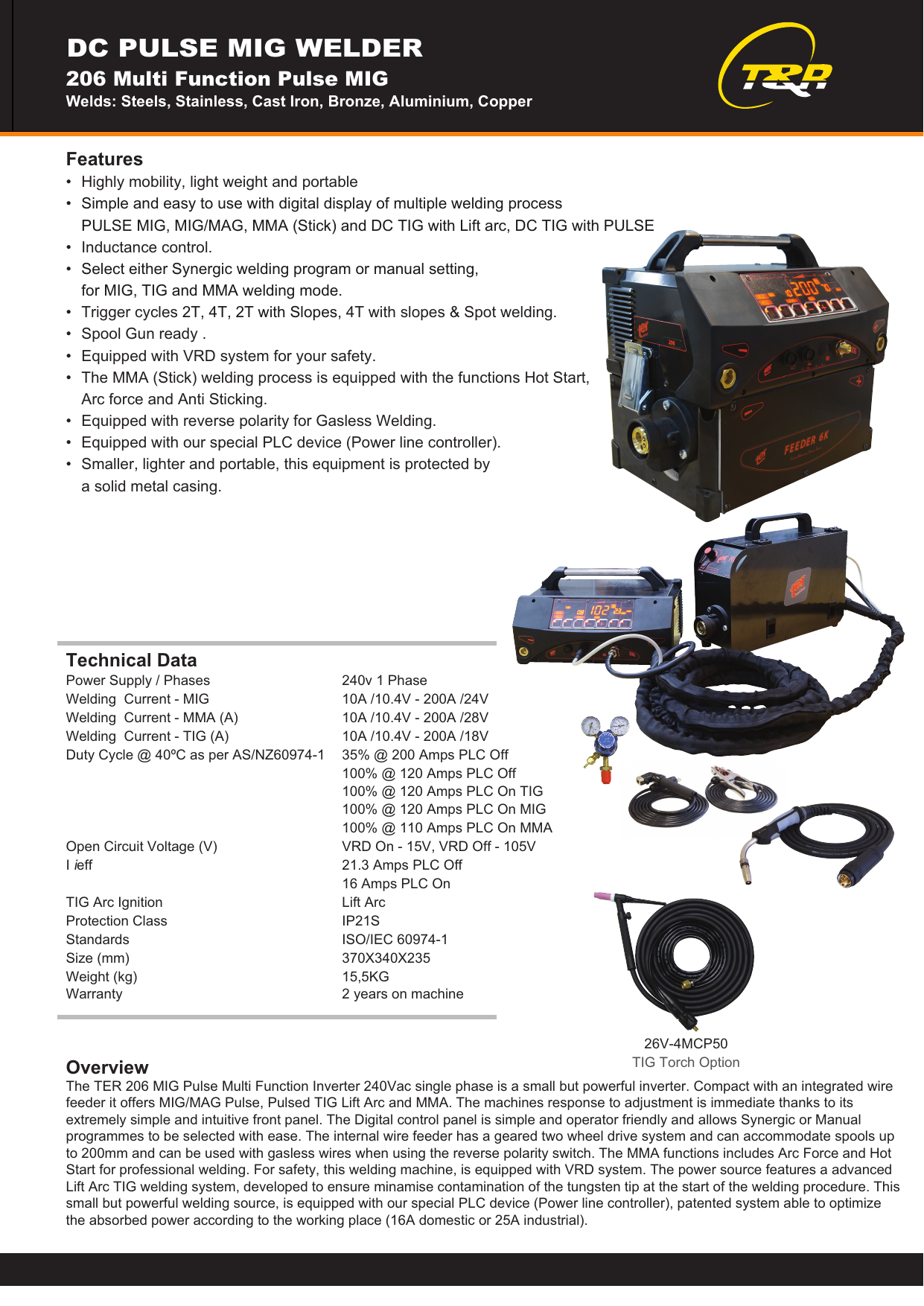 DC PULSE MIG WELDER
206 Multi Function Pulse MIG
Welds: Steels, Stainless, Cast Iron, Bronze, Aluminium, Copper
Features
• Highly mobility, light weight and portable
• Simple and easy to use with digital display of multiple welding process
PULSE MIG, MIG/MAG, MMA (Stick) and DC TIG with Lift arc, DC TIG with PULSE
• Inductance control.
• Select either Synergic welding program or manual setting,
for MIG, TIG and MMA welding mode.
• Trigger cycles 2T, 4T, 2T with Slopes, 4T with slopes & Spot welding.
• Spool Gun ready .
• Equipped with VRD system for your safety.
• The MMA (Stick) welding process is equipped with the functions Hot Start,
Arc force and Anti Sticking.
• Equipped with reverse polarity for Gasless Welding.
• Equipped with our special PLC device (Power line controller).
• Smaller, lighter and portable, this equipment is protected by
a solid metal casing.
Technical Data
Power Supply / Phases
Welding Current - MIG
Welding Current - MMA (A)
Welding Current - TIG (A)
Duty Cycle @ 40ºC as per AS/NZ60974-1
Open Circuit Voltage (V)
I ieff TIG Arc Ignition
Protection Class
Standards
Size (mm) Weight (kg) Warranty
Overview
240v 1 Phase
10A /10.4V - 200A /24V
10A /10.4V - 200A /28V
10A /10.4V - 200A /18V
35% @ 200 Amps PLC Off
100% @ 120 Amps PLC Off
100% @ 120 Amps PLC On TIG
100% @ 120 Amps PLC On MIG
100% @ 110 Amps PLC On MMA
VRD On - 15V, VRD Off - 105V
21.3 Amps PLC Off
16 Amps PLC On
Lift Arc
IP21S
ISO/IEC 60974-1
370X340X235
15,5KG
2 years on machine
26V-4MCP50
TIG Torch Option
The TER 206 MIG Pulse Multi Function Inverter 240Vac single phase is a small but powerful inverter. Compact with an integrated wire
feeder it offers MIG/MAG Pulse, Pulsed TIG Lift Arc and MMA. The machines response to adjustment is immediate thanks to its
extremely simple and intuitive front panel. The Digital control panel is simple and operator friendly and allows Synergic or Manual
programmes to be selected with ease. The internal wire feeder has a geared two wheel drive system and can accommodate spools up
to 200mm and can be used with gasless wires when using the reverse polarity switch. The MMA functions includes Arc Force and Hot
Start for professional welding. For safety, this welding machine, is equipped with VRD system. The power source features a advanced
Lift Arc TIG welding system, developed to ensure minamise contamination of the tungsten tip at the start of the welding procedure. This
small but powerful welding source, is equipped with our special PLC device (Power line controller), patented system able to optimize
the absorbed power according to the working place (16A domestic or 25A industrial).

* Your assessment is very important for improving the work of artificial intelligence, which forms the content of this project