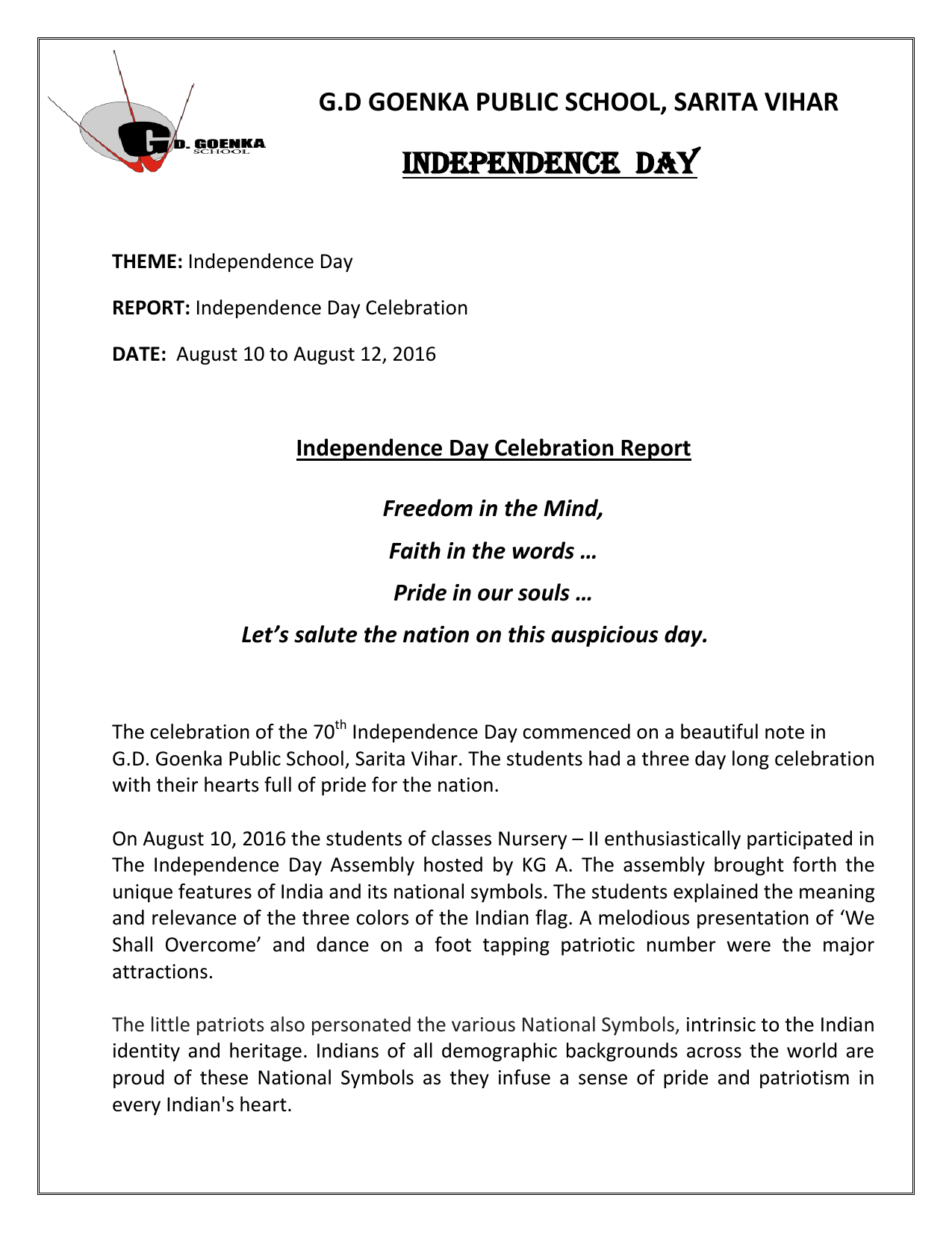 G.D GOENKA PUBLIC SCHOOL, SARITA VIHAR
independence day
THEME: Independence Day
REPORT: Independence Day Celebration
DATE: August 10 to August 12, 2016
Independence Day Celebration Report
Freedom in the Mind,
Faith in the words …
Pride in our souls …
Let's salute the nation on this auspicious day.
The celebration of the 70th Independence Day commenced on a beautiful note in
G.D. Goenka Public School, Sarita Vihar. The students had a three day long celebration
with their hearts full of pride for the nation.
On August 10, 2016 the students of classes Nursery – II enthusiastically participated in
The Independence Day Assembly hosted by KG A. The assembly brought forth the
unique features of India and its national symbols. The students explained the meaning
and relevance of the three colors of the Indian flag. A melodious presentation of 'We
Shall Overcome' and dance on a foot tapping patriotic number were the major
attractions.
The little patriots also personated the various National Symbols, intrinsic to the Indian
identity and heritage. Indians of all demographic backgrounds across the world are
proud of these National Symbols as they infuse a sense of pride and patriotism in
every Indian's heart.
The Principal Mrs. Seema Sahay addressed the assembly and shared details about
India's struggle for independence and freedom with the students and urged them to
keep the flag of the nation flying high as the citizens of tomorrow.
The students of Nursery to II also enjoyed making a Special Independence Day craft in
their classrooms and flaunted the tricolor miniature on their uniforms. The school
corridors and classrooms were innovatively adorned the colours of the nation adding
to the joy of this special festival of freedom.
On Friday, August 12, 2016 students celebrated the National Festival by eating and
sharing 'tricolured food' with their classmates. An assortment of tricoloured dishes
including sandwiches, barfi, mithai, pasta and pulao were enjoyed by the students
strengthening the feeling of patriotism further. Every student was also given a
chocolate and a tricoloured badge to commemorate the occasion.
Indeed, it was a day of elation, a day of love and respect for the country, instilling in
the Goenkans the value and reverence for the gift of freedom by the great leaders of
the country.

* Your assessment is very important for improving the work of artificial intelligence, which forms the content of this project