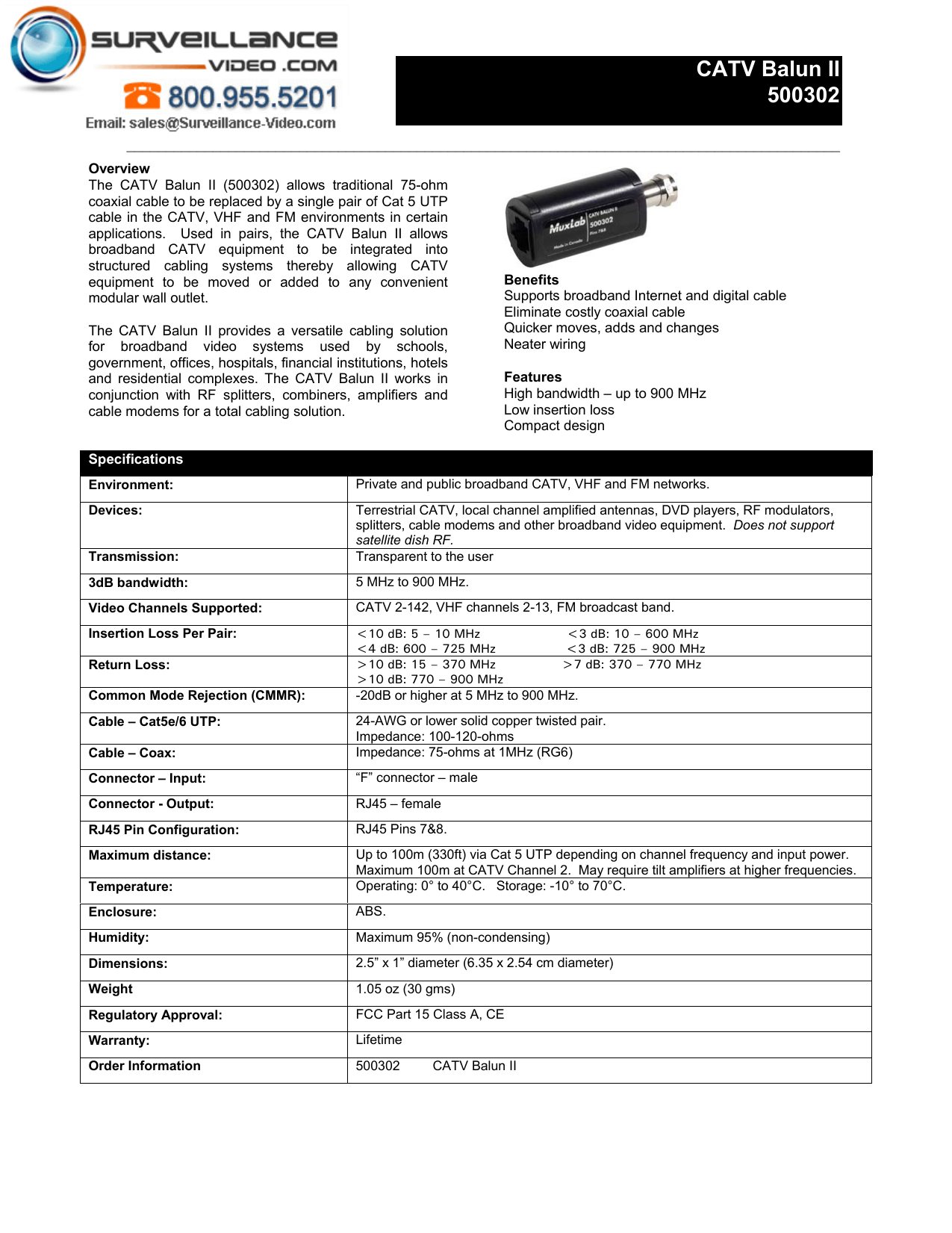 CATV Balun II
500302
___________________________________________________________________________________________
Overview
The CATV Balun II (500302) allows traditional 75-ohm
coaxial cable to be replaced by a single pair of Cat 5 UTP
cable in the CATV, VHF and FM environments in certain
applications. Used in pairs, the CATV Balun II allows
broadband CATV equipment to be integrated into
structured cabling systems thereby allowing CATV
equipment to be moved or added to any convenient
modular wall outlet.
The CATV Balun II provides a versatile cabling solution
for broadband video systems used by schools,
government, offices, hospitals, financial institutions, hotels
and residential complexes. The CATV Balun II works in
conjunction with RF splitters, combiners, amplifiers and
cable modems for a total cabling solution.
Benefits
Supports broadband Internet and digital cable
Eliminate costly coaxial cable
Quicker moves, adds and changes
Neater wiring
Features
High bandwidth – up to 900 MHz
Low insertion loss
Compact design
Specifications
Environment:
Private and public broadband CATV, VHF and FM networks.
Devices:
Transmission:
Terrestrial CATV, local channel amplified antennas, DVD players, RF modulators,
splitters, cable modems and other broadband video equipment. Does not support
satellite dish RF.
Transparent to the user
3dB bandwidth:
5 MHz to 900 MHz.
Video Channels Supported:
CATV 2-142, VHF channels 2-13, FM broadcast band.
Insertion Loss Per Pair:
<10 dB: 5 – 10 MHz
<4 dB: 600 – 725 MHz
>10 dB: 15 – 370 MHz
>10 dB: 770 – 900 MHz
Return Loss:
<3 dB: 10 – 600 MHz
<3 dB: 725 – 900 MHz
>7 dB: 370 – 770 MHz
Common Mode Rejection (CMMR):
-20dB or higher at 5 MHz to 900 MHz.
Cable – Cat5e/6 UTP:
Cable – Coax:
24-AWG or lower solid copper twisted pair.
Impedance: 100-120-ohms
Impedance: 75-ohms at 1MHz (RG6)
Connector – Input:
"F" connector – male
Connector - Output:
RJ45 – female
RJ45 Pin Configuration:
RJ45 Pins 7&8.
Maximum distance:
Temperature:
Up to 100m (330ft) via Cat 5 UTP depending on channel frequency and input power.
Maximum 100m at CATV Channel 2. May require tilt amplifiers at higher frequencies.
Operating: 0° to 40°C. Storage: -10° to 70°C.
Enclosure:
ABS.
Humidity:
Maximum 95% (non-condensing)
Dimensions:
2.5" x 1" diameter (6.35 x 2.54 cm diameter)
Weight
1.05 oz (30 gms)
Regulatory Approval:
FCC Part 15 Class A, CE
Warranty:
Lifetime
Order Information
500302
CATV Balun II
CATV Balun II
500302
______________________________________________________________________________________________
Typical Application:
In a point-to-point scenario for CATV (superband and hyperband), VHF and FM, cable lengths of up to 50 meters may
be achieved without amplification if the nominal input is about 15dB. In some applications, a "tilt" amplifier may be
required since the UTP losses are higher than coax at the higher frequencies. Linear gain compensation of up to 2025dB at 750MHz is usually adequate. Conversely, if amplification is used to compensate for losses at higher
frequencies and long distances, it may be necessary to attenuate the lower frequency, shorter distance signals to
avoid over-driving the TV monitors.

* Your assessment is very important for improving the work of artificial intelligence, which forms the content of this project