Compact and Versatile for Low Volume Labelling Solutions CX400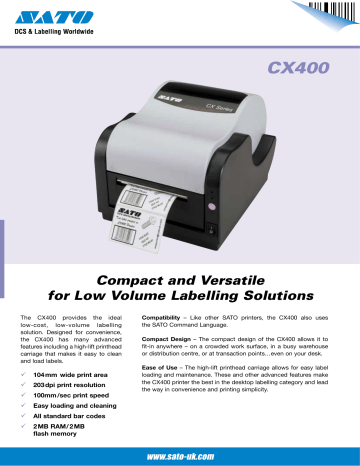 CX400
Compact and Versatile
for Low Volume Labelling Solutions
The CX400 provides the ideal
low-cost, low-volume labelling
solution. Designed for convenience,
the CX400 has many advanced
features including a high-lift printhead
carriage that makes it easy to clean
and load labels.
" 104 mm wide print area
" 203 dpi print resolution
" 100mm /sec print speed
Compatibility – Like other SATO printers, the CX400 also uses
the SATO Command Language.
Compact Design – The compact design of the CX400 allows it to
fit-in anywhere – on a crowded work surface, in a busy warehouse
or distribution centre, or at transaction points…even on your desk.
Ease of Use – The high-lift printhead carriage allows for easy label
loading and maintenance. These and other advanced features make
the CX400 printer the best in the desktop labelling category and lead
the way in convenience and printing simplicity.
" Easy loading and cleaning
" All standard bar codes
" 2 MB RAM/ 2 MB
flash memory
www.sato-uk.com
CX400
CX400
Printing Method
Direct Thermal / Thermal Transfer
Print Resolution
8 dots/mm (203dpi)
Print Speed
Up to 100mm/sec (4 ips)
Max. Print Width
104 mm (4.1")
Max. Print Length
approx. 1270mm (50")
Media Size
Min 25.4mm (1") Max. 108mm (4.25")
Max. Ribbon Size
Dimensions
38mm (1.5") O.D.
197mm (7.76") W x 257mm (10.2") D x 164mm (6.5") H
Weight
3.67 kg (with AC adaptor)
Memory:
Bar Code:
Environmental:
• 2 MB DRAM
• 2:1, 3:1, 5:2 ratio with
programmable height
• Operating: 5º to 40ºC (41º to 104ºF)
10-90% RH, non-condensing
• Storage: -20º to 40ºC (-4º to 104ºF)
max. 90% RH, non-condensing
• ESD: 8kV
• 2 MB Flash ROM
Media:
Roll-feed, die cut, continuous, fan-fold,
thermal paper or plain paper tags and
tickets, fabric labels.
Sensing:
Adjustable position transmissive sensor
for die-cut labels. Reflective sensor for
use with pre-printed sensing marks,
paper end, ribbon end
Interface Options:
• Centronics parallel
• RS232 Serial
(9600/19,200/38,400 baud)
• LAN (10 Base-T, 100-base TX)
(optional)
Human Readable Fonts:
12 proportional and mono-spaced
fonts incl. OCR-A and OCR-B
(code page 850, others available)
Approvals:
CE, TÜV, FCC, Class A, U/L, CSA
Flexibility:
360º rotation of bar codes and text,
character expansion horizontally and
vertically, sequential numbering, form
overlay for high-speed editing of
complex formats
Options:
Cutter, Dispenser, LAN Print Server,
USB-Parallel Cable, 2 MB or 4 MB
additional flash memory.
Graphic Support:
• Hex/binary format
• PCX format
• Raster & BMP formats
Power:
Bar Code Symbologies:
• 40W external power unit
• Linear: UPC A/E, EAN 8/13, Code 39,
Code 93, Code 128, Codabar, MSI,
Bookland, Industrial 2/5,
Interleaved 2/5, Matrix 2/5,
Postnet, UCC/EAN 128
• 2-Dimensional: PDF417,
Micro PDF417, Truncated PDF417,
Maxicode, Data Matrix, QR Code,
RSS-14
• 120V AC - 230V AC Autoranging
• 50/60 Hz
Sales Support
If you would like to discuss your needs in more detail or
arrange a demonstration, please contact our sales team:
SATO UK Limited. Valley Road, Harwich, Essex CO12 4RR
Tel: +44 (0) 1255 240000 Fax: +44 (0) 1255 240111
E-Mail: [email protected]
Web: www.sato-uk.com
SATO makes no guarantee that the above features are available in
all models and specifications are liable to change without notice.

* Your assessment is very important for improving the work of artificial intelligence, which forms the content of this project