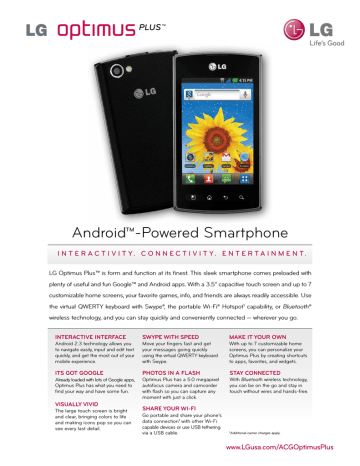 Android™-Powered Smartphone
I N T E R A C T I V I T Y. C O N N E C T I V I T Y. E N T E R T A I N M E N T.
LG Optimus Plus™ is form and function at its finest. This sleek smartphone comes preloaded with
plenty of useful and fun Google™ and Android apps. With a 3.5" capacitive touch screen and up to 7
customizable home screens, your favorite games, info, and friends are always readily accessible. Use
the virtual QWERTY keyboard with Swype®, the portable Wi-Fi® Hotspot1 capability, or Bluetooth®
wireless technology, and you can stay quickly and conveniently connected — wherever you go.
INTERACTIVE INTERFACE
SwYPE with Speed
MAKE IT YOUR OWN
Android 2.3 technology allows you
to navigate easily, input and edit text
quickly, and get the most out of your
mobile experience.
Move your fingers fast and get
your messages going quickly
using the virtual QWERTY keyboard
with Swype.
With up to 7 customizable home
screens, you can personalize your
Optimus Plus by creating shortcuts
to apps, favorites, and widgets.
ITs GOT GooGle
PHOTOS IN A FLASH
STAY CONNECTED
Already loaded with lots of Google apps,
Optimus Plus has what you need to
find your way and have some fun.
Optimus Plus has a 5.0 megapixel
autofocus camera and camcorder
with flash so you can capture any
moment with just a click.
With Bluetooth wireless technology,
you can be on the go and stay in
touch without wires and hands-free.
VISUALLY VIVID
The large touch screen is bright
and clear, bringing colors to life
and making icons pop so you can
see every last detail.
SHARE YOUR WI-FI
Go portable and share your phone's
data connection1 with other Wi-Fi
capable devices or use USB tethering
via a USB cable.
1
Additional carrier charges apply.
www.LGusa.com/ACGOptimusPlus
• •
ENTERTAINMENT
• Video Player for DivX®, WMV, MP4, 3GP, and
3G2 Formats
• Music Player for MP3, WMA, WAV, Unprotected
AAC, and Unprotected AAC+ Formats
• Stereo Sound via Headset or Bluetooth
Wireless Technology1
• Multitask While Playing Music in the Background
• Repeat and Shuffle Music Playback Modes
• USB Mass Storage – transfer files between
microSD™ card and PC2
1
Accessories sold separately.
USB cable (included) and microSD card (sold separately) required.
2
INTERACTIVITY
• 3.5" Capacitive Touch Screen
• Virtual QWERTY Keyboard with Swype
• Home Screens – customize up to 7 screens
with shortcuts to apps, favorites, and widgets
• Touch Vibration for Tactile Feedback1
• Live Wallpaper – dynamic, animated
backgrounds
1
Only available on certain interactions with the touch screen.
CAMERA/VIDEO
Google INTEGRATION
• Android 2.3 Platform (Gingerbread)
• Preloaded Apps: Books™, Gmail™, Google
Search, Google+™, Latitude™, Maps™,
Messenger™, Music™, Places™, Talk™, Voice
Search™, YouTube™
• Google Maps Navigation – spoken turn-byturn directions showing real time traffic and
360º views of the destination
• Google Play – browse and download
thousands of free and paid apps, games,
books, and movies
Applications downloaded from Google Play.
Depends on available memory.
Depends on media and other data stored on the phone.
4
Only available during a call.
5
USB cable required (included).
6
Wireless service required. Product features subject to
change. Features based on carrier program availability.
Additional charges may apply.
1
2
3
SPECIFICATIONS
• Technology: CDMA
• Frequencies: 1.9 GHz CDMA PCS,
800 MHz CDMA
• Data Transmission: EVDO, 1xRTT
• Processor: MSM7627A (800 MHz)
• Dimensions: 4.48" (H) x 2.47" (W) x 0.39" (D)
• Weight: 4.23 oz.
• Display: 262K Color TFT, 480 x 320 pixels, 3.5"
• Standard Battery: 1,300 mAh
• Talk Time: up to 4 hours1
• Standby Time: up to 10 days and 10 hours1
• Internal Memory: 1.89 GB, 4 GB eMMC +
4 Gb LPDDR1
• microSD Memory Slot: up to 32 GB
memory card2
1
Certain features may use more power and cause actual time
to vary.
2
microSD cards sold separately.
ACCESSORIES
• Standard Battery1
• Travel Adapter and USB Cable1
• Vehicle Power Adapter
• Bluetooth Headset (HBM-280, HBM-905)
• LG TONE™ Wireless Bluetooth Stereo
Headset (HBS-700)
• Ear Mic
1
Included with phone.
Available in both camera and video modes.
The default camcorder setting of 640 x 480 is unavailable in
MMS mode.
3
Depends on available memory.
1
2
CONVENIENCE
cONNECTIVITY
• Bluetooth Version: 3.0
• Bluetooth Profiles: headset, hands-free,
object push, advanced audio distribution
(stereo), audio/video remote control, file
transfer, and phone book access
• Save up to 100 Bluetooth Pairings
• Send Contacts and User-Generated Images, Video,
and Audio via Bluetooth Wireless Technology
• Wi-Fi Connectivity (b/g/n)
• Portable Wi-Fi Hotspot1 – share your phone's
data connection with Wi-Fi capable devices
• USB Tethering – share your phone's data
connection via USB cable
• Airplane Mode
1
• 5.0 Megapixel Autofocus Camera and
Camcorder with Flash
• Camera Resolutions: 2592 x 1944 (default),
2048 x 1536, 1600 x 1200, 1280 x 960,
640 x 480, and 320 x 240 pixels
• Scene Mode – choose between Auto, Portrait,
Landscape, Sports, Night, and Sunset settings
• Camera and Video Zoom: up to 4x
• Tag Location – add geographic data to images
• Customizable Brightness 1, White Balance 1,
Color Effect 1, ISO, Timer, Quality 1, and
Shutter Sound
• Video Resolutions: 640 x 480 (default)2,
320 x 240, and 176 x 144 pixels
• Video Recording Length: Normal3 and MMS
• Audio Recording – choose to record video
with or without sound (mute)
• Text to Speech
• 30 Unique Ringtones + Vibrate and Silent Modes
• Text, Picture, Voice, and Video Messaging6
• Software Update – upgrade firmware over
the air6
Additional carrier charges apply.
• Preloaded Apps: Browser, Calculator, Calendar,
Camcorder, Camera, Clock, Contacts, Downloads,
Email, Gallery, Messaging, Music Player, News
& Weather, Phone, Polaris® Viewer, Video Player,
Videos, Voice Dialer, Voice Recorder, Weather
• Adobe® Flash® Player 11 Support
• Connect to Social Networks – send quick
updates to Google+, Twitter®1, and Facebook®1
• Contacts – unlimited 2 fields for numbers,
email addresses, groups, physical addresses,
organization names, events, IM screen names,
and web addresses; include a picture ID3,
a note, and a nickname
• One-Touch Speakerphone4
• S-GPS Support for Enhanced Location Accuracy
• Micro USB Charging Port with Charging via
Computer 5
• Speaker-Independent Voice Commands
LG Electronics MobileComm
10101 Old Grove Rd., San Diego, CA 92131
Customer Service: (800) 793-8896
www.LG.com
FPO
Educational Link
All materials in this datasheet including, without limitation, the design, the text, and any marks are the property of LG Electronics, Inc. Copyright © 2012 LG Electronics, Inc. All Rights Reserved. LG and the LG logo are registered trademarks of
LG Electronics, Inc. Optimus Plus is a trademark of LG Electronics, Inc. microSD™ is a trademark of SanDisk. The Bluetooth® word mark and logos are registered trademarks owned by Bluetooth SIG, Inc. and any use of such marks by
LG Electronics MobileComm, U.S.A., Inc. is under license. Google and the Google logo are trademarks of Google Inc. Android is a trademark of Google Inc. All other marks contained herein are the property of their respective owners. Unless otherwise specified
herein, all accessories referenced herein are sold separately. All features, functionality, and other product specifications are subject to change. Screen shots are simulated and subject to change.

* Your assessment is very important for improving the work of artificial intelligence, which forms the content of this project