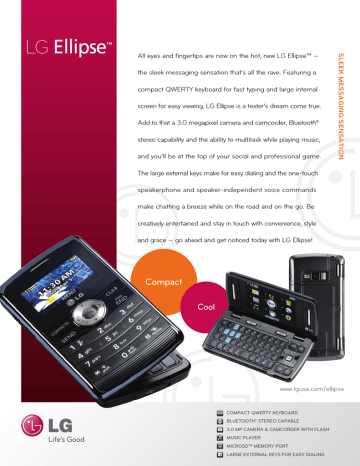 LG Ellipse
™
the sleek messaging sensation that's all the rave. Featuring a
compact QWERTY keyboard for fast typing and large internal
screen for easy viewing, LG Ellipse is a texter's dream come true.
Add to that a 3.0 megapixel camera and camcorder, Bluetooth®
stereo capability and the ability to multitask while playing music,
and you'll be at the top of your social and professional game.
SLEEK MESSAGING SENSATION
All eyes and fingertips are now on the hot, new LG Ellipse™ —
The large external keys make for easy dialing and the one-touch
speakerphone and speaker-independent voice commands
make chatting a breeze while on the road and on the go. Be
creatively entertained and stay in touch with convenience, style
and grace — go ahead and get noticed today with LG Ellipse!
Compact
Cool
www.lgusa.com/ellipse
COMPACT QWERTY KEYBOARD
4-Line QWERTY Keyboard
Bluetooth
Digital Camera/Camcorder
Music Player
microSD
Large Keys
BLUETOOTH® STEREO CAPABLE
4-Line QWERTY Keyboard
3.0 MP CAMERA & CAMCORDER WITH FLASH
Bluetooth
MUSIC PLAYER
Digital Camera/Camcorder
MICROSDTM MEMORY PORT
Music Player
LARGE EXTERNAL KEYS FOR EASY DIALING
microSD
Large Keys
LG Ellipse
™
SLEEK MESSAGING SENSATION
DESIGN
• Full, Compact QWERTY Keyboard for Fast Messaging
• Slim Design with Internal Antenna
• Large 2.6" Internal Screen
• Large, Widely Spaced External Keys for Easy Dialing
• Favorites Key – quickly access up to 10 contacts with picture ID*
• Keyguard – prevents unwanted key actions
* Dependent on photos stored in your album (My Pictures).
MUSIC
• Sync Music from PC to Phone*
• Music Player for MP3, WMA, Unprotected AAC, & Unprotected AAC+
• Multitask While Playing Music – hide player to send messages, edit
contacts, and browse the web
• Create & Manage Playlists
• Music Library – organized by artist, genre, and album
• Music Only Mode (RF off except Bluetooth)
• Dual Speakers for Stereo Sound
• microSD™ Memory Port with up to 16GB Support**
• USB Mass Storage – transfer files between microSD card and PC***
* A compatible USB cable is required for syncing.
**Not all downloaded content may be moved to the microSD card.
***Requires microSD card and USB cable.
BLUETOOTH®
• Version: 2.1 + EDR (Enhanced Data Rate)
• Listen to Music with Optional Stereo Bluetooth Headset
• Send Contacts and Calendar Events via Bluetooth wireless technology
• Print and Send User-Generated Pictures (JPEG) via Bluetooth wireless
technology
• Save up to 20 Bluetooth Pairings
• Supported Profiles: headset, hands-free, dial-up networking,
stereo Bluetooth, phone book access, basic printing, object push,
file transfer, basic imaging, human interface device
CAMERA/VIDEO
• 3.0 Megapixel Camera & Camcorder with Flash
• Camera Resolutions: 2048x1536 (default), 1600x1200, 1280x960,
640x480, 320x240 Pixels
• Camera/Video Zoom: up to 1.6x*
• Intelligent Shot for Improved Image Quality
• Smile Shot – automatically takes a picture when a smile is detected
• Panorama – take up to 3 guided shots in a row for a wide area view
• Dual Display – activate the external display for self portraits
• Image Editor: zoom, rotate, crop, add frames, effects, stamps, enhance
facial features
• Video Resolutions: 320x240, 176x144 (default) Pixels
• Video Recording Time: 30 sec. (for sending) or up to 1 hr. (for saving)**
• Video Player for WMV, MP4, 3GP, and 3G2 Formats
• Customizable Brightness***, White Balance***, Color Effects***,
Shutter Sound, Shot Mode, Self-Timer
* Varies by image size. Camera setting of 2048 x 1536 pixels does not support zoom function.
** Depends on available memory.
***Available in both camera and video modes.
MOBILE MEDIA
• Text, Picture, Video, and Voice Messaging†
• Dedicated Text Messaging Key (via internal keyboard)
• Group Messages To/From a Contact in Time Order
• Sort Messages by Sender (Inbox) or Recipient (Sent)
• Auto View & Readout for Text Messages
• HTML Web Browsing†
• RSS (Really Simple Syndication) Feed Support – quick access to
updates on regularly changing web content†
• Messaging & Dial-up Modem Restrictions†
VOICE/AUDIO
• One-Touch Speakerphone (via internal keyboard)
• Speaker-Independent Voice Commands
• Text to Speech
• Voice Recording: 1 min. or 1 hr.* (standby)
• 30 Unique Ringtones + Vibrate & Silent Modes
• TTY/TDD Support
• Hearing Aid Compatible (M4-Rating)
* Depends on available memory.
TOOLS & DATA
• Tools: Calculator, Calendar, Alarm Clock, Stopwatch, World Clock,
Notepad, Ez Tip Calculator
• Phone Book with 1,000 Contacts – each stores 5 numbers, 2 email
addresses, and a picture ID*
• Speed Dial (998 entries + 1 voicemail default)
* Dependent on photos stored in your album (My Pictures).
GENERAL
• Customizable Font Size and Type on Internal LCD for Dialing, Menu &
Lists, Messages
• Charging Screens: Desk Clock, Calendar
• Micro USB/Charging Port
• USB Charging via Computer
• Clear Images, Text, & Fun Animations through Flash User Interface
Support
• GPS Support for Enhanced Location Accuracy
• Airplane/Standalone Mode (RF Off)
SPECIFICATIONS
• Technology: CDMA
• Frequency: 1.9 GHz CDMA PCS, 800 MHz CDMA (Digital Dual-Band)
• Data Transmission: High-Speed EVDO†
• Dimensions: 4.11" (H) x 2.13" (W) x 0.65" (D)
• Weight: 3.77 oz.
• Internal LCD: 260K Color TFT, 320x240 Pixels, 2.60"
• External LCD: 65K Color TFT, 160x96 Pixels, 1.56"
• Standard Battery: 950 mAh
• Talk Time: Up to 5 Hours & 27 Minutes*
• Standby Time: Up to 19 Days & 4 Hours*
* Certain features may use more power and cause actual talk and standby times to vary.
ACCESSORIES
Standard Battery*, Wall/USB Charger*, Headset, Bluetooth Headset,
Bluetooth Stereo Headset, Bluetooth Portable Stereo Speakers,
Extended Battery (1,500 mAh), USB Cable, Vehicle Power Charger,
Carrying Case, Swivel Holster, microSD Memory Card
Carrier service required. Product features subject to change. Features based on carrier program availability.
†
* Included with phone.
LGE MobileComm U.S.A., Inc.
10101 Old Grove Rd., San Diego, CA 92131
Customer Service: (800) 793-8896
www.lgusa.com
All materials in this datasheet including, without limitation, the design, the text, and any marks are the property of LG Electronics, Inc. ALL RIGHTS RESERVED Copyright © 2010 LG Electronics, Inc. All product and service marks contained herein that are not LG Electronics, Inc.
proprietary marks are the trademarks of their respective owners. LG Electronics, Inc. makes no claim to such properties. Phone features and specifications are subject to change without prior notice. The use of non-LG approved accessories will void the warranty and may result in
damage to the phone, the phone exploding, or other dangerous conditions. Please consult product manual for full details. microSD is a trademark of SanDisk. The Bluetooth® word mark and logos are registered trademarks owned by Bluetooth SIG, Inc. and any use of such marks by
LG Electronics MobileComm, U.S.A., Inc. is under license.

* Your assessment is very important for improving the work of artificial intelligence, which forms the content of this project