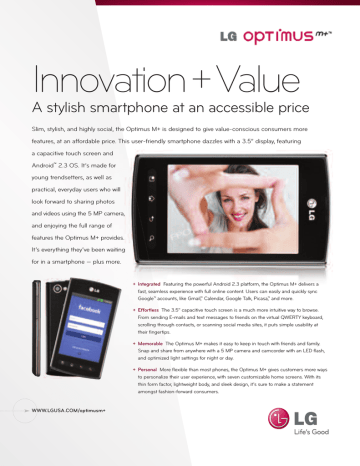 Innovation+Value
A stylish smartphone at an accessible price
Slim, stylish, and highly social, the Optimus M+ is designed to give value-conscious consumers more
features, at an affordable price. This user-friendly smartphone dazzles with a 3.5" display, featuring
a capacitive touch screen and
Android™ 2.3 OS. It's made for
young trendsetters, as well as
practical, everyday users who will
look forward to sharing photos
and videos using the 5 MP camera,
and enjoying the full range of
features the Optimus M+ provides.
It's everything they've been waiting
for in a smartphone — plus more.
+ Integrated Featuring the powerful Android 2.3 platform, the Optimus M+ delivers a
fast, seamless experience with full online content. Users can easily and quickly sync
Google™ accounts, like Gmail,™ Calendar, Google Talk, Picasa,™ and more.
+ Effortless The 3.5" capacitive touch screen is a much more intuitive way to browse.
From sending E-mails and text messages to friends on the virtual QWERTY keyboard,
scrolling through contacts, or scanning social media sites, it puts simple usability at
their fingertips.
+ Memorable The Optimus M+ makes it easy to keep in touch with friends and family.
Snap and share from anywhere with a 5 MP camera and camcorder with an LED flash,
and optimized light settings for night or day.
+ Personal More flexible than most phones, the Optimus M+ gives customers more ways
to personalize their user experience, with seven customizable home screens. With its
thin form factor, lightweight body, and sleek design, it's sure to make a statement
amongst fashion-forward consumers.
WWW.LGUSA.COM/optimusm+
GOOGLE INTEGRATION
CONVENIENCE
• Android 2.3 Platform (Gingerbread)
• Widgets and Google Applications: Google+, Google
Books,™ Gmail,™ Google Maps,™ Google Talk,™ Latitude,™
Messenger,™ Places,™ Google Search (including Google
Voice Search), YouTube™
• Google Maps Navigation – spoken turn-by-turn
directions showing real time traffic and 360º views of
the destination
• Android Market – browse and download thousands of
free and paid apps, games, books, and movies
• Android Apps: Calculator, Calendar, Camcorder,
Camera, Clock, Contacts, Downloads, Email, Gallery,
Messaging, Music Player, Phone, Polaris® Viewer,
Video Player, Voice Dialer, Voice Recorder
• Improved Copy/Paste and Power Management
• Adobe® Flash® Player 11 Support
• MetroWEB
• Visual Voicemail – view and listen to voicemail
messages in any order
• Connect to Social Networks – send quick updates to
Google+, Twitter,®1 and Facebook®1
• Text, Picture, Voice, and Video Messaging†
• Contacts – unlimited2 fields for numbers, email
addresses, groups, physical addresses, organization
names, events, IM screen names, and web addresses;
include a picture ID,3 a note, and a nickname
• FOTA Capable – upgrade firmware over the air†
• S-GPS Support for Enhanced Location Accuracy
• Micro USB Charging Port with Charging via
Computer4
• One-Touch Speakerphone5
• Speaker-Independent Voice Commands
• Text to Speech
• 30 Unique Ringtones + Vibrate and Silent Modes
CONNECTIVITY
• Bluetooth Version: 3.0
• Bluetooth Profiles: headset, hands-free, object push,
advanced audio distribution (stereo), audio/video
remote control, file transfer, phone book access
• Send Contacts and User-Generated Images, Video,
and Audio via Bluetooth Wireless Technology
• Wi-Fi® Connectivity (b/g/n)
• Airplane Mode
KEY FEATURES
ENTERTAINMENT
Android™ 2.3
3.5" Capacitive Touch Screen
Virtual QWERTY Keyboard with Swype®
5 MP Camera & Camcorder with LED Flash
7 Customizable Home Screens
Bluetooth® Version: 3.0
• @metro App Store – download free and paid
MetroPCS applications
• Video Player for WMV, MP4, 3GP, and 3G2 Formats
• Music Player for MP3, WMA, WAV, Unprotected AAC,
and Unprotected AAC+ Formats
• Stereo Sound via Headset or Bluetooth Wireless
Technology1
• Multitask While Playing Music in the Background
• Repeat and Shuffle Music Playback Modes
• USB Mass Storage – transfer files between microSD™
card and PC2
1
2
Accessories sold separately.
USB cable (included) and microSD card (sold separately) required.
INTERACTIVITY
• Virtual QWERTY Keyboard with Swype
• Improved User Experience – on-device guided tour
with intuitive, optimized user interface
• Home Screens – customize up to 7 screens with
shortcuts to apps, favorites, and widgets
• Touch Vibration for Tactile Feedback*
• Live Wallpaper
* Only available on certain interactions with the touch screen.
CAMERAS/VIDEO
LGE MobileComm U.S.A., Inc.
10101 Old Grove Road
San Diego, CA 92131
Cust. Service: (800) 793-8896
• 5.0 Megapixel Autofocus Camera and Camcorder
with LED Flash
• Camera Resolutions: 2592 x 1944 (default),
2048 x 1536, 1600 x 1200, 1280 x 960,
640 x 480, 320 x 240 pixels
• Scene Mode – choose between Auto, Portrait,
Landscape, Sports, Night, and Sunset settings
• Camera and Video Zoom: up to 4x
• Tag Location – add geographic data to images
• Customizable Brightness,1 White Balance,1 Color
Effect,1 ISO, Timer, Shot Mode, Quality,1 and
Shutter Sound
• Video Resolutions: 640 x 480 (default),
320 x 240, 176 x 144 pixels
• Video Recording Length: MMS and Normal2
• Audio Recording – choose to record video with
or without sound (mute)
1
2
†
FPO
Cert no. XXX-XXX-XXX
WWW.LGUSA.COM/optimusm+
1
Applications downloaded from Android Market.
Depends on available memory.
Depends on media and other data stored on the phone.
4
USB cable required (included).
5
Only available during a call.
2
3
SPECIFICATIONS
• Technology: CDMA
• Frequencies: 1.9 GHz CDMA PCS, 800 MHz CDMA,
1.7/2.1 GHz AWS
• Data Transmission: EVDO, 1xRTT
• Processor: MSM7627A (800 MHz)
• Dimensions: 4.48" (H) x 2.47" (W) x 0.39" (D)
• Weight: 4.23 oz.
• Display: 262K Color TFT, 480 x 320 pixels,
3.5" Capacitive Touch Screen
• Standard Battery: 1,300 mAh
• Talk Time: up to 240 minutes1
• Standby Time: up to 250 hours1
• 4 GB eMMC + 512MB RAM
• 2 GB internal user memory
• microSD Memory Slot: up to 32 GB memory card2
1
2
Certain features may use more power and cause actual time to vary.
microSD cards sold separately.
ACCESSORIES
•
•
•
•
•
Standard Battery*
Travel Adapter with USB Cable*
Vehicle Power Charger
Bluetooth Headset (HBM-235, HBM-905)
Bluetooth Headset with Vehicle Power Charger
(HBM-585)
• Bluetooth Headset with Speakerphone and
Solar Charging Cradle (HBM-810)
• LG TONE™ Bluetooth Stereo Headset (HBS-700)
* Included with phone.
Available in both camera and video modes.
Depends on available memory.
MetroPCS service required. Product features subject to change. Features based on carrier program availability. Additional charges may apply.
All materials in this datasheet including, without limitation, the design, the text, and any marks are the property of LG Electronics, Inc.
Copyright ©2012 LG Electronics, Inc. All Rights Reserved. LG and the LG logo are registered trademarks of LG Electronics, Inc. Optimus
is trademark of LG Electronics, Inc. Google and the Google logo are trademarks of Google Inc. Android is a trademark of Google Inc.
microSD is a trademark of SanDisk. The Bluetooth word mark and logos are registered trademarks owned by Bluetooth SIG, Inc. and
any use of such marks by LG Electronics MobileComm, U.S.A., Inc. is under license. Wi-Fi is a registered trademark of Wi-Fi Alliance.
Other trademarks and trade names are those of their respective owners. Unless otherwise specified herein, all accessories referenced
herein are sold separately. All features, functionality, and other product specifications are subject to change. Screen shots are simulated
and subject to change.

* Your assessment is very important for improving the work of artificial intelligence, which forms the content of this project