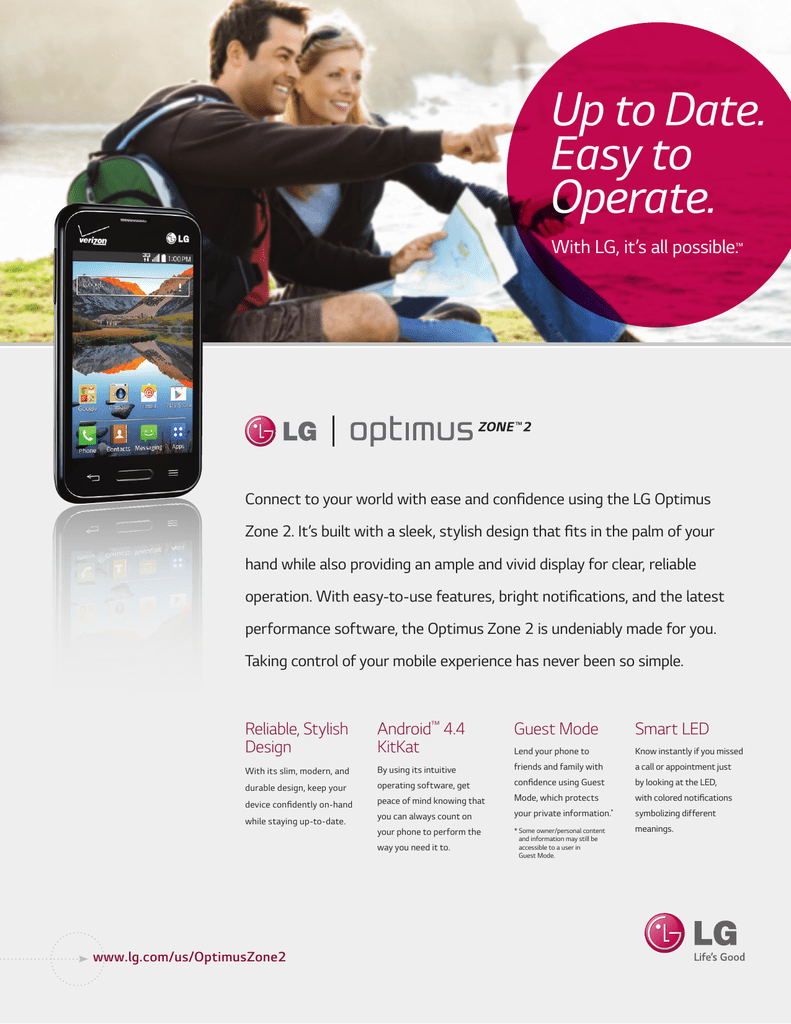 Up to Date.
Easy to Operate.
With LG, it's all possible.™
Connect to your world with ease and confidence using the LG Optimus
Zone 2. It's built with a sleek, stylish design that fits in the palm of your
hand while also providing an ample and vivid display for clear, reliable
operation. With easy-to-use features, bright notifications, and the latest
performance software, the Optimus Zone 2 is undeniably made for you.
Taking control of your mobile experience has never been so simple.
Reliable, Stylish
Design
Android™ 4.4
KitKat
With its slim, modern, and
By using its intuitive
operating software, get
peace of mind knowing that
you can always count on
your phone to perform the
way you need it to.
durable design, keep your
device confidently on-hand
while staying up-to-date.
www.lg.com/us/OptimusZone2
Guest Mode
Smart LED
Lend your phone to
friends and family with
confidence using Guest
Mode, which protects
your private information.*
Know instantly if you missed
a call or appointment just
by looking at the LED,
with colored notifications
symbolizing different
meanings.
* Some owner/personal content
and information may still be
accessible to a user in
Guest Mode.
Productivity
0.47"
3.5"
4.31"
2.32"
3.99 oz.
Key Features
Smart, Intuitive Android™ 4.4 KitKat
Reliable, Stylish Design
Large, Vivid 3.5" Display
Share Your Phone with Others via Guest Mode
Create Personalized Notes with QuickMemo™
Silence Phone Sounds During Specific Times
with Quiet Mode
• Guest Mode – create a separate unlock screen pattern
for guests with preset access and restrictions*
• Smart LED – colored light alerts for alarms, calendar
reminders, missed calls and messages, and more
• QuickMemo – create and share personalized memos by taking screen shots and adding handwritten
drawings or messages
• Quiet Mode – specify times to turn off all sounds
except alarm and media
• On-Call Notes – jot down notes during a call and
retrieve them in a call log entry
• Privacy Keeper – hide caller information for incoming
calls; swipe screen to reveal information
• Polaris® Viewer 5 – PC-like office suite app for viewing
documents, presentations, and spreadsheets
• Google Chrome™ – full mobile web browser
• Text, Picture, Video, and Audio Messaging†
• Up to Seven Customizable Home Screens – add
shortcuts to apps, favorites, and widgets
• Multilanguage Support for Phone and Keyboard Input
• Customizable Volume Key – set to capture/record or zoom
• Camera and Video Zoom: 4x (Digital)
• Geotagging – include location information with photos
and videos
* Available in both camera and video modes.
Connectivity
• Verizon 3G Network1
• Wi-Fi® Connectivity: 802.11 b/g/n 2.4GHz only
• Mobile Hotspot† – share a 3G data connection with
other compatible devices (up to 5 devices)2
• Bluetooth® Version 4.0 LE + EDR (Enhanced Data Rate)
• Supported Bluetooth Profiles: headset, hands-free,
object push, advanced audio distribution (stereo),
audio/video remote control, file transfer, human
interface device, message access support, phone
book access
• S-GPS Support for Enhanced Location Accuracy
Verizon's 3G Network not available everywhere.
Depends on network availability.
1
2
* Some owner/personal content and information may still be accessible to a
user in Guest Mode.
Specifications
Entertainment
•
•
•
•
• Large 3.5" Capacitive Touch Screen for Optimal Viewing
• Video Player with Touch Lock, Play on Lock Screen, and
Resume Play Function; supports 3GP, 3G2, and MP4
formats
• Music Player with Shuffle and Repeat Modes; supports
MP3, M4A, AAC, AAC+, eAAC+, FLAC, WMA, WAV,
OGG, MIDI, and AMR formats
• Customizable Music Library – organized by songs,
albums, artists, genres, playlists, and folders
• Accelerometer – switch portrait/landscape view;
control games by turning/tilting phone1
• Media Sync (MTP) – transfer files or synchronize with
Windows® Media Player 2
•
•
•
•
•
•
•
•
•
Technology: CDMA
Network: CDMA
Frequencies: 1.9 GHz CDMA PCS, 800 MHz CDMA
Processor: 1.2 GHz Dual-Core Processor (Qualcomm® MSM8610)
Data Transmission: EVDO Rev. A, 1xRTT
Dimensions: 4.31" (H) x 2.32" (W) x 0.47" (D)
Weight: 3.99 oz.
Standard Battery: 1,700 mAh
Display: 16.7M Color TFT, 480 x 320 pixels, 3.5" (HVGA)
Talk Time: up to 10 hours1
Standby Time: up to 15 days1
Internal Memory: 512 MB RAM, 4 GB ROM
microSD card support up to 32 GB2
Certain features may use more power and cause actual time to vary.
Memory cards sold separately.
1
1
2
2
Support for up to 32 GB microSD™ Card
Camera and Camcorder
Accessories
Receive Bright Light Alerts with Smart LED
• 3 Megapixel Camera and WVGA Camcorder
• Camera Resolutions: up to 2048 x 1536 pixels (2048 x 1350 default)
• Cheese Shutter – use voice commands to capture a photo
• Customizable Brightness,* ISO, White Balance,* Color Effect,* Timer, and Shutter Sound
• Video Resolutions: up to 800 x 480 (default)
• Pause & Resume Recording – pause and start in record
mode for one continuous video file
• Live Shot – take still shots while recording video
• Video Screenshot – capture still shots from a video
during playback
• Standard Battery*
• Travel Adaptor and USB Cable*
• Bluetooth Mono Headset (HBM-260, HBM-W600,
HBM-280)
• Bluetooth Stereo Headset (LG TONE ULTRA™ HBS800, LG TONE PRO™ HBS-750, LG TONE+™ HBS-730)
• Vehicle Power Adaptor
Only available with certain actions on the touch screen.
USB cable required (included).
* Included with phone.
LG Electronics USA, Inc.
920 Sylvan Avenue
Englewood Cliffs, NJ 07632
Cust. Service: (800) 793-8896
www.lg.com/us/OptimusZone2
†
Verizon Wireless service required. Product features subject to change. Features based on carrier program availability. Additional charges may apply.
All materials in this datasheet including, without limitation, the design, the text, and any marks are the property of LG Electronics USA, Inc. Copyright © 2014 LG Electronics USA, Inc. ALL RIGHTS RESERVED. LG, LG Life's Good, and the LG logo are registered
trademarks of LG Corp. "With LG, it's all possible" is a trademark of LG Corp. Optimus Zone is a trademark of LG Electronics, Inc. The Bluetooth word mark and logos are registered trademarks owned by Bluetooth SIG, Inc. and any use of such marks by LG
Electronics USA, Inc. is under license. Google, Android, and Google Play are trademarks of Google Inc. Wi-Fi is a registered trademark of Wi-Fi Alliance. MicroSD is a trademark of SD-3C, LLC. All other trademarks and trade names are property of their respective
owners. Unless otherwise specified herein, all accessories referenced herein are sold separately. All features, functionality, and other product specifications are subject to change without notice. Screen shots are simulated and subject to change.