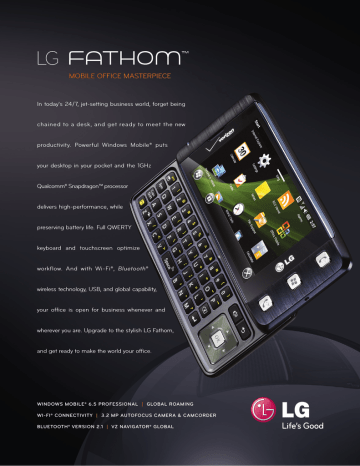 MOBILE OFFICE MASTERPIECE
In today's 24/7, jet-setting business world, forget being
chained to a desk, and get ready to meet the new
productivity. Powerful Windows Mobile® puts
your desktop in your pocket and the 1GHz
Qualcomm® Snapdragon™ processor
delivers high-performance, while
preserving battery life. Full QWERTY
keyboard and touchscreen optimize
workflow. And with Wi-Fi®, Bluetooth®
wireless technology, USB, and global capability,
your office is open for business whenever and
wherever you are. Upgrade to the stylish LG Fathom,
and get ready to make the world your office.
WINDOWS MOBILE® 6.5 PROFESSIONAL | GLOBAL ROAMING
WI-FI® CONNECTIVITY | 3.2 MP AUTOFOCUS CAMERA & CAMCORDER
BLUETOOTH® VERSION 2.1 | VZ NAVIGATOR® GLOBAL
www.lgusa.com/fathom
PRODUCTIVITY
To create the ultimate office on the go, LG included all
you need to bring your job wherever you are: Windows
Mobile® gives you docs, contacts, and a calendar—plus
syncing smoothly with the mother ship. Snapdragon™ by
Qualcomm® provides high-performance computing and
unprecedented Bluetooth® wireless technology and Wi-Fi®
connectivity, so you can upload, and connect from
anywhere, any way. And the 3.2" touchscreen and full
QWERTY keyboard make navigating and typing simple.
DESIGN
•
•
•
•
•
•
•
Stylish, Functional Design with Slide-Out QWERTY Keyboard
QWERTY Keyboard with Large, Widely Spaced Keys for Easy Typing
Large 3.2" Touchscreen with Improved Touch Experience
Touchscreen Vibration for Tactile Feedback
Consistent Navigation with Touchable Tile Controls
Touch Protection—prevents unwanted key actions
External Keys: Send/Voice Command, Start, Power/Lock, End,
Task Manager, Camera
MOBILE MEDIA
• Windows Mobile Device Center and ActiveSync®—synchronize Microsoft®
Outlook®, Microsoft Office®, & contents from Microsoft Exchange Server
to keep personal information organized & updated†
• Microsoft My Phone—syncs phone data to the web for easy back up and
to restore information†
• Microsoft Office Mobile—view & edit documents with OneNote® Mobile,
Excel® Mobile, & Word Mobile, or view presentations on PowerPoint® Mobile
• Adobe® Reader® LE—view, zoom, and scroll through rich PDF content
• Internet Explorer® 6 Mobile—HTML web browsing with enhanced touch
navigation
• Text, Picture, and Video Messaging†
• Windows Marketplace for Mobile—browse and download popular apps†
• RSS (Really Simple Syndication) Feed Support—quick access to
updates on regularly changing web content†
• Visual Voicemail†
• Mobile Instant Messaging—AIM®, Windows Live™, Yahoo!® Messenger†
GLOBAL
• Global Roaming—frequency automatically switches from CDMA to
GSM depending on geographic location†
• VZ Navigator® GlobalSM—domestic and global turn-by-turn directions†
• Multiple Language Settings
• International Charger Plugs—4 different adapter clips available for
multi-country use*
*Included with phone.
CAMERA/VIDEO
MULTIMEDIA
• 3.2 Megapixel Autofocus Camera and Camcorder
• Camera Resolutions: 2048 x 1536 (default), 1600 x 1200,
1024 x 768, 640 x 480, 320 x 240 Pixels
• Camera Zoom: up to 3.2x*
• Panorama Shot—take up to 3 guided shots in a row for a
wide-area view
• Continuous Shot—take up to 6 continuous shots in a row
• Scene Mode—choose between Auto**, Portrait**, Landscape**,
Sports**, and Night settings
• Macro Mode—take detailed pictures up close
• Image Editor: Zoom, Rotate, Crop images
• Customizable Brightness**, White Balance**, Shutter Sound,
Color Effects**, Self-Timer
• Video Resolutions: 640 x 480 (default), 320 x 240,
176 x 144 Pixels
• Video Zoom: up to 5.8x
• Voice Option—record video with or without sound (mute)
• Video Quality—set camcorder to record Normal, Fine, or
Super Fine
• Video Recording Time: up to 1 min. (for sending)
or up to 1 hr. (for saving)***
• Windows Media® Player 10 Mobile
• Music Player for MP3, WMA, Unprotected AAC,
& Unprotected AAC+
• Stereo Sound via Headset or Bluetooth
• Multitask While Playing Music in the Background
• Music Library—organized by artist, genre, and album
• Repeat, Shuffle, and Music Only
(RF off except Bluetooth)
• Video Player for WMV, MP4, and 3GP Formats
• USB Mass Storage—transfer files between microSD
card* and PC**
*microSD card sold seperately.
**USB cable included.
*Varies by image size. Default setting of 2048 x 1536 pixels does
not support zoom function.
**Available in both video and camera modes.
***Depends on available memory.
STYLE
But when you're
ready to call it a day,
the LG Fathom's got you
covered there too: internal
memory can hold your essential
music, the 3.2 megapixel camera
captures status-update-worthy moments,
and the sleek slate blue case goes as well
with your Friday afternoon sunglasses as it does
with your Monday morning suit. With the LG
Fathom, see how well smart and stylish can go together.
MOBILE OFFICE MASTERPIECE
USER EXPERIENCE
VOICE/AUDIO
• 1GHz Qualcomm® Snapdragon™ Processor Revolutionary chip delivers ultra-smooth
videos , high-performance multimedia, and
detail-rich browsing all with optimized power
consumption
• Accelerometer Sensor—automatically
switches the screen alignment between
portrait and landscape mode
• Luminous Sensor—adjusts the brightness
of the LCD backlight dependent on
light conditions
• Proximity Sensor—locks the touchscreen
and buttons while talking on the phone
• Clear Images, Text, & Fun Animations
through Flash User Interface Support
• GPS Support for Enhanced Location Accuracy
•
•
•
•
•
•
TOOLS & DATA
• Dedicated Task Manager Key—quickly access
Task Manager at the touch of a button
• Tools: Calculator, Calendar, Alarm Clock,
World Clock, Notes
• City ID®—display the city & state of an
incoming call†
• Wi-Fi® Enabled: IEEE 802.11b/g/n
• Wireless Manager—enable and disable
wireless connectivity for Wi-Fi, Bluetooth,
& cellular network†
• Outlook Address Book Contacts*—containing
over 40 robust data fields including 12
numbers, 3 emails, 2 physical addresses, & a
picture ID**
• Select Contact View—select contacts stored
on phone or SIM card
• USB Charging via Computer
• Micro USB/Charging Port
• Favorites—add up to 12 contacts with picture ID*
• Speed Dial (99 entries + 6 pre-programmed)
*The number of entries depends on available memory.
**Dependent on photos stored in your album (My Pictures).
BLUETOOTH®
LGE MobileComm U.S.A., Inc.
10101 Old Grove Rd., San Diego, CA 92131
Customer Service: (800) 793-8896
www.lgusa.com
All materials in this datasheet including, without limitation, the design, the
text, and any marks are the property of LG Electronics, Inc. Copyright
©2010 LG Electronics, Inc. ALL RIGHTS RESERVED. LG is a registered
trademark of LG Electronics, Inc. Fathom is a trademark of Verizon Wireless.
Features and specifications are subject to change without prior notice. The
use of non-LG or non-Verizon Wireless approved accessories will void the
warranty and may result in damage to the phone, the phone exploding, or
other dangerous conditions. Microsoft Windows Mobile and Windows Media
are either registered trademarks or trademarks of Microsoft Corporation in
the United States and/or other countries. Qualcomm is a registered
trademark and Snapdragon is a Trademark of Qualcomm Incorporated.
Used under license. The Bluetooth® word mark and logos are registered
trademarks owned by Bluetooth SIG, Inc. and any use of such marks by LG
Electronics MobileComm, U.S.A., Inc. is under license. Other trademarks
and trade names are those of their respective owners. Unless otherwise
specified herein, all accessories referenced herein are sold separately.
• Version: 2.1 + EDR (Enhanced Data Rate)
• Save up to 100 Bluetooth Pairings
• Supported Profiles: headset, hands-free*,
dial-up networking, stereo, phone book
access, basic printing, object push** for
vCard and vCalendar, file transfer, basic
imaging, human interface, audio/video
remote control, serial port
• Listen to Music with Optional Stereo
Bluetooth Headset***
• Send all Contacts and Calendar Events
via Bluetooth
• Print and Send User Generated Pictures
(JPEG) via Bluetooth
*For Bluetooth vehicle/accessory compatibility, go to
www.verizonwireless.com/bluetoothchart.
**Phone does not support all Bluetooth OBEX profiles.
***Accessories sold separately.
HEADSET
MUSIC
TRANSFER
PRINT
One-Touch Speakerphone*
Speaker-Independent Voice Commands
Text to Speech
Voice-Activated Dialing up to 4,000 Entries
Voice Recording Time: 1 min. or 1 hr. (standby)**
MP3 Music Ringer Support
(clips from hit songs)
• 26 Unique Ringtones + Vibrate and
Silent Modes
• TTY/TDD Support
*Only available during a call.
**Depends on available memory.
SPECIFICATIONS
• Technology: CDMA, GSM
• Frequencies:
CDMA – 1.9 GHz CDMA PCS, 800 MHz
(Digital Dual-Band)
GSM/GPRS/EDGE – 850/900/1800/1900
MHz (Quad-Band)
• Data Transmission:
EVDO† Rev. A – download 3.1Mbps,
upload 1.8Mbps
UMTS/HSDPA – download 3.6Mbps,
upload 7.2Mbps
• Processor: 1GHz Snapdragon QSD8650
• Dimensions: 4.53" (H) x 2.20" (W) x 0.65" (D)
• Weight: 5.36 oz.
• Display: 262K Color TFT,
800 x 480 Pixels, 3.2"
• Standard Battery: 1,500 mAh
• Usage Time: up to 420 min.*
• Standby Time: up to 475 hrs.*
• microSD™ Memory Slot:
up to 16GB memory card**
*Certain features may use more power and cause actual standby
and usage time to vary.
**Accessories sold separately.
ACCESSORIES
•
•
•
•
•
•
•
•
•
•
•
•
•
•
Standard Battery*
Wall/USB Charger*
International Charger Plugs*
Touch Screen Stylus*
Stereo Headset
Bluetooth Headset
Bluetooth Stereo Headset
Bluetooth Stereo Speakers
Portable Stereo Speakers
Swivel Holster
Extended Battery (2,200 mAh)
Vehicle Power Charger
microSD Memory Card
Pouch
*Included with phone.
†
Verizon Wireless service required. Product features subject to
change. Features based on carrier program availability. Additional
charges may apply.

* Your assessment is very important for improving the work of artificial intelligence, which forms the content of this project