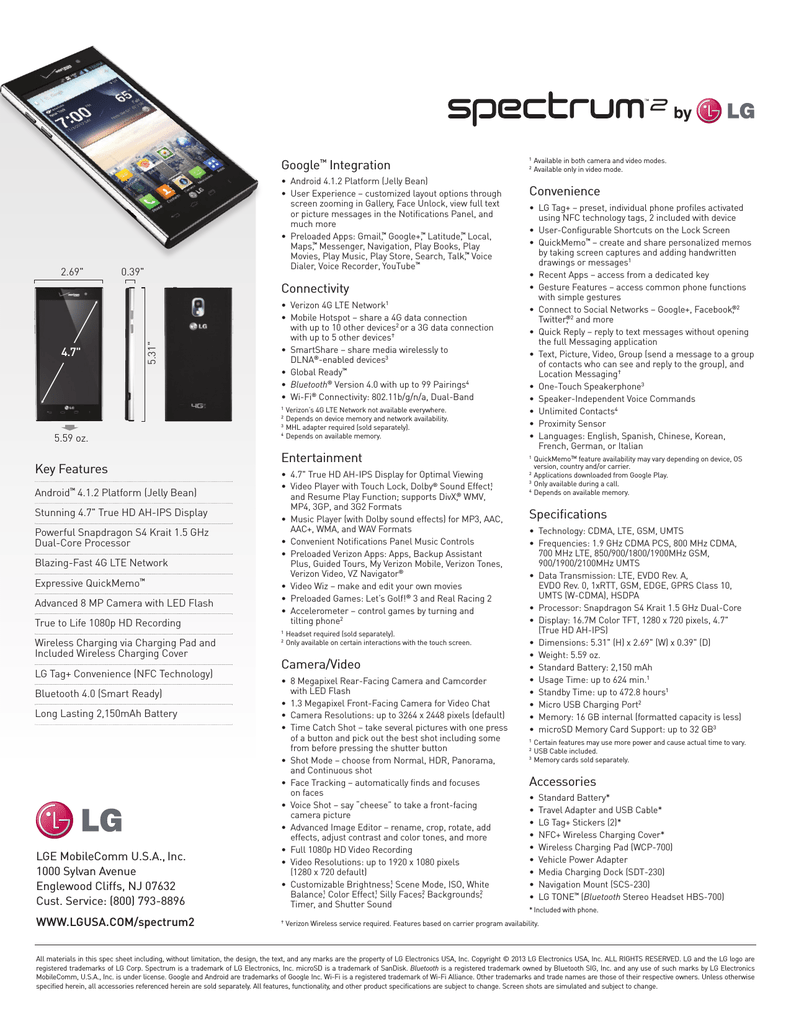 Google™ Integration
2.69"
• Android 4.1.2 Platform (Jelly Bean)
• User Experience – customized layout options through
screen zooming in Gallery, Face Unlock, view full text
or picture messages in the Notifications Panel, and
much more
• Preloaded Apps: Gmail,™ Google+,™ Latitude,™ Local,
Maps,™ Messenger, Navigation, Play Books, Play
Movies, Play Music, Play Store, Search, Talk,™ Voice
Dialer, Voice Recorder, YouTube™
0.39"
4.7"
5.31"
Connectivity
• Verizon 4G LTE Network1
• Mobile Hotspot – share a 4G data connection
with up to 10 other devices2 or a 3G data connection
with up to 5 other devices†
• SmartShare – share media wirelessly to
DLNA®-enabled devices3
• Global Ready™
• Bluetooth® Version 4.0 with up to 99 Pairings4
• Wi-Fi® Connectivity: 802.11b/g/n/a, Dual-Band
1
2
3
5.59 oz.
Key Features
™
Android 4.1.2 Platform (Jelly Bean)
Stunning 4.7" True HD AH-IPS Display
Powerful Snapdragon S4 Krait 1.5 GHz
Dual-Core Processor
Blazing-Fast 4G LTE Network
Expressive QuickMemo™
Advanced 8 MP Camera with LED Flash
True to Life 1080p HD Recording
4
Entertainment
• 4.7" True HD AH-IPS Display for Optimal Viewing
• Video Player with Touch Lock, Dolby® Sound Effect,1
and Resume Play Function; supports DivX,® WMV,
MP4, 3GP, and 3G2 Formats
• Music Player (with Dolby sound effects) for MP3, AAC,
AAC+, WMA, and WAV Formats
• Convenient Notifications Panel Music Controls
• Preloaded Verizon Apps: Apps, Backup Assistant
Plus, Guided Tours, My Verizon Mobile, Verizon Tones,
Verizon Video, VZ Navigator®
• Video Wiz – make and edit your own movies
• Preloaded Games: Let's Golf!® 3 and Real Racing 2
• Accelerometer – control games by turning and
tilting phone2
1
Wireless Charging via Charging Pad and
Included Wireless Charging Cover
LG Tag+ Convenience (NFC Technology)
Bluetooth 4.0 (Smart Ready)
Long Lasting 2,150mAh Battery
LGE MobileComm U.S.A., Inc.
1000 Sylvan Avenue
Englewood Cliffs, NJ 07632
Cust. Service: (800) 793-8896
WWW.LGUSA.COM/spectrum2
Verizon's 4G LTE Network not available everywhere.
Depends on device memory and network availability.
MHL adapter required (sold separately).
Depends on available memory.
2
Headset required (sold separately).
Only available on certain interactions with the touch screen.
Camera/Video
• 8 Megapixel Rear-Facing Camera and Camcorder
with LED Flash
• 1.3 Megapixel Front-Facing Camera for Video Chat
• Camera Resolutions: up to 3264 x 2448 pixels (default)
• Time Catch Shot – take several pictures with one press
of a button and pick out the best shot including some
from before pressing the shutter button
• Shot Mode – choose from Normal, HDR, Panorama,
and Continuous shot
• Face Tracking – automatically finds and focuses
on faces
• Voice Shot – say "cheese" to take a front-facing
camera picture
• Advanced Image Editor – rename, crop, rotate, add
effects, adjust contrast and color tones, and more
• Full 1080p HD Video Recording
• Video Resolutions: up to 1920 x 1080 pixels
(1280 x 720 default)
• Customizable Brightness,1 Scene Mode, ISO, White
Balance,1 Color Effect,1 Silly Faces,2 Backgrounds,2
Timer, and Shutter Sound
†
1
2
Available in both camera and video modes.
Available only in video mode.
Convenience
• LG Tag+ – preset, individual phone profiles activated
using NFC technology tags, 2 included with device
• User-Configurable Shortcuts on the Lock Screen
• QuickMemo™ – create and share personalized memos
by taking screen captures and adding handwritten
drawings or messages1
• Recent Apps – access from a dedicated key
• Gesture Features – access common phone functions
with simple gestures
• Connect to Social Networks – Google+, Facebook,®2
Twitter,®2 and more
• Quick Reply – reply to text messages without opening
the full Messaging application
• Text, Picture, Video, Group (send a message to a group
of contacts who can see and reply to the group), and
Location Messaging†
• One-Touch Speakerphone3
• Speaker-Independent Voice Commands
• Unlimited Contacts4
• Proximity Sensor
• Languages: English, Spanish, Chinese, Korean,
French, German, or Italian
1
2
3
4
QuickMemoTM feature availability may vary depending on device, OS
version, country and/or carrier.
Applications downloaded from Google Play.
Only available during a call.
Depends on available memory.
Specifications
• Technology: CDMA, LTE, GSM, UMTS
• Frequencies: 1.9 GHz CDMA PCS, 800 MHz CDMA,
700 MHz LTE, 850/900/1800/1900MHz GSM,
900/1900/2100MHz UMTS
• Data Transmission: LTE, EVDO Rev. A,
EVDO Rev. 0, 1xRTT, GSM, EDGE, GPRS Class 10,
UMTS (W-CDMA), HSDPA
• Processor: Snapdragon S4 Krait 1.5 GHz Dual-Core
• Display: 16.7M Color TFT, 1280 x 720 pixels, 4.7"
(True HD AH-IPS)
• Dimensions: 5.31" (H) x 2.69" (W) x 0.39" (D)
• Weight: 5.59 oz.
• Standard Battery: 2,150 mAh
• Usage Time: up to 624 min.1
• Standby Time: up to 472.8 hours1
• Micro USB Charging Port2
• Memory: 16 GB internal (formatted capacity is less)
• microSD Memory Card Support: up to 32 GB3
1
2
3
Certain features may use more power and cause actual time to vary.
USB Cable included.
Memory cards sold separately.
Accessories
•
•
•
•
•
•
•
•
•
Standard Battery*
Travel Adapter and USB Cable*
LG Tag+ Stickers (2)*
NFC+ Wireless Charging Cover*
Wireless Charging Pad (WCP-700)
Vehicle Power Adapter
Media Charging Dock (SDT-230)
Navigation Mount (SCS-230)
LG TONE™ (Bluetooth Stereo Headset HBS-700)
* Included with phone.
Verizon Wireless service required. Features based on carrier program availability.
All materials in this spec sheet including, without limitation, the design, the text, and any marks are the property of LG Electronics USA, Inc. Copyright © 2013 LG Electronics USA, Inc. ALL RIGHTS RESERVED. LG and the LG logo are
registered trademarks of LG Corp. Spectrum is a trademark of LG Electronics, Inc. microSD is a trademark of SanDisk. Bluetooth is a registered trademark owned by Bluetooth SIG, Inc. and any use of such marks by LG Electronics
MobileComm, U.S.A., Inc. is under license. Google and Android are trademarks of Google Inc. Wi-Fi is a registered trademark of Wi-Fi Alliance. Other trademarks and trade names are those of their respective owners. Unless otherwise
specified herein, all accessories referenced herein are sold separately. All features, functionality, and other product specifications are subject to change. Screen shots are simulated and subject to change.