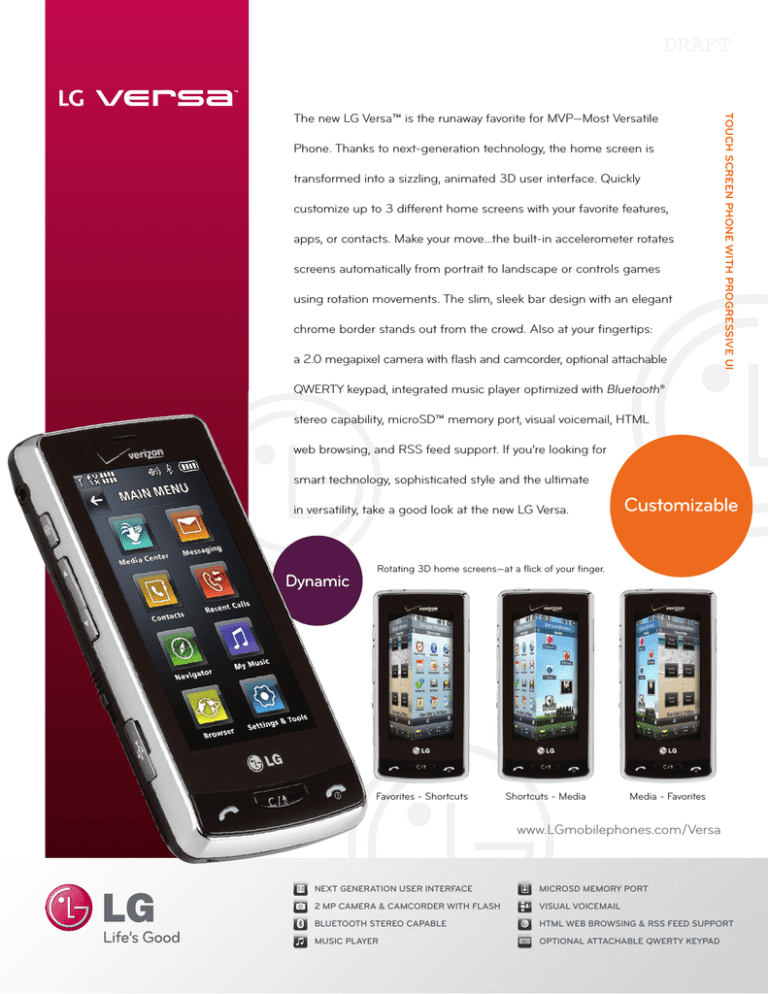 DRAFT
Phone. Thanks to next-generation technology, the home screen is
transformed into a sizzling, animated 3D user interface. Quickly
customize up to 3 different home screens with your favorite features,
apps, or contacts. Make your move...the built-in accelerometer rotates
screens automatically from portrait to landscape or controls games
using rotation movements. The slim, sleek bar design with an elegant
chrome border stands out from the crowd. Also at your fingertips:
a 2.0 megapixel camera with flash and camcorder, optional attachable
TOUCH SCREEN PHONE WITH PROGRESSIVE UI
The new LG Versa™ is the runaway favorite for MVP—Most Versatile
QWERTY keypad, integrated music player optimized with Bluetooth®
stereo capability, microSD™ memory port, visual voicemail, HTML
web browsing, and RSS feed support. If you're looking for
smart technology, sophisticated style and the ultimate
in versatility, take a good look at the new LG Versa.
Dynamic
Customizable
Rotating 3D home screens—at a flick of your finger.
Favorites - Shortcuts
Shortcuts - Media
Media - Favorites
www.LGmobilephones.com/Versa
NEXT GENERATION USER INTERFACE
MICROSD MEMORY PORT
2 MP CAMERA & CAMCORDER WITH FLASH
VISUAL VOICEMAIL
BLUETOOTH STEREO CAPABLE
HTML WEB BROWSING & RSS FEED SUPPORT
MUSIC PLAYER
OPTIONAL ATTACHABLE QWERTY KEYPAD
DRAFT
TOUCH SCREEN PHONE WITH PROGRESSIVE UI
DESIGN
MOBILE MEDIA
• Sleek Bar Design
• Auto Screen & Key Lock—prevents unwanted key actions
• Large 3" Touch Screen with Tactile Feedback
•
•
•
•
•
•
CAMERA/VIDEO
• 2.0 Megapixel Camera & Camcorder with Flash
• Camera Resolutions: 1600 x 1200 (default), 1280 x 960,
800 x 400, 640 x 480, 320 x 240 Pixels
• SmartPic Technology for Improved Image Quality
• Face Detection—automatically detects a face when taking a picture
• Zoom: up to 2x*
• Image Editor: zoom, rotate, crop, add frames, icons, write over images
• Video Resolutions: 640 x 480, 320 x 240, 176 x 144 Pixels (default)
• Video Recording Time: 30 sec. (for sending) or up to 1 hr.
(for saving)**
• Video Player for WMV, MP4, 3GP, and 3G2 Formats
• Customizable Brightness***, White Balance***, Shutter Sound,
Color Effects***, Photometry, Self-Timer
*Varies by image size. Camera setting of 1600 x 1200 pixels does not support zoom function.
**Depends on available memory.
***Available in both video and camera modes.
MUSIC
• Sync Music from V CAST Music† with Rhapsody® to Phone*
• Music Player for MP3, WMA, Unprotected AAC & Unprotected AAC+
• Multitask While Playing Music—hide player to send messages,
edit contacts, and browse the web
• Create & Manage Playlists
• Music Library—organized by artist, genre, and album
• Music Only Mode (RF off except Bluetooth)
• microSD™ Memory Port with up to 16GB Support**
• USB Mass Storage—transfer files between microSD card and PC***
*A compatible USB cable is required for syncing. Verizon | Rhapsody will work with Windows
Vista® or XP. Not available for Mac® or Linux.
**Not all downloaded content may be moved to the microSD card.
***Requires microSD card and USB cable.
BLUETOOTH®
•
•
•
•
•
•
Version: 2.1 + EDR (Enhanced Data Rate)
Listen to Music with Optional Stereo Bluetooth Headset
Send Contacts and Calendar Events via Bluetooth
Print and Send User-Generated Pictures (JPEG) via Bluetooth
Save up to 20 Bluetooth Pairings
Supported Profiles: headset, hands-free*, dial-up networking,
stereo Bluetooth, phone book access, basic printing, object push,
file transfer, basic imaging, human interface device
*For Bluetooth vehicle/accessory compatibility, go to www.verizonwireless.com/bluetoothchart.
VOICE/AUDIO
•
•
•
•
•
•
•
One-Touch Speakerphone
Speaker-Independent Voice Commands
Voice Recording: 1 min. or 1 hr.* (standby)
Music Ringer Support (clips from hit songs)†
26 Unique Ringtones + Vibrate & Silent Modes
TTY/TDD Support
Hearing Aid Compatible (M4/T4-Rating)
Visual Voicemail†
V CAST Videos†
HTML Web Browsing with Touch Navigation and Favorites†
Multiple Window Browsing—open up to 3 windows at the same time
In Line Flash—enjoy real flash content
RSS (Rich Site Summary) Feed Support—quick access to updates
on regularly changing web content
• Text, Picture, Video, & Voice Messaging†
• Threaded Messaging—displays messages in time-order from a
contact accessed via favorites
• Mobile E-mail, Instant Messaging, & My Verizon†
TOOLS & DATA
• VZ NavigatorSM Capable via SmartLink†
• Phone Book with 1,000 Contacts—each stores 5 numbers,
2 e-mail addresses, and a picture ID*
• FOTA Capable—upgrade firmware over the air
• Favorites—add up to 10 contacts with picture ID*
• Speed Dial: 998 entries
*Dependent on photos stored in your album (My Pictures).
GENERAL
• Animated 3D Screen Interface—navigate between 3 customizable
home screens for favorites, shortcuts, and media.
• Built-in Accelerometer—automatically rotates screen from portrait to
landscape or controls games using rotation movements*
• Customizable Font Size for Dialing, Menu & Lists, and Messages
• Micro USB/Charging Port
• USB Charging via Computer
• Enhanced Flash UI for Clear Images/Text & Fun Animations
• Simultaneous GPS for Enhanced Location Accuracy
• Standalone Mode (RF Off)
*Home screens only rotate to landscape when QWERTY is attached.
SPECIFICATIONS
•
•
•
•
•
•
•
•
•
Technology: CDMA
Frequency: 1.9 GHz CDMA PCS, 800 MHz CDMA (Digital Dual-Band)
Data Transmission: EVDO Rev-A
Handset Dimensions: 4.17"(H) x 2.07"(W) x 0.54"(D)
Handset Weight: 3.81 oz.
Handset Display: 262K Color TFT LCD, 480 x 240 Pixels, 3.0"
Standard Battery: 1,100 mAh
Usage Time: Up to 290 Minutes*
Standby Time: Up to 430 Hours*
*Certain features may use more power and cause actual usage and standby times to vary.
ACCESSORIES
Stylus*, Standard Battery*, Wall/USB Charger*, QWERTY Keypad,
Bluetooth Headset, Bluetooth Stereo Headset, Bluetooth Stereo
Speakers, Portable Stereo Speakers, Game Controller with 8-Way
Navigation**, Stereo Headset, Extended Battery (1,500 mAh),
Swivel Holster, Vehicle Power Charger, microSD Memory Card.
*Included with phone.
**Game controller is a non-LG accessory that can be purchased through Verizon Wireless.
*Depends on available memory.
†Verizon Wireless service required. V CAST service is not available in all areas. Product features subject to change. Features based on carrier program availability.
LGE MobileComm U.S.A., Inc.
10101 Old Grove Rd., San Diego, CA 92131
Customer Service: (800) 793-8896
www.LGUSA.com
Cert no. XXX-XXX-XXX
HEADSET
MUSIC
TRANSFER
PRINT
All materials in this datasheet including, without limitation, the design, the text, and any marks are the property of LG Electronics, Inc. Copyright ©2009 LG Electronics, Inc. ALL RIGHTS RESERVED. LG is a registered trademark of LG Electronics, Inc. Features and
specifications are subject to change without prior notice. The use of non-LG or non-Verizon Wireless approved accessories will void the warranty and may result in damage to the phone, the phone exploding, or other dangerous conditions. microSD™ is a trademark
of SanDisk. The Bluetooth® word mark and logos are registered trademarks owned by Bluetooth SIG, Inc. and any use of such marks by LG Electronics MobileComm, U.S.A., Inc. is under license. Other trademarks and trade names are those of their respective owners.
Unless otherwise specified herein, all accessories referenced herein are sold separately.

* Your assessment is very important for improving the work of artificial intelligence, which forms the content of this project