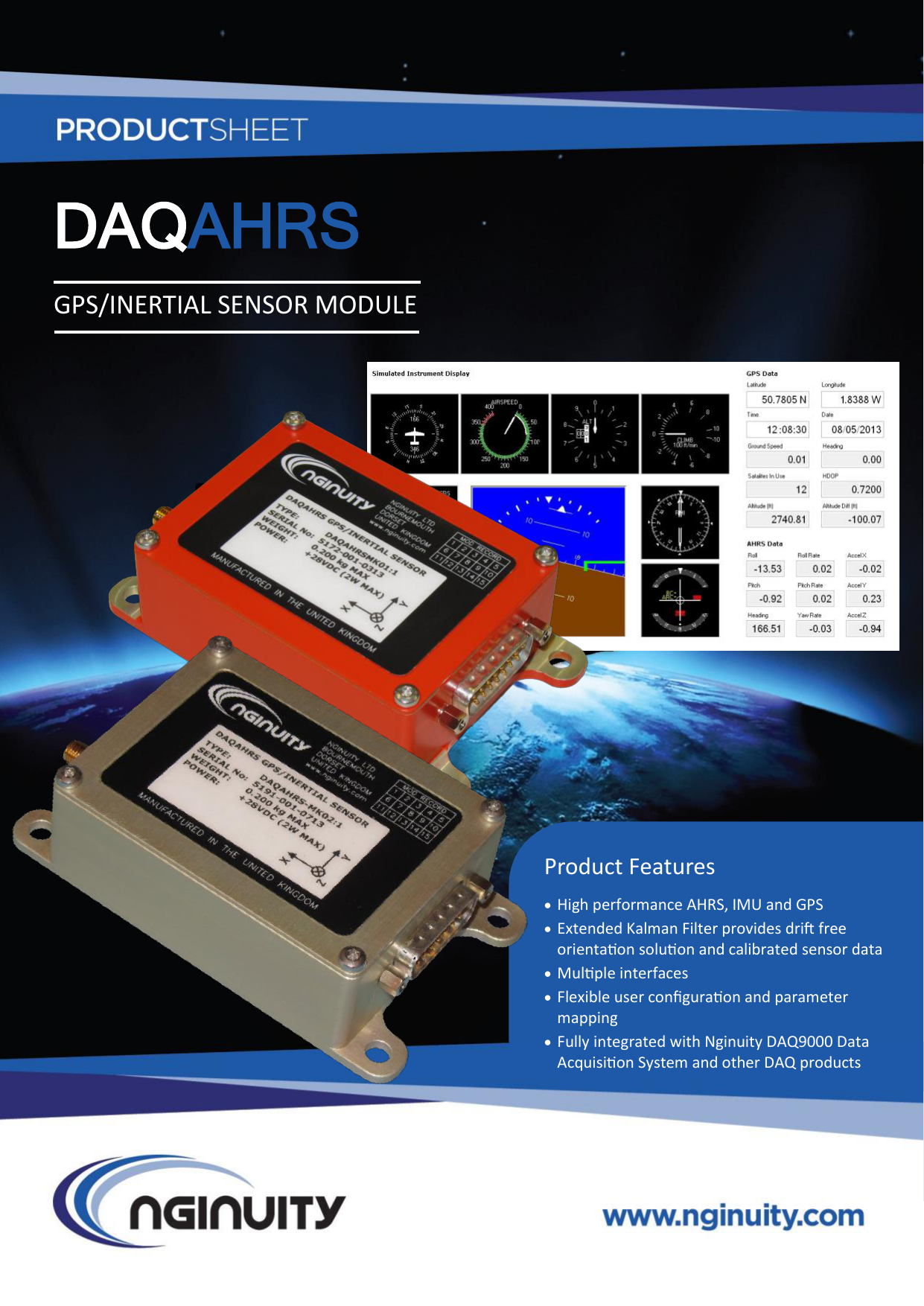 DAQAHRS
GPS/INERTIAL SENSOR MODULE
Product Features
 High performance AHRS, IMU and GPS
 Extended Kalman Filter provides drift free
orientation solution and calibrated sensor data
 Multiple interfaces
 Flexible user configuration and parameter
mapping
 Fully integrated with Nginuity DAQ9000 Data
Acquisition System and other DAQ products
PRODUCTOVERVIEW
DAQAHRS GPS/INERTIAL SENSOR MODULE
A high performance Attitude and Heading Reference System (AHRS), Inertial Measurement
Unit (IMU) and Global Positioning System (GPS) providing position and inertial navigation
information with 10 degrees of freedom. DAQAHRS provides calibrated sensor data and a
drift free orientation solution using an Extended Kalman Filter. An ideal sensor module for
flight test instrumentation, recorder and system applications requiring position awareness.
Product Features
Attitude & Heading





Range: Heading, Roll: ±180°, Pitch: ±90°
Accuracy (heading): < 2.0°
Accuracy (pitch/roll): < 0.5°
Angular Resolution: < 0.05°
Maximum Output Rate: 200Hz
Gyro




3 axis angular rate
Range: ±500°/s
Linearity: < 0.1% FS
Noise Density: 0.005°/s /√Hz
Accelerometer




3 axis acceleration
Range: ±8g
Linearity: < 0.5% FS
Noise Density: 0.4mg/√Hz
Compass




3 axis magnetometer
Range: ±2.5 Gauss
Linearity: < 0.1% FS
Noise Density: 140μGauss/√Hz
GPS Receiver
 Receiver: L1 C/A Code
 Up to 10Hz update rate
 Differential GPS enabled (1Hz update rate)
RTCM 104, SBAS (WAAS, EGNOS, MSAS)
 Antenna supply options
3.3V (30mA), 5V (60mA) or passive
Speed Inertial Augmentation
 From GPS or external speed data source
Data Output
Digital serial interfaces : ARINC 429 Tx (High or Low speed)
 2 off RS232 Rx/Tx or 1 off RS422/485 Rx/Tx
 1 off ARINC 825/CAN Spec 2.0B Rx/Tx
(termination resistor selectable in connector)
 Configurable parameter outputs per interface
Power: 10 to 36Vdc, 2W max.
Temperature
 Operating: -15°C to +55°C
 Storage: -40°C to +85°C
Size: 105 x 60 x 31mm
Weight: 0.2kg max
Colour
Orange, Black or Alocrom 1200
The DAQAHRS GPS/Inertial Sensor Module integrates all the sensors needed to achieve full position
and motion sensing of any platform for data recording or position indication applications. The fused
data as well as the individual sensor data are available directly. Each interface can be configured to
output any parameter.
Full integrated with our DAQ9000 Data Acquisition System and other products in the DAQ range for
acquisition, recording and correlation with other data sources.

* Your assessment is very important for improving the work of artificial intelligence, which forms the content of this project