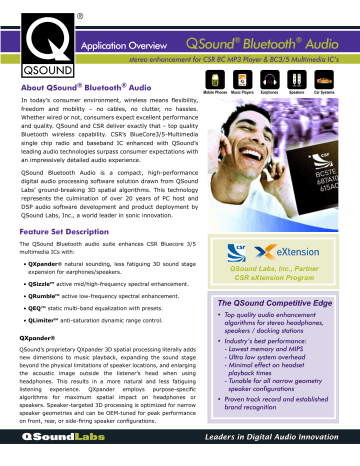 Application Overview
QSound® Bluetooth® Audio
stereo enhancement for CSR BC MP3 Player & BC3/5 Multimedia IC's
About QSound® Bluetooth® Audio
Mobile Phones Music Players
Earphones
Speakers
Car Systems
In today's consumer environment, wireless means flexibility,
freedom and mobility – no cables, no clutter, no hassles.
Whether wired or not, consumers expect excellent performance
and quality. QSound and CSR deliver exactly that – top quality
Bluetooth wireless capability. CSR's BlueCore3/5-Multimedia
single chip radio and baseband IC enhanced with QSound's
leading audio technologies surpass consumer expectations with
an impressively detailed audio experience.
QSound Bluetooth Audio is a compact, high-performance
digital audio processing software solution drawn from QSound
Labs' ground-breaking 3D spatial algorithms. This technology
represents the culmination of over 20 years of PC host and
DSP audio software development and product deployment by
QSound Labs, Inc., a world leader in sonic innovation.
Feature Set Description
The QSound Bluetooth audio suite enhances CSR Bluecore 3/5
multimedia ICs with:
•QXpander ® natural sounding, less fatiguing 3D sound stage
expansion for earphones/speakers.
QSound Labs, Inc., Partner
CSR eXtension Program
•QSizzle™ active mid/high-frequency spectral enhancement.
•QRumble™ active low-frequency spectral enhancement.
•QEQ™ static multi-band equalization with presets.
•QLimiter™ anti-saturation dynamic range control.
QXpander®
QSound's proprietary QXpander 3D spatial processing literally adds
new dimensions to music playback, expanding the sound stage
beyond the physical limitations of speaker locations, and enlarging
the acoustic image outside the listener's head when using
headphones. This results in a more natural and less fatiguing
listening experience. QXpander employs purpose-specific
algorithms for maximum spatial impact on headphones or
speakers. Speaker-targeted 3D processing is optimized for narrow
speaker geometries and can be OEM-tuned for peak performance
on front, rear, or side-firing speaker configurations.
The QSound Competitive Edge
• Top quality audio enhancement
algorithms for stereo headphones,
speakers / docking stations
•
Industry's best performance:
- Lowest memory and MIPS
- Ultra low system overhead
- Minimal effect on headset
playback times
- Tunable for all narrow geometry
speaker configurations
• Proven track record and established
brand recognition
Leaders in Digital Audio Innovation
QSound® Bluetooth® Audio
Feature Set Description
Technical Specifications
& Implementation Data
continued
QSizzle™
An adaptive mid to high-frequency spectral enhancement, selectively adding
upper spectrum energy according to the real time characteristics of the input
signal. QSizzle restores a natural sounding sonic punch to highly compressed
audio formats like MP3 resulting in lively, sparkling highs without the harsh
side-effects of simple frequency boosters.
Audio solutions by QSound Labs have
been rigorously optimized with the
participation of our major industry
partners focusing on three critical
requirements:
QRumble™
The low-frequency counterpart to QSizzle, QRumble also adds energy
selectively, bringing substance and warmth to the low end of the spectrum
without overloading on loud passages.
QEQ™
Multi-band equalization for custom shaping frequency response with 17
different presets including Classical, Jazz, Rock and Pop.
QLimiter™
• Quality
• Processing performance
• Memory footprint.
You can expect at least 25 to 50 percent
savings on MIPS and memory footprint
when compared to competing solutions.
For detailed technical information and
implementation data, please contact
a QSound Labs representative.
A high-efficiency, anti-saturation dynamic range controller, QLimiter handles
any combination of signals and extreme effects settings. Eliminates output
distortion with surprisingly little CPU bandwidth use, ensuring consistent
high-quality playback.
BlueCore™ Player
Single-Chip Bluetooth® MP3 Player with QSound®
BlueCore™ Player is an MP3 Player reference design developed by CSR,
based on the latest Bluetooth technology. The BlueCore MP3 Player integrates
QSound's QXpander® and QEQ™ audio enhancement effects with Bluetooth
on a single chip, allowing high-quality audio to be streamed wirelessly to
Bluetooth stereo headphones for maximum listening pleasure. Measuring just
56mm by 37mm, BlueCore Player offers a low cost, low power integrated
audio Bluetooth solution for MP3
players, DAB radios, hi-fi systems
and more. It can stream music over
Bluetooth for over 18 hours from an
800mAh Li ion battery.
Contact Us
QSound Labs, Inc.
400 - 3115 - 12th Street NE
Calgary Alberta Canada T2E 7J2
Tel: +1-403-291-2492
Fax: +1-403-250-1521
Email: [email protected]
www.qsound.com
QSound Bluetooth Overview v3.4_QS807
QSound, microQ, mQFX, QHD, QSizzle, QRumble, QXpander, Q3D & the QSound Logo are trademarks of QSound Labs, Inc. Other trademarks are the property
of their respective owners. Copyright ©2008 QSound Labs, Inc. All rights reserved. Subject to change without notice.

* Your assessment is very important for improving the work of artificial intelligence, which forms the content of this project