Contact Us About Us Our Service - ruralcinema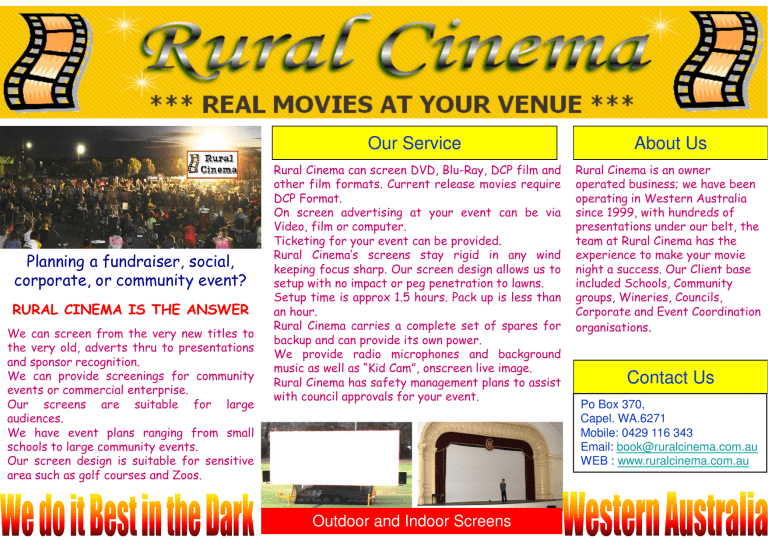 Planning a fundraiser, social,
corporate, or community event?
RURAL CINEMA IS THE ANSWER
We can screen from the very new titles to
the very old, adverts thru to presentations
and sponsor recognition.
We can provide screenings for community
events or commercial enterprise.
Our screens are suitable for large
audiences.
We have event plans ranging from small
schools to large community events.
Our screen design is suitable for sensitive
area such as golf courses and Zoos.
Our Service
About Us
Rural Cinema can screen DVD, Blu-Ray, DCP film and
other film formats. Current release movies require
DCP Format.
On screen advertising at your event can be via
Video, film or computer.
Ticketing for your event can be provided.
Rural Cinema's screens stay rigid in any wind
keeping focus sharp. Our screen design allows us to
setup with no impact or peg penetration to lawns.
Setup time is approx 1.5 hours. Pack up is less than
an hour.
Rural Cinema carries a complete set of spares for
backup and can provide its own power.
We provide radio microphones and background
music as well as "Kid Cam", onscreen live image.
Rural Cinema has safety management plans to assist
with council approvals for your event.
Rural Cinema is an owner
operated business; we have been
operating in Western Australia
since 1999, with hundreds of
presentations under our belt, the
team at Rural Cinema has the
experience to make your movie
night a success. Our Client base
included Schools, Community
groups, Wineries, Councils,
Corporate and Event Coordination
organisations.
Outdoor and Indoor Screens
Contact Us
Po Box 370,
Capel. WA.6271
Mobile: 0429 116 343
Email: [email protected]
WEB : www.ruralcinema.com.au
How would I go about organising an
outdoor or indoor cinema at my venue?
Please read our Terns and Conditions prior to booking.
Available @ www.ruralcinema.com.au
Why – Is this a fundraiser, a community event or just a night out?
Where – Choose a location that is suited to your purpose. If you want
to use the local park, check that street lighting and traffic noise is not
going to be an issue on the night. Public open space will require
council approval. Most councils will require an event management plan
and 6 weeks notices. Schools may require approval from the Principal.
Check that your venue has adequate power for your requirements and
Reticulation inactive on the night. Make sure that venue lighting can be
turned off and on as required on the night. Plus, there is adequate
parking.
When – Pick a date and check that your chosen venue is available
and that you are not clashing with other events. Check that Rural
Cinema is available for your screening date.
How Funding - Set a budget. Allow funds for advertising your event,
insurance, council approvals, toilets ETC.
Apply for a grant, Grantslink (www.grantslink.gov.au/About.aspx ) or
Lottowest (www.lotterywest.wa.gov.au/grants )
Seek out sponsors within the community, offer on screen advertising
and logo on all advertising materials.
Ticket pricing - don't undervalue your event but on the same
hand a full house is great, so don't overprice your tickets either.
Rural cinema can help you with pricing and can provide you with
tickets for your night. (NOTE - Tickets may be a requirement with
some distributors)
Pre-sell tickets – people are less likely to change their mind about
coming on the night if they are already committed.
Movie selection - Once a cinema date is confirmed Rural
Cinema will forward a list of movie titles. This list can be large, so
consider what sort of movie you'd like to screen, a themed event,
a nostalgic older movie or a new release ( Note – Each film
distributor has their own set of rules for when and how movies
can be screened – ALL MOVIES REQUIRE SCREENING
PERMISSION.)
A suggestion is to pick your target market age group select a
movie that will appeal to this age group either by asking a few
friends in that age group or put it to your committee, do not ask
for to many opinions or the list will get to long. Put forward your
top three preferences in preference order. Sometimes especially
relating to new release movies your first choice is not always
available to you.
Rural Cinema
Make your own tickets available from our web site www.ruralcinema.com.au/downloads.php
Power - Rural cinema can provide it's own power at an
additional cost , so power is not always a consideration,
however toilet facilities and power for other stall holders etc
needs to be considered.
Use the form below to plan your event. Put the
name of who is responsible for each component of
your event in the right hand column.
Planning your movie night
Sound - Rural Cinema will provide all equipment required for
sound, Including Microphones for announcements and back
ground music prior to the screening. If you have a special
requirement please let us know.
Name of Event
Screening Date
Rural Cinema availability
Event location
Wet weather contingency - The thing about outdoor cinema
is the weather is not always guaranteed. However if an
alternate venue is already sourced and advertising indicates
this then a change of venue is just as successful.
Advertising - You can't sell a secret so be loud about your
event – the more the merrier. posters, flyers and community
notice boards are a good launch pad but consider anywhere
that lets people know of your event.
There are some restrictions on how you can advertise your
movie. Certain movie titles require advertising permission from
the distributor.
Not for profit groups have a lot of advertising/promotion
opportunities for little and no cost. A press release to the local
paper and newsletters. What's on columns in the newspaper.
Local schools, sporting groups and community groups all have
a notice board of some description. Rural cinema can provide
you with movie posters and flyers at an additional cost.
Clash with other events
Permission
Layout
Lighting
Planning
Power
Reticulation
Security
Wet Weather
Funding
Grants
Sponsors
Advertising
Tickets
Food sales
Event
Movie Selection
Rural Cinema Quote
Other costs
Advertising
Food for thought
1. Most People choose new releases, however theme nights can work out well EG Rocky
Horror, Neverending Story, ET, ECT.
2. If you wish to have an intermission keep it short 10 - 15 mins unless you have an
activity planned (people get bored and the kids run a-muck)
3. Don't become a baby-sitting service; Make sure children are accompanied by
adults, as adults are paying customers! Large groups of children are difficult to handle
and may affect your insurance.
5. Budget to advertise the event well. This is very important to get the numbers on
the night
6. Keep the entry fee reasonable and not too cheap EG $8 - $15 for everybody.
7. Don't plan anything for after the feature presentation (unless a theme night). In
my experience the hall or oval will be empty before the credits have finished.
8. Drum up funds by offering on screen advertising.
9. Pre-sell as many tickets as you can.
10. Make sure there are plenty of bins for rubbish.

* Your assessment is very important for improving the work of artificial intelligence, which forms the content of this project