Telemetry Terminal for Remote Monitoring and Control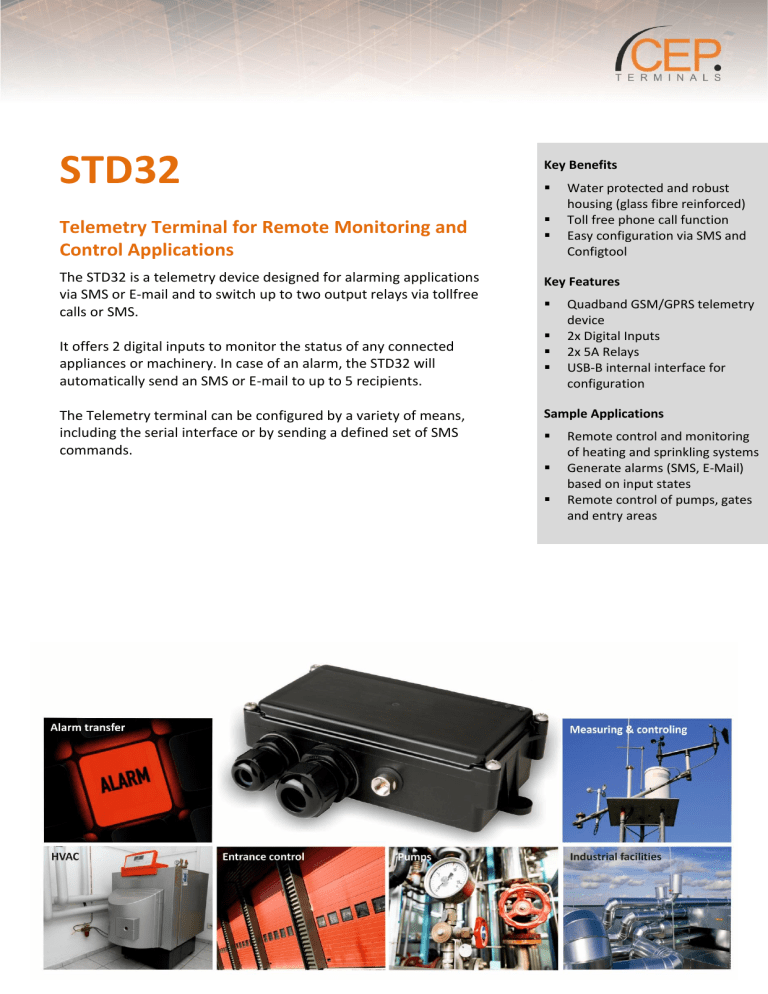 STD32
Key Benefits

Water protected and robust
housing (glass fibre reinforced)
Toll free phone call function
Easy configuration via SMS and
Configtool
Telemetry Terminal for Remote Monitoring and
Control Applications


The STD32 is a telemetry device designed for alarming applications
via SMS or E-mail and to switch up to two output relays via tollfree
calls or SMS.
Key Features
It offers 2 digital inputs to monitor the status of any connected
appliances or machinery. In case of an alarm, the STD32 will
automatically send an SMS or E-mail to up to 5 recipients.
The Telemetry terminal can be configured by a variety of means,
including the serial interface or by sending a defined set of SMS
commands.




Quadband GSM/GPRS telemetry
device
2x Digital Inputs
2x 5A Relays
USB-B internal interface for
configuration
Sample Applications



Remote control and monitoring
of heating and sprinkling systems
Generate alarms (SMS, E-Mail)
based on input states
Remote control of pumps, gates
and entry areas
Wireless Features
Interfaces
 GSM/GPRS Frequency Bands: GSM / GPRS Quad
Band
 GPRS Class: Class 10
 USB 2.0: 1x (USB-B connector; internal, for
configuration)
 Digital Inputs: 2x (galvanically isolated; common
external ground)
 Switching Capacity (Relays): 2x (5A/250V AC, 5A/30V
DC, resistive load)
Hardware Features
 Robust and water protected, glass fibre
reinforced housing (min. GF30)
 SIM Card Holder: 1x (1,8/3 Volt)
 SIM Chip Option
 LEDs: 4x (Power / GSM / 2x Status)
 Type Approvals: CE
Power Management
 Voltage Range: 7 - 32V DC
 Power Consumption (Typical): ~14 mA
Hardware Characteristics
Software





Firmware Update: DOTA / USB
Device Configuration: SMS / Config Tool
Status / Event Reporting: SMS / SMTP E-Mail
SMTP E-Mail: Transmission of Event Data
Secure E-Mail (SSL)




Operating Temperature: -30°C to +75°C
Dimensions: 150x65x45 mm
Weight: 230 g
Terminal is shipped by default with a rectangular
antenna
Telic certified Accessories.
www.telic.de
© Telic AG, V2.4-052017
Product specifications are subject
to change without prior
notification. CEP Terminals is a
brand of the Telic AG.

* Your assessment is very important for improving the work of artificial intelligence, which forms the content of this project