being held in Newark New ersey between October 1 10 201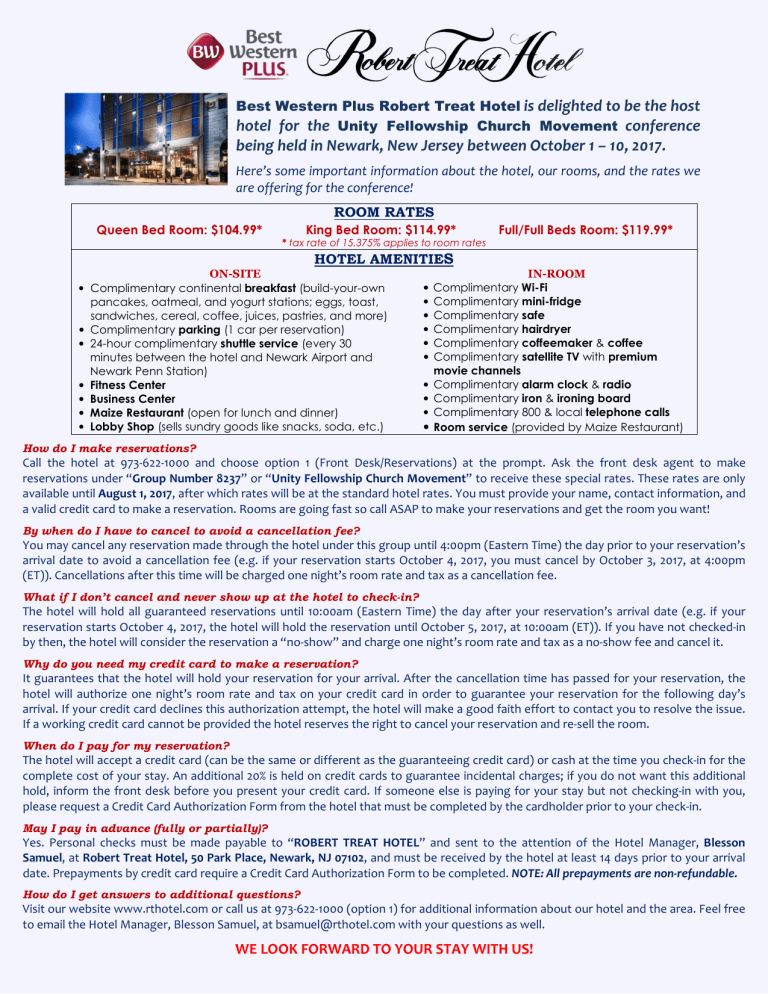 Best Western Plus Robert Treat Hotel is delighted to be the host
hotel for the Unity Fellowship Church Movement conference
being held in Newark, New Jersey between October 1 – 10, 2017.
Here's some important information about the hotel, our rooms, and the rates we
are offering for the conference!
ROOM RATES
Queen Bed Room: $104.99*
King Bed Room: $114.99*
Full/Full Beds Room: $119.99*
* tax rate of 15.375% applies to room rates
HOTEL AMENITIES
•
•
•
•
•
•
•
ON-SITE
Complimentary continental breakfast (build-your-own
pancakes, oatmeal, and yogurt stations; eggs, toast,
sandwiches, cereal, coffee, juices, pastries, and more)
Complimentary parking (1 car per reservation)
24-hour complimentary shuttle service (every 30
minutes between the hotel and Newark Airport and
Newark Penn Station)
Fitness Center
Business Center
Maize Restaurant (open for lunch and dinner)
Lobby Shop (sells sundry goods like snacks, soda, etc.)
•
•
•
•
•
•
•
•
•
•
IN-ROOM
Complimentary Wi-Fi
Complimentary mini-fridge
Complimentary safe
Complimentary hairdryer
Complimentary coffeemaker & coffee
Complimentary satellite TV with premium
movie channels
Complimentary alarm clock & radio
Complimentary iron & ironing board
Complimentary 800 & local telephone calls
Room service (provided by Maize Restaurant)
How do I make reservations?
Call the hotel at 973-622-1000 and choose option 1 (Front Desk/Reservations) at the prompt. Ask the front desk agent to make
reservations under "Group Number 8237" or "Unity Fellowship Church Movement" to receive these special rates. These rates are only
available until August 1, 2017, after which rates will be at the standard hotel rates. You must provide your name, contact information, and
a valid credit card to make a reservation. Rooms are going fast so call ASAP to make your reservations and get the room you want!
By when do I have to cancel to avoid a cancellation fee?
You may cancel any reservation made through the hotel under this group until 4:00pm (Eastern Time) the day prior to your reservation's
arrival date to avoid a cancellation fee (e.g. if your reservation starts October 4, 2017, you must cancel by October 3, 2017, at 4:00pm
(ET)). Cancellations after this time will be charged one night's room rate and tax as a cancellation fee.
What if I don't cancel and never show up at the hotel to check-in?
The hotel will hold all guaranteed reservations until 10:00am (Eastern Time) the day after your reservation's arrival date (e.g. if your
reservation starts October 4, 2017, the hotel will hold the reservation until October 5, 2017, at 10:00am (ET)). If you have not checked-in
by then, the hotel will consider the reservation a "no-show" and charge one night's room rate and tax as a no-show fee and cancel it.
Why do you need my credit card to make a reservation?
It guarantees that the hotel will hold your reservation for your arrival. After the cancellation time has passed for your reservation, the
hotel will authorize one night's room rate and tax on your credit card in order to guarantee your reservation for the following day's
arrival. If your credit card declines this authorization attempt, the hotel will make a good faith effort to contact you to resolve the issue.
If a working credit card cannot be provided the hotel reserves the right to cancel your reservation and re-sell the room.
When do I pay for my reservation?
The hotel will accept a credit card (can be the same or different as the guaranteeing credit card) or cash at the time you check-in for the
complete cost of your stay. An additional 20% is held on credit cards to guarantee incidental charges; if you do not want this additional
hold, inform the front desk before you present your credit card. If someone else is paying for your stay but not checking-in with you,
please request a Credit Card Authorization Form from the hotel that must be completed by the cardholder prior to your check-in.
May I pay in advance (fully or partially)?
Yes. Personal checks must be made payable to "ROBERT TREAT HOTEL" and sent to the attention of the Hotel Manager, Blesson
Samuel, at Robert Treat Hotel, 50 Park Place, Newark, NJ 07102, and must be received by the hotel at least 14 days prior to your arrival
date. Prepayments by credit card require a Credit Card Authorization Form to be completed. NOTE: All prepayments are non-refundable.
How do I get answers to additional questions?
Visit our website www.rthotel.com or call us at 973-622-1000 (option 1) for additional information about our hotel and the area. Feel free
to email the Hotel Manager, Blesson Samuel, at [email protected] with your questions as well.
WE LOOK FORWARD TO YOUR STAY WITH US!

* Your assessment is very important for improving the work of artificial intelligence, which forms the content of this project