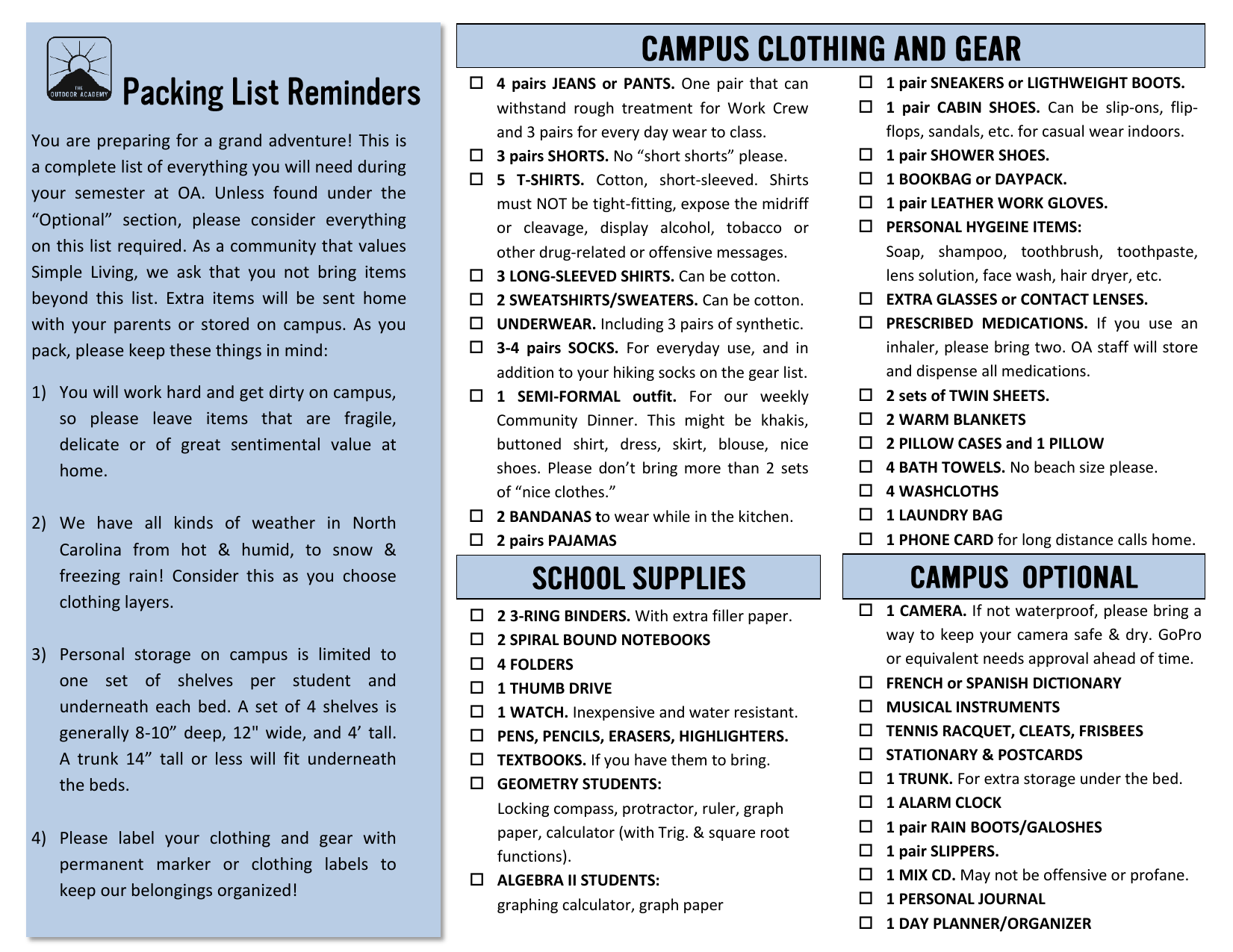 You are preparing for a grand adventure! This is
a complete list of everything you will need during
your semester at OA. Unless found under the
"Optional" section, please consider everything
on this list required. As a community that values
Simple Living, we ask that you not bring items
beyond this list. Extra items will be sent home
with your parents or stored on campus. As you
pack, please keep these things in mind:
1) You will work hard and get dirty on campus,
so please leave items that are fragile,
delicate or of great sentimental value at
home.
2) We have all kinds of weather in North
Carolina from hot & humid, to snow &
freezing rain! Consider this as you choose
clothing layers.
3) Personal storage on campus is limited to
one set of shelves per student and
underneath each bed. A set of 4 shelves is
generally 8-10" deep, 12" wide, and 4' tall.
A trunk 14" tall or less will fit underneath
the beds.
4) Please label your clothing and gear with
permanent marker or clothing labels to
keep our belongings organized!
 4 pairs JEANS or PANTS. One pair that can
withstand rough treatment for Work Crew
and 3 pairs for every day wear to class.
 3 pairs SHORTS. No "short shorts" please.
 5 T-SHIRTS. Cotton, short-sleeved. Shirts
must NOT be tight-fitting, expose the midriff
or cleavage, display alcohol, tobacco or
other drug-related or offensive messages.
 3 LONG-SLEEVED SHIRTS. Can be cotton.
 2 SWEATSHIRTS/SWEATERS. Can be cotton.
 UNDERWEAR. Including 3 pairs of synthetic.
 3-4 pairs SOCKS. For everyday use, and in
addition to your hiking socks on the gear list.
 1 SEMI-FORMAL outfit. For our weekly
Community Dinner. This might be khakis,
buttoned shirt, dress, skirt, blouse, nice
shoes. Please don't bring more than 2 sets
of "nice clothes."
 2 BANDANAS to wear while in the kitchen.
 2 pairs PAJAMAS

 1 pair SNEAKERS or LIGTHWEIGHT BOOTS.
 1 pair CABIN SHOES. Can be slip-ons, flipflops, sandals, etc. for casual wear indoors.
 1 pair SHOWER SHOES.
 1 BOOKBAG or DAYPACK.
 1 pair LEATHER WORK GLOVES.
 PERSONAL HYGEINE ITEMS:
Soap, shampoo, toothbrush, toothpaste,
lens solution, face wash, hair dryer, etc.
 EXTRA GLASSES or CONTACT LENSES.
 PRESCRIBED MEDICATIONS. If you use an
inhaler, please bring two. OA staff will store
and dispense all medications.
 2 sets of TWIN SHEETS.
 2 WARM BLANKETS
 2 PILLOW CASES and 1 PILLOW
 4 BATH TOWELS. No beach size please.
 4 WASHCLOTHS
 1 LAUNDRY BAG
 1 PHONE CARD for long distance calls home.








 1 CAMERA. If not waterproof, please bring a
way to keep your camera safe & dry. GoPro
or equivalent needs approval ahead of time.
 FRENCH or SPANISH DICTIONARY
 MUSICAL INSTRUMENTS
 TENNIS RACQUET, CLEATS, FRISBEES
 STATIONARY & POSTCARDS
 1 TRUNK. For extra storage under the bed.
 1 ALARM CLOCK
 1 pair RAIN BOOTS/GALOSHES
 1 pair SLIPPERS.
 1 MIX CD. May not be offensive or profane.
 1 PERSONAL JOURNAL
 1 DAY PLANNER/ORGANIZER
2 3-RING BINDERS. With extra filler paper.
2 SPIRAL BOUND NOTEBOOKS
4 FOLDERS
1 THUMB DRIVE
1 WATCH. Inexpensive and water resistant.
PENS, PENCILS, ERASERS, HIGHLIGHTERS.
TEXTBOOKS. If you have them to bring.
GEOMETRY STUDENTS:
Locking compass, protractor, ruler, graph
paper, calculator (with Trig. & square root
functions).
 ALGEBRA II STUDENTS:
graphing calculator, graph paper
1) Pack your Outdoor Clothing and Gear in a
separate bag from your Campus Clothing
and School Supplies. We will check on
Opening Day that you have everything you
need to begin Orientation Trek the following
morning. Having Outdoor Gear and Clothing
in a separate bag will help streamline that
process.
2) For safety and comfort ALL outdoor clothing
needs to be made from wool, fleece,
polysynthetic blends, or polypropylene.
Cotton clothing will not keep you warm
when wet like other materials. Cotton
clothing can be packed for the Campus
Clothing List.
3) Please do not bring a Down-Insulated
sleeping bag. We get far too much rain to
keep it dry.
4) Thrift stores and consignment shops are
great for purchasing gear on a budget and
work just as well as more expensive gear. If
you cannot find gear locally, we recommend
these sites:
o www.siearratradingpost.com
o www.rei.com
o www.diamondbrand.com
o www.geartrade.com
o www.campmor.com
 1 pair WATERPROOF BACKPACKING BOOTS.
Some good brands are: Vasque, Montrail,
Merrell, Salomon & Asolo. Boots must provide
over the ankle support. Low sneakers are not
adequate to support the weight we carry in
our backpacks. Please break them in before
you arrive at OA.
 1 pair RIVER SANDALS or OLD SNEAKERS.
These will get wet during river crossings on
trek & paddle trips. Can be Chaco/Teva style.
 1 pair QUICK DRY NYLON SHORTS
 1 pair SYNTHETIC QUICK DRY HIKING PANTS
 1 pair FLEECE PANTS
 1 WATERPROOF RAIN COAT & PANTS
 1 WINTER COAT. Preferably with a hood.
 1 THICK FLEECE OR WOOL SWEATER
 2 MEDIUM FLEECE OR WOOL SWEATERS
















HAMMOCKS
iPOD, TABLET, LAPTOP, CELL PHONE
STEREO SYSTEM or SPEAKERS
VIDEO OR COMPUTER GAMES
HEADPHONES OR EAR BUDS
CANDLES, INCENSE OR LIGHTERS
GPS
ELECTRIC BLANKETS
HAIR STYLERS OTHER THAN HAIR DRYER
DVDS OR EXTRA CDS
FREE WEIGHTS OR WEIGHT BENCHES
ELECTRIC LAMP
FOOD
PETS
BICYCLES
WEAPONS OF ANY KIND


















2 QUICK DRYING T-SHIRTS. No Cotton.
2 QUICK DRYING LONG SLEEVE SHIRTS
2 sets LONG UNDERWEAR. Top & bottoms.
5 pairs WOOL OR SYNTHETIC HIKING SOCKS
1 SWIMSUIT. No bikinis please.
1 pair GLOVES OR MITTENS
1 WINTER HAT
1 BRIMMED HAT
2 BANDANAS for use while backpacking.
1 pair SUNGLASSES
1 SLEEPING BAG. Rated to 10-15 degrees
with synthetic fill. No down fill please! If you
sleep very cold, consider a 0-5 degree bag.
1 COMPRESSION SACK
1 HEADLAMP & EXTRA BATTERIES
2 WATER BOTTLES. Labeled with your name.
1 bottle SUNSCREEN (SPF 15 or above)
1 POCKETKNIFE. 2-3" folding locking blade.
1 WHISTLE. Fox 40 or Pea Whistle.
1 CAMPING BOWL & SPOON.
 1 BACKPACK. Must be 60 Liters or more.
OA will also provide these to students.
 1 SLEEPING PAD. OA will provide foam
ensolite pads, but not air filled pads or
thermarests.
 2 CARABINERS. For organization on trek,
NOT for climbing.
 1 CRAZY CREEK OR CAMPING CHAIR. You
can also purchase these on campus with
the OA logo.
 1 THERMOS OR CAMPING MUG.
 1 PERSONAL COMPASS
 SMALL STUFF SACKS for organization.