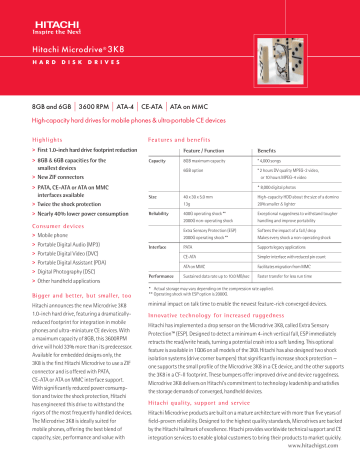 Hitachi Microdrive ® 3K8
HA R D D I S K D R I V E S
8GB and 6GB | 3600 RPM | ATA-4 | CE-ATA | ATA on MMC
High-capacity hard drives for mobile phones & ultra-portable CE devices
Highlights
Features and benefits
> First 1.0-inch hard drive footprint reduction
Feature / Function
Benefits
Capacity
8GB maximum capacity
* 4,000 songs
> 8GB & 6GB capacities for the
smallest devices
6GB option
* 2 hours DV quality MPEG-2 video,
or 10 hours MPEG-4 video
* 8,000 digital photos
Size
40 x 30 x 5.0 mm
13g
High-capacity HDD about the size of a domino
20% smaller & lighter
Reliability
400G operating shock **
2000G non-operating shock
Exceptional ruggedness to withstand tougher
handling and improve portability
> Mobile phone
Extra Sensory Protection (ESP)
2000G operating shock **
Softens the impact of a fall / drop
Makes every shock a non-operating shock
> Portable Digital Audio (MP3)
Interface
PATA
Supports legacy applications
CE-ATA
Simpler interface with reduced pin count
ATA on MMC
Facilitates migration from MMC
Performance
Sustained data rate up to 10.0 MB/sec
Faster transfer for less run time
> New ZIF connectors
> PATA, CE-ATA or ATA on MMC
interfaces available
> Twice the shock protection
> Nearly 40% lower power consumption
Consumer devices
> Portable Digital Video (DVC)
> Portable Digital Assistant (PDA)
> Digital Photography (DSC)
> Other handheld applications
Bigger and better, but smaller, too
Hitachi announces the new Microdrive 3K8
1.0-inch hard drive, featuring a dramaticallyreduced footprint for integration in mobile
phones and ultra-miniature CE devices. With
a maximum capacity of 8GB, this 3600RPM
drive will hold 33% more than its predecessor.
Available for embedded designs only, the
3K8 is the first Hitachi Microdrive to use a ZIF
connector and is offered with PATA,
CE-ATA or ATA on MMC interface support.
With significantly reduced power consumption and twice the shock protection, Hitachi
has engineered this drive to withstand the
rigors of the most frequently handled devices.
The Microdrive 3K8 is ideally suited for
mobile phones, offering the best blend of
capacity, size, performance and value with
* Actual storage may vary depending on the compression rate applied.
** Operating shock with ESP option is 2000G.
minimal impact on talk time to enable the newest feature-rich converged devices.
Innovative technology for increased ruggedness
Hitachi has implemented a drop sensor on the Microdrive 3K8, called Extra Sensory
Protection™ (ESP). Designed to detect a minimum 4-inch vertical fall, ESP immediately
retracts the read/write heads, turning a potential crash into a soft landing. This optional
feature is available in 1Q06 on all models of the 3K8. Hitachi has also designed two shock
isolation systems (drive corner bumpers) that significantly increase shock protection —
one supports the small profile of the Microdrive 3K8 in a CE device, and the other supports
the 3K8 in a CF-II footprint. These bumpers offer improved drive and device ruggedness.
Microdrive 3K8 delivers on Hitachi's commitment to technology leadership and satisfies
the storage demands of converged, handheld devices.
Hitachi quality, support and service
Hitachi Microdrive products are built on a mature architecture with more than five years of
field-proven reliability. Designed to the highest quality standards, Microdrives are backed
by the Hitachi hallmark of excellence. Hitachi provides worldwide technical support and CE
integration services to enable global customers to bring their products to market quickly.
www.hitachigst.com
Hitachi Microdrive® 3K8
Product Model names
Microdrive 3K8
HMS361008M5CE00 HMS361006M5CE00 Microdrive 3K8
HMS361008M5CA00 HMS361006M5CA00
Specifications Configuration
Interface
Capacity (GB) 1
Sector size (bytes)
Disks
Areal density (Gbits/sq.inch, max)
Hitachi Global Storage Technologies
Microdrive 3K8
HMS361008M5CM00
HMS361006M5CM00
A va i l a b l e by
sp e c i a l b i d
PATA
8 / 6
512
1
119
CE-ATA




ATA on MMC




128
3600
8.33
68 – 131
33 Ultra DMA mode-2
5.1 - 10.0




13







12
1
24






Performance
Data buffer (KB) 2
Rotational speed (RPM)
Latency average (ms)
Media transfer rate (Mbits/sec)
Interface transfer rate (MB/sec, max)
Sustained data rate (MB/sec)
Seek time (read, typical)
Average (ms)
Track to track (ms)
Full track (ms)
Fo r m o re i n f o r m a t i o n :
Reliability
Error rate (non-recoverable)
Load/unload cycles
< 1 per 1.0 E 13 bits transferred 
300,000



+3.3VDC (+5% / -15%)
190mA
310mA
 3



> www.hitachigst.com/vpp (Reseller Web site)
180mA

5.0 / ±0.1
40 / ±0.2 30 / + 0.0 / - 0.4
13








> [email protected] (Asia Pacific)
5° to 60° C
400 G (2 ms)
0.67 G (5 to 500 Hz)
-300 to 3048m
1.8










> 44 20 7133 0032 (EMEA and UK)
-40° to 70° C
2000 G (1 ms)
3.01 G (5 to 500 Hz)
Yes








Hitachi Global Storage Technologies
5600 Cottle Road
San Jose, CA 95193
Physical Size
Height (mm)
Width (mm)
Depth (mm)
Weight (g, typical)
Environmental Characteristics
Operating
Temperature 4 Shock (half sine wave) 5
Random Vibration (RMS)
Altitude
Acoustics (Bels, Idle (Typical))
Non-operating
Ambient temperature
Shock (half sine wave)
Random Vibration (RMS)
RoHS Compliant 6
Internet:
> www.hitachigst.com/microdrive
> www.hitachigst.com (Main Web site)
Power
Requirement
Current (read/write)
Current (peak)
How to Read the Microdrive Model Number
HMS361008M5CE00 = 8GB
H = Hitachi
M = Microdrive
S = Standard
36 = 3600 RPM
10 = Reserved
08 = Capacity this model – 8GB (06 = 6GB)
M = Generation code
5 = 5mm z - height
CE = ZIF connector PATA interface (CA = CE-ATA,
CM = ATA on MMC)
0 = Reserved
0 = Reserved
Technical Support E-mail:
> [email protected] (N. America)
> [email protected] (EMEA and UK)
Technical Support Phone Numbers:
> 1 888 426-5214 (N. America)
> 65 6840 9595 (Asia Pacific)
1 GB equals one billion bytes when referring to hard drive capacity; accessible capacity may be less.
2 Total SRAM is 348KB, 208KB used for firmware.
3 CE-ATA Class A device with extended voltage tolerance
4 Measured at top cover
5 Specification is without ESP feature
6 RoHS refers to the European Union Directive 2002/95/EC on the restriction of certain hazardous
substances in electrical and electronic equipment.
> 49 6929 993601 (Germany)
© 2006 Hitachi Global Storage Technologies
Produced in the United States 11/05, revised 2/06
All rights reserved.
Microdrive® and Extra Sensory Protection™ (ESP) are
trademarks of Hitachi Global Storage Technologies.
References in this publication to Hitachi Global Storage
Technologies products, programs, or services, do not imply that
Hitachi Global Storage Technologies intends to make these
available in all countries in which it operates.
Product information is provided for information purposes only,
and does not constitute a warranty. Information is true as of the
date of publication and is subject to change. Actual results may
vary. This publication is for general guidance only. Photographs
may show design models.

* Your assessment is very important for improving the work of artificial intelligence, which forms the content of this project