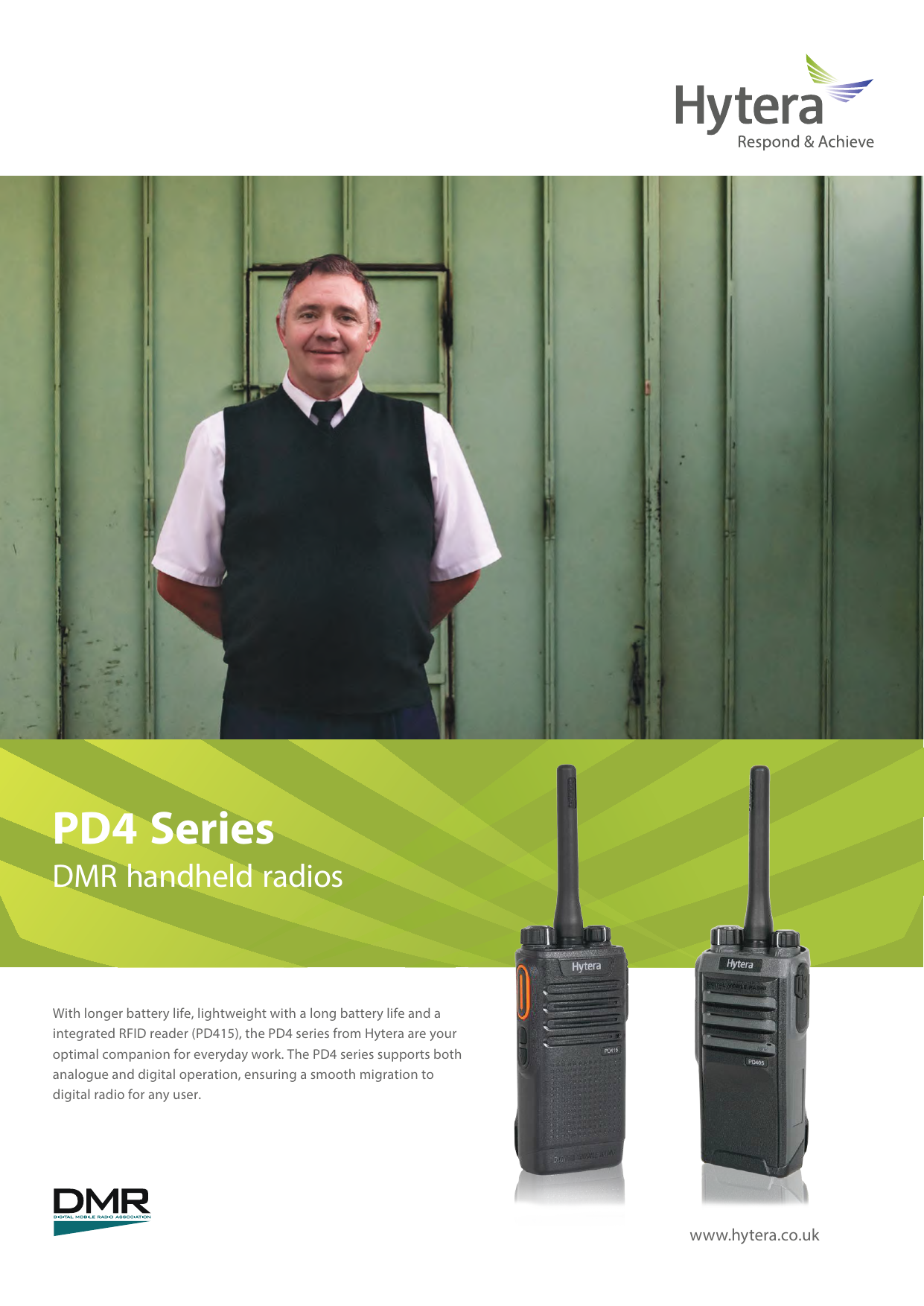 PD4 Series
DMR handheld radios
With longer battery life, lightweight with a long battery life and a
integrated RFID reader (PD415), the PD4 series from Hytera are your
optimal companion for everyday work. The PD4 series supports both
analogue and digital operation, ensuring a smooth migration to
digital radio for any user.
www.hytera.co.uk
Radios
PD4 Series
PD405
PD415
DMR handheld radios
Highlights
Integrated RFID reader (PD415)
the optional Hytera RFID tags and checkpoints, transmitting this information back to
the Hytera Patrol software by radio signal. The ideal solution for security and patrol
requirements.
Patrol System with the PD415
The Hytera Partol system is an application that uses the data captured via RFID
(PD415 only). Upload your site map and plot your chckpoints, then once your staff
have been assigned a radio tag the patrol system will monitor and log their journey
in real-time when they tag any asset checkpoint.
Impressive voice quality
With embedded digital technology, the PD4 series produces outstanding voice
quality, even in noisy environments, and at the outer perimeters of radio coverage.
Improved utilisation of the frequency spectrum
Thanks to the TDMA method, DMR radios make it possible to configure the
available bandwidth with double the channel capacity of conventional analogue radio.
This has a clear mitigating effect on increasing spectrum scarcity.
Mixed analogue and digital channel
This function ensures that the PD4 radios can detect both analogue and digital
signals and change automatically to the relevant operating mode.
Robust
Both radios are dust and water-resistant according to IP55 (PD405) or IP54 (PD415)
and meet the US military standard MIL-STD-810 C/D/E/F/G.
Additional Functions
Different operating modes: analogue, DMR Tier II or mixed
Digital or analogue channel search
Supports pre-programmed text message transmission
TDMA direct mode allows up to two simultaneous calls, even without repeater
VOX (voice-controlled send keying)
Emergency alarm
Individual call, group call and all call
Priority Interrupt, remote monitor, radio enable and disable (all via chargeable licence)
Hytera Pseudo Trunking and Basic Encryption (via chargeable licence)
Radio Registration Service (RRS), Radio Check, Alert Call
Programmable keys
PD415
PD405
Different operating modes:
analogue, DMR Tier II or mixed
Integrated RFID reader for Patrol System (PD415)
Small, slim and light, only 270 g
In the box
Optional accessories
Lithium-ion battery
(1500 mAh) BL1504
Hand strap RO03
Belt clip BC08
Remote speaker
microphone SM26M1
External microphone &
speaker SM131M
Dual charger
PS2005
Switching power adapter for charger PS1044
MCU Rapid-Rate
Charger CH10A07
Antenna
(UHF or VHF)
Six-Unit Charger Including
Power Adapter MCA08
Lithium-ion battery
(2000 mAh) BL2010
RFID Patrol Checkpoint
(PD415 only) & RFID Patrol
ID Card (PD415 only)
The illustrations above are for reference purposes only. The products might differ from these illustrations.
Technical Data
General data
Frequency range
Supported operating modes
Transmitter
VHF: 136 - 174 MHz
UHF: 400 – 470 MHz
• DMR Tier II
in acc. with ETSI TS 102 361-1/2/3
• Analogue
Channel capacity
256 (128 analogue + 128 digital)
Number of zones
3
Channel spacing
12.5 / 25 kHz
Operating voltage
7.4 V (nominal)
Standard battery
1500 mAh (lithium-ion battery)
Battery life
(5-5-90 duty cycle)
analogue / digital:
approx. 12 / 16 hours (with 1500 mAh)
approx. 16 / 22 hours (with 2000 mAh)
Frequency stability
± 0.5 ppm
Antenna impedance
50 Ω
Dimensions (H × B × T)
(without antenna)
112 x 54 x 28 mm (PD405)
112 x 54 x 31 mm (PD415)
Weight
(with antenna and standard
battery)
approx. 270 g
Programmable keys
2
Range of the RFID reader
up to 4 cm
Environmental conditions
Operating temperature range
- 30 °C to + 60 °C
Storage temperature range
- 40 °C to + 85 °C
ESD
IEC 61000-4-2 (Level 4),
± 8 kV (contact), ± 15 kV (air)
Protection against dust and
moisture
IP55 (PD405)
IP54 (PD415)
Shock and vibration resistance
MIL-STD-810 C / D / E / F / G
Relative humidity
MIL-STD-810 C / D / E / F / G
Transmitting power
VHF: 1 / 5 W UHF: 1 / 4 W
Modulation
11 K0F3E at 12.5 kHz
16 K0F3E at 25 kHz
4FSK digital modulation
12.5 kHz (data only): 7K60FXD
12.5 kHz (data and voice): 7K60FXW
Interfering signals and harmonics
- 36 dBm (< 1 GHz)
- 30 dBm (> 1 GHz)
Modulation limiting
± 2.5 kHz at 12.5 kHz
± 5.0 kHz at 25 kHz
Hum and noise
40 dB at 12.5 kHz
45 dB at 25 kHz
Adjacent channel selectivity
60 dB at 12.5 kHz
70 dB at 25 kHz
Audio sensitivity
+ 1 dB at - 3 dB
Audio distortion
≤3%
Digital vocoder type
AMBE +2™
Receiver
Sensitivity (analogue)
0.22 μV (12 dB SINAD)
0.22 μV (typical) (12 dB SINAD)
0.4 μV (20 dB SINAD)
Sensitivity (digital)
0.22 μV / BER 5 %
Adjacent channel selectivity
TIA-603
ETSI
60 dB at 12.5 kHz / 70 dB at 25 kHz
60 dB at 12.5 kHz / 70 dB at 25 kHz
Intermodulation
TIA-603
ETSI
70 dB at 12.5 / 25 kHz
65 dB at 12.5 / 25 kHz
Spurious response rejection
TIA-603
ETSI
70 dB at 12.5 / 25 kHz
70 dB at 12.5 / 25 kHz
Signal-noise ratio (S/N)
40 dB at 12.5 kHz
45 dB at 25 kHz
Audio power output
0.5 W
Audio distortion
≤3 %
Audio sensitivity
+ 1 dB at - 3 dB
Conducted spurious emission
< - 57 dBm
All technical information was determined at the factory and in accordance with
the corresponding standards. Subject to change on the basis of continuous
development.
Your Hytera partner:
Further information can be found at:
www.hytera.co.uk
Keep up to date with Hytera on social media.
Encryption features are optional and have to be con gured separately. They
are also subject to European export regulations.
are registered trademarks of Hytera Communications Corp. Ltd.
© 2017 Hytera Communication Corp., Ltd. All rights reserved.
Ref. no.:PD4S_EN_009D_05012017
Hytera reserves the right to modify the product design and the speci cations.
In case of a printing error, Hytera does not accept any liability.
All speci cations are subject to change without notice.

* Your assessment is very important for improving the work of artificial intelligence, which forms the content of this project