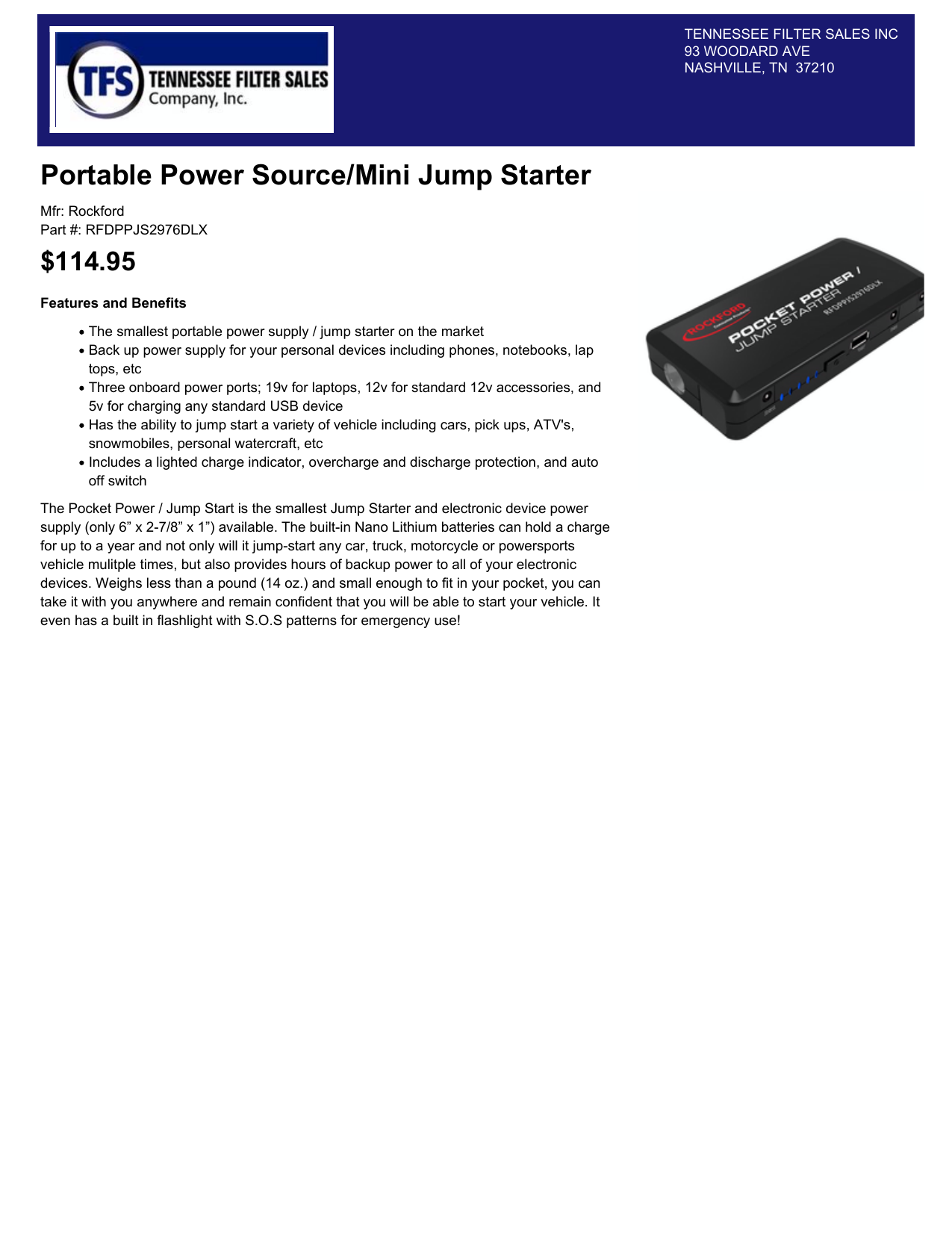 TENNESSEE FILTER SALES INC
93 WOODARD AVE
NASHVILLE, TN 37210
Portable Power Source/Mini Jump Starter
Mfr: Rockford
Part #: RFDPPJS2976DLX
$114.95
Features and Benefits
The smallest portable power supply / jump starter on the market
Back up power supply for your personal devices including phones, notebooks, lap
tops, etc
Three onboard power ports; 19v for laptops, 12v for standard 12v accessories, and
5v for charging any standard USB device
Has the ability to jump start a variety of vehicle including cars, pick ups, ATV's,
snowmobiles, personal watercraft, etc
Includes a lighted charge indicator, overcharge and discharge protection, and auto
off switch
The Pocket Power / Jump Start is the smallest Jump Starter and electronic device power
supply (only 6" x 2-7/8" x 1") available. The built-in Nano Lithium batteries can hold a charge
for up to a year and not only will it jump-start any car, truck, motorcycle or powersports
vehicle mulitple times, but also provides hours of backup power to all of your electronic
devices. Weighs less than a pound (14 oz.) and small enough to fit in your pocket, you can
take it with you anywhere and remain confident that you will be able to start your vehicle. It
even has a built in flashlight with S.O.S patterns for emergency use!

* Your assessment is very important for improving the work of artificial intelligence, which forms the content of this project