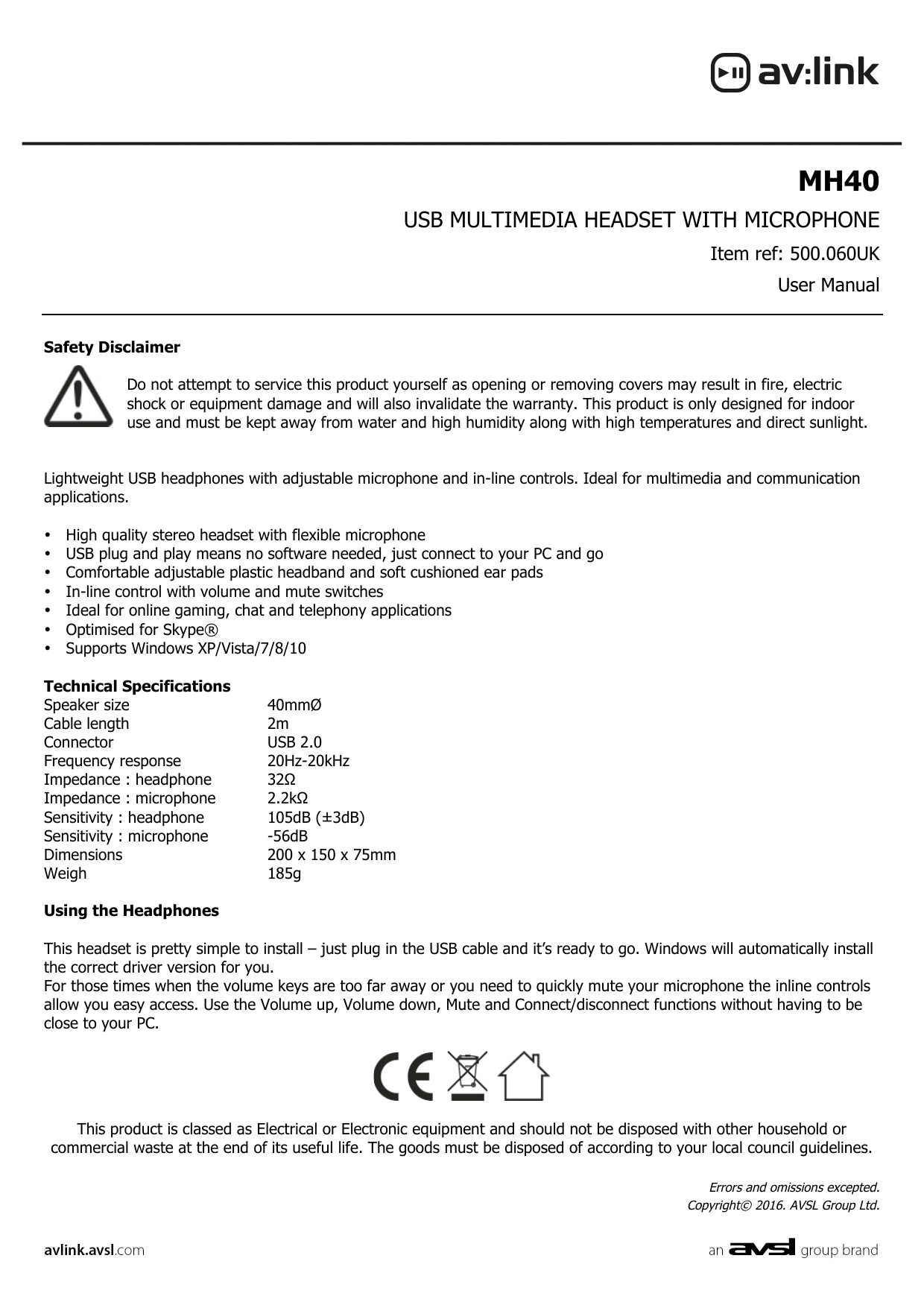 MH40
USB MULTIMEDIA HEADSET WITH MICROPHONE
Item ref: 500.060UK
User Manual
Safety Disclaimer
Do not attempt to service this product yourself as opening or removing covers may result in fire, electric
shock or equipment damage and will also invalidate the warranty. This product is only designed for indoor
use and must be kept away from water and high humidity along with high temperatures and direct sunlight.
Lightweight USB headphones with adjustable microphone and in-line controls. Ideal for multimedia and communication
applications.
•
•
•
•
•
•
•
High quality stereo headset with flexible microphone
USB plug and play means no software needed, just connect to your PC and go
Comfortable adjustable plastic headband and soft cushioned ear pads
In-line control with volume and mute switches
Ideal for online gaming, chat and telephony applications
Optimised for Skype®
Supports Windows XP/Vista/7/8/10
Technical Specifications
Speaker size
Cable length
Connector
Frequency response
Impedance : headphone
Impedance : microphone
Sensitivity : headphone
Sensitivity : microphone
Dimensions
Weigh
40mmØ
2m
USB 2.0
20Hz-20kHz
32Ω
2.2kΩ
105dB (±3dB)
-56dB
200 x 150 x 75mm
185g
Using the Headphones
This headset is pretty simple to install – just plug in the USB cable and it's ready to go. Windows will automatically install
the correct driver version for you.
For those times when the volume keys are too far away or you need to quickly mute your microphone the inline controls
allow you easy access. Use the Volume up, Volume down, Mute and Connect/disconnect functions without having to be
close to your PC.
This product is classed as Electrical or Electronic equipment and should not be disposed with other household or
commercial waste at the end of its useful life. The goods must be disposed of according to your local council guidelines.
Errors and omissions excepted.
Copyright© 2016. AVSL Group Ltd.

* Your assessment is very important for improving the work of artificial intelligence, which forms the content of this project