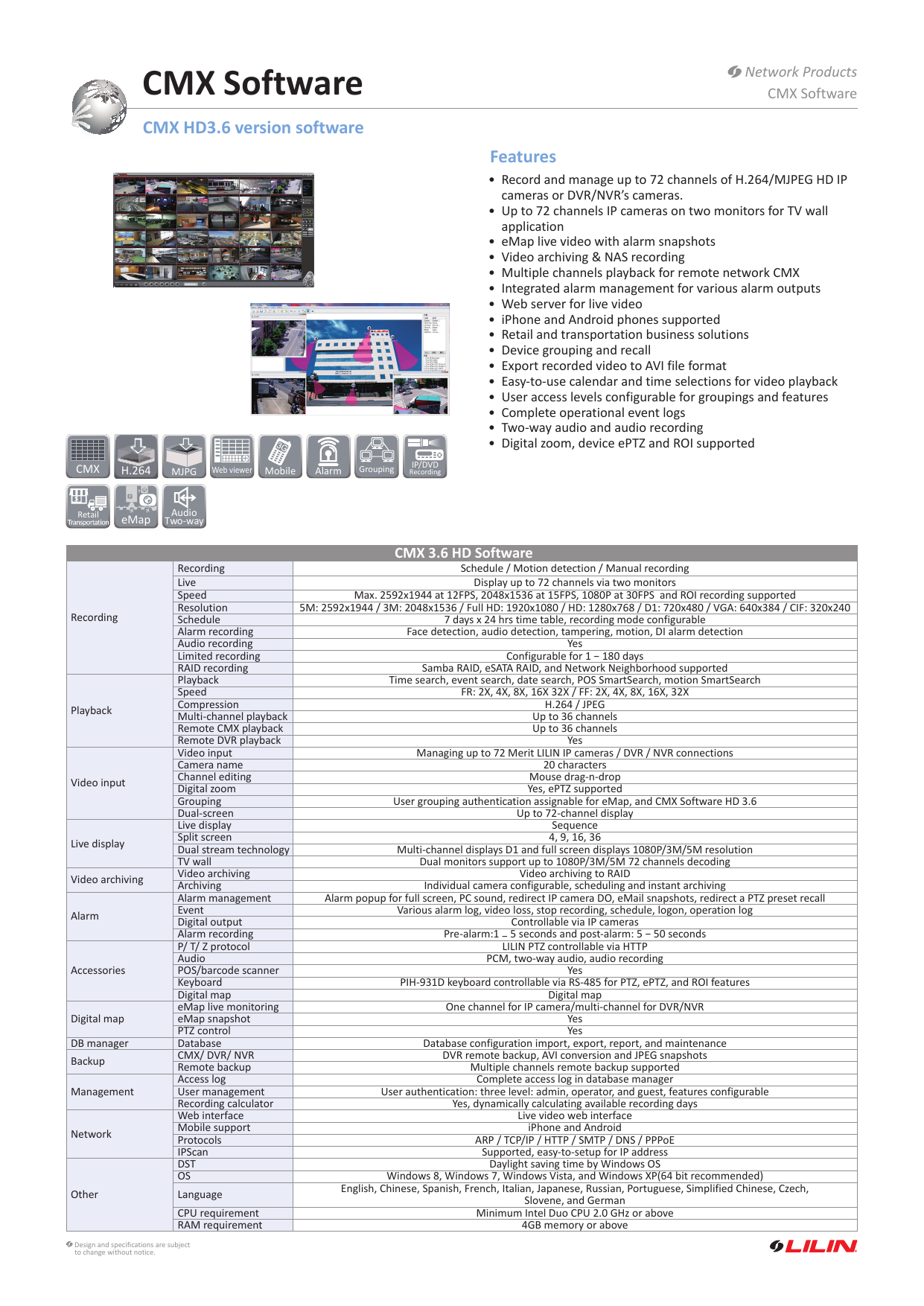 CMX Software
Network Products
CMX Software
CMX HD3.6 version software
Features
• Record and manage up to 72 channels of H.264/MJPEG HD IP
cameras or DVR/NVR's cameras.
• Up to 72 channels IP cameras on two monitors for TV wall
application
• eMap live video with alarm snapshots
• Video archiving & NAS recording
• Multiple channels playback for remote network CMX
• Integrated alarm management for various alarm outputs
• Web server for live video
• iPhone and Android phones supported
• Retail and transportation business solutions
• Device grouping and recall
• Export recorded video to AVI file format
• Easy-to-use calendar and time selections for video playback
• User access levels configurable for groupings and features
• Complete operational event logs
• Two-way audio and audio recording
• Digital zoom, device ePTZ and ROI supported
CMX
H.264
MJPG
Retail
eMap
Audio
Two-way
Web viewer
Mobile
Alarm
Grouping
IP/DVD
Recording
CMX 3.6 HD Software
Recording
Playback
Video input
Live display
Video archiving
Alarm
Accessories
Digital map
DB manager
Backup
Management
Network
Other
Recording
Schedule / Motion detection / Manual recording
Live
Display up to 72 channels via two monitors
Speed
Max. 2592x1944 at 12FPS, 2048x1536 at 15FPS, 1080P at 30FPS and ROI recording supported
Resolution
5M: 2592x1944 / 3M: 2048x1536 / Full HD: 1920x1080 / HD: 1280x768 / D1: 720x480 / VGA: 640x384 / CIF: 320x240
Schedule
7 days x 24 hrs time table, recording mode configurable
Alarm recording
Face detection, audio detection, tampering, motion, DI alarm detection
Audio recording
Yes
Limited recording
Configurable for 1 − 180 days
RAID recording
Samba RAID, eSATA RAID, and Network Neighborhood supported
Playback
Time search, event search, date search, POS SmartSearch, motion SmartSearch
Speed
FR: 2X, 4X, 8X, 16X 32X / FF: 2X, 4X, 8X, 16X, 32X
Compression
H.264 / JPEG
Multi-channel playback
Up to 36 channels
Remote CMX playback
Up to 36 channels
Remote DVR playback
Yes
Video input
Managing up to 72 Merit LILIN IP cameras / DVR / NVR connections
Camera name
20 characters
Channel editing
Mouse drag-n-drop
Digital zoom
Yes, ePTZ supported
Grouping
User grouping authentication assignable for eMap, and CMX Software HD 3.6
Dual-screen
Up to 72-channel display
Live display
Sequence
Split screen
4, 9, 16, 36
Dual stream technology
Multi-channel displays D1 and full screen displays 1080P/3M/5M resolution
TV wall
Dual monitors support up to 1080P/3M/5M 72 channels decoding
Video archiving
Video archiving to RAID
Archiving
Individual camera configurable, scheduling and instant archiving
Alarm management
Alarm popup for full screen, PC sound, redirect IP camera DO, eMail snapshots, redirect a PTZ preset recall
Event
Various alarm log, video loss, stop recording, schedule, logon, operation log
Digital output
Controllable via IP cameras
Alarm recording
Pre-alarm:1 − 5 seconds and post-alarm: 5 − 50 seconds
P/ T/ Z protocol
LILIN PTZ controllable via HTTP
Audio
PCM, two-way audio, audio recording
POS/barcode scanner
Yes
Keyboard
PIH-931D keyboard controllable via RS-485 for PTZ, ePTZ, and ROI features
Digital map
Digital map
eMap live monitoring
One channel for IP camera/multi-channel for DVR/NVR
eMap snapshot
Yes
PTZ control
Yes
Database
Database configuration import, export, report, and maintenance
CMX/ DVR/ NVR
DVR remote backup, AVI conversion and JPEG snapshots
Remote backup
Multiple channels remote backup supported
Access log
Complete access log in database manager
User management
User authentication: three level: admin, operator, and guest, features configurable
Recording calculator
Yes, dynamically calculating available recording days
Web interface
Live video web interface
Mobile support
iPhone and Android
Protocols
ARP / TCP/IP / HTTP / SMTP / DNS / PPPoE
IPScan
Supported, easy-to-setup for IP address
DST
Daylight saving time by Windows OS
OS
Windows 8, Windows 7, Windows Vista, and Windows XP(64 bit recommended)
English, Chinese, Spanish, French, Italian, Japanese, Russian, Portuguese, Simplified Chinese, Czech,
Language
Slovene, and German
CPU requirement
Minimum Intel Duo CPU 2.0 GHz or above
RAM requirement
4GB memory or above
Design and specifications are subject
to change without notice.