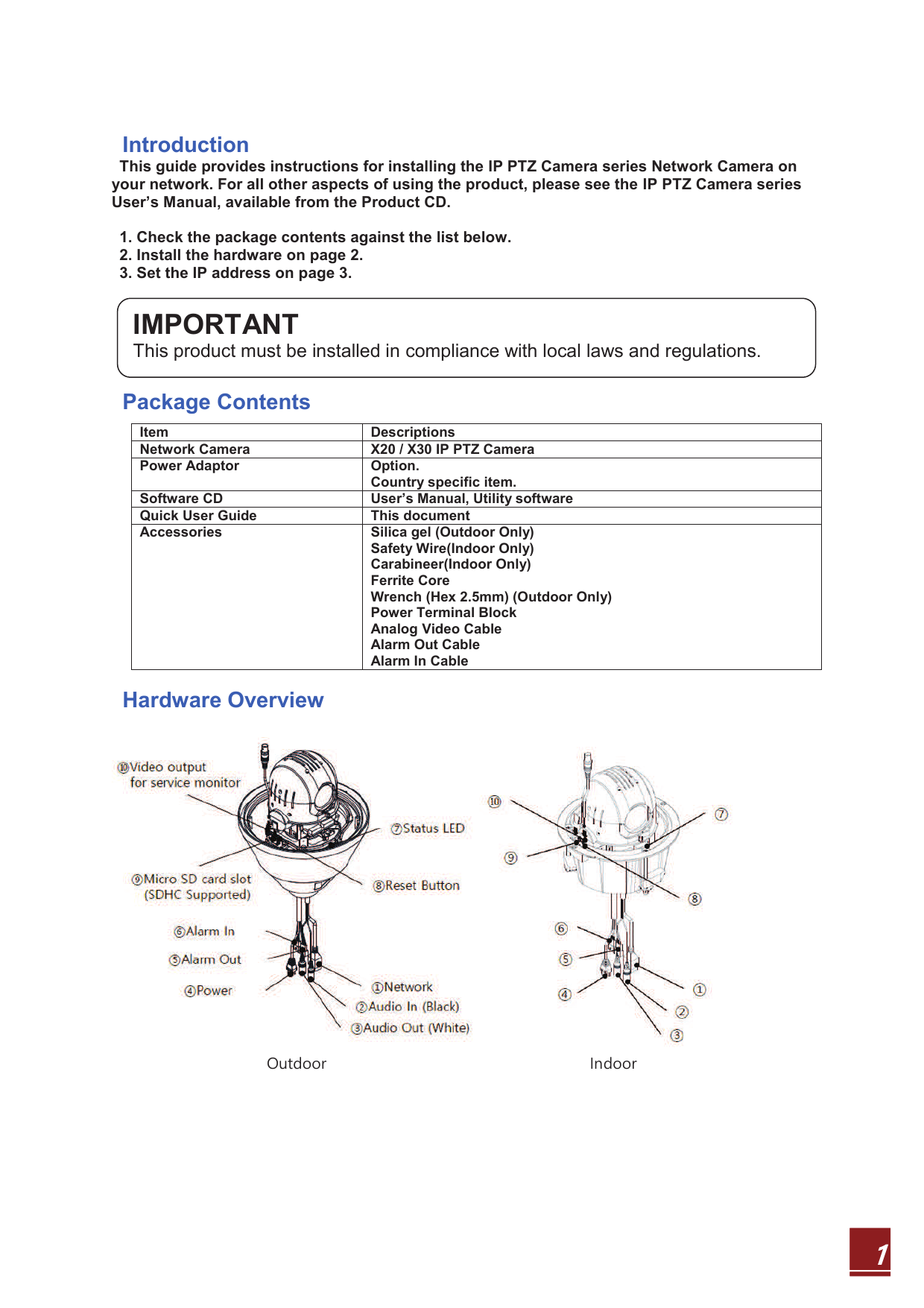 Introduction
This guide provides instructions for installing the IP PTZ Camera series Network Camera on
your network. For all other aspects of using the product, please see the IP PTZ Camera series
User's Manual, available from the Product CD.
1. Check the package contents against the list below.
2. Install the hardware on page 2.
3. Set the IP address on page 3.
IMPORTANT
This product must be installed in compliance with local laws and regulations.
Package Contents
Item
Network Camera
Power Adaptor
Descriptions
X20 / X30 IP PTZ Camera
Option.
Country specific item.
User's Manual, Utility software
This document
Silica gel (Outdoor Only)
Safety Wire(Indoor Only)
Carabineer(Indoor Only)
Ferrite Core
Wrench (Hex 2.5mm) (Outdoor Only)
Power Terminal Block
Analog Video Cable
Alarm Out Cable
Alarm In Cable
Software CD
Quick User Guide
Accessories
Hardware Overview
2XWGRRU ,QGRRU Alarm In / Out Connector
Network connector
The PTZ Camera series connects to the network via a standard network cable, and
automatically detects the speed of the local network segment (10BaseT/100BaseTX
Ethernet).
This socket must be used to power the PTZ Camera series via PoE. The camera autosenses the correct power level when using a PoE (IEEE802.3at) switch, router or injector.
$IHUULWHFRUHDFFHVVRU\LVLQFOXGHGWREHXVHGZKHQFRQQHFWLQJWKHQHWZRUNFDEOHLQRUGHU
WRVXSSUHVVHOHFWURPDJQHWLFZDYHV
Making Connection
1. If you have external devices such as sensor or alarms, make connection from connectors.
2. Connect an Ethernet cable to make connection to the network hub.
3. Connect a power cable to the camera.
When you use PoE function, you don't need to connect power.
Assign an IP address
The default setting of the camera is set to "DHCP" and "UPnP" function is set to ON. If you
have a DHCP server on your network and UPnP function is enabled on your PC you can find
the network camera in "My network".
If a DHCP server is not available on your network, please assign IP address by the following
process.
1)
2)
3)
4)
5)
Execute Admintool.exe and click "Search" button.
After the camera is listed in camera list, select the camera.
Type in the all network information.
Click "Apply" button, the setting will be shown in the list.
Click "Setting" Button to set network information to the camera.
Then double click the camera in the list, Internet explorer will open automatically.
Web browser connection
Note : The Network camera supports Internet Explorer 7 or above.
Please check version of your browser and update it if necessary.
When you first access the camera you need to download and install an Active-X
control from the camera to display a Live image.
Default User and Password are set to "ADMIN" and "1234".
ID and password to connect the network camera.
Please type in the user
For further information for setup, please refer to User's manual
in software CD.

* Your assessment is very important for improving the work of artificial intelligence, which forms the content of this project