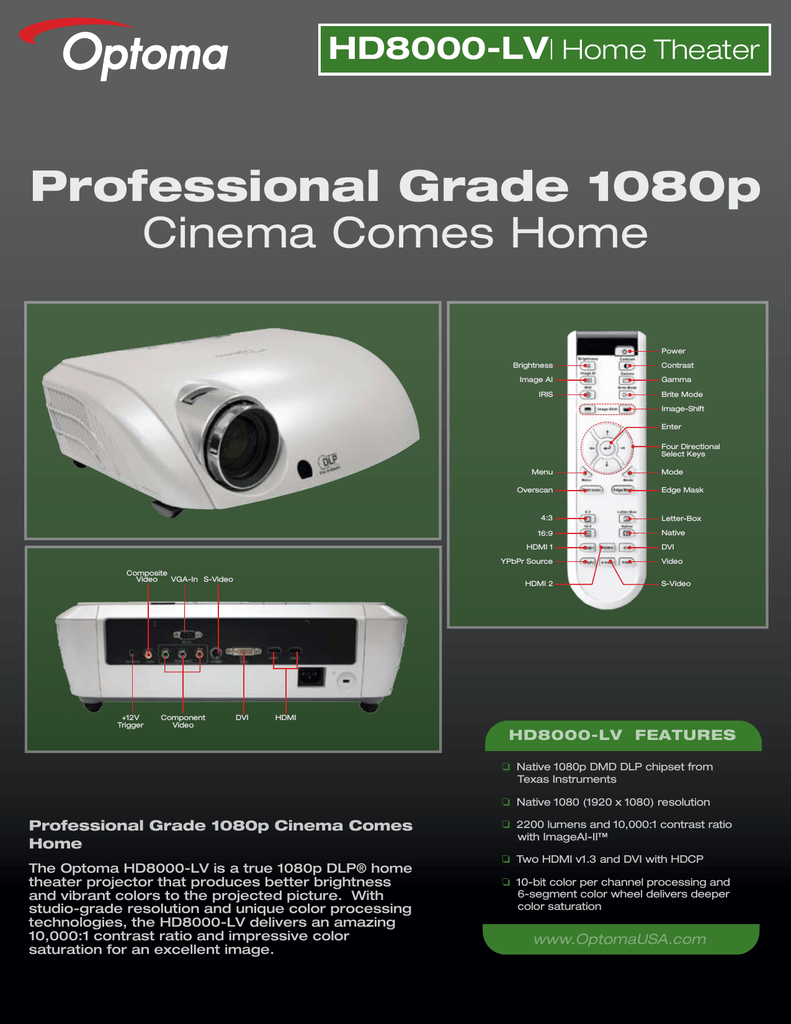 HD8000-LV| Home Theater
Professional Grade 1080p
Cinema Comes Home
Power
Brightness
Image AI
IRIS
Contrast
Gamma
Brite Mode
Image-Shift
Enter
Four Directional
Select Keys
Menu
Overscan
4:3
16:9
HDMI 1
YPbPr Source
Composite
Video
VGA-In S-Video
+12V
Trigger
Component
Video
HDMI 2
DVI
Mode
Edge Mask
Letter-Box
Native
DVI
Video
S-Video
HDMI
HD8000-LV FEATURES
❏ Native 1080p DMD DLP chipset from
Texas Instruments
❏ Native 1080 (1920 x 1080) resolution
Professional Grade 1080p Cinema Comes
Home
The Optoma HD8000-LV is a true 1080p DLP® home
theater projector that produces better brightness
and vibrant colors to the projected picture. With
studio-grade resolution and unique color processing
technologies, the HD8000-LV delivers an amazing
10,000:1 contrast ratio and impressive color
saturation for an excellent image.
❏ 2200 lumens and 10,000:1 contrast ratio
with ImageAI-II™
❏ Two HDMI v1.3 and DVI with HDCP
❏ 10-bit color per channel processing and
6-segment color wheel delivers deeper
color saturation
www.OptomaUSA.com
HD8000-LV| Home Theater
Maximum Diagonal
(Inches)
Minimum Diagonal
(Inches)
Specifications
Display Technology:
Single 0.95" 1080p DMD DLP® Technology by Texas Instruments
6
44.7
37.2
Resolution:
Native 1080p (1920 x 1080)
8
59.5
49.6
Brightness (Typical):
2200 ANSI Lumens
10
74.4
62.0
Contrast Ratio:
10,000:1 (Max)
Image Processing:
Motion Adaptive 480i, 576i and 1080i De-Interlacing, Advanced 3D
Comb Filter, Advanced Noise Reduction and Sharpening
12
89.3
74.4
14
104.2
86.8
Advanced Scalar Function:
10-Step Gamma, User Definable Mode for Different Input and Resolution
16
119.1
99.2
Iris Control:
17 Step Iris System
18
134.0
111.6
Lamp Life and Type:
3000 Hours/300W UHP
Throw Ratio:
1.85-2.22:1 w/o Anamorphic Lens; 1.38-1.66:1 w Anamorphic Lens
Image Size (Diagonal):
30" to 300" (0.8 to 7.6 m)
Projection Distance:
4.92' to 32.8' (1.5 to 10 m)
Noise Level (STD/ECO):
32dB
Remote Control:
Fully Featured IR Remote
Computer Compatibility:
UXGA, SXGA+, SXGA, WXGA. XGA, SVGA, VGA, VESA, PC and
Macintosh Compatible
Video Compatibility:
Full NTSC, PAL, SECAM, True HDTV (720p, 1080i/p), 480i/p, 576i/p
Aspect Ratio:
Native 16:9, Fully Automatic 2.35:1 w/Anamorphic Lens
Projection Lens:
F=2.6-2.82; f=39.12-46.94mm, 1.2x Manual Zoom and Focus
User Controls:
Complete On Screen Menu Adjustments in 22 Languages
Keystone Correction:
± 5º Vertical
Power Supply:
AC Input 100 - 240V, 50-60 Hz
Power Consumption:
435W Full Power, 375W ECO, < 14W Standby Mode
Weight:
10 lbs (4.5 kg)
Dimensions (W x H x D):
16" x 4.6" x 12.2" (406 x 117 x 310 mm)
Control Panel
Menu
Power
LED
Power and
IR Receiver
Temp
LED
Lamp
LED
Four
Directional
Select Keys
Source
Select
ReSync
Enter
Optional Accessories
Lamp:
Mount:
Operating Temperature:
41 - 95°F (5 - 35°C), 80% Humidity
BL-FS300B
Displayable Colors:
1.07 Billion
BM-2008N
Projection Method:
Front, Rear, Ceiling Mount, Table Top
Uniformity:
80%
Security:
One Kensington® Lock Port
I/O Connectors:
Two HDMI v1.3, DVI w/HDCP, S-Video, Composite Video, Component
Video, RS-232, +12V Trigger
Standard Accessories:
AC Power Cord, Component Video Cable, RS-232 Cable, Remote
Control, Batteries for Remote, Lens Cap, User's Manual, Warranty Card
and Quick Start Guide
Remote:
BR-3037B
DVI-D Male to HDMI Male Cable (2m):
BC-DDHMXX02
HDMI Cable (5m):
BC-HMHMXX05
DVI-D Male to HDMI Female Adapter:
BC-DIHMXY00
S-Video Cable (2m):
BC-SVSVXX02
Screen:
DF-WW9106F
Optional Accessories:
Anamorphic Lens/Sled Kit, Ceiling Mount and Panoview Series Screens
Anamorphic Lens:
BX-AL133
Warranty:
3 Years Optoma Express Replacement Service, 1 Year on Lamp
UPC:
796435 21 114 1
Home-8000-LV-001-092308
Projection Distance/Image Size
Projection Distance
(Feet)
www.OptomaUSA.com
NO FILTER
REQUIRED
All Specifications are subject to change without notice. ©2008 Optoma Technology, Inc. DLP® and the DLP logo are
registered trademarks of Texas Instraments. All other names mentioned herein are property of their respective owners.