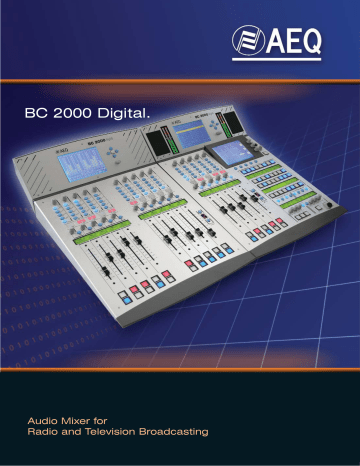 BC 2000 Digital.
Audio Mixer for
Radio and Television Broadcasting
2
BC 2000 mixing console at WSUA (AM) in Miami (FL) USA
BC 2000
BC 2000 Digital
Fifteen yyears o in ""ON-A
Consoles
In 1986, AEQ launched an analog audio console for radio broadcasting called the BC
2000. It wasn't the first high-performance console on the market, but after more than 15 years, more than 3000 units of this console are working non-stop at radio stations in more than 40 countries. Several networks have considered it their reference standard, and have purchased more than a hundred BC
2000's over the course of many years. They value its capabilities, its simplicity, its audio quality and its reliability.
When we designed a Digital Mixing Console, we wanted to call it B C 2 00 designed it with the end-users who use the analog BC 2000 in mind. We really wanted them to continue to enjoy the peace of mind and ease of operation that the BC 2000 renders them, but with the capabilities made possible by 21st-century technology.
The B
C 2 00 market, either, but it will benefit those who will use it..
It has been designed based on technology that is already mature, taking advantage of the increased capabilities and cost adjustments of the latest generation of components, and keeping in mind the mistakes of other manufactures who have gone before us.
It has been designed by taking into account how radio is done in many different countries. In addition, the new technologies allow us to configure it for TV and to adapt it to particular work methods.
The B C--2 console. It is a system that has many capabilities, in addition to those of a mixer, to be integrated on common hardware, with user interfaces that are familiar to the operator and very flexible to use.
As expected, we paid close attention to the system's robustness and reliability by integrating security features and redundant mechanisms for critical functions and processes, without sacrificing ease of operation.
o kkn ow
YYo u´´llll e e B C 2 00
BC 2000 Digital
The Central Unit, the Frame
This is the "core" of the console. At its right are two special slots to insert one or two controllers, from the front and back. On its front panel, there are 20 slots for DSP cards, and one for loading the double bus termination.
On the back, it has 21 slots for installing input and output cards, whether analog, digital or
MADI multichannel.
Due to the fact that in some installations the console can never be shut down, the central unit accepts dual power, the backplane is completely passive, cards may be hot-inserted, and the fans allow hot-swapping.
19" central input, output and processing unit, 4u high.
3
The Power Supply
It includes two hot-removable cartridges, autorange
90-240 VAC, 50-60 Hz. with dual power socket and switch. It has 10 independent 48 VDC outputs.
19" self-redundant external power supply. 2u high.
Characteristics
Full broadcasting console operation: multi-studio management, fader start, cough muting, monitor muting, control room and studio signaling, intercom, remote control of telephone hybrids and audio codecs, and more...
Modular control panel with motorized faders, pages that store fader positions and channel dynamics for instant recall, flexible assignment of inputs and outputs for each fader, and sub-groups can be controlled with a single fader.
All of the usual functions have a dedicated button.
32 programmable Keys, with LCD displays, for integration and control of external equipment.
Flexibility: Custom configurable by software and firmware for any broadcast environments.
Maximum security: Configuration and automatic start backup. Hot-swapping capability for cards.
Extensive Processing capabilities: Equalization, Filters,
Dynamics, Delay and others...
AES 10 MADI Module: for sending grouped inputs and outputs through coaxial cable or optical fiber.
General Purpose Inputs/Outputs (GPI/GPO).
Capable of an unlimited number of N-1 (Mix-minus) buses.
4
On the configuration and monitoring panel of the channel expansion module, we have a multifunction display, some navigation keys and an associated encoder.
From here, the signal levels and gain are controlled on each channel, and the channel source, phase, gain, dynamics, equalization and channel output routing are configured.
Everything is simple, clear and at sight, with shortcut keys for each function.
In the channels area, we have the following: an encoder to individually adjust the gain for each channel, and the input routing, shortcut keys for the dynamics, equalization and output routing functions, and special functions,
CUE button, ON AIR indicator, encoder and routing selection button, display indicating the routing established and a label identifying the channel, motorized fader and buttons to open and close the channel.
Everything is under control.
Fader page change: This function multiplies the size of the console as needed.
We can use up to nine fader pages and alternate among them. When the page is changed, the label for each channel indicates which channel we are going to work with, at the same time as the fader and the rest of the controls take on the position of the respective channel. If a channel must always be visible, we program it on all the pages.
Thus, we can have many channels on the console, some visible and others behind, on other pages and available when we have to use them.
M10 input and output channel expansion module.
The Control Surface
On the configuration and monitoring panel of the main module, apart from the multifunction display, the navigation keys and the associated encoder, we have a pair of stereo cue speakers and two pairs of
VU / peak meters, for full monitoring of all signals.
At the back of the control panel is the main multifunction "select" display, which is associated with three encoders and five pushbuttons.These as a whole allow a wide variety of special functions to be performed:
Process information of a general nature; interface IP identification, general configurations, user ID.
Timer System. Timer and chronograph functions.
Activation of the different groups or pages stored in the programmable keys.
Display and process specific information about a channel chosen through its "select" key: equalization and dynamics curves, etc.
Any other function defined as a user requirement.
A flexible system control tool.
Mic connector with level control and push-switch.
We have a mic input digitally connected to the frame, both for talkback and for the program presenter's microphone
Main Module, with 5 input and output channels, processing and monitoring.
Monitoring selection area. Sources or destinations may be added through the programmable keys for all defined monitoring and the intercom for the control room and the studios.
32 programmable keys. When combined, hundreds of functions can be implemented, according to your operational needs; such as Antenna matrix switching, using broadcast telephony, intercom, local/network changes, automation system control, expanding control room and studio monitoring, changing to a second studio, etc. The programmed labels permit easy identification of the functions available at any time.
5
6
Easy configuration
The AEQ BC 2000 D may be custom configured to meet the requirements of each installation. The control console is based on the main module, and may be completed with several input and output channel expansion modules.
Each fader can control up to nine different channel configurations, each configuration stored on a page and up to 9 different pages available. These 9 selectable fader configurations allow great efficiency and working capabilities.
The AEQ BC 2000 D can be configured by software, installed in a PC.
The BC 2000 D is factory pre-configured with the most typical functions of a broadcasting console. Configuration is done through a software application.
These presets may be changed, by modifying simple tasks such as: assigning a name to each channel, labeling its inputs and outputs, defining different inputs and outputs allowed to each channel, assigning a user name, adding channels to pages, pre-configuring equalization curves and dynamics, and DSP Processing Channel Assignment.
On other occasions, the configuration is edited to implement more complex functions: working with more than one studio, reassigning functions to the faders and encoders to control 4wire channels in order to multiplex, increasing the number of keys assigned to control monitoring, or defining an intercom line.
In this case, it is necessary to edit the definition of the functions assigned to the programmable keys. The functions are programmed using a configuration software, and are easily executed from the control surface.
All of these configurations, which are done on a computer separate from the console, is transparent to the user with automatic loading when system is switched on or at user change.
Ease of operation
The console's everyday operation is extremely simple and flexible.
The BC 2000 D console has channels that can be assigned to different input and output routes in a completely flexible manner. A single physical channel on the control surface can at different times regulate the signal of an input circuit, of an output circuit or even of a sub-group or a two-way 4-wire circuit. Channel pages will have been defined beforehand.
To change a page, the pushbuttons and active page indicator are used. When the page changes the channel assignment changes along with their internal configuration and their light indicators as well as the position of the motorized faders goes back to the one from the last moment when the page was active. The channel's label indicates the name of the input/output or mixed circuit that is regulating the channel at that time.
All the procesing functions are easily assignable to each channel. It is very simple to activate / deactivate, and control each of the sends in each channel.
A fader's position can be manually modified at any time, and it will memorize the last position reached for the active channel.
The channel On/Off buttons is located under the faders.
When the channel is On, it will automatically activate all the send buses pre-programmed for the channel. Each channel can be pre-programmed with multiple send buses.
The multifunction screen has three encoders and five associated pushbuttons. You can define complex functions such as an equalization curve or the signal dynamics with the greatest of ease.
Under this there are 32 programmable keys. We can use them for any function, such as switching matrix control, general configuration changes or control of external equipment through TCP/IP or GPO ports. They can also be programmed as an extension of the button panels for monitoring the studio or control room, or to indicate intercom destinations, or to decide which studio we are going to work with, or for that specific function for your particular way of doing radio, which will surely fit in with the
BC 2000 D's flexibility.
Finally, the monitoring and intercom buttons allow independent monitoring of the control, and the studio rooms. With the programmable keys an outbound intercom circuit can be established.
All this can be configured transparently and almost automatically when one user or another sits in front of the controls.
It is as simple to use as an analog console, but as flexible and powerful as you need it to be.
7
The BC 2000 D as a system
W haatt d o yyo u n d,, aa cco nsso orr aa ssyysstte m??
You probably need an audio console for a radio or television studio. But the BC 2000 D can do much more, if you need it extra capabilities. For example, you may need to route audio between different studios or to the outside through analog, digital or ISDN lines; or you may need to do a telephone talk show with your listeners, or multiplex between different stations and stadiums; or you may need to incorporate a technical intercom system between different studios or production centers. The BC
2000 D can do all this, and much more.
H ow orrkkss
The backbone of the BC-2000 Digital Audio system is the
TDM bus, housed in the BC 2000 DF frame, with the capacity to route, mix or distribute over a thousand channels simultaneously. Thanks to the use of MADI links as the interconnection between the various frames, the system, or part of it, may be decentralized through the use of optical fiber or coaxial cable between the frames.
Each frame has a maximum configuration of 128 x 128 channels, and the analog and digital inputs and outputs may be combined according to present or future needs. In addition, there are also microphone inputs and GPI/O.The TDM bus is divided into an input bus and an output bus, with the possibility of inserting DSP cards, achieving a large volume of DSP processing capacity.
H ow olllle d
Control may be centralized or structured from different consoles, dedicated panels, intercom panels and computers with software drivers.
The system control is accomplished by using a TCP/IP protocol.
Each equipment in the system has its own IP address. After setting up the consoles, the panels, and the computers in a LAN, and assigning the IP address of the different BC 2000 DF frame using the set up software, we could begging working with them.
Central control room audio sources
SATELLITE
CENTRAL
CONTROL
ROOM
ROUTER
MAIN
ROUTER
CENTRAL CONTROL ROOM
Studio audio sources
Central control room audio sources
MADI links to main router
Studio audio sources
COURSE Multicodec external ISDN lines
©
Audio signal
Control signal
Router control with specific software or through the automation system
STUDIO
MIXER
STUDIO
MIXER
STUDIO N OTHER ZONES
8
STUDIO 1
Furthermore, any signal can be monitored in the two main VU meters of the DM surface. You can also send it to the CUE bus in a PFL mode, this helps achieve maximum precision in the signal adjustment.
It is possible, at a glance, to identify the routing in each page from any surface control. By pressing one key all sends are quickly identify in each channel of the actual page.
For easy monitoring, any channel could be sent to the control monitors of each of the studios and to any of the headphones available.
For each channel there is an ON AIR light, which indicates if the channel is open, meaning- the channel switch is ON and the fader is up.
Control and Security
When the level is incorrect or a mic sounds "bad," we can't get lost in the menu trees; the problem must be fixed immediately.
The AEQ BC 2000 D's channels have an exclusive gain button, and a panel of short-cut keys for the most-used functions.
To monitor the individual level of each of the signals in the mix at all times, the multifunction display, in the monitoring and set up screen, shows the input gain value and a corresponding stereo VU-meter per channel. We also have the measurement of the CUE signal's level and phase.
All audio that is broadcast goes through the BC 2000 D mixing console. At times, all of the consoles even share audio and communications through a central AEQ BC 2000 D router. All possible precautions should be taken, but in the BC
2000 D the causes that may result in broadcasting problems have been taken into account, and the necessary steps have been taken so that you will not have to worry about your console or system.
Haarrd e sse
Selected high-reliability components.
Circuits working well below their maximum allowed levels.
Dual power supply.
9
10
Modules and Configurations
Basic System Components
These components are essential for the correct configuration and operation of the BC 2000 D Mixing Console.
BC 2000 DF System Frame, 4u x 19", 21 slots rear side to install inputs and outputs modules. 20 slots front side to install processing modules.
Input / Output , Process and Routing Modules.
BC 2220 DSP Board for Process and Routing. From 2 to 20 per rack can be installed depending on the number of I/O and processing needs in the system. For the basic mixing, distribution and I/O level calculations and level display for meters and screens, a minimum of two DSP´s are required.
BC 2201 Inputs / Outputs Mono Analogue Line Module. 4
Analogue Mono Inputs and 4 Analogue Mono Outputs (equivalent to 2 Stereo) electronically balanced, 4 GPI and 4 GPO.
BC 2202 AES/EBU Inputs / Outputs Module. 4 inputs and 4 outputs stereo AES/EBU format, (individually configurable as
SPDIF) transformer isolated. Inputs provide Sample Rate
Converters (SRC). 4 GPI and 4 GPO.
When configuring the Mixing Console, always consider one BC
2202 Module as indispensable for the Control Surface: outputs for the VU-Meters, CUE Speakers and Control Headphones, one
Microphone Input for Self-Control Operation and T´back orders.
Three Stereo AES/EBU Inputs remains free for other applications.
BC 2203 M MIC/LINE Analogue Inputs Module. 4 mono inputs, transformer isolated, Phantom power, mic/line switching. 4 GPI and 4 GPO.
BC 2203 MH. MIC/LIN Analogue Inputs and Headphones
Outputs. 4 analogue mono inputs, transformer isolated, Phantom power, mic/line switching. 2 Headphone stereo outputs. 4 GPI and 4 GPO. This module occupies 2 slots.
BC 2204 Mono Line Analogue Inputs Module. 4 Inputs ( 2
Stereo) electronically balanced, 4 GPI and 4 GPO.
BC 2205 Analogue Line Outputs Module. 4 outputs (2 stereo) electronically balanced, 4GPI and 4 GPO.
BC 2206 Digital AES/EBU Inputs Module. 4 AES/EBU stereo inputs, (individually configurable as SPDIF) transformer isolated.
Inputs provide Sample Rate Converters (SRC). 4 GPI and 4 GPO.
BC 2290 Power Supply 2x300W, 2 RU 19", 90-240 V AC autoange, auto-redundant and with Power Factor Corrector. Sufficient
Power for a complete Frame and the Control Surfaces.
BC 2230 Master Controller Board w. 1 external Access USB, and Ethernet connectivity. Each System Frame requires one controller.
BC 2207 AES/EBU Digital Outputs Module. 4 AES/EBU stereo outputs, (individually configurable as SPDIF) transformer isolated.
4 GPI and 4 GPO.
BC 2211 Module: AES 10 MADI link between frames. TX/RX connection of 56 or 64 channels through optical fiber or coaxial cable, with auto or word clock synchronization.
BC 2212 Module: Dual AES 10 MADI link between frames. Two independent TX/RX connections of 56 or 64 channels through optical fiber or coaxial cable, with auto or word clock synchronization.
BC 2224 AES/EBU Inputs / Outputs Module for Intercom. 4 RJ45 connections, each one with one input and output in AES/EBU format, GPI and GPO.
Modules and Configurations
Control Surface
BC 2000 DM Control Surface with PFL/CUE Monitors and 5
Faders, processing and monitoring. Simultaneous control of up to 9 pages of 5 mono or stereo faders/channels, either inputs, outputs or sub-groups.
Monitoring and control for multiple Studios. LAN connection, phantom powered microphone input, built-in CUE/PFL
Speakers, intercom facilities and 32 user programmable Keypanel. When configuring the Mixing Console, always consider it as indispensable.
BC 2000 D10 Expansion module Control Surface with 10
Faders. Simultaneous control of up to 9 pages of 10 mono or stereo faders/channels, either inputs, outputs or sub-groups.
Up to seven modules can be connected to a BC 2000 DM
Mixing console type configuration
Below is a Studio Configuration for a high performance Mixing Console, presented as a medium level example.
Configuration example AEQ BC-2000 Digital Mixing Console:
1 Control and Monitoring Surface with Speakers, LCD displays and 5 motorized faders (BC-2000 DM).
1 Additional Working Surface with 10 motorized faders and LCD configuration display (BC-2000 D10).
1 External Power Supply with Alarms System included (BC-2290 PS).
1 Frame for audio, control and DSP boards installation(BC-2000 DF).
1 Master Controller Module (BC-2230).
4 Audio Processing DSP Board (BC-2220).
3 boards each with 4 analogue line inputs outputs with GPI / O (BC-2201).
2 boards each with 4 AES/EBU/SPDIF digital inputs and outputs with GPI / O (BC-2202).
1 board with 4 MIC inputs transformer balanced and 2 Stereo Headphone
Outputs (BC-2203MH).
Configuration capacity
15 faders with up to 9 different pages (up to 135 virtual faders)
1 microphone Input for the Control Studio and T´back orders.
7 AES-EBU /SPDIF Digital Stereo Inputs.
4 AES-EBU / SPDIF Digital Stereo Outputs.
2 Stereo Vu-Meters, CUE/PFL Speakers and Control Headphones.
4 MIC Inputs Transformer Balanced with Phantom Power.
12 Mono Analogue Inputs
12 Mono Analogue Outputs.
2 Headphones Outputs (Primary and Secondary).
Note: BC 2000 D is a product in constant evolution. Check our
Website for new modules, features or accessories.
11
12
Technical characteristics
IIn pu d o uttp uttss..
21 slots available for Input/Output boards/modules.
48 v phantom power and transformer balancing for the mic/line inputs.
Radio frequency protection.
Transformer-balanced digital inputs/outputs.
Electronically balanced analog line inputs and outputs.
Digital inputs/outputs configurable as: AES - EBU (AES 3) and SPDIF, mono and stereo.
Grouped digital inputs/outputs according to AES 10 MADI, mono and stereo, 56/64 channels, fiber or coaxial cable.
GPI and GPO (General Purpose Inputs and Outputs).
External or internal sync.
Frame with the capacity to house 20 DSP cards on the front.
Internal sampling rate 48 KHz, 24 bits.
Internal bus format: 32 bits per sample, floating point.
A ud
Digital:
AES/EBU Standard
Analog Line
Maximum input level: +22 dBu.
Admissible levels: from -24 dBu to + 22 dBu.
Maximum output level: +28 dBu.
Microphone. Admissible Levels.
Low sensitivity Mic: from -88 dBu to -38 dBu.
High sensitivity Mic: from -52 dBu to -6 dBu.
Block Diagram
The attached diagram indicates the signal flow when used as an autonomous mixing console, as well as the system control mechanisms.
naall ffllo w
In the diagram three functional blocks or matrixes can be seen:
So urrcce eccttiio n
Switches the signals that are routed to each channel on the console.
The digital inputs include an SRC (Sample Rate Converter) to adapt inputs with a different sampling rate to the system's internal one. The analog inputs include a digital analog converter, and the mic inputs also have a pre-amplifier with phantom power. Any of the signals grouped under the MADI protocol may be selected for mixing. The microphone signal from the control console enters the system through the latter, in digital format.
uaall D SP Syysstte m
This functional block includes signal processing at any inputs and outputs (basically equalization and dynamics), as well as the signal-mixing function and other functions associated with mixing, such as opening and closing channels, cue, talkback and attenuation, with pre- or post-fader configuration.
Here external system controls are also received through GPI ports (for example, cough muting), and external control signals are sent through
GPO ports (for example, fader start for external equipment).
O uttp utt S elle n
Switches the destinations of the signals that are routed from each channel on the console. The analog outputs include the digital-analog converter. Any of the signals may be grouped with others under the
MADI protocol, to be sent to a remote destination. In addition to general-purpose analog and digital outputs, output signals specific to the mixing process are also defined, such as control room and studio monitors, studio headphones, etc. Signals that go to the control surface (control headphones, 2 VU-meters and console speaker) use digital outputs.
C nttrro
The system may incorporate one or two controllers that act on the functional blocks. The controllers receive the orders from the user interfaces, control surfaces, or in their absence software drivers, through an Ethernet network, for which a redundant route may be established through the [email protected] network on parallel RS 422 cables.
Through the same network, the system delivers different signal level and status indications to the interfaces.
Technical characteristics
ngg ffu nccttiio eaall ttiim e))::
Allll o pe paarraam
Input and output routing.
Gain control in the range of -12 to +12dB.
ette
Dynamic control: Noise gate, compressor, limiter.
Parametric PA and PB filters.
4-band parametric equalization in f, Q and gain.
Spatial stereo (Balance/Panoramic) distribution.
Delay.
Phase inverter.
Reverberation.
n b e m diiffiie
Sp ecciiffiicc rraad ngg ffu nccttiio
Cough muting, ON AIR signal for control room and studio, fader start
(through contact closure, opening, RS-422 and TCP/IP).
Remote PFL and intercom.
An indefinite number of input and output buses can be defined.
Simultaneous handling of several studios from one control surface.
Tone generator, white and pink noise generator built-in.
C on nccllu ess::
Ethernet 10/100 base T LAN connection, in main module.
Connectivity RS-422 for the connection of expansion modules.
320x240-pixel LCD graphic displays for channel level and phase measurements, configuration and adjusting of processing.
Audio monitors and headphone amplifier.
2 precision stereo level meters (Vu/peak-meter).
Microphone input, with 24-bit A/D conversion, isolation transformer and phantom power.
Diim en nss aan d w eiiggh htt xx d ep h;; w htt))
Central unit: 6u x 19" (482.6 x 266.7 x 450.0 mm; from 12 to 22kg, from 26.4 to 48.4 lbs).
Power supply: 2u x 19" (482.6 x 89.0 x 360.0 mm; 8.2kg, 18 lbs).
Main module: (393 x 215 x 576 mm; 11.2kg, 24.6 lbs).
10-channel expansion module: (393 x 215 x 576 mm; 9.8kg, 21.6 lbs).
Digital
Line
Inputs
Analogue
Line
Inputs
Analogue
Mic/Line
Inputs
Lines (MADI) from other locations
1 n
A
D
Preamp
A
D
Preamp
Source
Selection
1 n
SRC
1
GPO/Monitor muting functions
Fader start
Process Fader
SRC
Process Fader
SRC
Process Fader
SRC
Process Fader
A
D
Process Fader n
Process
Process
Fader
Fader
Balance On/Off
Balance On/Off
Balance On/Off
Balance On/Off
Balance On/Off
Balance On/Off
Balance On/Off
GPI/Mic Mute
Sumbusses
1 n
Meter1
Meter2
Aux 1
Process
Aux 2
Process
Aux n
Process
N-1
Process
Master 1
Fader
Master 2
Fader
Others
On/Off Process
On/Off Process
Fader On/Off Process
1
Output Selection n
Control Software
Virtual DSP System
PFL/Aux
TB to studio room
Level adjustment in all crosspoints
Controller A
Controller B
D
A
D
A
D
A
D
A
D
A
D
A
D
A
D
A
D
A
Meter1
Meter2
Program output 1
Program output n
Aux 1
Aux n
PFL/TB to control room headphones
PFL to control surface loudspeakers
Control room monitor
Studio room monitor
Studio room primary headphones
Studio room secondary headphones
N-1 output
Lines (MADI) to other locations
Switch Ethernet
Available processing:
- Phase reversal
- Noise and tone generator
- Low and high pass filters
- Modulation surveillance
- Gain and/or attenuation control
- Compressor/limiter
- Noise gate
- Four band parametric equalizer
- Delay
- Reverb
- Pitch scaling
Control Surface
Control Room Studio Room
13
BC 2000 Digital.
May 2005
A EQ naattiio naall:: C/Rey Pastor, 40 28914 Leganés, Madrid, (Spain). Phone: +34 91 686 13 00, Fax: +34 91 686 44 92 e-mail: [email protected] www.aeq.es
A EQ A:: 4121 SW 47 Avenue, Suite 1303, Fort Lauderdale FL 33314, Phone 954 581 7999 Fax: 954 581 7733 e-mail: [email protected] www.aeqbroadcast.com
* Your assessment is very important for improving the work of artificial intelligence, which forms the content of this project