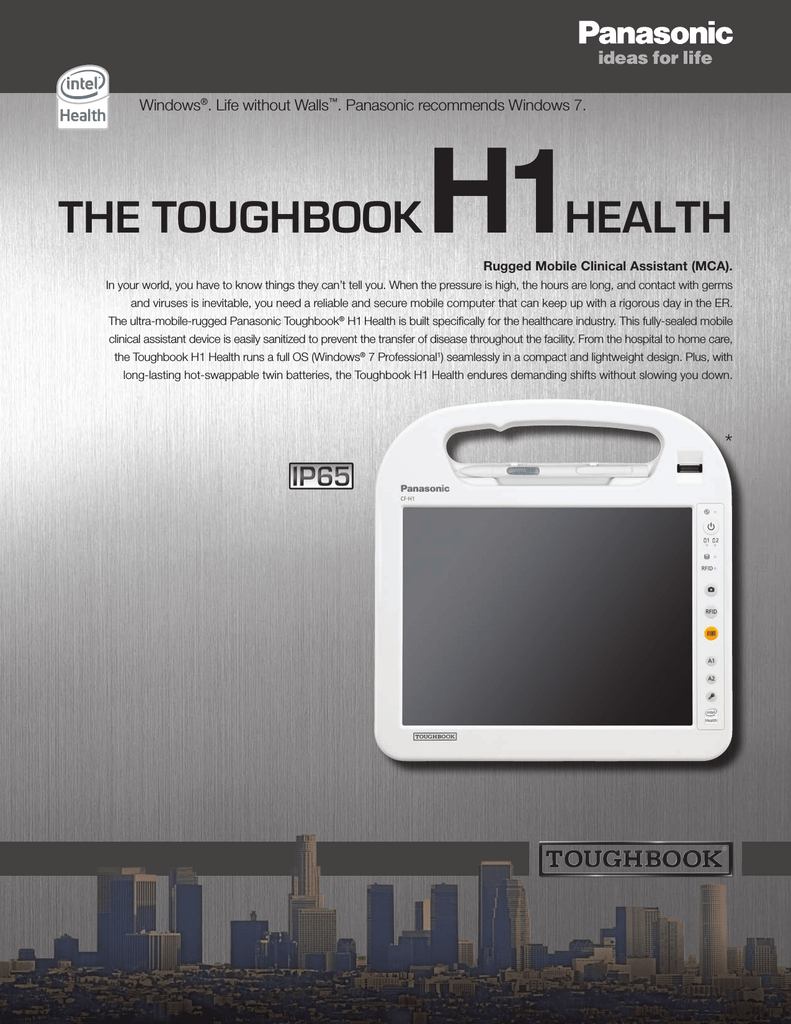 Windows®. Life without Walls™. Panasonic recommends Windows 7.
THE TOUGHBOOK
H1
health
Rugged Mobile Clinical Assistant (MCA).
In your world, you have to know things they can't tell you. When the pressure is high, the hours are long, and contact with germs
and viruses is inevitable, you need a reliable and secure mobile computer that can keep up with a rigorous day in the ER.
The ultra-mobile-rugged Panasonic Toughbook® H1 Health is built specifically for the healthcare industry. This fully-sealed mobile
clinical assistant device is easily sanitized to prevent the transfer of disease throughout the facility. From the hospital to home care,
the Toughbook H1 Health runs a full OS (Windows® 7 Professional1) seamlessly in a compact and lightweight design. Plus, with
long-lasting hot-swappable twin batteries, the Toughbook H1 Health endures demanding shifts without slowing you down.
*
Windows®. Life without Walls™. Panasonic recommends Windows 7.
The new Panasonic Toughbook
durability features •
•
•
•
•
•
•
•
H1
health.
Designed to meet MIL-STD-810G
3-foot drop rating
IP65 certified2
CCX Certified v4
Alcohol wipe-resistant surface
Sealed, easily sanitizable design
Rain, spill, dust and vibration-resistant
Integrated handle and ergonomic rubber hand strap
• Reinforced locking port covers
software
• Genuine Windows® 7 Professional1
• Panasonic Utilities (including Dashboard and Cleaning Reminder Tool),
Recovery DVD
CPU • Intel® Atom™ Processor Z540 (1.86GHz, 512KB L2 Cache, 533MHz FSB)
STORAGE & MEMORY • 2GB SDRAM (DDR2) standard3
• 80GB shock-mounted flex-connect drive4
DISPLAY •
•
•
•
• Intel® high-definition audio compliant
• Integrated speaker
KEYBOARD & INPUT •
•
•
•
INTERFACE
• Docking connector
WIRELESS
•
•
•
•
■
10.4" dual touch 1024 x 768 XGA daylight-readable LCD
Intel® SCH (GMA 500 video controller) max. 256MB UMA VRAM 5
500 nit LCD brightness
Anti-glare, anti-reflective screen treatments
AUDIO
■
■
■
Dual touch LCD (touchscreen and digitizer)
Integrated stylus holder
74-key on-screen keyboard with dedicated Windows® key
Up to 5 user-defined programmable buttons (varies by model)
■
■
Dedicated 19-pin
Optional integrated Gobi™2000 mobile broadband
Intel® Wireless WiFi Link 5100 802.11a/b/g/n
Bluetooth® v2.1 + EDR (Class 1)
Security
– Authentication: LEAP, WPA, 802.1x, EAP-TLS, EAP-FAST, PEAP
– Encryption: CKIP, TKIP, 128-bit and 64-bit WEP, Hardware AES
ully-rugged Durability for Healthcare Use with
F
Sealed Fanless Design for Easy Sanitization
Long-life Hot-swappable Twin Batteries Provide
Limitless Hours of Use
Built-in Camera, RFID Reader and Optional
Barcode Reader
Lightweight, Ergonomic Design with Carry Handle
and Hand Strap
Daylight-readable 10.4" Dual Touch Display
Wi-Fi, Bluetooth®, Optional Gobi TM Mobile
Broadband and GPS
WARRANTY
• 3-year limited warranty, parts and labor
DIMENSIONS & WEIGHT
• 10.4" (L) x 10.6" (W) x 1.3-2.3" (H)
• 3.4 lbs. (with handle, strap and both batteries)
•T
win hot-swappable lithium ion battery packs
(typical 2900mAh, nominal 2750mAh each battery)
• Battery operation: 6 hours (with both batteries)6
• Battery charging time: 5.5 hours off, 5.5 hours on 6
• AC Adapter: AC 100V-240V 50/60Hz, auto sensing/switching
worldwide power supply
Accessories9
POWER MANAGEMENT
• Suspend/Resume Function, Hibernation, Standby, ACPI BIOS
•
SECURITY FEATURES
•
•
•
•
•
INTEGRATED features
H1 Health Lite
•
•
•
•
•
•
•
POWER SUPPLY
Password Security: Supervisor, User, Hard Disk Lock
Trusted platform module (TPM) security chip v.1.2
Computrace® theft protection agent in BIOS 7
Fingerprint reader8
Contactless SmartCard reader8
• Optional Gobi™2000 mobile broadband (EV-DO Rev. A, HSPA)
• Optional GPS receiver
•
•
• 2MP camera with auto focus and LED light
• 13.56MHz Contactless RFID and SmartCard reader
– ISO 15693 and 14443 A/B compliant
• Fingerprint reader
• Optional barcode reader
• Optional Gobi™2000 mobile broadband (EV-DO Rev. A, HSPA)
• Optional GPS receiver
SAFETY CERTIFICATIONS • IT Equipment Safety
(EN:EU, UL:US)
•M
edical Electrical Equipment
Safety (EU)
• Medical Electrical Equipment
Safety (Canada)
• IT Equipment EMI (US)
• IT Equipment EMI (EU)
• IT Equipment EMS (EU)
• Industrial EMI (EU)
• Radio (US)
• Radio (Canada)
• SAR (US)
/
EN/IEC 60950-1
UL 60950-1
EN/IEC 60601-1
(with battery operation)
CAN/CSA-C22.2 No.601.1-M90
FCC CFR 47 P.15 Sub B-Class B
EN 55022/CISPR 22-Class B
EN 55024
EN 55011/CISPR 11-Class B
FCC CFR 47 P.15 Sub C
RSS-210
FCC CFR 47 P.2
panasonic.com/toughbook/H1-Health
Financing options now available from Panasonic Finance Solutions;
please call number above for more details.
Panasonic is constantly enhancing product specifications and accessories. Specifications subject to change without notice.
Trademarks are property of their respective owners. ©2010 Panasonic Corporation of North America. All rights reserved.
ssH1Healthmk2 11/10
•
•
•
•
•
H1 Health
1.800.662.3537
*
•
•
•
AC Adapter (3-pin)
CF-AA1633AM
4-bay Battery Charger
CF-VCBU11U
Lithium Ion Battery Pack
CF-VZSU53W
LIND Car Adapter 120W
CF-LNDDC120
LIND Car Adapter 120W
CF-LNDBRK120
Mounting Bracket
LIND Car/AC Adapter 90W
(with USB port)
CF-LNDACDC90
LIND Car Adapter 90W MIL-STD CF-LNDMLDC90
LIND Shutdown Timer
CF-LNDLPT
InfoCase H1 Shoulder Strap
TBCH1SSTP-P
InfoCase H1 Inversion Strap
TBCH1SSINV-P
InfoCase H1 Always-on Sleeve
TBCH1SLVE-P
TBCU1BPCH-P
InfoCase U1/H1 Battery Pouch
Desktop Cradle / Spare 2-Bay
Battery Charger CF-VEBH11BU
Magnetic Micro-dock (USB x2, LAN) CF-VEBH12U
Replacement Stylus
(with tether hole and pocket clip)
CF-VNP016U
10.4" LCD Protector Film
CF-VPF13AU
Gamber-Johnson Docking Station
(no pass-through)
7160-0166
Gamber-Johnson Docking Cradle
(no electronics)
7160-0167
Please consult your reseller or Panasonic representative before purchasing.
full set of Windows XP drivers are available at panasonic.com/toughbook/support.
2Tested by a national independent third party lab following IEC 60529 Sections
13.4, 13.6.2, 14.2.5 and 14.3 for IP65. Stylus has passed IP65 testing but has
not been certified.
3Total usable memory will be less depending upon actual system configuration.
41GB = 1,000,000,000 bytes.
5Max with standard RAM. The size of the VRAM cannot be set by the user and
varies by operating system as well as size of RAM.
6Battery performance features such as charge time and life span can vary
according to the conditions under which the computer and battery are used.
Battery operation and recharge times will vary based on many factors, including
screen brightness, applications, features, power management, battery
conditioning and other customer preferences. Battery testing results from
MobileMark 2007.
7Requires software and activation to enable theft protection.
8Not available on H1 Health Lite model.
9Accessories may vary depending on your configuration.
1A
*Actual product may vary depending on model.