Panasonic Toughpad FZ-G1 User manual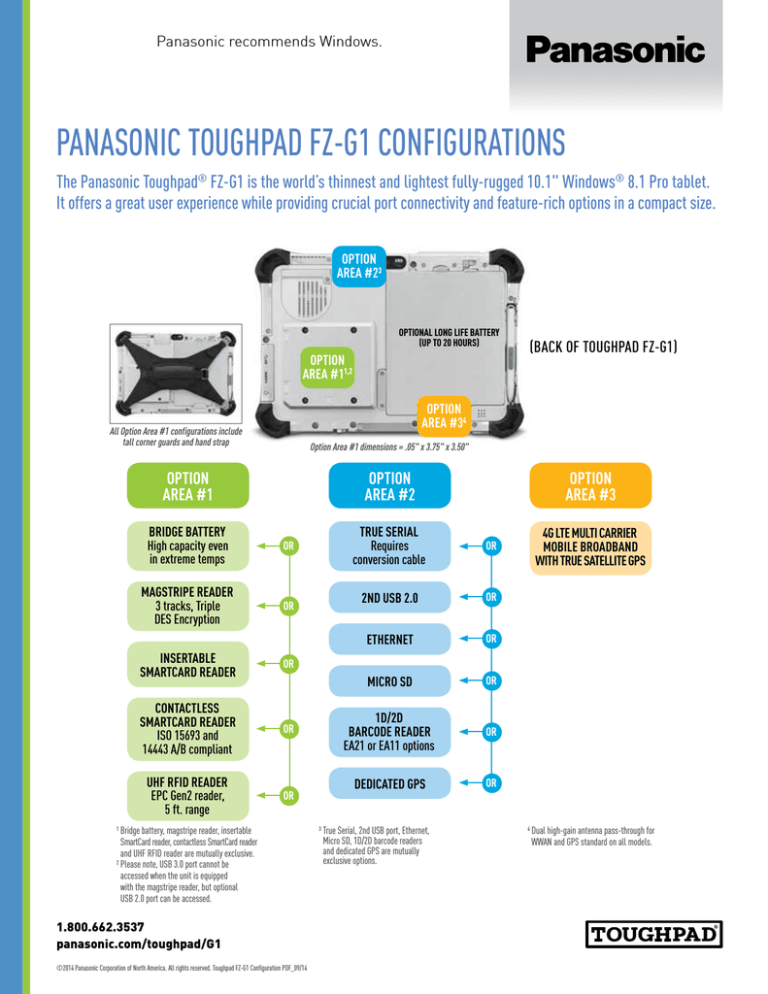 Panasonic recommends Windows.
PANASONIC TOUGHPAD FZ-G1 CONFIGURATIONS
The Panasonic Toughpad® FZ-G1 is the world's thinnest and lightest fully-rugged 10.1" Windows® 8.1 Pro tablet.
It offers a great user experience while providing crucial port connectivity and feature-rich options in a compact size.
OPTION
AREA #23
OPTIONAL LONG LIFE BATTERY
(UP TO 20 HOURS)
(BACK OF TOUGHPAD FZ-G1)
OPTION
AREA #11,2
OPTION
AREA #34
All Option Area #1 configurations include
tall corner guards and hand strap
Option Area #1 dimensions = .05" x 3.75" x 3.50"
OPTION
AREA #1
OPTION
AREA #2
BRIDGE BATTERY
High capacity even
in extreme temps
OR
MAGSTRIPE READER
3 tracks, Triple
DES Encryption
OR
INSERTABLE
SMARTCARD READER
OR
CONTACTLESS
SMARTCARD READER
ISO 15693 and
14443 A/B compliant
OR
UHF RFID READER
EPC Gen2 reader,
5 ft. range
OR
B ridge battery, magstripe reader, insertable
SmartCard reader, contactless SmartCard reader
and UHF RFID reader are mutually exclusive.
2
Please note, USB 3.0 port cannot be
accessed when the unit is equipped
with the magstripe reader, but optional
USB 2.0 port can be accessed.
1
1.800.662.3537
panasonic.com/toughpad/G1
©2014 Panasonic Corporation of North America. All rights reserved. Toughpad FZ-G1 Configuration PDF_09/14
3
OPTION
AREA #3
TRUE SERIAL
Requires
conversion cable
OR
2ND USB 2.0
OR
ETHERNET
OR
MICRO SD
OR
1D/2D
BARCODE READER
EA21 or EA11 options
OR
DEDICATED GPS
OR
T rue Serial, 2nd USB port, Ethernet,
Micro SD, 1D/2D barcode readers
and dedicated GPS are mutually
exclusive options.
4G LTE MULTI CARRIER
MOBILE BROADBAND
WITH TRUE SATELLITE GPS
4
D ual high-gain antenna pass-through for
WWAN and GPS standard on all models.

* Your assessment is very important for improving the work of artificial intelligence, which forms the content of this project