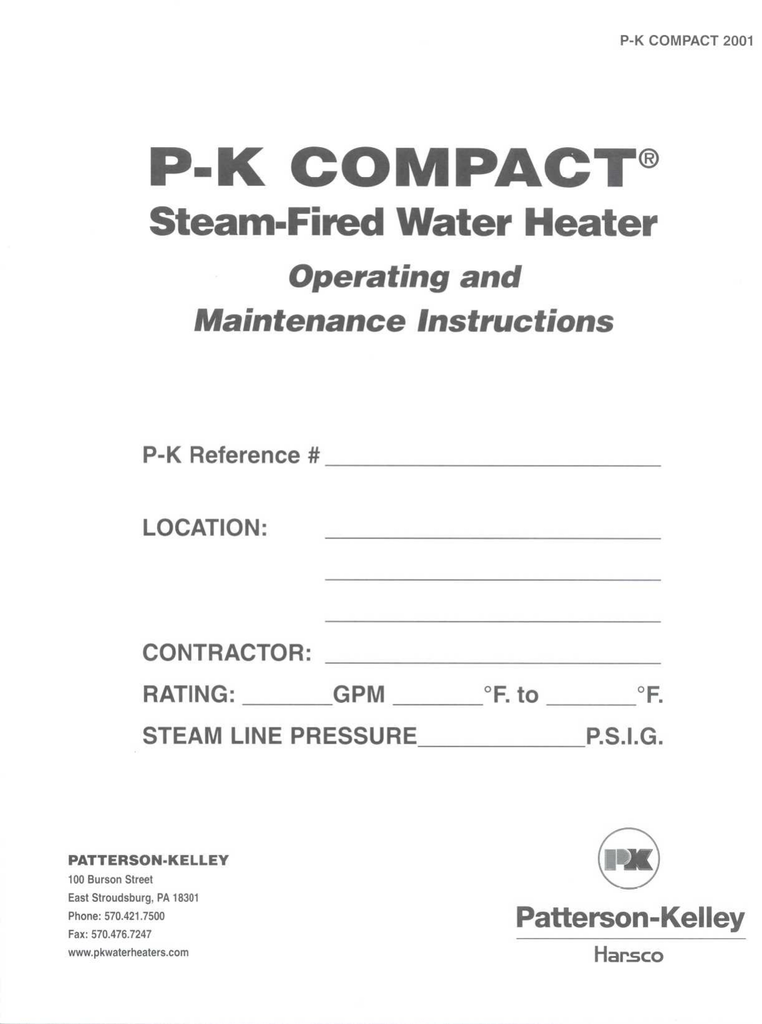 P-K COMPACT 2001
P-K COMPACT
Steam-Fired Water Heater
Operating and
Maintenance Instructions
P-K Reference #
LOCATION:
CONTRACTOR:
RATING: GPM
STEAM LINE PRESSURE
PATTERSON-KELLEY
100 Burson Street
East Stroudsburg, PA 18301
Phone: 570.421.7500
Fax: 570.476.7247
www.pkwaterheaters.com
°F. to °F.
P.S.1.G.
Patterson-Kelley
Harsco
PLEASE READ CAREFULLY BEFORE INSTALLING
General Information
Upon receipt of this shipment, please inspect the
unit for any damage. The P-K COMPACT" water
heater was thoroughly inspected and tested prior to
shipment, and any damage should be reported to the
transportation company immediately.
Please refer to the P-K Serial Number of the unit
when contacting the local P-K Sales Representative.
P-K COMPACT water heaters are completely pack-
aged, ready to connect to services.
À standard packaged unit has the following trim:
* Shell insulated and covered with a reinforced PVC
Jacket
* Steam control valve
* Steam pressure gauge
* Thermometer
* Circulation pump
* Relief valve
* Double solenoid temperature-limit system
General Operating Information
The diagrams on pages four and five show the vari-
ous piping arrangements of the P-K COMPACT water
heater in operation.
Steam passes through the tubes of the heat ex-
change bundle. The water is rapidly heated as it is
directed over the tubes by segmental baffles. Above
the baffled tube bundle, minimum storage volume is
provided to give the controls sufficient time to pro-
duce the close temperature control.
The circulation pump maintains proper water veloc-
ity across the tubes, producing a high rate of heat
transfer. Constant circulation produces extremely high
performance and close temperature control, while pre-
venting scale formation in all but the harshest hard-
water conditions.
The shell section functions primarily as a "mini-
mum storage" to permit the temperature control valve
to open or close according to hot water demands with-
out discharging unheated or overheated water.
The Anticipator temperature control is located in the
small storage section just above the heat exchanger.
Placement
The heater should be placed to permit gravity flow
of condensate to the condensate return system. The
head room above the heater should be at least 8" to
permit the removal of the relief valve.
The heater should be secured to the building floor
or mounting pad.
Plumbing
Water Connections: Connect properly sized water
service lines to the heater without check valves and
provide a suitable gate valve. The hot water outlet may
be run "dead-end"; however, a recirculated hot water
line will provide hot water more rapidly to the fix-
lures.
When two or more heaters are piped in parallel, be
sure the cold water inlet and hot water outlets are
equally balanced to prevent one heater from carrying
the bulk of the load.
Relief Valve
A properly sized relief valve is installed on the con-
nection provided at the top of the heater. This valve
should be piped to the sewer without decreasing the
pipe size or installing any valves. Failure to pipe to a
drain could cause a hazardous condition as well as
flooding of the equipment room.
Heater Recirculation
All COMPACT water heaters have a properly sized
integral circulator (all bronze). The heater recircula-
tion pump is not intended to function as a building
recirculation pump.
Electrical
The circulation pump normally provided has a 115
volt, single phase motor which may be connected to
ordinary house wiring. The connecting wires should
be 12 gauge and a suitable fuse switch provided as
protection from short circuits.
The wires should be protected by standard cir-
cuits.
Steam Trap
A properly sized steam trap is supplied loose for
field installation. Pipe to the condensate connection of
the unit. The condensate connection is at the bottom
rear of the bonnet.
When lift is encountered, do not attempt to lift con-
densate above the trap. Failure to permit free drainage
ol condensate will result in damage to the tube bundle.
It will also cause poor temperature control.
Temperature-Limit System
À double solenoid temperature-limit system is fur-
nished as standard to prevent a runaway condition.
should the steam control valve fail in the open posi-
tion. The double solenoid system is controlled by a
single pole, double-throw thermostat which should
be set at least 15°F above the control point of the
temperature control valve sensor. In the event of con-
trol sensor failure, the thermostat will activate the
three-way solenoid valve, relieving the pressure on
the steam valve diaphragm and allow the valve to
close.
Pipe Dump Valve to Drain
A '/2" solenoid dump valve located on top near the
hot water outlet will allow any excess hot water in the
tank to be dumped into a drain. preventing overheated
water from entering the hot water piping of the build-
ing. The dump valve should be piped to a drain.
Failure to pipe to a drain could cause a hazardous
condition as well as flooding of the equipment
room.
Steam Line
A properly sized steam line with strainer should be
connected to the COMPACT. The strainer should be
installed to protect the control valve from any for-
eign materials carried through the steam line. A drip
trap should be installed in the dirt leg just before the
steam control valve to protect the valve from steam
hammer.
When the steam line is over 10 ft. long, it should be
trapped ahead of the strainer to prevent condensate
from collecting. Condensate would be carried through
the valve at such a velocity that damage could occur.
When the steam line is of any great length, it may
be necessary to provide a pipe size which is greater
than the pipe size of the strainer. In selecting the prop-
er steam line size, consideration should be given to the
steam pressure, steam velocity and the length of the
line.
Steam Control Valve
A self-contained steam regulator or a pneumatical-
ly operated steam control valve 1s supplied. Three dif-
ferent kinds of steam valves will operate satisfactorily
on the COMPACT. Connections to the valve should be
made according to the installation diagrams in this
manual.
Condensate Line
NOTE: Do not attempt to lift condensate above the
condensate outlet without the help of a condensate
pump. Failure to comply with this can result in tube
bundle failure and will cause erratic temperature
control.
The condensate line requires a check valve to pre-
vent condensate from being drawn back into the heat
exchanger.
Operation and Adjustment
|. Turn on water supply to unit.
2. Trip relief valve to expel entrained air.
lsd
. Lubricate pump and read pump installation manual
before starting.
4. Turn on circulation pump. (Do not operate pump
before water is in unit!)
. Turn on steam.
. Turn on faucets or other devices.
. Operate unit at approximately '/: rated capacity.
60 ~~ On En
. Adjust the steam control valve to obtain desired
outlet temperature. This is the setpoint. Please care-
fully read the manufacturer's instructions for
adjusting the control valve. Since the P-K COM-
PACT 15 used with many steam pressures and water
temperatures, they are not set at the factory.
9. Rerun the unit at one-half low capacity as in Item 7
and recheck the setpoint.
=
PIPING ARRANGEMENTS
Steam System:
Single Unit Installation
H><} Stop Valve
y Check Valve
SH Control Valve
+ Strainer
Вене! Маме
Thermomater
Ч Ontice Union
| Steam Trap
=
A
|
HZ
ag HE cas
<
7
y
Pressure Cage Balancing Cock
or Flanges Petcock
Flow Indizator
©
®
—dh— Pipe Union
©
Compound
Pressuré Gage
Note: Installer
must provide
strainer on
steam supply
line. |
\ 7
Steam System:
Parallel Installation
_ hazardous condition.
Note: Relief valve
must be piped to a
drain to prevent
hazardous condition.
i
>
x
be
I
LA
[e \
A | VB, a | N
Y 1H 4
iL
Mote: Installer must
provide strainer on
Ц a
il "Valve must be piped to a drain
to prevent hazardous condi-
Note: Relief valve
must be piped lo a
drain to prevent
Y SoLo N
db MR, Way.
"Valve must be piped to a drain
to prevent hazardous condition.
Steam System:
Accumulator Type Tank
Application:
High Recovery Water Heater
>} Stop Valve + Stramer
НИЙ Check Valve A Relief Valve "Valve must be piped to a drain
to prevent hazardous condition.
HS Control Valve | Thermometer
A Onfice Union LH Steam Trap
T | e)
7 Control Gage coo
® Pressure Gage O Balarcing Cock
db Pipe Union Patécek
or Flanges y
Compound
© Pressure Gage y Flow Indicator
Note: Relief valve must be
piped to a drain to prevent
hazardous condition.
Note: Installer must provide _
strainer on steam supply line. TURE =
Yoo
Sy Bry
Y
xa.
Steam $ — age
eam System: = SN
Stratified Storage
Application:
Limited Recovery
Water Heater
Note: Relief valve
must be piped to a
drain to prevent
hazardous condition.
4 Не
LT
pe LIE E
A
HOT WATTS О ОЛОВА! |
RATIFIED
a Note: Installer must |
provide strainer on y
| | steam supply line.
Г
В! > 1
| [ во Ма " =~
(Ra ET ER ai a
/ Ve AIN ls, "Say foot ГД
p 4 Nr Br EA] | |
oF i "1% Bi 3
me ) = ле ME Air |
Pir RL =" > Wen
AN À a} 3 |
Ti A
у J A |
и ga +
HA cor at |
sur
* "Valve must be piped to a drain
to prevent hazardous condition.
Failure
|. Water temperature too high.
2. Banging or pinging in heater
3. Erratic temperature control
4. Loss of recovery or poor recovery
SERVICE TIPS
Remedy
* Check setting of temperature sensor.
* Check for dirt or foreign material in bleed ports on self-contained steam
piloted valves.
* Check for proper spring tension on air-operated valves.
* Check for dirt under seat of valves.
* Check for proper seating of valve.
* Bad sensing element. (See enclosed valve literature.)
* Check for proper condensate drainage.
* Do not atempt to lift condensate above tube bundle.
* Check for back pressure in condensate line. (Condensate should flow by
gravity to vented receiver.)
* Check traps for proper oeration (when used). (See trap literature.)
* Check for proper rotation of circulation pump.
* Check for flow of circulator pump, (be sure pump is pumping.)
* Check valves in pipe line must be open.
* Check for condensate lift.
* Check for proper steam pressure. Be sure it is not more than heater 1s
designed to operate at.
* Check traps for proper operation when used.
* Check for proper air pressure on air-operated valves.
(See valve bulletin.)
* Shut down unit — remove steam chamber and tube bundle. Inspect tube
bundle for scale or fouling which could restrict heat transfer.
* Clean with Dow Chemical Versene 100 or equal.
* Replace tube bundles using new gaskets.
* Check and be sure heater design rating is not being exceeded.
(See specifications on front cover of this manual.)
* Check for fouling of steam pilot and self-contained valves due to carry
over of treatment compound.
Removal of Tube Bundle Recommended Spare Parts
To remove tube bundle, use the following prodedure: I. Circulator pump — bearing and seal assembly.
- Valve off steam supply.
. Valve off cold water supply to heater.
. Valve off hot water to building.
. Valve off recircuations line.
. Turn oft all power to heater.
bn = fad 9 —
==
Pad
Thermometer.
3. Temperature sensor on air-operated valve. use Accritem.
On steam-piloted valve, use thermal system for Sarco
valve and thermostat assembly on Spence valves.
4. Relief valve.
. Break flange or union on steam valve and condensate
line.
. Loosen nuts on top of tube bundle flange. This will per-
mit dropping of tube bundle for inspection without
breaking steam chamber seal.
. To check the tube bundle for leaks, simply remove the
steam chamber only. Tubesheet is threaded to permit
examination of possible ruptured tubes without draining
heater.
. When reassembling heater or replacing tube bundle, use
new gaskets supplied by manufacturer.
. Solenoid 3-way valve for pneumatic, 2-way for self
contained.
. Solenoid Thermostat.
. Replacement tube bundle.
. Steam trap cage unit (if used).
. Tube bundle gaskets.
10. Pressure gauge (steam).
DRAINING CONDENSATE FROM DOMESTIC WATER HEATERS
The heating of domestic water with steam has been
going for over 100 years. The principle is to extract
the latent heal from the steam in the tubes resulting in
the steam condensing. In the last 30 years the Semi-
Instantaneous water heater has grown in acceptability
due to its compact size and its accurale temperature
control. For proper operation, the Semi-Instantaneous
design requires the rapid removal of condensate.
Proper drainage of the condensate from the tubes of
the water heater is needed to avoid:
|. Possible tube rupture
2. Damage to steam traps
3. Damage to the temperature control valve
4. Erratic water temperature control
Keep in mind that the sole function of the tempera-
ture control valve 1s to control the outlet temperature
of the water! To do this the temperature control valve
will proportion the steam flow according to the water
flow rate. This means that at lower flow rates the
steam in the tubes can be at a sub-atmospheric pres-
sure. Since the water heater will operate at less than its
design capacity 90% of the time, the steam pressure in
the tubes will be lower than the design pressure and
cannot possibly be used to lift condensate above the
trap level! To assist in visualizing the proper method
of draining condensate from the water heater note the
following diagrams.
WATER HEATER
— HOT VATER =] /
TEMPERATURE |
TUBES
ee a! |
mm
COLD
WATER LIFT
LEG
TEMPERATURE
CONTROL
WAL
STEAM
1
1
ACCUMULATED STE CONDENSATE
CONDENSATE
FLT TRAP
CONDEMWSATE LIFT
CAUSES FLOODING
FIGURE 2 — [llustrates how condensate, formed in the
steam feed line, can accumulate under no or low water
flow rates. This condensate will be carried with the steam
when the valve opens damaging the valve and tubes. It also
shows how the tubes will flood when trving to lift conden-
sate at less than design flow rates. There are no types of
traps or check valves that can avoid this condition when
there is no steam pressure in the tubes.
WATER HEATER
—— HOT WATER
TEMPERATURE | / |
N a
A
TEMPERATURE
CONTROL
VAL Y
STEAM
STEA CONDENSATE
DRIP
TRAP F ETTRAP
CONDENSATE DRAIN BY
GRAVITY WITHOUT LIFT
OR BACK PRESSURE
FIGURE 1 — Illustrates the proper method to be used to
drain condensate from a semi-instantaneous water heater.
Note the drip trap before the temperature control valve to
prevent condensate from accumulating under no or low
water flow thereby avoiding erratic temperature control,
valve damage or impingement of condensate on the tubes.
All condensate must drain from the tubes bv gravity with-
out lift or back pressure.
WATER HEATER
— HOT WATER = /
TEMPCRATURÉ )
SENSOR
и me
— COLD
WATER
TEMPERATURE
CONTROL
Vial vi
STEM
AL E
] | —
a= | MACK PRESSURE
ACCUMULATED sT CONDENSATE Tu
CONDENSATE
FLT TRA
=>
y
ue aa
LS]
FIGURE 3 — Hlustrates the same problems shown in FIG-
URE 2, but with the addition of a condensate receiver
emploving a back pressure vent valve in the receiver vent
line. This has become a popular method of avoiding a flash
steam flume to the atmosphere and any complaints by a
client that energy is being lost. It can also provide addi-
tional 'net positive suction head' pressure to the conden-
sate pump to aid in pumping hot condensate. This design,
however, may cause serious drainage problems for the
water heater condensate.

* Your assessment is very important for improving the work of artificial intelligence, which forms the content of this project