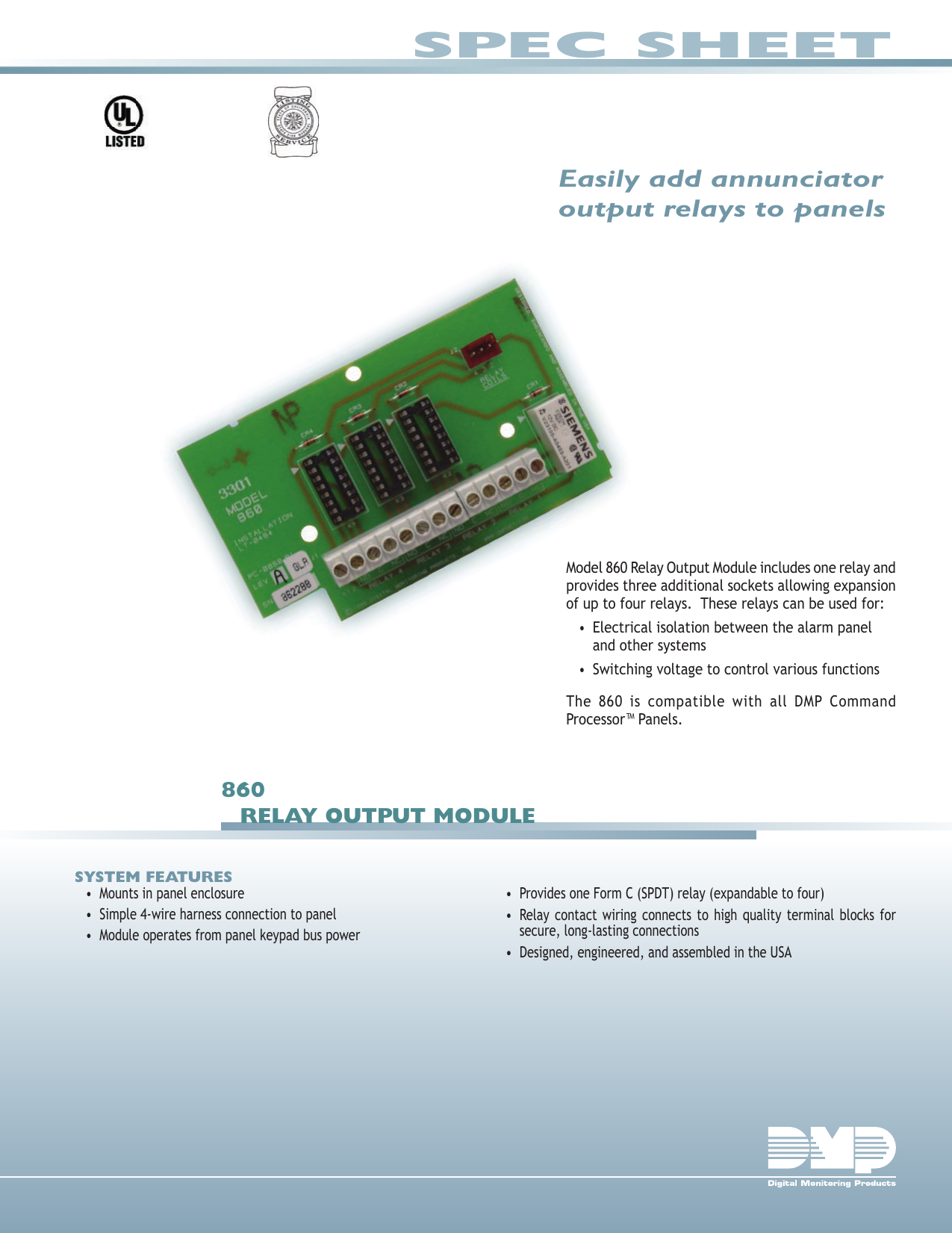 SPEC SHEET
Easily add annunciator
output relays to panels
Model 860 Relay Output Module includes one relay and
provides three additional sockets allowing expansion
of up to four relays. These relays can be used for:
• Electrical isolation between the alarm panel
and other systems
• Switching voltage to control various functions
The 860 is compatible with all DMP Command
Processor™ Panels.
860
RELAY OUTPUT MODULE
SYSTEM FEATURES
• Mounts in panel enclosure
• Simple 4-wire harness connection to panel
• Module operates from panel keypad bus power
• Provides one Form C (SPDT) relay (expandable to four)
• Relay contact wiring connects to high quality terminal blocks for
secure, long-lasting connections
• Designed, engineered, and assembled in the USA
860 MODULE
INSTALLATION
The 860 mounts inside a Command
Processor™ panel enclosure using the
standard 3-hole pattern. Plastic standoffs
are provided with the module for easy
installation.
A 4-wire harness is also provided that
connects the Model 860 to the DMP
panel.
SYSTEM SPECIFICATIONS
Primary Power
12 VDC
Current Draw for 1 Relay 34mA
for 2 Relays
69mA
for 3 Relays
104mA
for 4 Relays
138mA
Contact Rating
2 Amps @ 30 VDC
Wire Gauge
12 to 22 AWG
ACCESSORIES
Model 305
Form C Relay
COMPATIBILITY
XR5FC/SL, XRSuper6, XR20, XR40, XR500 Series,
and XR2500F Command Processor™ Panels
800 - 641 - 4282
ORDER INFORMATION
The 860 comes from the factory with
one installed relay, three plastic
mounting standoffs, one 4-wire harness
assembly, and one Installation Sheet
(LT-0484). Three additional Model 305
Form C (SPDT) relays can be purchased
separately.
LISTINGS AND APPROVALS
Underwriters Laboratories (UL) Listed
UL 294 Access Control System Units
UL 365 Police Station Alarm Units
UL 609 Local Burglary Alarm Units and Systems
UL 864 Control Units for Fire-Protective Signaling Systems
UL 985 Household Fire Warning System Unit
UL 1076 Proprietary Burglary Alarm Units and Systems
UL 1076 Proprietary Alarm Units
UL 1610 Central Station Burglary Alarm Units
UL 1635 Digital Alarm Communicator System Units
California State Fire Marshal (CSFM)
INTRUSION
•
FIRE
•
ACCESS
•
NETWORKS
www.dmp.com
2500 North Partnership Boulevard
Made in the USA
S p r i n g fi e l d , M i s s o u r i 6 5 8 0 3 - 8 8 7 7
LT-0485 (9/06) © 2006 Digital Monitoring Products, Inc.
OPERATION
Each relay on the 860 Module is controlled
by the panel's open collector annunciator
outputs that switch the relay coil voltage
to ground. Power is supplied to the relay
coils from the panel's keypad bus. The
annunciator outputs can be programmed
to respond to various system conditions
such as communication failures, entry
and exit timers, alarms, armed area
annunciation, and more.

* Your assessment is very important for improving the work of artificial intelligence, which forms the content of this project