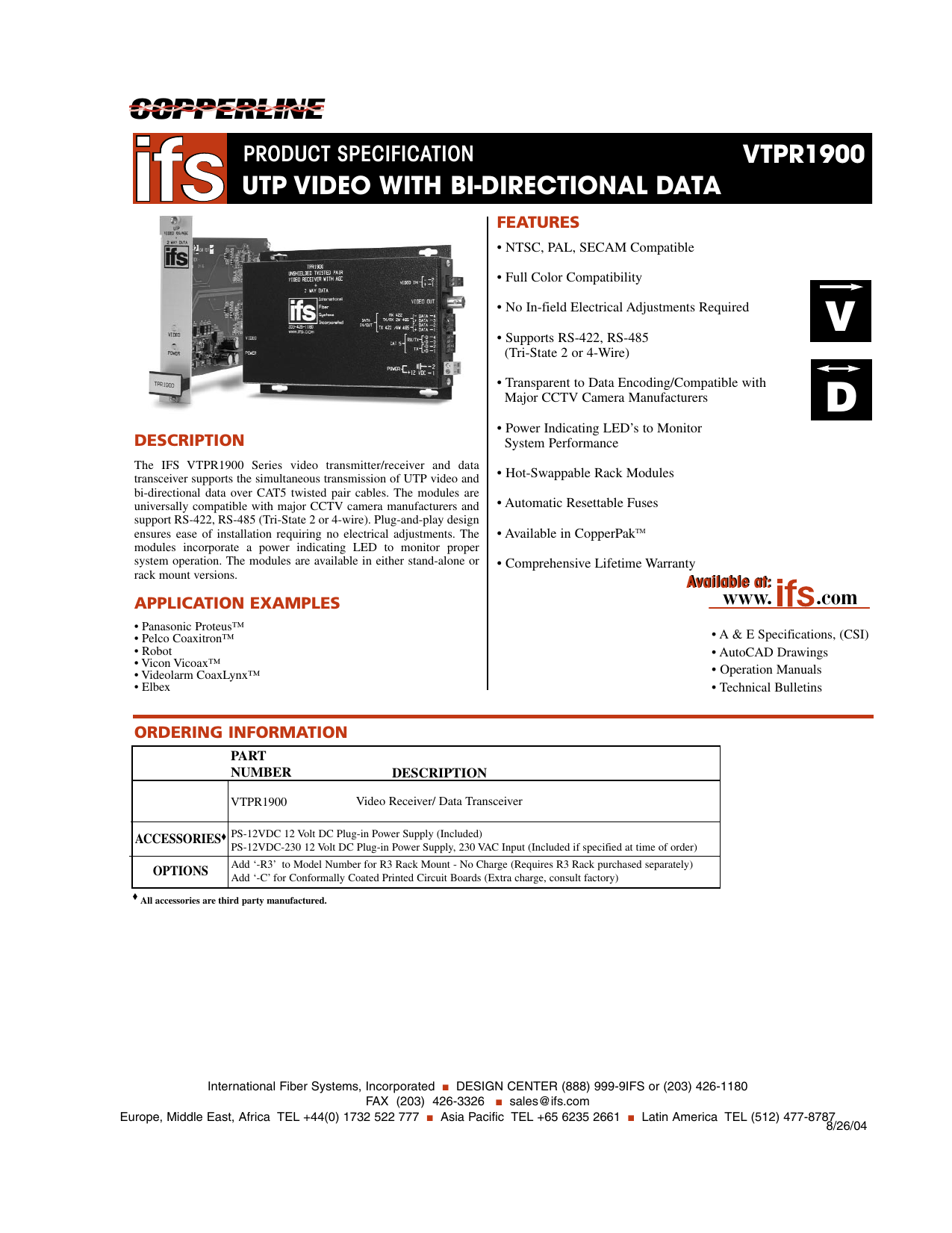 COPPERLINE
VTPR1900
PRODUCT SPECIFICATION
UTP VIDEO WITH BI-DIRECTIONAL DATA
FEATURES
• NTSC, PAL, SECAM Compatible
• Full Color Compatibility
• No In-field Electrical Adjustments Required
• Supports RS-422, RS-485
(Tri-State 2 or 4-Wire)
• Transparent to Data Encoding/Compatible with
Major CCTV Camera Manufacturers
V
D
• Power Indicating LED's to Monitor
System Performance
DESCRIPTION
The IFS VTPR1900 Series video transmitter/receiver and data
transceiver supports the simultaneous transmission of UTP video and
bi-directional data over CAT5 twisted pair cables. The modules are
universally compatible with major CCTV camera manufacturers and
support RS-422, RS-485 (Tri-State 2 or 4-wire). Plug-and-play design
ensures ease of installation requiring no electrical adjustments. The
modules incorporate a power indicating LED to monitor proper
system operation. The modules are available in either stand-alone or
rack mount versions.
• Hot-Swappable Rack Modules
• Automatic Resettable Fuses
• Available in CopperPakTM
• Comprehensive Lifetime Warranty
Available at:
www.
APPLICATION EXAMPLES
• Panasonic Proteus™
• Pelco Coaxitron™
• Robot
• Vicon Vicoax™
• Videolarm CoaxLynx™
• Elbex
.com
• A & E Specifications, (CSI)
• AutoCAD Drawings
• Operation Manuals
• Technical Bulletins
ORDERING INFORMATION
PART
NUMBER
DESCRIPTION
VTPR1900
Video Receiver/ Data Transceiver
ACCESSORIES♦
PS-12VDC 12 Volt DC Plug-in Power Supply (Included)
PS-12VDC-230 12 Volt DC Plug-in Power Supply, 230 VAC Input (Included if specified at time of order)
OPTIONS
Add '-R3' to Model Number for R3 Rack Mount - No Charge (Requires R3 Rack purchased separately)
Add '-C' for Conformally Coated Printed Circuit Boards (Extra charge, consult factory)
♦ All accessories are third party manufactured.
International Fiber Systems, Incorporated ■ DESIGN CENTER (888) 999-9IFS or (203) 426-1180
FAX (203) 426-3326 ■ [email protected]
Europe, Middle East, Africa TEL +44(0) 1732 522 777 ■ Asia Pacific TEL +65 6235 2661 ■ Latin America TEL (512) 477-8787
8/26/04
COPPERLINE
VTPR1900
TECHNICAL SPECIFICATION
UTP VIDEO WITH BI-DIRECTIONAL DATA
SPECIFICATIONS
ELECTRICAL & MECHANICAL
VIDEO
Video Input/Output:
Bandwidth:
1 volt pk-pk (75 ohms)
DC to 5 MHz under all conditions
Differential Gain:
Differential Phase:
<1%
<1°
Circuit Board:
Size (in./cm.) (LxWxH)
Surface Mount:
Rack Mount:
Shipping Weight:
Common-mode Rejection Ratio: >60 dB @10 KHz
>50dB @10 MHz
Signal-to-Noise Ratio (SNR):
Power:
Surface Mount:
Rack:
Number of Rack Slots:
Current Protection:
12 VDC @ 300 mA
From Rack
1
Automatic Resettable Solid-State Current
Limiters
Meets IPC Standard
7.0 x 4.9 x 1.0 in., 10.7 x 8.9 x 2.5 cm
7.7 x 5.0 x 1.0 in., 17.8 x 12.5 x 2.5 cm
< 2 lbs./0.9 kg
> 60 dB
ENVIRONMENTAL
DATA
Data Interface:
Data Format:
Data Rate:
Operating Mode:
RS-422, RS-485
(Tri-State 2 or 4-wire)
Manchester, Bi-phase
DC-50 Kbps (NRZ)
Simplex or Full Duplex
DISTANCE
3000 ft. (1 Km)
MTBF:
Operating Temp:
Storage Temp:
Relative Humidity:
> 100,000 hours
-40° C to +74° C
-40° C to +85° C
0% to 95% (non-condensing)†
† May be extended to condensation conditions by adding suffix 'C' to model
number for conformal coating.
CONNECTORS
Power:
Video and Data:
UTP:
Terminal Block with Screw Clamps
BNC (Gold Plated Center-Pin)
Terminal Block with Screw Clamps
AGENCY COMPLIANCE
MADE IN THE USA
Federal Supply Schedule
Contract No. GS-07F-0049M
SYSTEM DESIGN
TEL (203)426-1180 ■ FAX (203)426-3326 ■ www.ifs.com ■ [email protected]
16 Commerce Road ■ Newtown, CT 06470
Due to our continued effort to advance technology, product specifications are subject to change without notice.

* Your assessment is very important for improving the work of artificial intelligence, which forms the content of this project