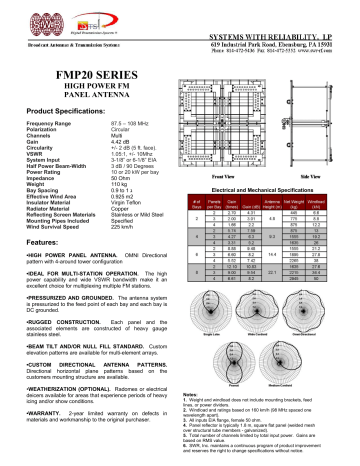 FMP20 SERIES
HIGH POWER FM
PANEL ANTENNA
Product Specifications:
Frequency Range
Polarization
Channels
Gain
Circularity
VSWR
System Input
Half Power Beam-Width
Power Rating
Impedance
Weight
Bay Spacing
Effective Wind Area
Insulator Material
Radiator Material
Reflecting Screen Materials
Mounting Pipes Included
Wind Survival Speed
87.5 – 108 MHz
Circular
Multi
4.42 dB
+/- 2 dB (5 ft. face).
1.05:1, +/- 10Mhz
3-1/8" or 6-1/8" EIA
3 dB / 90 Degrees
10 or 20 kW per bay
50 Ohm
110 kg
0.9 to 1 ‫ג‬
0.925 m2
Virgin Teflon
Copper
Stainless or Mild Steel
Specified
225 km/h
Electrical and Mechanical Specifications
Features:
•HIGH POWER PANEL ANTENNA. OMNI Directional
pattern with 4-around tower configuration
•IDEAL FOR MULTI-STATION OPERATION. The high
power capability and wide VSWR bandwidth make it an
excellent choice for multiplexing multiple FM stations.
•PRESSURIZED AND GROUNDED. The antenna system
is pressurized to the feed point of each bay and each bay is
DC grounded.
•RUGGED CONSTRUCTION.
Each panel and the
associated elements are constructed of heavy gauge
stainless steel.
•BEAM TILT AND/OR NULL FILL STANDARD. Custom
elevation patterns are available for multi-element arrays.
•CUSTOM
DIRECTIONAL
ANTENNA PATTERNS.
Directional horizontal plane patterns based on the
customers mounting structure are available.
•WEATHERIZATION (OPTIONAL). Radomes or electrical
deicers available for areas that experience periods of heavy
icing and/or show conditions.
•WARRANTY.
2-year limited warranty on defects in
materials and workmanship to the original purchaser.
Notes:
1. Weight and windload does not include mounting brackets, feed
lines, or power dividers.
2. Windload and ratings based on 160 km/h (98 MHz spaced one
wavelength apart).
3. All inputs EIA flange, female 50 ohm.
4. Panel reflector is typically 1.8 m, square flat panel (welded mesh
over structural tube members - galvanized).
5. Total number of channels limited by total input power. Gains are
based on RMS value.
6. SWR, Inc. maintains a continuous program of product improvement
and reserves the right to change specifications without notice.

* Your assessment is very important for improving the work of artificial intelligence, which forms the content of this project