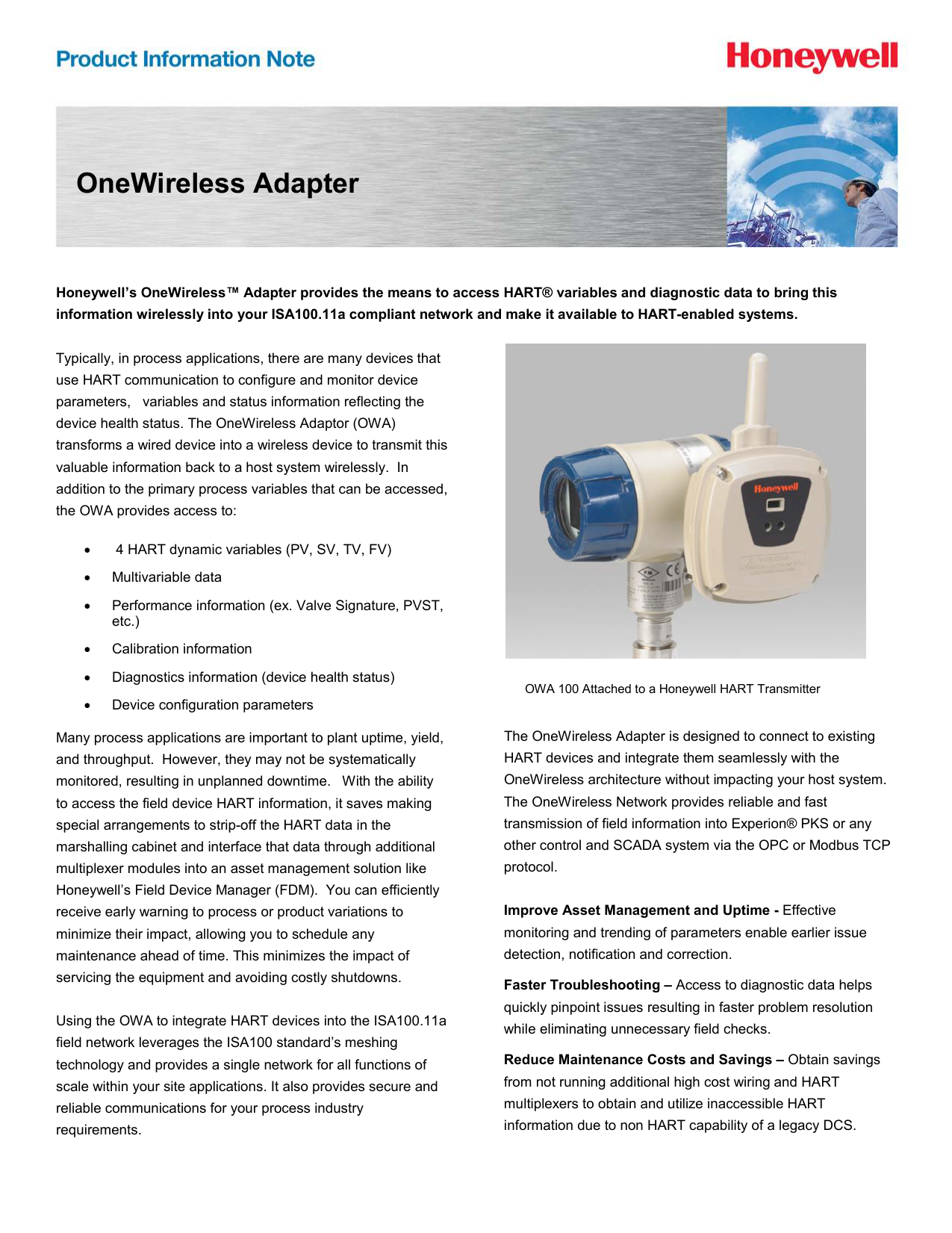 OneWireless Adapter
Honeywell's OneWireless™ Adapter provides the means to access HART® variables and diagnostic data to bring this
information wirelessly into your ISA100.11a compliant network and make it available to HART-enabled systems.
Typically, in process applications, there are many devices that
use HART communication to configure and monitor device
parameters, variables and status information reflecting the
device health status. The OneWireless Adaptor (OWA)
transforms a wired device into a wireless device to transmit this
valuable information back to a host system wirelessly. In
addition to the primary process variables that can be accessed,
the OWA provides access to:
•
4 HART dynamic variables (PV, SV, TV, FV)
•
Multivariable data
•
Performance information (ex. Valve Signature, PVST,
etc.)
•
Calibration information
•
Diagnostics information (device health status)
•
Device configuration parameters
OWA 100 Attached to a Honeywell HART Transmitter
Many process applications are important to plant uptime, yield,
The OneWireless Adapter is designed to connect to existing
and throughput. However, they may not be systematically
HART devices and integrate them seamlessly with the
monitored, resulting in unplanned downtime. With the ability
OneWireless architecture without impacting your host system.
to access the field device HART information, it saves making
The OneWireless Network provides reliable and fast
special arrangements to strip-off the HART data in the
transmission of field information into Experion® PKS or any
marshalling cabinet and interface that data through additional
other control and SCADA system via the OPC or Modbus TCP
multiplexer modules into an asset management solution like
protocol.
Honeywell's Field Device Manager (FDM). You can efficiently
receive early warning to process or product variations to
Improve Asset Management and Uptime - Effective
minimize their impact, allowing you to schedule any
monitoring and trending of parameters enable earlier issue
maintenance ahead of time. This minimizes the impact of
detection, notification and correction.
servicing the equipment and avoiding costly shutdowns.
Faster Troubleshooting – Access to diagnostic data helps
quickly pinpoint issues resulting in faster problem resolution
Using the OWA to integrate HART devices into the ISA100.11a
while eliminating unnecessary field checks.
field network leverages the ISA100 standard's meshing
technology and provides a single network for all functions of
Reduce Maintenance Costs and Savings – Obtain savings
scale within your site applications. It also provides secure and
from not running additional high cost wiring and HART
reliable communications for your process industry
multiplexers to obtain and utilize inaccessible HART
requirements.
information due to non HART capability of a legacy DCS.
OneWireless Adapter
2
Safer and More Efficient Employees – Provide access to
stranded HART diagnostics information allowing employees to
Wireless Communications:
•
Frequency: 2.400Ghz to 2.4835 GHz ISM
quickly analyze the situation and pinpoint the issue without
•
Standard IEEE 802.15.4 radio
necessarily having to go to hazardous or remote locations.
•
Compatible with OneWireless infrastructure
Secure and Reliable Communications – Use the ISA100.11a
•
Range: Nominal transmission distance of 305m
(1,000 ft) with clear line of sight
Honeywell's OneWireless network provides a universal, simple
•
Integral 2.5dBi antenna
and efficient network with following features:
•
Security/Encryption: ISA100.11a
standard to ensure your data is secure and reliable.
Powering and Data Publishing:
•
PV Publish Cycle Time: Programmable from five
seconds to one minute
•
One strategic network that supports multiple uses
(ISA100 sensors and 802.11 Wi-Fi devices)
•
Scales from a few field instruments to thousands to
get started now but still prepare for future
•
•
Available Data: HART dynamic variables (1 - 4) and
diagnostics
Operates in noisy radio frequency environments for
reliable communication
•
Power scavenging from powered 4 – 20ma loop
•
Provides predictable power management to ensure
uptime and optimize maintenance
•
Battery: 1 x 3.6v lithium battery, size D
•
•
End-to-end industrial security to protect plant
information and ensure safety
Battery Life: 3+ years for sampling rate of 30 seconds
without routing
•
Open architecture and protocol integration to provide
choices for standard and cost-effective solutions
Key Specifications
Setup:
•
Input: Any 2 or 4-wire HART device
Mechanical and Environmental:
•
Protection: NEMA Type 4X, IEC IP66
•
Enclosure: Molded Polycarbonate UL rating of f1 for
outdoor use, UV stabilized, V0 rating
•
½" NPT or M20 Stainless steel fitting for direct
mounting to conduit entry
•
Network: ISA100.11a compliant
•
Dimensions: 195mm (h) x 130mm (w) x 88mm (d)
•
Security key used to join the network
•
Vibration: up to 4 G's from 15Hz to 2,00 Hz
•
Configure the OWA from the Wireless Device
Manager, no local configuration required
•
Humidity: 0 to 100% RH
•
•
Operating Temperature: -40C to +85C
Allows HART device configuration from FDM or AMS
•
Weight: Approx. 1.0lb/(.045Kg)
Approvals:
•
Wireless: FCC, IC, RTTE/ETSI
More Information
•
c CSA us, IECEx, ATEX
To learn more about Honeywell's wireless
solutions, visit www.thewirelessplant.com.
Automation & Control Solutions
Honeywell Process Solutions
1250 West Sam Houston Parkway South
Houston, TX 77042
OneWireless™ is a trademark of Honeywell International Inc.; Experion®
is a registered trademark of Honeywell International Inc.; HART is a
registered trademark of the HART Communication Foundation
Lovelace Road, Southern Industrial Estate
Bracknell, Berkshire, England RG12 8WD
Shanghai City Centre, 100 Junyi Road
Shanghai, China 20051
www.honeywellprocess.com
July 2011
© 2011 Honeywell International Inc.

* Your assessment is very important for improving the work of artificial intelligence, which forms the content of this project