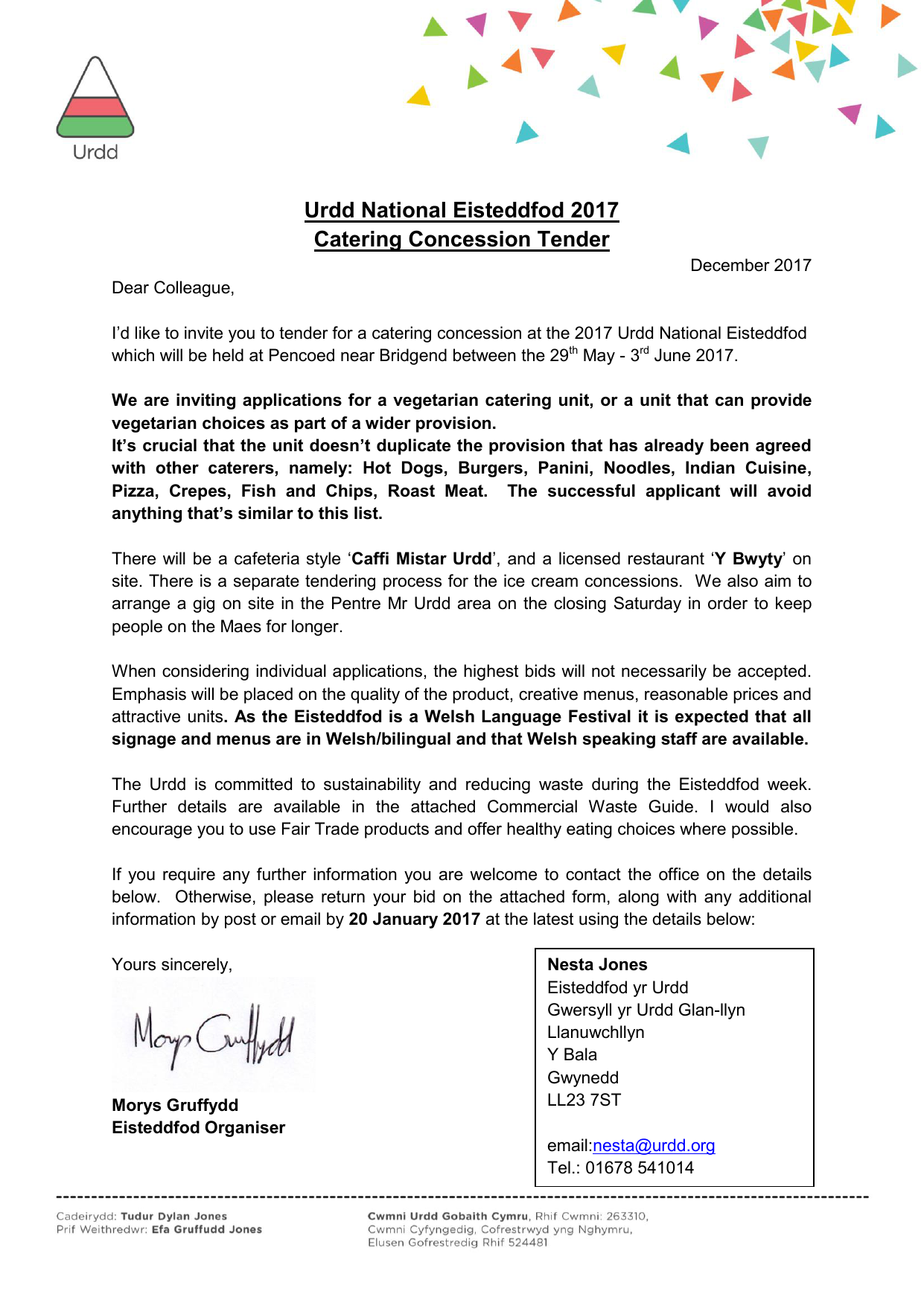 Urdd National Eisteddfod 2017
Catering Concession Tender
December 2017
Dear Colleague,
I'd like to invite you to tender for a catering concession at the 2017 Urdd National Eisteddfod
which will be held at Pencoed near Bridgend between the 29th May - 3rd June 2017.
We are inviting applications for a vegetarian catering unit, or a unit that can provide
vegetarian choices as part of a wider provision.
It's crucial that the unit doesn't duplicate the provision that has already been agreed
with other caterers, namely: Hot Dogs, Burgers, Panini, Noodles, Indian Cuisine,
Pizza, Crepes, Fish and Chips, Roast Meat. The successful applicant will avoid
anything that's similar to this list.
There will be a cafeteria style 'Caffi Mistar Urdd', and a licensed restaurant 'Y Bwyty' on
site. There is a separate tendering process for the ice cream concessions. We also aim to
arrange a gig on site in the Pentre Mr Urdd area on the closing Saturday in order to keep
people on the Maes for longer.
When considering individual applications, the highest bids will not necessarily be accepted.
Emphasis will be placed on the quality of the product, creative menus, reasonable prices and
attractive units. As the Eisteddfod is a Welsh Language Festival it is expected that all
signage and menus are in Welsh/bilingual and that Welsh speaking staff are available.
The Urdd is committed to sustainability and reducing waste during the Eisteddfod week.
Further details are available in the attached Commercial Waste Guide. I would also
encourage you to use Fair Trade products and offer healthy eating choices where possible.
If you require any further information you are welcome to contact the office on the details
below. Otherwise, please return your bid on the attached form, along with any additional
information by post or email by 20 January 2017 at the latest using the details below:
Yours sincerely,
Morys Gruffydd
Eisteddfod Organiser
Nesta Jones
Eisteddfod yr Urdd
Gwersyll yr Urdd Glan-llyn
Llanuwchllyn
Y Bala
Gwynedd
LL23 7ST
email:[email protected]
Tel.: 01678 541014
Tender Return Form for Catering Concessions
Urdd National Eisteddfod 2017
Company Details
Registered Name of Company: _____________________________________________________
Address: ______________________________________________________________________
_____________________________________________________Post Code_________________
Name of contact person:__________________________________________________________
Address (if different to above): _____________________________________________________
____________________________________________________Post Code_________________
Phone No._______________________________ Mobile_________________________________
E-mail_________________________________________________________________________
Name of Authority where company is registered with Environmental Health Department:
___________________________________________________________________________
Tender Offer
Brief description of the type of catering unit (e.g. Vegetarian / Indian Food etc.) :
..............................................................................................................................................................
..............................................................................................................................................................
Offer
£_____________
+ VAT @ 20%: Total: £ _________________
*Please attach menus giving an indication of prices and products with this document.
Insurance
Please indicate level of cover:
Public Liability: ______________________________________________
Employers Liability: __________________________________________
Product Liability (if applicable) __________________________________
Additional Information
Training level of Staff: __________________________________________________________
Compliance with HACCP regulations: ______________________________________________
I enclose a copy of a recent valid Risk Assessment (Please )
The Welsh Language
By applying for a contract you are committed to ensuring that all your signs and menus are in
Welsh or bilingual and ensuring that Welsh speakers are present on the catering unit at all times.
Signature: ______________________________________
Date: ___ / ___ / 2017
We may require photographic evidence of Welsh or bilingual signage and menus before
awarding the contract to the successful caterers.
Please return this form with any additional information to:
Nesta Jones
Eisteddfod yr Urdd
Gwersyll yr Urdd Glan-llyn
Llanuwchllyn
Y Bala
Gwynedd
LL23 7ST
By 20 November 2015 at the latest.
[email protected]
01678 541014
URDD NATIONAL EISTEDDFOD
CATERING CONTRACTS 2017
2017: The 2017 Urdd Eisteddfod will be held in Bridgend county on land owned by Bridgend
College (Pencoed Campus) between the 29th May 2017 - 3rd June 2017.
Postcode: CF35 5LG
The following attendance figures are included as guidance to assist you in preparing your response.
Estimated number of visitors (numbers can vary depending on factors such as the weather):
90,000 during the week with
18k - 20k on Monday
18k - 20k on Tuesday
15k -17k on Wednesday
10k - 13k on Thursday
10k - 13k on Friday
8k - 10k on Saturday
• Competitions on Monday / Tuesday are for primary age children so a large number of families with
children of primary school age are present. Wednesday to Saturday competitions are for children and
young people up to the age of 25.
• Please read carefully the enclosed 'Trade Waste Guidance' - every trader will be expected to comply
with this document to assist the Eisteddfod to reduce waste going to landfill centres.
• No electrical equipment which could interfere with the Eisteddfod audio systems may be used on the
Maes.
• Petrol generators are NOT permitted.
• You must notify us if you plan to fully or partly subcontract the catering contracts.
• It is your responsibility to inform subcontractors of all contractual information and specifications.
Facilities provided by the Urdd
• Water (regulated, clean drinking water)
• Electricity supply – maximum 2 x 32amp 1 phase supply (anything exceeding this will be charged as
extra).
• Central waste disposal area.
• Centralised storage for spare gas containers in accordance with Health and Safety requirements.
• Admission tickets for staff of the catering units and parking convenient to one of the site entrances.
Facilities to be provided by the successful Caterer
• Catering units with food preparation area, storage, serving and display units as required in compliance
with current Health and Safety and Food Hygiene requirements.
• Food Preparation units (e.g. a mobile kitchen) complying with current Health and Safety and Food
Hygiene regulations.
• Food storage/larder units suitable for the environment and type of food to be stored.
Please Note:
• Caterers are allowed to sell 'basic' hot drinks, but since there is a specific contract for the provision of
coffee and a coffee lounge, caterers must not advertise or sell 'speciality' coffee or hot drinks. Please bear
this in mind when deciding upon your tender offer.
• The venue does not have mains drainage facilities and any waste water must be collected in surface
tanks close to the unit generating the waste water. Because of the nature of the site, excavation to bury
tanks or pipe work is not permitted.
• Caterers must ensure that Welsh speaking members of staff are available on the unit at all times and
have been trained in the appropriate food handling and food hygiene requirements in accordance with
current regulations. Appropriate training in aspects of customer care would also be an advantage.
All signage must be in Welsh or bilingual with prominence given to the Welsh language.
• The information given on the Tender Return Form for the successful company, including the registered
name of the company and the Local Authority that has inspected the unit, will be passed on to the relevant
Local Authority Environmental Health Department. The Environmental Health Department will verify the
information given and may inspect the catering units on arrival and during the Eisteddfod week.
• Many Local Authorities have a policy of only allowing caterers to events if their Food Hygiene Rating is 3
or higher
• Full payment must be made BEFORE the Eisteddfod or access to the Eisteddfod will be denied.
Fire Safety

Petrol cans are NOT permitted on the Eisteddfod site except in the fitted tanks of petrol driven motor
vehicles/plant/equipment.

No combustible material (e.g. straw etc.) shall be laid on the site in any circumstances.

All temporary catering facilities are obliged to provide suitable fire fighting equipment as follows:
 Food preparation area - 1 x 2kg dry-powder extinguisher.
 Cooking area 1 x 2kg dry-powder extinguisher.
1 x 1m² fire blanket (BS 6575:1985).
 Deep Fat Frying: - 1 x 9L foam extinguisher.
1 x 1m² light duty fire blanket.
Liquid Petroleum Gas (LPG)

Please make every effort to ensure that LPG cylinders used in any mobile or temporary catering
units are located in the open air.

Cylinders using pressure relief valves should be used and should be secured in the upright position
and kept away from members of the public in case of interference or accident.

All caterers should have connected LPG bottles by the unit.

All LPG cylinders not in use will need to be stored in the open air away from any fixed or temporary
source of ignition, and a suitable temporary hazard warning sign placed at these locations.

Caterers should ensure sufficient LPG cylinders for the duration of the event without exceeding
200kg.The Urdd will have an approved gas cage for storage of excess LPG cylinders in the
contractor's compound area of the site.
No alcohol is allowed on site either for direct sale, personal consumption or raffle prizes. An
alcohol licence will be available for the sale of alcohol with food in a licensed restaurant known as Y
Bwyty, and possibly in a mobile bar on site on Saturday - but no other sales of alcohol will be
allowed. The bar that will be brought on site on Saturday is part of a Weekend Package that was
introduced in Flint in 2016 along with a gig in the Pentre Mr Urdd area which is where most of the
food caterers are located. The aim is to create more of a 'festival feel' towards the end of the week,
and to keep people on site for longer on the final day.
The intention of the Urdd is that caterers will strive to make as much use as possible of Fair Trade produce.
The Urdd is also eager to promote the use of Welsh produce with the emphasis on 'healthy eating'. In
addition, Castell Howell is a major supporter of the Urdd Eisteddfod and is the preferred supplier for all
catering outlets at the Eisteddfod and therefore it is expected that caterers use Castell Howell as a supplier,
where appropriate. The Urdd Eisteddfod reserves the right to require catering outlets to provide
documentary evidence to justify why they do not intend to use Castell Howell as a supplier.
The sale of Ice Cream is the subject of a separate tender and as a consequence no outlet may sell ice
cream unless they are one of the units identified in the Ice Cream supply contract. If you would like to
tender for the Ice Cream contracts, please contact Nesta at the Eisteddfod Office: [email protected]
The self-service cafeteria, Caffi Mistar Urdd, will be selling a range of products typically burgers, sausages,
bacon rolls, baked potatoes, fish & chips, curry and pre-packaged salads, sandwiches etc. and a range of
hot and cold drinks.
Contact Details:
Nesta Jones
Eisteddfod yr Urdd
Gwersyll yr Urdd Glan-llyn
Llanuwchllyn
Y Bala
Gwynedd
LL23 7ST
email:[email protected]
Tel.: 01678 541014
TRADE WASTE GUIDANCE
Eisteddfod Genedlaethol Urdd Gobaith Cymru
The Urdd is committed to supporting sustainability and recycling and therefore expect
caterers to follow these guidelines.
Caterers must use biodegradable food and beverage packaging, or packaging that can be
recycled. Disposable equipment is not permitted, polystyrene or non-recyclable packaging.
All traders and caterers must not use the public recycling and waste bins to avoid
the public recycling bins becoming too full too quickly.
You will be provided with bags and a collection service for the waste generated.
Food Waste Bags
 Food waste ONLY – no raw meat
 NO plastic, metals, oils, paper plates, cups or trays, wooden cutlery or polystyrene
 This material must be taken to the central collection point.
Recycling Bags



Plastic bottles/cups and food/drinks cans. Please ensure that these are clean and
dry before placing into the bags.
NO plastic wraps
Blue bags to be placed into the blue bag collection skip at the end of each day.
Skips will be located at a central point on the site.
Cardboard
 This must be flattened and taken to the cardboard skip at the central collection
point. Please DO NOT place plastic wrap with cardboard.
Cooking Oil
It is the responsibility of the caterer to remove waste cooking oil. If you require the waste
management contractor to do this on your behalf, you must contact the Urdd Eisteddfod
Office.
Black Bags
Any materials that cannot be placed in either the white or blue bags must be placed in
black bags and taken to the trade waste skip at the central collection point.
For further information on recycling please contact the Urdd Eisteddfod Office.