Philips PET1035/00 User's manual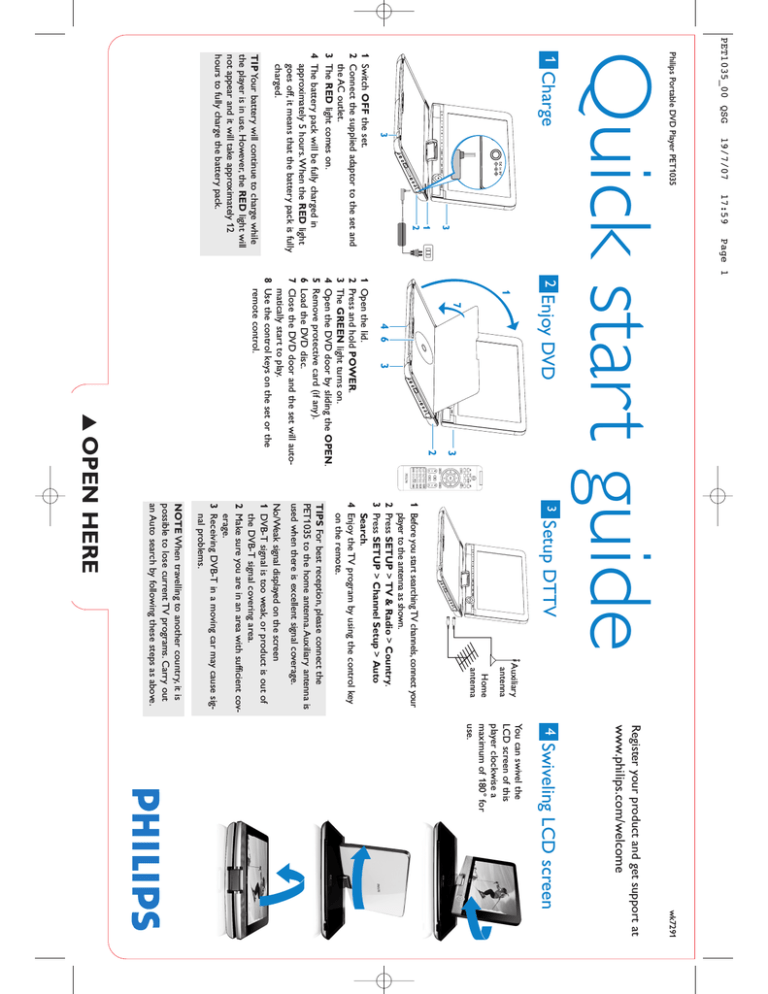 PET1035_00 QSG
19/7/07
Philips Portable DVD Player PET1035
Charge
3
17:59
1
2
3
Page 1
2
Enjoy DVD
1
7
3
2
1 Open the lid.
2 Press and hold POWER.
3 The GREEN light turns on.
4 Open the DVD door by sliding the OPEN.
5 Remove protective card (if any).
6 Load the DVD disc.
7 Close the DVD door and the set will automatically start to play.
8 Use the control keys on the set or the
remote control.
4 6
3
Setup DTTV
Auxiliary
antenna
Home
antenna
No/Weak signal displayed on the screen
1 DVB-T signal is too weak, or product is out of
the DVB-T signal covering area.
2 Make sure you are in an area with sufficient coverage.
3 Receiving DVB-T in a moving car may cause signal problems.
TIPS For best reception, please connect the
PET1035 to the home antenna.Auxiliary antenna is
used when there is excellent signal coverage.
1 Before you start searching TV channels, connect your
player to the antenna as shown.
2 Press SETUP > TV & Radio > Country.
3 Press SETUP > Channel Setup > Auto
Search.
4 Enjoy the TV program by using the control key
on the remote.
3
Quick start guide
1
1
2
3
4
Switch OFF the set.
Connect the supplied adaptor to the set and
the AC outlet.
The RED light comes on.
The battery pack will be fully charged in
approximately 5 hours.When the RED light
goes off, it means that the battery pack is fully
charged.
TIP Your battery will continue to charge while
the player is in use. However, the RED light will
not appear and it will take approximately 12
hours to fully charge the battery pack.
NOTE When travelling to another country, it is
possible to lose current TV programs. Carry out
an Auto search by following these steps as above.
3 OPEN HERE
wk7291
Register your product and get support at
Swiveling LCD screen
www.philips.com/welcome
4
You can swivel the
LCD screen of this
player clockwise a
maximum of 180° for
use.
PET1035_00 QSG
Chargement
Français
1
19/7/07
3
17:59
Le charme de votre musique
3
3
1
2
2
3
Page 2
1 Connectez l'adaptateur fourni au lecteur et à la
prise secteur.
2 Le témoin lumineux ROUGE s'allume.
3 Laissez charger jusqu'à ce que le témoin lumineux
ROUGE s'éteigne (environ 4 heures)
CONSEIL La batterie continue de se charger
pendant que vous utilisez votre lecteur, sans que le
témoin lumineux ROUGE s'allume et avec un
temps de charge d'environ 12 heures pour un
chargement complet.
2
1
7
4 6
1 Ouvrez le courvercle.
2 Appuyez sur POWER et maintenez enfoncée.
3 Le témoin lumineux VERT s'allume.
4 Ouvrez la porte du compartiment de disque et
insérez un disque.
5 Retirez la carte de protection (le cas échéant).
6 Insérez un disque DVD.
7 Fermez la porte de DVD.Votre lecteur commence
automatiquement la lecture.
8 Utilisez les touches de contrôle de l'appareil ou
de la télécommande.
3
TNT
Antenne
auxiliaire
Home
antenna
Branchement de l'antenne
1 Avant de démarrer la recherche des chaînes de télévision, branchez le lecteur de DVD à votre antenne
comme illustré ci-dessous.
2 Appuyez sur SETUP > TV & Radio > Pays
3 Appuyez sur SETUP > Configurer les chaînes >
Recherche automatique
CONSEIL Pour une meilleure réception, connectez le
PET1035 sur l'antenne de la maison. L'antenne auxiliaire n'est utilisable que lorsque la couverture du signal
est excellente.
"Pas de signal" ou "signal faible" affiché à l'écran
1 Le signal TNT est trop faible ou votre zone d'utilisation est
hors de portée de l'émetteur TNT.
2 Vérifiez que votre zone d'utilisation est couverte par la
transmission.
3 La reception TV pendant la conduite en voiture est
limitée.
Mécanisme de rotation de l'écran LCD
Lorsque vous voyagez à l'étranger, il est possible que vous
perdiez les chaînes TV en cours. Effectuez alors une
recherche automatique comme suit.
4
L'écran LCD de cet
appareil peut pivoter
d'un maximum de 180
degrés dans le sens des
aiguilles d'une montre.
Carga
Español
1
3
3
1
2
1 Conecte el adaptador suministrado al dispositivo y a la
toma de corriente CA.
2 La luz ROJA se encenderá.
3 La batería tardará en cargarse al completo aproximadamente 4 horas. Cuando la luz ROJA se apague, la batería
habrá terminado de cargarse.
Disfrute
3
2
3
CONSEJO La batería seguirá cargándose mientras el reproductor está en uso. Sin embargo, la luz ROJA no estará
encendida y la carga total de la batería llevará unas 12 horas.
2
1
7
4 6
1 Abra la tapa.
2 Pulsar y mantener pulsado POWER.
3 Se encenderá la luz VERDE.
4 Abra la compuerta de disco e insértelo.
5 Quite la tarjeta protectora (en caso de haberla).
6 Cargue el disco DVD.
7 Cierre la compuerta del DVD y el dispositivo iniciará la
reproducción automáticamente.
8 Utilice las teclas de control del dispositivo o del mando a
distancia.
3
DTT
Antena
auxiliar
Home
antenna
Conexión de la antena
1 Antes de iniciar la búsqueda del canal de televisión,
conecte el reproductor de DVD a la antena tal y como
se indica.
2 Pulse SETUP > TV & Radio > País
3 Pulse SETUP > Configuración de canales >
Búsqueda automática
SUGERENCIA Para una mejor recepción, conecte el
PET1035 a la antena de su casa. La antena auxiliar se utiliza cuando la señal de cobertura es excelente.
Cuando aparece en pantalla "Sin señal" o "señal débil"
1 La señal TDT es demasiado débil, o fuera del área de
cobertura de la señal TDT.
2 Asegúrese de que se encuentra en un área con suficiente cobertura.
3 La señal TDT podria sufrir alteraciones si el coche está
en movimiento.
Mecanismo de giro del panel LCD
Es posible que al viajar a otro país pierda los programas
de TV actuales. Realice una búsqueda automática siguiendo
estos pasos.
4
El panel LCD de este
dispositivo pude girar un
máximo de 180 grados a
la derecha.

* Your assessment is very important for improving the work of artificial intelligence, which forms the content of this project