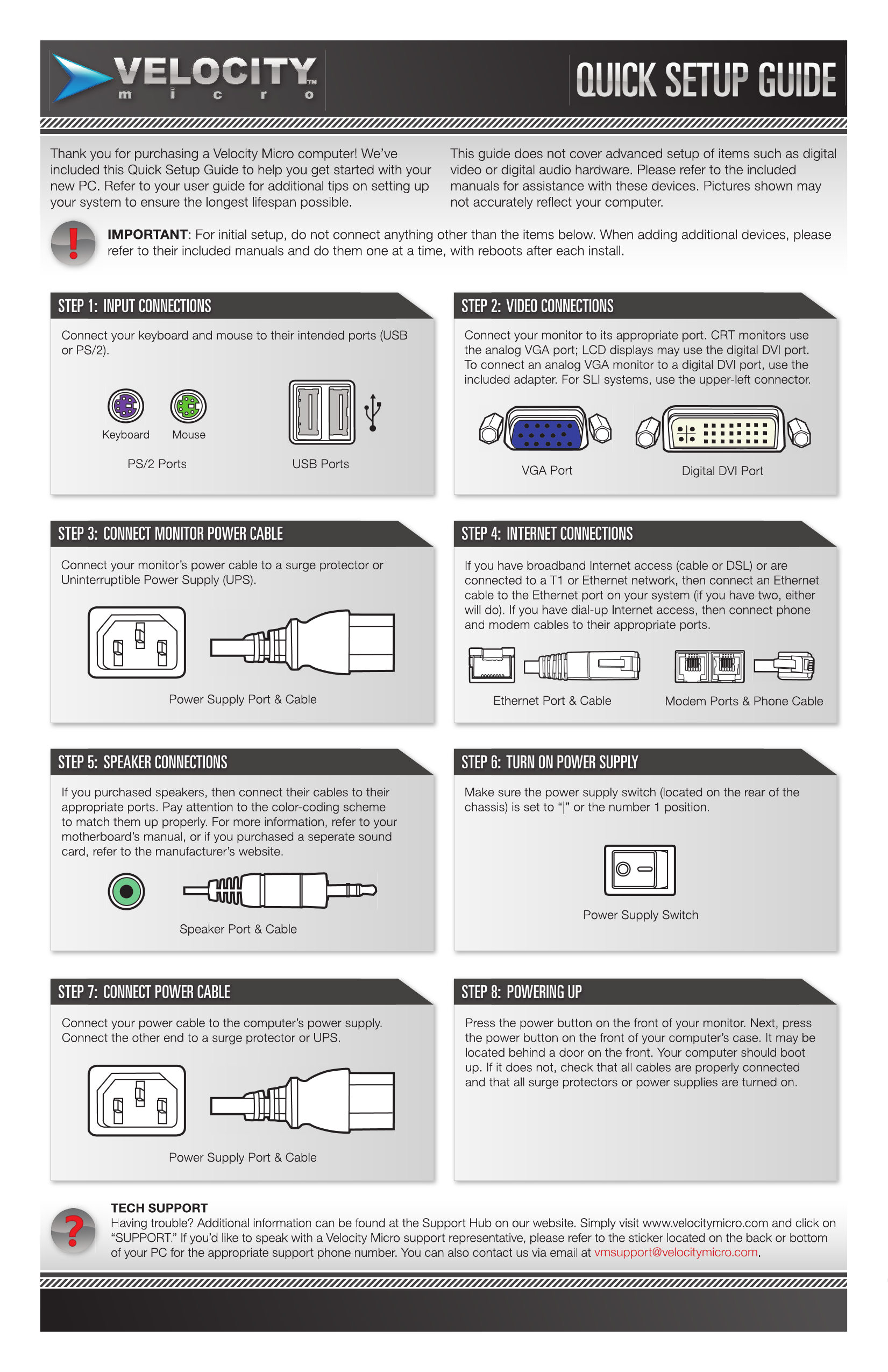 Thank you for purchasing a Velocity Micro computer! We've
included this Quick Setup Guide to help you get started with your
new PC. Refer to your user guide for additional tips on setting up
your system to ensure the longest lifespan possible.
This guide does not cover advanced setup of items such as digital
video or digital audio hardware. Please refer to the included
manuals for assistance with these devices. Pictures shown may
not accurately reflect your computer.
IMPORTANT: For initial setup, do not connect anything other than the items below. When adding additional devices, please
refer to their included manuals and do them one at a time, with reboots after each install.
STEP 1: INPUT CONNECTIONS
STEP 2: VIDEO CONNECTIONS
Connect your keyboard and mouse to their intended ports (USB
or PS/2).
Connect your monitor to its appropriate port. CRT monitors use
the analog VGA port; LCD displays may use the digital DVI port.
To connect an analog VGA monitor to a digital DVI port, use the
included adapter. For SLI systems, use the upper-left connector.
Keyboard
Mouse
PS/2 Ports
USB Ports
VGA Port
Digital DVI Port
STEP 3: CONNECT MONITOR POWER CABLE
STEP 4: INTERNET CONNECTIONS
Connect your monitor's power cable to a surge protector or
Uninterruptible Power Supply (UPS).
If you have broadband Internet access (cable or DSL) or are
connected to a T1 or Ethernet network, then connect an Ethernet
cable to the Ethernet port on your system (if you have two, either
will do). If you have dial-up Internet access, then connect phone
and modem cables to their appropriate ports.
Power Supply Port & Cable
Ethernet Port & Cable
Modem Ports & Phone Cable
STEP 5: SPEAKER CONNECTIONS
STEP 6: TURN ON POWER SUPPLY
If you purchased speakers, then connect their cables to their
appropriate ports. Pay attention to the color-coding scheme
to match them up properly. For more information, refer to your
motherboard's manual, or if you purchased a seperate sound
card, refer to the manufacturer's website.
Make sure the power supply switch (located on the rear of the
chassis) is set to "|" or the number 1 position.
Power Supply Switch
Speaker Port & Cable
STEP 7: CONNECT POWER CABLE
STEP 8: POWERING UP
Connect your power cable to the computer's power supply.
Connect the other end to a surge protector or UPS.
Press the power button on the front of your monitor. Next, press
the power button on the front of your computer's case. It may be
located behind a door on the front. Your computer should boot
up. If it does not, check that all cables are properly connected
and that all surge protectors or power supplies are turned on.
Power Supply Port & Cable
TECH SUPPORT
Having trouble? Additional information can be found at the Support Hub on our website. Simply visit www.velocitymicro.com and click on
"SUPPORT." If you'd like to speak with a Velocity Micro support representative, please refer to the sticker located on the back or bottom
"SUPPORT
of your PC for the appropriate support phone number. You can also contact us via email at vmsupport@velocitymicro.com.

* Your assessment is very important for improving the work of artificial intelligence, which forms the content of this project