THE FLEX SLOT - Coach Smythe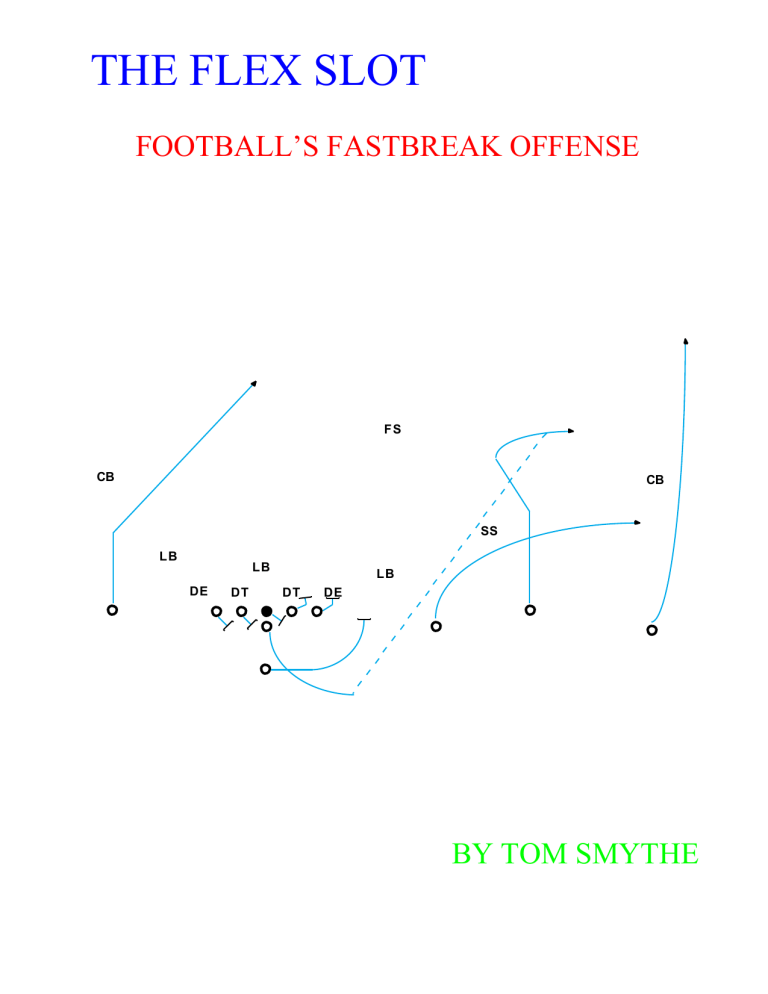 THE FLEX SLOT
FOOTBALL'S FASTBREAK OFFENSE
FS
CB
CB
SS
LB
DE
DT
LB
DT DE
LB
BY TOM SMYTHE
TABLE OF CONTENTS
DEDICATION
ACKNOWLEDGMENTS
ABOUT THE AUTHOR
PREFACE
FORWARD
CHAPTER ONE
CHAPTER TWO
CHAPTER THREE
CHAPTER FOUR
CHAPTER FIVE
CHAPTER SIX
CHAPTER SEVEN
PHILOSOPHY
ORGANIZATION
MECHANICS
FORMATIONS
QUICK PASS
DEUCE PASS
TRIPS PASS
CHAPTER EIGHT
CHAPTER NINE
RUN TERMINOLOGY
RUN OFFENSE
CHAPTER TEN
OPTION & SHOVEL
CHAPTER ELEVEN
CHAPTER TWELVE
SCREENS & TRICKS
VS PRESSURE DEFENSES
CHAPTER THIRTEEN
THE PUNT
EPILOGUE
DEDICATION
To all my loyal assistant coaches who were such good friends and colleagues. They helped me keep this game in its proper perspective and at the same time offered advice, expertese and support whenever I needed help.
LAKE OSWEGO HIGH SCHOOL
Jim Woodworth, John Scotty, Larry Bowman and John Lortz
LAKERIDGE HIGH SCHOOL
George Shull, Royce Mc Daniel, Jerry Grossen, John Fossatti, Ed Mc Quary,
John Sanders, Jay Evans, Jerry Hackenbruck, Jay Locey, Dave Shultz, Rick Ward, Chuck
Sowers, Frank Everhart and Dave Morris.
LEWIS & CLARK COLLEGE
Greg Lord, Jerry Harn, David Etherly, David Crockett, Gary Palumbis, Bob Light,
Steve Stanich, Jason Palumbis, Ernie Richardson, and Rick Ward.
VIENNA VIKING FOOTBALL CLUB
Erv Garrison, Rich Burke, Chris Lewis, Mike Fanger, Mike Juhala, Chad
Holloway and Shannon Sells.
MC NARY HIGH SCHOOL
Dave Snook, Craig Nicholas, Ty Wilson, Jerry Grossen, Chad Holloway,
Erv Garrison, Jeff Auvinen, Greg Marks, Ty Gregg and Ted Anagnos.
ACKNOWLEDGEMENTS
Finally, to all my former players! These kids listened and learned what I had to say and taught me much more than I taught them. They made my coaching life one big picnic. They are now doctors, lawyers, dentists, businessmen, teachers, coaches and professional people of all types. Some wear a white shirt, some are blue collar. They all are in my heart. They know if ever they need something or someone they can call on me...and I can call on them. I give my heartfelt thanks to them all!
ABOUT THE AUTHOR
Coach Smythe began his coaching career in 1965. His first head coaching assignment was in 1970. He has been a head coach for 46 seasons. His overall record as a high school coach in Oregon is 253-58 is a winning % of .813. He just completed his first season as coach of
Evergreen High School in Vancouver, Washington. The Plainsmen won the league title and finished with an overall 8 win 2 loss season. His high school teams have won 17 league championships and 3 State Championship. They have participated in 5 State Championship games, winning the last three and have had 8 final four teams. His teams have twice recorded seasons of 14 wins and 0 losses.
He was the head football coach at Lewis & Clark College in Portland, Oregon for six years, taking over a program that had not won a championship in twenty five years or a winning season in twenty . He was the only coach to have a winning record at the school in the past forty years. He joins his college head coach, Joe Huston, as the only two coaches to finish their tenure at the college with a winning record. Ironically coach Huston and coach Smythe are the only two coaches in state history to win High School Championships at two different top division schools.
The opportunity to coach in Europe came about in 1994. He had offers from teams in
England, Italy and Austria. His choice to coach in Vienna was the right one. He led the Vienna
Vikings to their first ever-national championship in that 1994 season. He took a two-year break in 1996 and 1997 when he began a new assignment with Mc Nary High School back in Oregon.
Returning to Vienna in 1998 he led the Vikings to the pinnacle of European football. They won five straight national championships between 1999 and 2003 and the European title in 2004 and again in 2005. His overall record in Austria is 95 wins and 12 losses for a .887 winning percentage. He returned to Europe in 2007 where his current team, in Jyvaskyla Finland made the semi-finals for the first time in team history, in his first season. The eight win three loss season raised his European record to 103-15.
Combining his college head coaching record of 29-25-2 with his high school and
European record gives him an overall head coaching record of 393 wins and 100 losses for an
.797 winning percentage. His teams have won the first and only state titles at two separate high schools in Oregon. Lakeridge High School in 1987 and Mc Nary High in both 1997 and then did it again in 2001 for the Celts second title. His college team made the national playoffs twice, the only two times in the history of the school. His Vienna team won seven national titles and two European Championships.
He continues to coach in the USA in the fall while spending the summer months in
Europe. Coaching two teams on two continent's might tax most people but coach Smythe seems to thrive on the challenge.
Next summer he will be coaching his forty seventh team as a head coach; one each at
Lake Oswego, Jyvaskyla and Evergreen. Sixteen at Lakeridge, twelve at Mc Nary, nine with the
Vienna Vikings and six at Lewis & Clark College.
His first football book,
The Explosive Double Slot,
was published in 1988. His second book,
The Flex Slot
, is available through his web site.. He will have other manuscripts available on the site as well.
In 2003 coach Smythe and his wife Nancy began the Tom and Nancy Smythe Foundation, dedicated to financially assisting high school athletes in Oregon. The foundation has given twenty scholarships and thousands of dollars to athletes from the five high schools in Oregon at which coach Smythe has worked; Willamina, Tigard, Lake Oswego, Lakeridge and Mc Nary.
He enjoy's traveling especially throughout Europe. He is a low handicap golfer and enjoys music of all kind including Classical by Mozart and Beethoven to the country sounds of
Willy Nelson and Toby Keith.
PREFACE
Some people wonder through life searching for the ultimate job or the right lifestyle, I never had that problem. From my earliest recollections I always knew exactly what it was I wanted to be. I always wanted to be a football coach. Whenever anyone asked me, even as a young child, what do you want to be when you grow up I never gave all the normal answers. I didn't want to be a fireman, a policeman or the President of the United States, and I certainly didn't want any part of the life of a traveling salesman, like my father. My answer was always the same, "I want to be a football coach", and that was way before I played on a team or watched a game either on TV or in person.
I never could pin point why I gave that answer until as a young man my mother told me the following story. Then it all came together for me.
August 1943 Canby, Oregon
We had moved west from Omaha and settled in Canby. A small town twenty miles south of
Portland, Oregon in the pacific northwest. Our home was located across the street from the Canby High
School football field.
It was August and the high school team had begun its two a day practice sessions preparing for the upcoming season. Twice daily the team would go through their practice routine under the watchful eyes of their coach.
One day mom was calling for her boys but neither was within earshot. She searched around the back yard but couldn't find us playing in our usual spots. The property wasn't very large but we did have room enough for a pet goat and us boys spent a lot of time playing with him.
Becoming somewhat concerned she walked across the road and noticed the football team preparing to begin practice. Not being a shy person, mom walked up to the coach and asked if he had seen two little boys. "Well now, you wouldn't mean those two young 'uns sitting up in the bleachers with their pet goat would you? And there we were, watching from our perch high atop the school grand stand, such as it was. "They're nearly always here you know. Think they'll want to play or coach some day?"
I don't remember anything about living in Canby or the goat or watching football practice. I was way too young. But, it's obvious to me that the seeds of my infatuation with this wonderful game of football were born under the hot August sun in Canby, Oregon.
A very long career
I started my teaching and coaching career in a small high school with barely over 200 students in
Willamina, Oregon. It was a small mill town southwest of Portland about forty miles. Many of the students were from the Grand Rhonde Indian Reservation located nearby. That was in 1965. My coaching journey has taken me from that beginning to a large suburban high school, to small college, major college, professional and the international level.
Coaching football affords me a life style opportunity with which I am very comfortable. I'm around young kids most of the time. I have an opportunity to influence many of them.
I thank God nearly every day for the opportunity He has given me to work with young people.
I'm lucky. I have two very good reasons to be thankful I am in the coaching profession. First, I love what I do and second, I am very good at it.
When you have been coaching as long as I have you get the "R" question all the time. "When are you going to retire coach?" The answer to that question I don't know. I do know this. As long as my health stays good, I'm having fun and I feel like the kids are still listening, learning and enjoying football they'll have to drag me kicking and screaming off the sideline.
FORWARD
I have coached in Willamina, Oregon a town of 900 at the time and Vienna, Austria a city of two million. Nearly all of it has been positive. I've found there is no greater enjoyment than to be a significant part of the football atmosphere no matter what level or what country.
To me happiness is all about "quality" of life, at home and on the job. Football has given me that happiness, because for most of my career I have worked for and with quality people. The type of quality I am speaking of involves smiles in the work place. It's support to your face and behind your back. It's being understood and listened to, with an open mind, on a daily basis. It's sharing good times together and caring for others in their times of stress and disappointment. It's being accepted for who you are and what you stand for. It's listening, talking and communicating with real people, face to face. It's enjoying a positive atmosphere of give and take between colleagues with proper perspective and a sense of humor. It's freedom from the tension and stress of a job taken way too seriously. It's spending time with the "givers" of the world and avoiding the "takers". It's keeping my job and my life in its proper place. It's avoiding people who would prejudge those of us involved in games. Finally, It's having a life outside of football.
Coaching football affords me the life style opportunity I am talking about. When I was growing up my heroes were Pete Susick, Mel Ingram, Don Requa and Fred Speigelberg. All long time successful high school football coaches in the state of Oregon. My goal has always been to have the same kind of influence on young people they had.
I thank God nearly every day for the opportunity He has given me to work with such an outstanding group of people. I'm lucky. My colleagues are intelligent, honest and supportive.
They are easy to work with. They are experienced, qualified and competent. The faculty and staff are talented, caring and hard working. My coaching staff is loyal, creative and gifted.
These people are my friends, they are welcome in my home. The football players are enthusiastic, bright and motivated. The students are encouraging, challenging and responsive. I go to work every day of the week with a smile on my face. I feel accepted and appreciated. I am treated with respect and with dignity. I am where I want to be and where I do my best work. I have two very good reasons to be thankful I am in the coaching profession. First, I love what I do and second, I am very good at it.
I have always felt it my obligation to pass on to other football coaches my ideas. I don't feel I have anything to hide. I enjoy sharing my creations. This is the reason I have taken the time to write a second book.
Many of my former players have urged me to build a web site and make available my writing. Furthermore they advise me to quick thinking like a school teacher and begin to think like a business man. Not easy but as one young man said, "You've give away your ideas for years coach, now it's time to begin charging a fee."
Ok, how much? I've given this a lot of thought and here is my feeling on the subject.
I'm not a young buck who spent an off-season putting together a play book and thinks that qualifies him as a coach. This book is the result of many years in the coaching arena. It's proven material and it works. My ideas, innovations and creativity are for sale but I'm not going to give them away. If the Cadillac price offends you I'm sorry but this book ain't no Ford.
My detractors have said, "He's got great players so of course he's successful." I would counter with this question, "Have I had the best players every year?" The answer would be no, but I would add that my players enjoy what they are doing and understand that quality effort equals excellent results on or off the football field. You will hear me mention Quality many times in the manuscript and trust me quantity is way over rated. The more is better routine might work for a little while but I'm pretty sure if you're in this game for the long haul you better figure out the Law of Diminishing Returns.
My coaching life has been 95% positive and I have learned great lessons from every experience. The good times have far outweighed the bad and I feel I have been truly blessed. I have good friends all over the world. Thanks football, for the memories.
Respectfully,
Tom Smythe,
Chapter One
"PHILOSOPHY"
This is my second published book about offensive football. The first, and the fore runner,
The Explosive Double Slot Offense, was written ten years ago. It seems logical to me that now is the time to update that book. Our present day offense, we call it the "Flex Slot", is merely an extension or a natural evolution, if you will, of the Double Slot offense we used for so many years. This book travels along the same path in print that we took on the field in developing our offense. While it may be a good idea to read the first book, it is not necessary to read it as a prelude to The Flex Slot.
After coaching for twenty years, mostly using the double slot , it was time for an offensive change. I felt that the defenses were getting much better at defending the run and shoot and it was becoming increasingly tougher to beat the good teams. After putting in much thought to the problem, I decided that to get significantly better we had three major tasks to accomplish. They became our three goals, which could be described simply as our new philosophy. As a result, I believe, what you will find is that the Flex Slot is more than an offense. It is a philosophy!
Specifically it was becoming harder to RUN the football. Most teams were playing us in a split 6 or nickel look with four down linemen, two linebackers and five defensive backs. The strong safety's were able to play close enough to the line of scrimmage to make it essentially an eight man front vs the run, and still react backwards fast enough to defend the pass as well. I felt to continue to be successful we had to somehow get teams out of the eight man front. The question was how could we possibly dictate to the defense what to play. I decided our first goal would be to: Force the defense to play a six or if possible a five man front. I felt we may be able to accomplish that goal by formation.
Because the double slot had nine players within close proximity to the football prior to the snap the defense could also have most of its players bunched up near the football. I began to feel that we weren't utilizing the entire field and therefore defenses didn't have to defend the entire field. Goal number two became: Make the defense play the entire field on every snap.
Our offense had always been unmatched in yards per play. We had been running 45 to 48 plays per game and were averaging, over a twenty year period, nearly 30 points per game. Yet I firmly believed we could do better. How? I didn't feel we could improve the yards per play ratio so that left only one possibility, which became our third goal: Run more plays.
We had identified the problem and set the goals, now it was up to us to make the system work. How were we going to accomplish these goals? The answers begin in Chapter One and continue throughout the book.
Those of you who read and enjoyed the first book will see the natural progression from the double slot to the Flex Slot. For those of you who haven't, this book will provide for you a coaching manual that you can refer to again and again.
This offense has worked at all levels of football and in at least two languages. It is easy to coach, fun to play and it will excite your players, fans and boosters.
I hope you can pick up some valuable ideas and I wish you nothing but success in your football future.
WHY WE THROW THE FOOTBALL
Because it is more fun than running the football. Who says the game should be fun?
Well, I do and I guess that is where I separate myself, philosophically, from many football coaches right off the bat. I played football and every other sport because I was fortunate enough to have, for the most part, coaches who made the game fun to play. If they hadn't I probably would be flying airplanes today. That was the only other answer I gave to the question, "What do you want to do when you grow up?
Don't misunderstand. We don't play for fun. We play to win. We just try to have as much fun along the way as possible. If you play for fun...you lose and losing isn't any fun at all. Don't make that mistake. Don't go overboard the other direction either. I worked, for two years with a highly successful basketball coach who often said about himself, "I couldn't play for me". He was very successful although in my opinion very unforgiving and inflexible. He believed in what he thought was right and there was no compromise. His method worked fine until he ran out of talent. What he found out was it wasn't nearly as easy to be Napoleon without soldiers. On the other hand, I'd love to play for me! If there is one thing that I believe I've done all my coaching career better than anyone, it is to keep the game in proper perspective. My players and my coaches for that matter will have loads of fun, win most of the time and have a real life...away from football.
BE YOURSELF AND COACH WHAT YOU KNOW; DEVELOP A STYLE
I learned a great lesson in my third year of coaching. I was the head freshmen coach at a suburban high school outside Portland, Oregon and we had a real good team. We had two
QB's both of whom had pretty fair talent. One was smart, possessed a good arm and saw the field well. The other was sharp and a great athlete who scrambled and threw well on the run. We had run up a 21-0 score against another decent team by halftime and while talking to the team during the break I heard this voice, one of my former coaches I'm sure, saying remember to "establish the run". Being a dutiful young coach I decided that we would do exactly that. So my players headed out of the locker room with that sound advice planted firmly in their willing minds. We received the kickoff, established the run for three downs and punted. Our opponents drove down the field to score and trailed 21-
7. Once more we established the run for three downs and punted. Soon it was 21-14 and as my fourteen year old QB, I can't remember which one, jogged toward the huddle after we received the kick off he turned to me and asked, "Coach, are we through establishing the run?
Moral... run, pass, option whatever and stay with it as long as its working.
I'm not against running the football, not a all! In fact with our system the run is usually very effective and an important part of our game plan. We've created space to run by our formations. In my opinion, block down...kick out...lead through...works when you have the best players. Any other time its headache's ville. Because we pass so often and so well few people realize how good we are at running the football. What I'm saying is that my philosophy is to throw the football first and run it when the defense is concentrating on stopping the pass. It's what I know best, what I teach best and it works for me. If yours is something different and you're good at it, stay with it and read this book for possible future reference.
OMCI THEORY
Coaching, or rather successful coaching, can be broken down into four nearly equal parts. Organization, Motivation, Communication and Imagination. In other words if you are organized, can motivate and communicate and use a lot of creativity along the way, hear me now, you will be successful!
I believe in Organization. Everything and everyone should have a proper place in the big picture, the scheme of things. I also believe in not being overly organized. No meetings for the sake of meeting. Meet when there is something to meet about. Don't do anything because they are doing it over there! I really don't care what West Linn, Linfield,
UCLA or Green Bay are doing. Ask yourself two questions. Is it good or bad, for us? Is it right or wrong, for us? If it is good and right, do it. If is isn't, don't do it! Give everyone a job description and make it plain what the parameters are and then get out of their way.
Oversee when necessary and give suggestions at the proper time and place but basically let the other coaches coach. If they don't meet your requirements, find another coach. Have a daily and weekly plan. Have a plan for the season and the off season. For example our off season plan is to try to get all our kids involved in another sport. We believe the more times a player competes the better he will play for us. But be ready, willing and able to change if necessary.
Don't let your own organization strangle you and keep you and your team from winning.
Far and away the best form of Motivation is "Self" motivation. Easy to say and sometimes hard to accomplish. How to light a fire under the kid who has all the talent in the world and for whatever reason is an underachiever, is a problem we all face. Where is their
HOT button? I use examples of my former players as a motivational tool. It's quite possible he will relate much better to his peers than to anyone else. Then I ask him one simple question. "Son, where do you want to be ten years from now?" After he has given you an answer, ask him just how he plans on getting there?
Especially if he allows time to slip by wasting his ability with lack of effort. Do it in a positive way. Don't threaten him, don't humble him, don't embarrass him. Talk to him, one on one, behind closed doors. Let him know you care about him more as a person than as a player. Be positive and supportive. Then if that doesn't work hit him squarely between the eyes with the nearest baseball bat! Just kidding.
I don't consider myself a great motivational speaker. It is amazing, however, how players will hear what you have to say, even when you don't think they are listening. Your influence on your players can never be underestimated. Be honest with them, don't play mind games and be consistent. If you are you will be motivational without standing on a pedestal or emulating your idea of Knute Rockne at his fiery best. One of my young sophomore players was asked recently by his mother, "What does the Coach say in those little meetings?" He answered, "Mom, you just have to be there!"
Communication is a two way deal. I always tell my team in the first meeting of the
year if they will master one skill that takes no talent they will become a better player. That skill is simply " Listening ". If you listen to someone else, you don't have to agree, but you will be able to make an intelligent decision based on knowledge of what was said. Poor listeners are always poor players, no matter their athletic skill. For that matter poor listeners make even worse coaches. The poor listener will have ideas of his own he believes are better than yours and won't be willing to "take one for the team". He'll be an "I" guy. Be careful with this guy, be it player or coach or administrator. If he's not a good listener, he'll kill you sooner or later, probably sooner.
It really doesn't take a lot of effort to be creative and show some Imagination. It only takes the guts to be the first to do something. Set down and figure out what your players can do best and then create something that will take advantage of their skill. It doesn't have to be radical at all but give them a chance to be successful. Don't try to put your square pegs
(players) into the round holes of your offense or defense. Change just to change? No.
Change the emphasis to adapt to your players? Yes! We have had many different type QB's over the years, yet our offensive style has stayed the same. The individual skills of the QB has always dictated whether or not we depended on roll out, drop back, shotgun, play action, option or a combination. Our offense is designed to do all of the above. Which one or one's depends entirely on the skills of the QB. My best QB's have always been creative in their own right. I have never taken away the right for them to use their athletic skills within the structure of our offense. I believe in giving my horses an "easy halter", if you will.
DO'S AND DON'T
I have worked for many different people in my thirty plus years in education. I would offer this advice, be careful who you agree to work for. Life is all about communication and if you are stuck with an administrator, be it a principal or athletic director, vice-president or dean of men, or whatever the title of the person or person's you are working for can't communicate with you or you with them, you are in trouble. If they are a "Ship passing in the night"...weather the storm. If however they are locked in for the long haul...find another job as fast as you can. If they think communication is leaving a message on your E-mail and their plastic voice mail personality makes you shake your head in dismay , move on. I've learned that there are a lot of good people in education. Go find them. Being miserable and staying in a bad work atmosphere "for the sake of the kids" works no better in football coaching than it does in a bad marriage. Plus, those kids you're staying for graduate and move on.
Don't ever make the mistake of working for someone who arrived hat in hand to work as the team water boy and miraculously moved up to athletic director in two years.
Who's dead body did he run over to get the job? What promises did he make... and to
Whom did he make them? Do work for the supportive and creative AD who can look you in the eye and say yes or no to an honest request.
Never ever work for an applicant who crawls on his hands and knees into your office pleading for your support and telling you how much he appreciates you and how important football is to the overall program. Do work for the AD, principal or Dean who has paid his or her dues, is experienced and competent. They won't always say yes but they will be fair and will have the best interest's of the entire program in mind. And they will defend you when the uninformed try to place you in a compromising position based on their own prejudged idea of "football coach".
Don't work for people who didn't hire you. As soon as the guy who hired you leaves start looking. The new guy will want his guy and the sooner the better. Never take anything for granted and get everything in writing. Be very careful what you say to anyone above or below your station when you haven't had time to find out just how good or bad a friend they are. In other words, "Cover your backside". These new guys will come at you from all angels. Do your homework and be prepared.
Don't ever work for smug, arrogant, pompous pseudo-intellectual's who look down their long superior noses at all those inferior folks in the athletic department. If the guy hasn't worn a jock, played a down or been in the arena he'll most likely make your life one big miserable headache. Do work for the boss who hires the best and then lets them work. Work
for the person who understands the value of athletics and isn't ashamed by athletic success.
Who will stand behind you, to be there when needed or in front of you, to fend off the doubters. In short work for someone you can trust!
Don't hire a former head coach who comes to you pleading for a chance and swearing he no longer aspires to be the head guy. Especially if the guy never shuts up.
You know the type. They never really listen, only wait for you to pause so they can butt in with their opinion. If his nickname is CNN, smile and wish him well. Do hire assistant coaches who are good listeners, work with a smile on their face and don't care who gets the credit. Reguardless of weather or not they have head or assistant coach on their resume.
Don't ever let a player leave the locker room thinking you hate him. If you have lost your patience or temper with a young man on the field take the time to find him before he leaves. Let him know you care about him as a person and are concerned with his performance. Ask him if you can help. Give him assurance of his importance to the success of the team. Let him walk out with his head up, not between his legs.
No coach is any better than those he surrounds himself with. I had the same basic staff for seventeen years at one school and I would give my left eye for any of them and they would do the same for me. If you are fortunate enough to have loyal, competent and talented assistant's count yourself lucky and do everything in your power to keep them happy.
Do let your assistant coaches coach. Give them some guidelines and get out of their way. Let them coach on the practice field and on game day. Give them responsibility and reward their good work.
Do keep the wives happy. Allow free time, family time and R and R time for yourself and your assistants. Football is not so difficult a game that you have to spend all day and all night at it. Believe me if its fourth and forty they are going to punt! No matter what the computer says.
QUOTS AND THINGS
I firmly believe the art of listening is the single most important skill in becoming a better football player. I'll take a lesser talented player who will listen to the coach, the QB, the defensive signal caller etc. over the more talented kid who refuses to listen, and do his own thing. In fact the very first thing I tell my players every year is:
"If you listen, you have a chance to learn"
I get so tired of hearing losers bitch about winners. They, the losers, always have an excuse for themselves and a reason why winners are somehow cheating to achieve their success.
"Winners Win. Losers Bitch"
When I feel like we need some encouragement not to overlook an upcoming opponent,
I remind our team that...
"If you don't respect your opponent, you stand a great chance of getting beat!"
Along the same line:
"Never forget the feeling you get when you do a hard job well."
Professional golfers are the best at focusing, in their case of playing the next shot.
Forgetting the last play and playing the next one is the most important ability in establishing consistency. I've used this one about a thousand times in the last few years.
"PLAY THE NEXT DOWN"
ATTACKING DEFENSES
As I have stated in the introduction our three goals are all geared to allow us more freedom in our offense and to create more space in which to run and throw the football.
Our offensive philosophy can be put in another way. Taking a page from Wee Willie
Keeler's baseball philosophy, "Hit it where they ain't", our like minded football philosophy could be simply stated as "Run it , throw it or even kick it where they ain't"! Being a sometimes serious author of real books, it is difficult for me to abuse the English language in that manner. What I usually say is, "Our philosophy is to attack the defense where they are
Unsound."
THE FIVE OR SIX MAN FRONT
How difficult would it be for us to accomplish our three objectives; force a five or six man front, make the defense defend the entire field and run up to 75 offensive plays per game?
As it turned out, not nearly as difficult as I initially figured. What we needed was a plan and a way to implement it so we could accomplish our goals and stay with our desire for quality not quantity practice time. We decided to take it one step at a time and see what would happen.
Example
1.1
CB
FS
LB
5
E
1
LB
6
T
2
LB
7
T
3
E
4
SS
8
CB
EIGHT MAN FRONT
The first objective, to force a five or six man front would seem the most difficult. After all how could we dictate what defense our opponents would play? To do so we had to put ourselves into a defensive coaches mode and decide how we would defend an offense that was unique. As I said in the introduction we had been a double slot team for a long time. The problem was, as defensive players became more adept at playing against runand-shoot offenses, as many as eight defenders were within a few yards of the football at the snap of the ball.
Example
1.2
FS
CB CB
LB
E
LB
T
T
LB
E
SS
EIGHT IN THE BOX
All Run-and-Shoot coaches count the defenders "in the Box", an imaginary rectangle drawn around the defensive front. It will include defensive linemen, linebackers or defensive backs. If they line up "in the Box" they are a threat.
Because the strong safety and outside linebacker were able to defend both the run and the pass it was becoming increasingly difficult to move the football consistently against the good teams. Our task, as I saw it, was to somehow eliminate two of the defenders "in the
Box".
Example
1.3
CB
FS
B
E
LB
T T
LB
E
S S
CB
Over the years we had toyed with moving one of the slots to a position halfway between the X or Z receiver and the offensive tackle. Sometimes when we had three outstanding receivers and we wanted to get them all in the game at the same time. More often it was when we were in our shotgun alignment.
The natural defensive adjustment was to simply move the strong safety on the side of the wide slot out of the box, to defend the pass. Using this line of thought wouldn't it seem logical that if we simply moved our slot backs to a wider alignment, the defensive adjustment would be to remove defenders away from the football.
On paper, we had accomplished our goal with what looked like a very small adjustment. A simple stroke of the pencil and presto a six man front. It seemed logical to me.
Of course there were questions. First, what if they didn't go with us? Would we be able to run the football? Could we protect the passer? I will answer all those questions in due time.
For now, on paper, we had accomplished goal number one...create at least a six man front.
The five man front could wait. One problem at a time.
FORCE THE DEFENSE TO PLAY THE ENTIRE FIELD
It occurred to me that if we had a threat everywhere forcing the defense to extend itself would happen naturally. What we needed to do was to put an eligible receiver against both boundary's, on both hash marks and in the middle of the field. That would take care of the horizontal stretch. To make the defense defend the line of scrimmage to goal line we would take a page from the Oakland
Raiders. Throw the football down field enough to force the defenders to deepen their alignment. In reality one doesn't have to complete all the down field passes, just the willingness to go deep will
scare most defensive coaches into playing conservatively with their defensive backfield Vs the threat of the vertical stretch.
Example
1.4
FS
CB
CB
LB
E
LB
T
T
LB
E
SS
HORIZONAL/VERTICLE STRETCH
With the football in the middle of the field our alignment would be two wide receivers on both sides of the football.
Example
1.5
CB
FS
LB
E T
LB
T
E
LB
SS
CB
TRIPS STRETCH
When the football was on the hash mark we would align in a trips formation to the field. Again placing an eligible receiver against the boundary, on the hash and in the middle.
These two formations became our "Base" formation. We called it "Deuce". This referred to two wide receivers on both sides. When the football was on the hash mark we
called the "Base" formation, "Deuce Trips". No longer two wide receivers on both sides, but still four wide receivers equally spread across the field.
Example
1.6
FS
CB CB
LB
E
LB
T
T
LB
E
SS
SIX IN THE BOX
The instant result was that defenses spread as we had anticipated and we had created the desired six man front by our alignment.
Example
1.7
CB
FS
LB
E
T
LB
T E
LB
SS
CB
FIVE IN THE BOX
An instant bonus happened when teams adjusted to our Deuce Trips alignment by covering the inside receiver on the trips side with a LBer, thus creating a five man front.
It seems by spreading out our offense we had not only forced the defense to defend the entire field but created the five man front at the same time. There would be more bonuses to come.
SPEED UP THE OFFENSIVE GAME
Our third goal was to run more offensive plays. Speed it up. Football's answer to fast break basketball. Here we got another bonus. What basketball player wouldn't rather play up tempo than slow down.? The answer...none. We found it to be the same in football. Players loved the new up tempo speed game. Every athlete wanted to be a part of it and suddenly we had more players than we could handle. What a problem. Even though we had been by most standards a wide open offensive team, we became a wide open fast break team and never looked back.
How did we create this up tempo fast break? The answer was simply to run a nohuddle offense. Not a new or novel idea but new for us. Not just in the two minute drill but all the time. That is how we began.
For years we had been signaling plays in from the sideline to the quarterback who would in turn tell the other ten players where to line up, what the play was and what the snap count would be. It seemed logical to me if the QB could read the signals, couldn't the other players do the same? Of course they could. If that was so it would no longer be necessary for the four wide receivers or the line to go to the huddle after every play. That in itself would save time. What else could we do? We had already decided to spread the field with our receivers and our formation was dictated by field position. No longer would the QB have to call the formation. How about snap count? I had always thought the snap count caused more problems for us than them so why not simply go on the same count all the time? Presto, no more snap count verbiage or for that matter a snap count for eleven players to remember.
Motion? No longer necessary, we are going to line up where we used to motion to. What's left. Simply, the play...Sweep right, trap left, quick pass etc. We could signal that to everybody and all the QB would have to do would be to call the direction in his cadence.
What actually happened on game day was interesting. Our intention to run a no huddle offense nearly backfired in the first game. It seems the official in charge of placing the football in play had a different idea as to what we could or couldn't do with our no huddle. In fact, he stood over the ball and waited for the defense to get ready. Not exactly what I had in mind. After a hasty time out and discussion with the official I nearly had a heart attack. He told me, and I quote "I'm not going to let you unnaturally control the game". Big problem.
What the hell do we do now? Rather than argue that it's our ball and we ought to be able to do anything legal we wanted we spent the first half of that first game standing on the line of scrimmage waiting for the game to begin. We ran 15 plays. At half-time we obviously had to make an adjustment. I told the players that we would have to form a huddle or we might set a new record for least plays run during a game. Their question was, "What's a huddle"? Our answer was for the line to gather around the QB and the receivers would still remain in their wide alignment. It wasn't a huddle...it was a "Gather"...and that's what we still call our little meeting. The QB would call the play direction, everyone still read the signal from the sideline, and we would break the "Gather" just like a huddle and hustle to the line of scrimmage. The official feeling, I'm sure, he put me in my proper place, actually got out of the way as soon as we broke the gather and we were able to create an upscale tempo to our liking. We ran 46 plays in the second half and a system was born. In fact, I now feel the
"Gather" sets a tempo for the linemen that is good. It gives them a small mental break, they
no longer read the play from the boundary, and creates a team within the team unity that is very positive.
We had created a semi-no huddle system that would allow us to eliminate a lot of football stuff. Now we had to figure out how to tell everyone what to do on each play. Or did we?
Let's take a step back to the creation of the idea and go through it one step at a
time. We have a formation and a play. What's next? If the play is a run, say Sweep is signaled in to the team. What is necessary to make the play successful? Do the receivers have to know the direction? No! We simply told them to assume all running plays are coming their direction and block accordingly. A bonus here was we no longer had receivers taking a play off because it was going the other direction and they could get lazy. We got better at blocking because we got twice the reps both in practice and in games! Do the linemen have to know the direction? Yes. The QB says, in the Gather, Sweep Right, ready break. He actually uses a color and a number which we will get into in the chapter on mechanics. How long does that take...NOT LONG!
O. K. how about a pass. I'll get into the different pass games in later chapters. For now all you need to know is the receivers will know, by the signal and the QB verbiage at the line of scrimmage what route to run. What do the linemen need to know? Is it a quick pass, down field pass or play action pass? In other words what is the pass protection scheme. The
QB says, in the Gather, Quick Pass, ready break. He actually says the equivalent word that means quick pass but we'll get into that later. Or he says Firm blocking. Indicating a down field pass play. Or he gives the Play Action pass word and ready break. Do the linemen need to know the formation? No. The route? No. The play action? No.
Now we have a play signaled, the gather broken and we are at the line of scrimmage.
What's next? The quarterback has to decide if the play signaled is worth a damn and he has to let the other ten players know just what he is thinking. This would require an audible system that was logical, simple and non-readable to the defense. The Pro's and most major college programs use the color and number system. It works, but it takes a lot of memory and practice. I wanted to come up with something better. I believe we have done just that.
We had never had an audible in our offense. Preferring to let the QB concentrate on execution and let the coach on the sideline do the thinking. While coaching with the Portland
Breakers of the USFL I was introduced to the true benefits of an audible system. I decided to get our offense up dated with an audible system that would allow us to improve on our already outstanding production. While I like some aspects of the system we used with the Breakers it required too much memorization in my opinion and I needed something easier. I decided that the system must be first of all logical, second simple enough for all our players to learn and third complex enough that the defenses could not decipher what we were doing.
The logical answer to me was to add a third item to the line of scrimmage verbiage.
We decided on names. First names to be exact. Each name would have an attached meaning either HOT or COLD. In other words it would either mean something (Hot) or it wouldn't
(Cold). A name that would trigger a "Pavlov Ian" response and be logical and meaningful for our player's. We decided to use first names of our players to make it easier yet.
Example; Harry-Red-92. Either Harry was HOT and meant that Red 92 actually meant something or Harry was COLD and meant that Red 92 meant nothing, simple. What
does all that mean. We'll let you know in the chapter on mechanics. Suffice to say it works and we'll let you know just how in the pages that follow.
REVIEW
What we had was and idea, a plan, a system and a philosophy. Now it would be up to us to implement those thoughts and blend them into a usable working order. One that we could coach and the players could learn. I truly believe that it has not only proven itself as a working system or philosophy but has far outreached our wildest dreams. Our fast break offense has worked in high school, college and international football. More than that it has been a blast to coach. I'm having more fun now than ever before. Burnout after thirty years?
Hell no! Give me a band, a rally squad and a team. Ok, you can skip the band. The level or the country makes little difference. I'm going to coach until they drag me off the field.
Chapter 2
"ORGANIZATION"
While most football coaches believe in the popular theory that "More Is Better", I believe firmly in the "Law of Diminishing Returns". While sitting in business class in college
I was abruptly awakened from my lethargy when my professor began explaining the "Law" that has since served as my inspiration. When the concentration has gone, the alertness disappeared and the effort is inconsistent it is time to take a pause. It might be for a few minutes, hours or days. Don't begin again until the concentration, and alertness has returned sufficiently to allow you to be consistent in your effort.
*Note: Simply stated the "Law of Diminishing Returns" means reaching a point after which most or all work is Counter-Productive!
Three and four hour practices, seven day work weeks and twenty hour days may allow you to beat your chest and proclaim to the world how hard you are working but, in my very humble opinion, it is a gross overemphasis that will only result in producing an inferior product. It makes no difference if the product is a "Widget" or a "Football Team". Nothing hinders performance quicker than staleness as a result of quantity effort.
My good friends in Europe have a unique attitude towards work and life. They are never afraid to STOP and take a break. When they reach that point, no matter where they are in the workday, they will stop and get out of the office. They can sit at an outdoor cafe sipping coffee for hours. They will go back to work when the desire returns and they will be excited to be there. Their work will be excellent and their product one of quality. One of my close friends told me "The difference in European and American attitude toward work is simply to see. Americans put in hours and either complains or brags about it and produces inferior products. Europeans are interested in producing a quality product, no matter how long it may take to produce." They do so without apologies and have done so for hundreds of years.
I rarely walk off the practice field feeling we have wasted time. Our fat free practice routine eliminates unnecessary football stuff and concentrates on what will make US better.
Possibly my main coaching goal is to have my players walk off the practice field, finish the year or their career and say to me, coach that was great, I'd do it again in a minute! I believe, unfortunately, way too many football players walk away from their career and say, God I'm glad that's over! I want my players refreshed and alert, at practice and during games. I will always resist the desire to run just one more play. I want them physically and mentally rested.
I want fresh legs and minds. I ask two hours of practice time and in turn I give them twentytwo hours a day to have a real life. I will never make the mistake of thinking that football is as important to my players as it is to me. It's my life. It's their hobby. Make it fun enough and they will return again and again and get much better along the way.
I've had coaches; athletic directors and administrators say to me, if we had your players we could run our program that way too. We don't and therefore we have to work harder. Bull. Have we always had the best players? Every year? Of course not. The system works, simple as that. My answer to these doubters is simple; "Your way doesn't seem to work, so why not give mine a try. I think you will be very presently surprised. Work smarter, not harder."
Quality...QUALITY...Let me say it one more time...QUALITY use of time is, in my opinion, the single most important factor in maintaining a consistently productive program.
Ask yourself two questions. Is it good or bad for us? Is it right or wrong for us?
Never, I repeat never do something just because someone else is doing it. Be it a play, formation, style or an off field activity, make sure it is something that will make your team better before installing the idea.
Once while coaching in the USFL the offensive staff was assembled in the film room watching the same four plays over and over again. The time reached midnight and still we watched. Most had glazed over eyes and only stayed awake because heads would bang against the wall often enough to make much needed sleep impossible.
Finally, I whispered to one of the other assistant coaches, "Why are we still here?" After a few moments to reflect he said, "Because Dick Vermil did it this way". After pondering that answer for a while I couldn't resist responding to my colleague. "Does anybody realize that doing it 'this way' drove Dick Vermil out of coaching?" It's only taken him twenty years to recover...I hope he has learned a lesson!
What's my point? Were we better because we put in more film hours than the next guy? Or were we worse because we were mentally and emotionally spent. Did we find some magic formula in the wee hours of the morning, or did we rob ourselves of vital energy needed to be alert, focused and in tune on game day? I prefer to believe the latter. I believe most coaches put in these ridiculous hours for two reasons. First, because coaches themselves and the media have combined to convince nearly everybody from Athletic Directors and Alumni to the fan in row 99 that you can only be called "Coach" if you put in 23 hours a day. Second, most coaches don't have anything better to do. Get a life! Go home. Enjoy your family, watch a movie, play golf. Yes play golf. Get your mind off football. Relax and enjoy the rest of the world. Guess what? When you come back to football, next hour, next day, next year, next career you'll be refreshed, excited and simply a much better football coach.
Practice
Organize your practice with some imagination and don't be afraid to do something different. Be ready to take criticism. Remember, "You can't do it that way", usually comes from the coach you just beat by 40. My guiding thought is "less" is always better. Keep to your schedule. One of many very valuable lessons' I learned while coaching in the USFL is the need to practice a play only once. How many times in my career had I run one more play that usually stretched into fifteen or twenty? How many times do you have to run 54 Slam anyway? The answer is once. Drill execution in fundamental time, during inside, outside or team, run the damn play ONCE.
I ask our players for quality time. Give me your undivided attention during our practice session and we'll have a quality practice. Then I'll turn you loose so you can have quality free time, quality study time, and a quality life filled with many experiences other than football. Guess what? Your players will be so damned happy they'll die for you. They'll be mentally, emotionally and physically refreshed for game day and so will you.
I have had he opportunity to coach at nearly every level. I've been a head coach at the high school, small college and international level. My teams have always, I repeat always, had the shortest practice sessions of any team no matter the level of play. I believe, however, we made the most of our time and that our win-loss record should prove that. Even to the most avid "more is better' advocate. Some will counter with "If I had your athletes I'd win too".
Did we always have the better athletes? Forever? For thirty years? I doubt it. Trust me and remember "The Law of Diminishing Returns" works at any job, any time and any place.
Make the practice sessions short and snappy. At the high school level one hour and fifty-five minutes should be maximum. That count's everything. Don't cheat. The
Early session you haven't been counting...counts. The post session you haven't been counting...counts. Include them in the practice time frame or throw them out. And half way through the season cut practice down to a slick, fat free hour and twenty minutes.
Following is a breakdown of our high school practice organization. This isn't a misprint. We spend a total of six hours and forty-five minutes in game preparation per week.
Name me one college professor or high school English teacher that asks less time out of class than that per week. That's right, you can't.
During pre-season practice we will vary the times. For example much more time is spent on individual and group than in team. Once the season begins we will hold religiously to the following schedule.
HIGH SCHOOL; FRIDAY GAMES
Nothing is more dramatic than the entire community turning out to cheer for the local kids on a Friday night in the fall. High School Football can be the most encompassing activity for an entire community. College Saturday's and Pro Sunday's have their moments for sure, but for pure innocent pleasure nothing beats high school football. In good programs everyone gets involved. My principal is fond of saying the two most important figures on any high school staff are the band director and the football coach. Both are more visible than anyone else and have more impact on more people. Especially on a fall Friday night in America.
SATURDAY AND SUNDAY
Off for players. They need this time away from both you and the game. Let them get some relief. Remember these are 15, 16 and 17 year old kids.
Give your coaching staff some leeway here as well. I have our defensive coaches break down opposing film at their time schedule. Most have used early Saturday morning for that purpose. We will get the staff together on Sunday, usually PM, for a game plan meeting.
It NEVER takes longer than two hours. If you can't come up with a plan it that time you're wasting time somewhere.
Offensively I never look at video of our opponent Vs someone else. What's the point!
Most teams will not use their regular defensive schemes against us so why watch? I will watch last year's video Vs us. I'll get a good idea of how they might try to defend us, but I won't put it in stone. We will continue to practice Vs the standard defenses we always see. If our opponent comes up with something very different it is usually Un-sound somewhere and we will find it quickly.
MONDAY/TUESDAY/WEDNESDAY
:10 WALK AND TALK
This is a walking and talking chalk session. I could never relate to the chalkboard as a player or coach. This method works for me. It can be offense, defense or both. Use it as a
time to correct game day mistakes and make adjustments. Input of new plays, assignment adjustments or new wrinkles can be implemented at this time.
:05 SPECIAL TEAM WALK THROUGH
Cover in a walk through mode the special team's to be covered later in the practice session. Set up what you want and how it is to be done. For example you may need to explain how to block a certain punt block stunt. Set it up so when the full speed special team time comes it will be quick and easy to accomplish.
:10 WARM UP
Example
2.1
QB, B & C drill
Coach
*Signal play Example Counter
1st QB calls play (Red 27) and cadence, run together
A position warm up time. Each position coach uses the time to stretch, and work light drills unique to their own position. It is not a conditioning or competitive time
But rather a technique emphasis time. Players that play both offense and defense will alternate groups each day. QB, Centers and Running Backs work together on timing, reading signals and the like. Rotate the QB's so they work with all Centers and Running Backs.
:10 INDIVIDUAL DEFENSE
This is the time for defensive position coaches to practice fundamentals. D-Line,
Inside LBers, Outside LBers and D-Backs will drill specifically for their position. Use this time, as extra time for receivers and QB's not playing a defensive position. Work on routes and patterns.
:10 INDIVIDUAL OFFENSE
Offensive position coaches drill their players on techniques specific to their position.
Split the QB's between the receivers and running backs. Input routes, plays and techniques.
:15 GROUP INSIDE-OUTSIDE I
Work the defensive LBers and D-Backs on outside, some call this 7 on 7, Vs the offensive outside players. Offense services the defense. At the same time work the offensive
Line and Running Backs on inside run Vs the defensive Line and LBer group. Alternate players between groups when necessary. For example always let your first, and maybe second, QB service the defense in outside while the back up works inside. How many times does the starter need to hand off? Let him get extra throwing while servicing the defense. A bonus for the defense as they get to practice against the best QB.
:15 GROUP INSIDE-OUTSIDE II
Reverse the procedure. Defense services Offense in outside and Offense services the
Defense in Inside. Our offensive outside (7 on 7) is run at an up-tempo pace just as in game conditions. Place the ball on the +40 and move it on each down. If we throw an incomplete pass we will move the ball 10 yards. If we complete a pass we will set the ball at that spot for the next down. Using this method will give your offense valuable time working from the hash marks, the middle of the field as well as the shortened field as the ball moves towards the end zone. Signal the plays from the sideline, just as in a game situation.
:05 SPECIAL TEAM
Begin the special team time by blowing a whistle, and giving the field goal team 20, 25 or 30 seconds to set up and kick. Spot the football and have the player's race from their previous drill while a coach counts down the seconds. The defensive service or Look team must also be ready. Follow that drill by going directly into whatever special team is called for in the practice plan. I don't believe it is necessary to practice every special team every day.
Once again I'm tempting fate here, but humor me. We will spend much more time on punt than punt return and much more on kick-off as opposed to kick-off return. I believe those two area's of special team are by far the most important.
:15 TEAM DEFENSE
The Offense services the Defense in team. Move the football. Never stay in one spot.
Put the football on the plus 40 and move it five or ten yards at a time, regardless of how far the actual play went. Have your best players do the service. This will be extra technique time for them and at the same time the defense will get a better look than if the "Meat Squad" serves as fodder for the first string. Sub for the starters when you feel the time is appropriate.
This is usually about the same time the defense begins subbing for their starters. Starters Vs starters and back-up Vs back-up is a much better match and makes all players work harder.
The result is better execution.
Work on "Going In, Coming Out, Plus 20 and/or special situations during this time.
Program it into your practice schedule. Work on Goal Line during Thursday's practice.
:20 TEAM OFFENSE
Once again use the Defensive starters to service the Offensive team. Move the football and play at game speed. During both the defensive and offensive team time try to play tall,
never allow the players to go to the ground. "Stay Up...Stay Up". We call this "Thuds". It is the requirement of the service team to give an appropriate look for the other side. Don't allow sloppy play by the service group. Remember give a good look but stay on your feet. I believe strongly that during team defense, for example, the defense WINS. It is not the job of the offensive or defensive service team to DEFEAT the other team, only to give them the best look possible. Likewise during team offense the Offense Wins! Defensive players should
"form up" for the tackle and then let the runner run. Never allow the runner to lower his head and run over the defensive player. The defensive backs should cover the routes but let the offensive receiver catch the football. This should never be allowed to become Offense Vs
Defense with resulting hard feelings among players and coaches. Make it clear the service team will perform a service for the team practice time. We call it the "Look" team not the service team.
END OF PRACTICE
End the one hour and fifty-five minute practice as a group. Offense and Defense together as a team. Say a few appropriate words, allow offensive and defensive position coaches or co-coordinators to speak to the group and dismiss the team. Never, for example, let the offense or the defense meet separately after the team meeting. This will only cause problems, divide the team and otherwise breed discontent. Why are they meeting separately?
What's their secret? These are question's that don't need to be asked. Anything that needs to be said to the offense or the defense by the coach can and must be said to the group. The nature of the college game, two platoon football, tends to divide the team and I believe it is paramount that everything that is possible must be done to keep the team together. In High
School this is usually less of a problem but don't allow it to become one.
THURSDAY
This is a one-hour practice day. Begin with a short offense and defense walk & talk.
Cover such items as prevent and goal line defense and trick or special plays and goal line offense. Follow this with a short team cal.
Special Team time should cover briefly all special teams; kick off and return, hands team, punt and punt return, field goal and field goal block.
Follow up with team defense, beginning with goal line. This is a run through with no contact to speak of. Team offense will begin on the minus forty, moving ten yards at a time.
Run the tricks and other plays needed to be seen one more time and finish with goal line offense. We will be sure to have the defense give the offenses an "Uncovered" look as well as a "Seven Man Front" look during this period.
SCHEDULE FOR SATURDAY GAME'S
At the college level I followed the exact same weekly plan as well as practice plan, with one small exception. Because players only played on offense or defense we had only one individual period. Practice in college was shorter than in high school for that reason. Group and team remained a session for each offense and for defense. The college Tuesday,
Wednesday and Thursday practice sessions were identical with high school Monday, Tuesday and Wednesday practices. Friday was the one-hour day.
SATURDAY
Play the game. Let the best team win. Win with humility and lose with grace and dignity. After a loss congratulate the winner. After a win, compliment the loser. Be as good as you can be. Let the score take care of itself.
Never talk to your players, as a group, after the game. It's much too emotional a time.
Let them enjoy the win or good effort. Shake their hand, pat them on the back, and touch them. Let them know you care! Woody Hayes showered with his players. Nothing like standing naked in a shower room next to your players to put you on the same level. If it's good enough for Woody, it's good enough for me.
I'm sure you are asking yourself, "Where are the video sessions?" I never had one at the high school level. I had the players take a copy of the game video home and critique it themselves. For the next opponent, video was always available for them to watch during the school day or after practice.
SUNDAY
A day off for high school programs. In college it is wise to bring the rehab players in at 4:00 PM and all other players in at 5:00 PM. Video sessions in small groups with position coaches for a maximum of 40 minutes, with a break half way through. Nobody can concentrate for more than 25 minutes...NOBODY. Tell your staff if you can't cover it in 40 minutes that's your fault, don't punish the players for your shortcomings. Speaking of staff.
They need time off too. Give them Sunday morning with their family. God invented Sunday for a pretty good purpose, don't ruin it with film study. Bring the staff together at 3:00 PM.
As a coach I never sat in a video or film session with players where I felt comfortable.
When I was a player I felt the same way. Because I feel so strongly about that I have quit spending video time with them. I now gather the team and list the positive and negative things I saw in the game, for the offensive, defensive and kicking game. Then I leave the room and let the players study the video by themselves. I know, "you can't do it that way".
This is the time to really rip them. Run that play over and over a thousand times, scream, yell, holler and curse a lot. Hell, throw the projector against the wall, that'll get their attention.
Make you feel better...make you feel like a real coach. Bull. Just how much self-confidence have you just destroyed?
After 40 minutes gather for a 15-minute jogging session. Use an endless relay. Five players to a group, three on one side and two on the other usually over a distance of forty yards. Do it in the gym if it is raining or otherwise inclement. Starting slowly to work the kinks out and picking up speed toward the end. Then gather and talk about the game for a few moments. Finish by touching on the next opponent and turn them loose.
COLLEGE MONDAY'S
A DAY OFF ...You've done it again. How can you give them a day off? Let me ask you this, just when do they get a break from football? Is it really necessary to stuff footballs down their throat seven days a week? Believe me, rest is just as important as practice and must be programmed into your weekly time schedule. One more time. Quality time. On and
Off the field. Give them time to re-charge the batteries and to re-fire the engine.
This is a quality-planning day for the staff. Use it wisely. Also, if a player needs extra attention, now is the time to schedule a one on one with the player and his position coach to go over the video to make a point. One on one, no other players or coaches present. Man to man, as it should be. Be careful now; don't make this an every week thing. Remember
Monday is an OFF day for the players.
TERMINOLOGY AND COMMUNICATION
Begin organizing the offense by recognizing the defense. To properly communicate with your offensive staff and QB as well as all your offensive personnel it is wise to have an understanding of defensive alignments. It is important that no room for error is allowed when attempting to recognize different defensive schemes.
Example
2.2
CB
FRANK
BUC
DE
DT
MAC
DT DE
STUB
SAM
CB
4-3 RECOGNITION
Identify each defensive position by name. Begin with the pro 4-3 alignments and identify the three LBers regardless of their alignment. Identify the weak side LBer as BUC, the middle LBer as MAC and the strong side LBer as STUB. The free safety as FRANK and the strong safety as SAM.
In non-directional plays, such as straight drop back passes, Buc and Stub align to the formation. If the formation is balanced Stub will be to our right and Buc to our left. Sam will align to receiver strength and to our right in a balanced set.
Example
2.3
CB
FRANK SAM
STUB MAC BUC
E T
T
E
CB
DIRECTIONAL PLAY
In directional plays, such as sprint out passes, sweeps, options etc. Stub is the play side
LBer and Buc is opposite the action.
Example
2.4
FRANK
CB
CB
SAM
E
STUB MAC BUC
T
T
E
4-2
Use the same terminology in a defensive scheme with less than three LBers.
Buc will be the weak side LBer, Mac the next LBer and Stub will be the 1st LBer on the strong side.
Once the players understand just who Sam, Stub, Buc etc. are it will be very easy to communicate with them. Instead of a question like, "Who is responsible for that outside
LBer"? It would be "Who has Buc"? Or "Stub", etc.
REVIEW
Notice we do not end practice with conditioning. The reason? The backs, receivers and defensive backs will have run enough during practice to suffice. The offensive and defensive linemen don't need 40-yard speed. Short spurt conditioning will be enough.
Remember the "Up Tempo" practice speed will keep everyone moving. Basically the practice session of approximately two hours is a conditioning period by itself.
For those who believe that running at the end of practice toughens the players or sends a message that "We" are working harder than our opponents", take a deep breath. Remember we are going to work "Smarter". Don't do it just because everyone else is doing it, that's not good enough! This is just another of the football rituals that we have put to rest. Once getting over the idea of eliminating something all "Real" football coaches are doing you may wonder just why you had your team run all those sprints. Ask yourself the two questions, "Is good or bad for Us? Is it right or wrong for Us?" The answer in this case is a resounding bad and
wrong. Fresh legs...fresh minds... and fresh bodies win a lot of football games!
Chapter 3
"MECHANICS OF THE FLEX SLOT"
This chapter is about the basics of the offense. The basic formation, the huddle procedure, line and receiver splits, the numbering system, line of scrimmage verbiage and positions will be identified. In short all the mechanics that make the offensive system work.
POSITIONS
The four wide receiver positions are identified when they are in the Basic Formation.
X is the wide left position, W is the middle left position, (W signifies Wing) Y is the middle right position, and Z is the wide right position and R or RB for the running back position.
Offensive linemen need no special identification.
BASIC FORMATION:
Example
3.1
20
20
FS
CB
CB
30
N
T
LB
E
SS
30
E
LB
T
X Y
W
Q
Z
40
40
R
DEUCE
The BASIC formation alignment is called DEUCE. This refers to two inside receivers and two Wide outs.
With the ball in the middle of the field, the Wide receivers (X and Z) will line up halfway between the numbers and the sideline. The inside receivers (W and Y) will line up half way between the wide receiver and the offensive tackle. Y always lines up on the L.O.S and W off the L.O.S. The play will determine on which side of the formation W and Y line up. X & Z will line up off the L.O.S. when Y is on their side and on the L.O.S. when W is on their side.
You will notice that I've sometimes put both wide receivers on the ball and at times another two will be lined up on the line of scrimmage. We do this for a very good reason.
Most, no all, defensive coaches are paranoid and will spend hours in the video room charting the opponents offense. They will see a trips alignment with the inside player on the ball and call it Trey and when the middle player or the wide player is on the ball it's something else.
They will want to know Why on this or that play is run with W, Y or X/Z on or off the ball.
In short they will spend hours trying to come up with a reason. In our scheme there isn't one.
Ok, there is and it's to make the defensive coaches on the other side of the field spend useless time wondering what we are doing and why. Trust me here, they all do it. Here's what I tell my players. "Someone line up on the L.O.S. and I don't care who it is. Adjust and make it someone different on every down. Furthermore adjust your splits. Sometimes be in what we call ½ bunch (the two inside slots close together) and sometimes be in twins (the two outside receiver close together). I'm not a math guy but there are a lot of combinations that can be used and we don't call any of them. We simply let the players decide. Of course we have certain plays that require a certain alignment but that is all mixed up in the 'fake' alignments.
Drives defensive coaches crazy. While they're spending time in the video room we're playing golf.
Example
3.2
20
20
FS
CB
CB
30
N
SS
30
E T
LB
T E
LB
X
Y
40
W
Z
40
R
DEUCE TRIPS
The BASIC formation will become trips when the ball is on the hash mark. Therefore the BASIC formation will change depending on where the ball is located on the field. When the football is located on the hash mark W will align to the field half way between Y and the offensive tackle. X or Z will line up outside Y, halfway to the sideline.
FORMING THE GATHER:
Example
3.3
Line of
Scrimmage
X
Y
Z
W
R
Q
GATHER
Keep the X, W, Y and Z receivers in their split alignments while the QB, RB and the
O-Line form what is referred to as "The Gather". Five yards from the L.O.S.
GATHER BREAK:
Example
3.4
X Y
W
R Q
GATHER BREAK
After the QB call's BREAK the O-Line and RB move to their positions.
Z
Because the formation is either "Basic" or signaled in from the sideline the QB calls only the
Play and ... Ready Break. The QR doesn't call: Formation, Motion, or the Snap Count. All plays are run on the same snap, eliminating another football ritual. The entire gather procedure should take about two seconds. The offensive team will be at the line of scrimmage with nearly the entire
25-second time period to make decisions. Delay of game penalties is a thing of the past.
NUMRERING SYSTEM:
Example
3.5
1 0
9 7 5 3 2 4 6 8
NUMBER SYSTEM HOLES
Number the holes even to the right and odd to the left. Each number is the "point of attack" for the running back.
Example
3.6
3
9
2/4/5/8
3
The running back numbers are as follows: 2/4/5/8. The Slots are number 3 and the
QB is number 9.
LINE SPLITS:
Example
3.7
3' 3' 3' 3'
LINE SPLITS
Use a three-foot base split and adjust either for the play or for blocking a particularly good opponent.
RECEIVER SPLITS:
DEUCE Example 3.8
20 20
1/2
30
X
1/2
W
40
RECEIVER SPLITS
Q
R
1/2
Y
30
1/2
Z
40
With the football in the middle of the field X and Z align half way between the hash mark and the sideline. In the Basic formation W and Y align halfway between X and Z and the offensive tackle.
TRIPS
Example
3.9.
20
20
30 30
1/2
1/2
1/2
X
Y
40
W
Z
40
R
RECEIVER SPLITS TRIPS
In the trips alignment use the 1/2 rule. With the football on the left hash mark, X aligns halfway between the numbers and the sideline. Y aligns on the opposite hash mark.
W aligns halfway between Y and the O-Tackle. W aligns halfway between Y and the sideline. Opposite rules apply when the football is on the right hash mark.
CADENCE:
The cadence is a two part cadence, and non-rhythmic. Simply "SET-GO". Do not call the snap count in the gather. All snap counts will be on one, i.e. SET-GO. We can and do change the snap count but we do it with a HOT word at the L.O.S. and always the wide receivers move on the snap of the football and not on the QB voice.
PRE CADENCE AUDIRLE SYSTEM
Example
3.10
Y
X
Z
W
R
Q
Pre snap alignment
Prior to the cadence use an audible system with a Name, a Color and a Number. This is always done with the QB in the shotgun alignment. It is easier for him to see the defense from that position. It is also easier to realign under center by moving forward than it is to realign into the shotgun by moving backward.
The QB L.O.S. mechanics will be for example, something like: John-Red-28, John-
Red-28...........Set-GO. This is the part of the QB line of scrimmage terminology that tells the other ten players what the play will be. The QB will have called a play in the gather. The receivers will have read the play signaled in from the sideline. The Pre cadence tells everyone whether the QB has decided to run the play signaled or to change the play. For example if John were HOT and meant, for example, Quick Pass the play signaled would now be changed to a quick pass. The color would mean nothing but the numbers would identify the receiver and the route.
NAMES
HOT names are used to change the signaled play called in the gather. For example
"Oscar" might be the HOT name that would change the direction of the play from right to left or left to right. The color and number following "Oscar" would mean nothing.
Use HOT names to: change the direction of the play called in the gather; to change the play completely; to change to the quick pass game; to change the blocking assignment, etc.
COLORS:
CITY
Red
Black
Brown
White
Pink
Yellow equals RUN equals Play Action PASS, Boot left, QB throwing equals Play Action PASS, Boot right, QB throwing equals Play Action Pass, no boot, QB throwing equals Screen PASS equals Play Action Pass X, W, Y, Z or R throwing
QB ACTIONS:
1 Step Drop;
2 Step Drop;
3 Step Drop; used on "Uncovered Slot" principal
Quick pass game footwork
Quick pass game footwork (Stanford)
Sprint Pass Action; Florida to the left and Gator to the right
Boot Action;
Dash;
AUDIBLE MECHANICS:
Play Action, (Black/Brown) Bootleg action opposite play action
Sprint Right or Left after three step drop action, from the shotgun
As stated the audible system consists of three parts to either change the play signaled and called in the gather or to give a false audible. HOT names designates change of play and
COLD names mean nothing. For example if the name SAM was a HOT name to change the play signaled and called in the gather at the L.O.S. it would in turn make both the color and number HOT . Use the first name of the starting QB as the HOT name to change a play.
Again, logical and easy to learn.
Therefore the QB mechanics, to change a play called in the gather, would be: Sam--
Red--22. Red signifies...Run. The play has been changed at the L.O.S. to "22". Or the 2 back through the 2 hole. The play would be followed by the cadence.
An example of a false audible would be to use a COLD name such as Harry. Since
Harry is a COLD name and means nothing the color and number, Red 22, also mean nothing.
The play run would be the play called in the gather.
*Note: Use a color, Orange for example, to tell everyone that the QB is foregoing the Name, Color and Number procedure...he simply decides he likes the play called, see's no reason to dally around, say's
"Orange...Orange" moves under center if necessary, and calls the snap count.
Example
3.11
20
20
FS
CB
CB
30
B LB
E
T
T
LB
E
SS
30
X
Y
W
Z
40
40
R
UNCOVERED SLOT
Use other terms not part of the regular audible system to get into an action quickly.
For example, If the QB sees an uncovered slot, or miss-coverage on an outside receiver he will use a CITY, twice... example, Portland-Portland...followed by the snap cadence.
The city "Portland" is a HOT audible and calls for Quick Pass Blocking (See chapter five). The uncovered receiver runs a pause release to the open area while the other receivers run HOT fade routes.
STATE
Example
3.12
20
20
CB
30
FS
LB
E
T
LB
T E LB
SS
30
CB
40
40
DUCKS VS 7 MAN FRONT
Any STATE called on the L.O.S. prior to the normal cadence signifies a special play to be
determined by the weekly game plan. For example "Ducks" may be a quick pass to R Vs a seven man front with man to man coverage or some similar play to be called Vs a particular defensive set or scheme.
"CHECK WITH ME" MECHANICS
Check with me mechanics can be a very useful way to attack a defense. By using
"check-with-me" the QR can pick the best possible play Vs a particular defense at the line of scrimmage. In the gather the QR simply calls the play followed by the phrase" check-withme".
Example
3.13
FS
SS
C
C
B
T
B
N
B
T
B
BOB WHITE 16
For example; Red or White 16 check-with-me. The L.O.S. mechanics would be: Bob
( HOT name=Big on Big line Blocking; if QB chooses play action) White ( HOT color=play action pass with QB throwing) Twenty-Two ( COLD number). The play would therefore be a play action pass with option right action.
3
4
5
6
7
1
2
8
10
9
CHARTS AND PLAY CARDS
I am not a believer in script for everything. However, I do believe that it can serve a valuable purpose if not overdone. Script, for example, the Inside, outside and team offense.
Example
3.14
INSIDE
PLAY
DEFENSE
SLAM
COUNTER
DIVE
DRAW
QB DRAW
TRAP
QUICK
VEER
SLICE
VEER KEEP
4-1/3-2
"
"
"
"
"
"
"
"
"
Outside,
Example
3.15
OUTSIDE
1
2
GROUP FORMATION PLAY
LITTLE
SMALL
DEUCE
TRIPS
GUN
3
SLASH
LARGE 4
5
6
BIG
SMALL
ACE
DEUCE BUNCH
OPEN
7
LITTLE
OPEN STR.
8 SLASH
OPEN
9
BIG
ACE TRIPS
10
LITTLE
STACK
And Team Offense.
Example
3.16
TEAM
JACK
OPTION
JOHN
SHOOT
SHOOT
JOHN
JOHN
QB DRAW
CORNER
FLAG
GROUP FORMATION PLAY
1
2
LITTLE
SMALL
DEUCE
TRIPS
CURL
TOSS
3
SLASH
GUN
OPTION
4
5
6
LITTLE
SLASH
SMALL
ACE
BUNCH OPEN
OPEN
SHOOT
JOHN
QB DRAW
7
LITTLE
OPEN STR.
JOHN
JERRY
8 SLASH
OPEN
9 LITTLE
DEUCE TRAP
10 SMALL
OPEN GUN
OREGON
Do not script the defense for each play. In Outside (7 on 7) give the defense two or three defensive looks and have the defensive coaches spend a percentage in each coverage mixing them at their discretion. For example 50% cover 1, 30% cover 2 and 20% cover 3.
For the inside drill run all plays Vs the different 5 and 6 man fronts. In team, as outside, give defensive coaches a parameter within which to work.
Keep a weekly chart of offensive plays and how many times they are run. This helps make sure all plays are covered in the weekly game plan and with the proper amount in the proper area.
Example
3.17
VS ___________ INSIDE OUTSIDE TEAM
RUNS:
DRAW
SLAM
¦
¦
TOSS
OPTION
¦
QUICK PASSES:
JOHN
JACK
JIM
JERRY
DOWNFIELD PASS
¦
¦
¦
SHOOT
¦
SWITCH
It is not necessary, for example, to run all inside run plays both in "Inside" and
"Team". Running them in one or the other will do nicely. Wasted time can be eliminated from the practice schedule by not repeating plays over and over.
Run practice with an up-tempo pace. Frantic coaches running around diving into piles of players screaming and yelling is not coaching. It's blatant Over-Coaching. Run a brisk paced practice routine. Keep on schedule and be obvious in your praise. For example in a ten minute outside drill plan to execute at least 20 plays. That will most likely include a least one or two walk through repeats of a miss-play.
*Note: Rapid repetition with an up-speed tempo in practice will transfer to the same tempo during the game. Don't allow your coaches to waste time telling stories about what happened in South Dakota thirty years ago. No one gives a rip!
REVIEW
The "Mechanics" of this offense may seem difficult at first. I had many a sleepless night in anticipation prior to implementing the Flex Slot for the first time. However, by teaching in a logical progression, like any good teacher does in the classroom, this system is simple to coach and equally simple to learn. Approach practice sessions as you would the classroom. If some player doesn't understand, take the time to go over it again. Try a different method. Show patience and teach in a controlled manner. First, identify the mistake. Then walk through the correction and move on to the next play. No screaming. No histrionics. And most important, No loss of confidence by the players! Many times we have been told that our team plays with so much more confidence than most other teams. The reason is, I believe, we are teaching the How and the Why of the offense and the approach is non-threatening to the players.
CHAPTER 4
"FORMATION ADJUSTMENTS"
The term "Flex Slot" indicates that the slot formation is multiple, many different formations are used.
These formation adjustments are done at a very up-tempo pace making it very difficult for the defense to set itself into a comfort zone. The result is, many times, confusion and sometimes panic for the defense, especially for the first time opponent.
*Note: The first year in both high school and college we used only the basic formation of the
Flex Slot Offense. This formation changes according to field position (see chapter 3). By the second year in both cases we were ready to move on to either Game Planning the formations or at times calling the formation from the sideline.
Because formation adjustments are built in to the basic formation and variations of the basic formation are also used The FLEX (or FLEXABLE) SLOT is the perfect description of the offense.
At times we have used W & Y as duplicate positions, moving either to the wide side in trips.
However we have found it easier for players to learn pass patterns when Y is always in the middle of trips and W is always inside. In this method W is always the motion back as well. Again this seems to make it easier to pick up the offense for the players. When W & Y are similar type athletes it may make more sense to simply slide the inside receiver, either W or Y, to the outside during trips to their basic side.
Once the basics are learned It is a good idea to "Game Plan" the base formation. For example, make trips to the field the "Base" formation when the ball is on the hash and make Deuce the "Base" formation when the ball is in the middle. Then each week adjust the "Base Formation" to keep the defense guessing.
By using personnel substitution the offensive possibilities are only increased. When doing so the
"W" and "Y" positions become personnel positions. Identify groups by name and add a personnel signal to the formation and play. For example "Big" might include two wide receivers, a tight end and two running backs. "Small" might include three wide receivers, a tight end and one running back. "Little" might include four wide receivers and one running back. The offense can also be very effective without using personnel substitution. Simply make the formation adjustments with the same players.
*Note: I felt more comfortable verbalizing the play while someone else signaled the plays into the game. Usually a Hot player and one or more Cold players signaling in plays simultaneously.
The signal system works like this: Say loud enough for the signaling players to hear, Big
(personnel) Ace (formation) Trap (play) and at the same time those players will signal. One player will be Hot and the other will be Cold . Have them wear different colored baseball caps that are easy for the players on the field to identify. With personnel substitution "W" and "Y" on field and on the sideline would look or listen for the personnel call and run on or off the field as necessary.
Stand on the sideline during group "Outside" and during "Team" and have the signaling players stand next to you, just as you would during a game. Keep the pace of the signals as fast as possible.
Stop only for mistake correction walk through.
*Note: I have been doing this for at least the last ten years. It gives me an excellent
feel for game situations and I believe gives the players a feeling of game intensity.
I recommend this procedure highly.
FORMATION ADJUSTMENTS:
ACE
The term Ace moves W to an alignment one yard outside the offensive tackle while Y remains in the wide alignment. W will be opposite Y when the ball is in the middle of the field.
Example
4.1
20
20
FS
CB
30
B
E
LB
T
T
LB
E
SS
30
X Y
W
40
R
ACE
On the same side of the formation when the ball is on the hash mark.
Example
4.2.
40
CB
Z
20
20
FS
CB
CB
30
B
E
LB
T
T
LB
E
SS
30
X
Y
40
W
40
Z
R
ACE TRIPS
*Note: Just this past year we evolved into using motion, across the formation, to reach the
ACE formation. By doing this defense could not stack up on the tight slot side and we were able to keep the defense spread. We no longer line up directly in ACE.
OPEN
The term OPEN moves R out of the backfield to a position halfway between the inside wide out and the offensive tackle, one yard off the L.O.S. Open Strong refers to an alignment on the same side as
Y.
Example
4.3
20
20
CB
30
B
LB
LB
E
T
T
E
X
R
40
OPEN STRONG
Open Weak refers to an alignment opposite Y.
Example
4.4
FS
SS
30
CB
W
Y
40
Z
20
20
FS
CB
30
B
E
T
STACK
X
40
R
OPEN WEAK
LB
T
E
LB
W
SS
30
CB
Y
40
Z
The term STACK moves W to a position directly behind X and Z to a position directly behind Y.
Example
4.5
20
20
FS
30
CB
CB
30
N
E
LB
T T
LB
E
SS
X
Y
40
W
Z
40
R
STACK
STACK in trips alignment puts X or Z directly behind Y and W directly behind Y.
Example
4.6
20
FS
CB
30
N
E T
LB
T E
LB
X
OPEN-STACK
40
R
STACK TRIPS
SS
30
Y
Z
W
40
20
CB
The term OPEN-STACK moves R to a slot alignment in the STACK formations. Strong to the same side as Y.
Example
4.7
20
20
CB
30
N
E T
LB
T E
LB
X
40
Q
OPEN STACK STRONG TRIPS
R
Weak to the opposite side of Y.
Example
4.8
FS
SS
CB
30
Y
Z
W
40
20
20
FS
CB
30
SS
CB
30
LB
LB
N
E T T E
X
W
Y
Z
R
40
40
OPEN STACK
CHANGE
The term CHANGE moves X and Z inside, on the L.O.S. and W and Y outside, off the L.O.S.
Example
4.9
FS
S S
C
C
B
B
T
B
N
B
T
X
Z
W
Y
Change
R
*Note: This simple adjustment makes it very difficult for the defense to isolate on a single receiver, to double him. This past year we had the luxury of having a very gifted wide out. We always aligned him to our bench. By doing so and by utilizing "Change" he was actually aligned in all four positions during each game...it became very difficult for defenses to double him in all four positions.
In trips Change X or Z will be inside, on the L.O.S. and both Y and W will align outside of X or
Z
Example
4.10
FS
S S
C
C
B
B
T
B
N
B
T
X
Z
W
Y
Change Trips
R
OPEN-CHANGE
The term OPEN-CHANGE moves R to a slot alignment in the CHANGE formations. Strong to the same side as Y.
Example
4.11
FS
S S
C
B
T
B
N
B
T
X
Open Change Trips
Weak to the opposite side of Y.
Example
4.12
Q
B
R
Z
W
Y
C
FS
S S
C
C
B
B
T
B
N
B
T
X Z
W
R
Y
Open Change Q
BUNCH
The term BUNCH aligns the wide receivers close together. In DEUCE W moves out next to X and Y moves out next to Z.
Example
20 20
FS
CB
CB
30
SS
30
N
E T
LB
T
E
LB
X
Y
40
W
40
R
BUNCH DEUCE
In trips Y stays in place and X or Z moves in next to Y and W moves out next to Y.
Example
4.14
Z
4.13
20
20
FS
CB
CB
SS
30
N
30
T
LB
T
LB
E
E
X
Y
40
W
40
Z
R
BUNCH TRIPS
BUNCH TIGHT
The term BUNCH-TIGHT puts the wide receivers in the BUNCH alignment with the inside receiver one yard from the offensive tackle.
Example
4.15
20 20
FS
CB
CB
30
30
N
E
LB
T
T
LB
E
SS
X
Y
W
Z
40 40
R
BUNCH TIGHT DEUCE the offensive tackle.
In the trips alignment all three wide receivers on the trips side are tight, with W one yard from
Example
4.16
20
FS
CB
30
N
E T
LB
T
X
40
BUNCH-OPEN
BUNCH TIGHT
R
SS
E
LB
W
Y
Z
CB
20
30
40
The term BUNCH-OPEN moves R to a slot alignment in the BUNCH formations. Strong to the same side as Y.
Example
4.17
20
20
CB
30
N
E T
LB
T
X
40
BUNCH OPEN STRONG
Weak to the opposite side of Y.
Example
4.18
E
LB
R
FS
SS
30
W
Y
40
Z
CB
20
CB
30
N
E T
LB
T E
X
40
R
BUNCH OPEN WEAK
FS
LB
W
20
SS
30
CB
Y
40
Z
BUNCH TIGHT-OPEN
The term BUNCH TIGHT-OPEN moves R to a slot alignment in the BUNCH-TIGHT formations. Strong to the same side as Y.
Example
4.19
20
CB
30
N
E T
LB
T E
LB
X
W
Y
40
BUNCH TIGHT OPEN STRONG
Weak to the opposite side of Y.
Example
4.20
FS
Z
SS
20
30
CB
R
40
20
20
FS
CB
CB
30
N
E T
LB
T E
LB
SS
30
X
W
Y
40
R
Z
40
BUNCH TIGHT OPEN WEAK
SHOTGUN OR GUN
In all formations the QB may align in the shotgun position. When the QB aligns in the shotgun R will move to a position to the right or left of the QB, depending on the play and his assignment.
Example
4.21
20
20
FS
CB
CB
30
30
N
E
LB
T
T
LB
E
SS
X
W
Y
Z
40
40
R
Q
DEUCE GUN weak as called.
Example
4.22
The QB shotgun alignment will not affect R in the OPEN formations; R will still align strong or
20
FS
CB
30
N
E T
LB
T
E
X
R
40
REVIEW
GUN DEUCE TRIPS OPEN
Q
LB
20
SS
30
W
40
Y
CB
Z
These formation adjustments will add ammunition to your offensive arsenal. It won't take your players long to recognize formations other than the basic. The real advantage is when all these formation adjustments are run with the up tempo speed provided by the gather and the rapid play calling system. With nearly zero time to adjust, the defense has no choice but to remain in very few defensive sets. It is normal, for example, to see one defensive set Vs the balanced sets and one simple adjustment
Vs the trips and Open sets.
It is normal to use up to ten formation adjustments per game, not always the same ten, making it difficult for your opponents to anticipate or simulate your offensive formations. You can be sure of one thing our opponents will see something they didn't see on all that video they watched until midnight.
CHAPTER 5
"THE QUICK PASS GAME"
The Quick Pass game consists of nine different ways to attack defenses, thrown from one, two or three step QB drops:
1. Uncovered Slot Principle; 1 step drop
2. Individual Routes; 1, 2, or 3 step drop
3. Basic Routes Outside; 2 and 3 step drop
4. Basic Routes Inside; 2 and 3 step drop
5. Inside Crossing Routes; 3 step drop
6. Outside Crossing Routes; 3 step sprint
7. Combo Routes; 3 step drop
8. Running Back Slip Routes; 3 step drop
9. Scramble Patterns; 3 step drop & scramble
Receiver Routes
Before introducing the quick pass scheme it is first necessary to identify the individual routes and the system to identify each route.
Example
5.1
9
7
8 choice
6
5
4
3
1
2 routes
Number the routes with even numbered routes breaking to the inside and odd numbered routes breaking to the outside.
Routes can be thrown to any of the receivers, including the running back when he lines up in the open position.
Example
5.2
out shoot oregon go flag curl post dig switch far delete slant wheel delay names
Because there are more routes than numbers for the outside receivers some of the routes have names.
Running Back Routes
Example
5.3
oregon
C
seam
FS
B
T
delay
B
N T
B
B
SS
C
flip running back routes
The routes for the running back are named routes. However it is wise to have the backs learn the numbered routes as well. They will, in effect, be a wide receiver when lined up in an Open alignment.
QUICK PASS PROTECTION
It is also necessary to cover pass blocking before getting into the "Quick Pass" scheme. The interior line blocking is called BOB for big on big. The blocking scheme is called "Stanford". R will block number 6, often referred to as MDM or the "Most Dangerous
Man". A "Ray" or "Lou" call will tell the center which side to block.
Example
5.4
SLIDE PROTECTION
FS
C
N
S S
C
B
B
T
B
T
B
stanford RB (lou)
In a no back set the QB will have the #6 defender.
Example
5.5
SLIDE PROTECTION
FS
C
N
B
B
T
B
T
B
S S
C
stanford RB (lou)
Example
5.6
SLIDE PROTECTION
C
FS
S S
B
B
T
B
T
B
N
C
stanford (lou)
To keep the RB from interfering with a right handed QB have the center block the right LBer and R block the left LBer Vs the 4-2 defensive front.
Example
5.7
SLIDE PROTECTION
FS
C
S S
N
C
B
B
T
T
B
B
stanford RB (ray)
THREE STEP DIRECTIONAL PROTECTION
Still a quick pass protection but the QB will set up behind the OG/OT gap. Las Vegas to the left and Rebel to the right.
Example
5.8
FS
C
C
N
E
B
T T
B
E
SS
las vegas
Example
5.9
C
FS
S S
E
B
T T
B
E
N
C
rebel
FULL SPRINT PROTECTION
This is normally a trips protection but at times is used in the quick game. This directional action by the QB is called Florida to the left and Gator to the right. The front side
OG/OT will block BOB and the RB will have the play side LBer. If he does not blitz the RB will help with the OT on the DE.
Example
5.10
SPRINT PROTECTION
C
FS
B
B
T
B
T
B
N
SS
C
gator
The RB must find number 6 and block him regardless of number 6's alignment.
Example
5.11
SPRINT PROTECTION
C
S S
N
B
B
T
T
B
B
FS
C
florida
In the no back set the line will REACH block towards the QB action
Example
5.12
REACH PROTECTION
C
FS
B
B
T
B
T
B
N
S S
C
gator reach
Example
5.13
REACH PROTECTION
C
S S
N
B
B
T
T
B
B
FS
C
florida reach
Vs the 3-3 stacks R will again block to the side of the call and the uncovered front side guard and the center will block the middle stack and the backside guard will zone block the backside stack with the backside tackle.
Example
5.14
LB
E
LB
N
LB
E
Vs 3-3 STACK
BLUE this particular defensive strategy.
Example
5.15
Zone blocking all line stunts seems to be a more affective way to protect the passer Vs
E
T
LB
T
E
Vs LINE STUNTS
In the no backset we call an outside blitz a STORM. Lightning to the left and Thunder to the right. We will FAN block the blitz side and the QB has the unblocked LBer.
Example
5.16
STORM PROTECTION
FS
C
C
B
B
S S
T
B
N
B
T
thunder (fan)
The QB can use any action he chooses. Stanford or Sprint Action Florida or Gator.
He will call the protection at the Line Of Scrimmage.
Example
5.17
STORM PROTECTION
C
FS
B
T
B
N
B
T
B
S S
C
lightning (fan)
Now that the routes and blocking rules are covered lets get into the meat of the quick passing game. Following are the nine types of "Quick Pass" plays that we use in the "Fast break Offense".
Identify the Quick Pass game with a HOT name. Use names with the same first letter.
For Example Jack, John, Jim, Joe etc. or Tom, Ted, Terry, Todd and so on. This method makes it easy for all the players to respond to the HOT name. Different names will be used in the Example s, you should choose your own. Use names that will be easy to remember and are logical for your players.
QB Drop Action
The QB will use a one, two or three step drop for the quick pass game. The one step is used exclusively on the uncovered slot plays.
Example A: One step drop
UNCOVERED SLOT; ONE STEP DROP LEFT
The QB simply takes a step towards the uncovered slot, pivots on the back foot, and delivers the football as quick as possible.
UNCOVERED SLOT; ONE STEP DROP RIGHT
Again pivot on the back foot, step toward the uncovered receiver and deliver the football as quickly as possible.
The two-step drop is a straight back backup drop.
Example B: Two-step drop
TWO STEP DROP; LEFT...RIGHT; FOR RIGHT HANDED QB
Left first and right for the right-handed QB. This enables the QB to square up and to freeze the defense with a non-directional drop.
The three-step drop is also a straight back drop but because it is quicker we use a turn drop.
Example C: Three-step drop
R
L
R
Three Step Drop
For the right-handed QB step first with the right foot, cross over with the left and plant with the third. The first two steps should be long, to clear from the L. O. S. and the third step should be a gather step, landing close to the second step.
If, for some reason, the QB is not ready to deliver the football on the third step he may use a "Hitch" Step. This is a forward shuffle.
Example D: Three step and Hitch
1-L
2-R
3-L
R
R
L
HITCH STEP
First step with the front foot, close with the back foot and then deliver.
1 Uncovered Slot Principle
When the QB identifies an uncovered receiver he will abort the normal audible system and go to a hurry up audible. We use a "City" repeated twice. For Example "Vienna"
(a city in Austria).
Example
5.18
20
CB
30
B LB
E
T
X
40
20
FS
SS
30
CB
T
LB
E
Y
UNCOVERED SLOT
Z
40
R
Take one step toward the uncovered receiver and throw him the football. The uncovered receiver runs a pause in the open area release, while the other receivers run HOT fade routes.
Originally we called the principal "Uncovered Slot" figuring no one would leave the outside receiver uncovered. However strange things happen in football and in reality any of the receivers may suddenly become uncovered.
Example
5.19
20
20
FS
SS
CB
30
N
E
LB
T
LB
T
E
CB
30
X
Y
40
W
40
Z
Uncov ered Z
R
Not too many seasons ago a loss was turned into victory because our opponents twice in the fourth quarter left our Z receiver uncovered.
2 Individual Routes
The individual "Quick pass" action may be called in the gather or on the L.O.S. as an audible. In either case the receiver is identified on the L.O.S.
Example
5.20
FS
CB
CB
N
E
LB
T
T
LB
E
SS
1
5
2
4
3
NUMBER RECEIVERS
Receivers are numbered from left to right, 1 through 5 regardless of the formation.
In the gather the QB will simply use the HOT name indicating Quick pass blocking,
"Jake" for Example . As an audible at the line of scrimmage the HOT name in the pre cadence will alert everyone that the gather play has been changed to an individual Quick
Pass. Quick Pass blocking rules will apply.
Example
5.21
FS
CB
CB
N
E
LB
T
T
LB
E
SS
5
1
2
Jake Red 29
3
4
The first number in the audible indicates the receiver, the 2nd number indicates route.
Remember from chapter 3 Mechanics, the color means nothing.
Backside receivers will all run delay routes off of a fade release.
Example
5.22
FS
CB
CB
N
E
LB
T
T
LB
E
SS
1
5
2
4
3
29 FULL PATTERN
Any receiver outside the identified receiver must release outside, and may continue on the fade path if the ID'ed receiver cuts inside.
The theory behind the individual quick pass game is simple. Run the best route, into the most open area. These are two of our favorite individual routes.
Example
5.23
FS
CB
CB
SS
LB
E T
LB
T E
N
John 18
When the free safety aligns over the top of the trips, throw the post to the single receiver.
Example
. 5.24
FS
CB
N
SS
CB
LB
E T
T
LB
E
John 49
When the free safety stays in the middle of the field, throw to fade to the middle receiver on the trips side.
Individual "Option" Routes; a get open individual route to the identified receiver with a
three-step drop by the QB. Only a single digit number to identify the receiver is called at the
L. O. S.
Example
5.25
N
FS
CB
CB
LB
SS
E T
LB
T
E
2
Jake Red 2
No second number indicates to the receiver he has the "Option" to run any route, the
QB will read the receiver. All other receivers will run delay routes off of a fade release.
3 Basic Routes Outside
This is the standard "Quick Pass" game with mirrored routes by the outside receivers and complimentary routes by the inside receiver. The first number will indicate the WR route and the inside receiver will run a complimentary route.
Example
5.26
9
9
8
N
FS
8
5
CB
1
2
LB
E T
LB
T
E
SS
2
CB
1
5
JACK 1, 2, 5, 8, 9
Action called in the gather or on the L.O.S. with the route always called at the L.O.S.
Five routes are involved; 1,2,5,8, and 9. QB reads best-located corner.
The inside receiver runs a 3 when the outside receiver runs up field routes (8 or 9).
On short routes by X & Z (1, 2 or 5) the inside receiver will run a HOT route. It is also possible to make the second number HOT for the inside receiver, therefore identifying both routes.
Example
5.27
C
FS
B
E
B
T
B
T E
SS
C
jack 93
Remember this is a mirrored pattern, the same on both sides. The QB will decide which way to throw the football based on his pre-snap read of the defense at the line of scrimmage.
INSIDE CROSSING ROUTES
Usually run Vs man coverage. JIM is the
Example
5.28
HOT name. J for quick pass I for Inside.
CB
FS
LB
E T
LB
T
E
N
SS
CB
Jim Purple 42
In the Example Jim is HOT indicating Quick Pass. Purple means nothing. The number 42 tells the number 4 receiver (remember the mechanics, receivers are numbered left to right) to run a 2 route off the fade release of the inside receiver.
OUTSIDE CROSSING ROUTES
Outside Crossing Routes; Can be run Vs either zone or man coverage. JOE is the
HOT name. J for quick pass O for Outside.
Example
5.29
FS
CB
CB
E T
LB
T E
LB
N SS
Joe Blue 33
It is sometimes desirable to sprint the QB in the direction of the pattern. Either because of the defensive front alerting the QB of danger on both corners or simply because the QB is adept at throwing on the run. In this case the protection would be Gator.
The receiver starts an up field release and cuts outside off the inside break by next outside receiver. All other receivers follow regular individual route rules.
REVIEW
In the Flex Slot the Quick Pass game is very important. It is not uncommon for the
Quick Pass attack to be close to 50% of the pass offense. It is easy to learn, allows for a higher percentage of completions and makes it nearly impossible to sack the QB, reason enough to spend some quality time developing the Quick Pass game to its highest level.
CHAPTER 6
"DEUCE PASSES"
The pass routes and patterns that attack the 15-yard vertical area of the defense are sometimes overlooked. Coaches seem to see the short passes as safe and the long passes as possible home runs and often as a result the in between area is under coached and under explored.
This chapter discusses with detail the medium pass routes and patterns used to attack this area of the defense.
Still using BOB blocking in the Stanford protection this chapter will concentrate on the patters from our Deuce formation. Usually these passes are signaled to the receivers at the L.O.S. after the QB has looked at the defense. He can signal the same pattern to each side or different patterns.
Deuce Patterns:
1) Stop= wr stop; slots go
2) Go= wr go; slots stop
3) In= wr in; slots go
7) Twenty Two=wr & slots "2"
8) Hawk=wr & slot "post"
9) Hawk Rice= wr post/corner slot post
4) Out= wr go; slots out
5) Sail= wr stop; slots (sail) flag
10) Cross-Oregon=wr Go & Slots Far
11) All Go= wr & slots go
6) Sail In=wr stop; slot (sail) post 12) Switch=wr slant & go; slots wheel )
It is important to recognize the type of coverage when attacking this area. The QB should know the strength and weakness of the defense he sees. The first thing to look for is how is the middle being defended?
Example
6.1 Cover three zone.
FS
CB CB
B
E
M
T T
ST
E
SS
SINGLE DEEP
Example
6.2 Double deep (two free safety's) Cover II
SS
CB
B
E T
M
T
E
DOUBLE DEEP
Example
6.3 Or is there a "Robber" hanging in the Middle?
FS
ST
CB
CB
SS
FS
B
E T
M
T
E
ST
CB
ROBBER
Basic theory says attack the seams Vs a single deep coverage.
Example
6.4
FS
C
B
E
B
T
B
T E
SS
C
STANFORD; STOP
Attack the middle Vs the cover II look. Vs a Five man rush, add the RB into the pattern with a "Flip" or "Oregon".
Example
6.5
FS
SS
C
B
E
B
N
B
E
B
oregon
C
flip
STANFORD; IN/HAWK
Example
6.6 And to attack the deep areas or the outside Vs Robber coverage.
FS SS
C
B
E
B
N
B
E
B
C
stanford; sail
Defenses can and will show many different types of pass coverage. Defensive coaches are very good at disguising coverage's. It is for this reason that the Flex Slot pass offense is either a sequence read or some type of Quick pass designed to attack any coverage.
The QB will basically decide which side of the defense he wants to attack and then signal a complimentary pattern to the opposite side. If the pre snap read is wrong he will then know where the backside receivers are going.
Following are some patterns we like Vs certain defenses.
When the safety begins to over play the Sail route it is a good time to come back with
Sail-In. Combining it with Sail on the opposite side makes for a nice combination pattern and an easy read for the QB.
Example
6.7
FS SS
C
C
B
E
B
N
B
E
B
stanford; sail-in
The up field routes, Go (9), Post (8) are run the same by the receivers but the football will be delivered slightly later because of the timing difference between the under center and the shotgun snap. corner.
The Go route can take advantage of a speedy wide receiver matched up against a slower
Example
6.8
C
FS
N
E
B
T T
B
E
S S
C
stanford; go
Out is a good pattern Vs Cover 3, especially when the SS and N are playing soft or in man when the slot has an athletic advantage.
Example
6.9
FS
C
C
N
B
T
B
N T
B
S S
STANFORD; OUT
Twenty-two is a very good pattern Vs a soft corner worried about getting beat deep. The slot two usually drags the N/SS to the inside making a nice passing lane for the QB to see and the
WR to find. The outside (wr) two should be run at a slightly deeper angle. This is a good pattern to release the RB, giving the QB a hot read on the inside LBer. If he blitzes the slot two should be open. Vs man usually on the goal line and a defense all-out blitz this is a score.
Example
6.10
22 flip
C FS
B
E
T
M
T
E
B
SS
stanford; 22 flip
C
Hawk is very good in the Red Zone because the Safeties have to tighten their alignment.
Add the Flip or Oregon and the wr post is many times wide open!
Example
6.11
C
FS
SS
B
E
B
N
B
E
B
C
stanford; go/hawk/oregon
We have found a double move off of Hawk action is very affective. We call it Hawk-
Rice, the post/corner move is the Rice after Jerry remember him? adding the RB in the flat
(Oregon) holds the flat defender and puts a lot of pressure on the safety.
Example
6.12 hawk-flag
FS
SS
C
C
B
E
T
M
T
E
B
stanford; in/hawk Rice-Oregon
Switch is a very good pattern Vs cover 3. The QB should influence the FS with a pump fake or hard look away from where he intends to throw the football.
Example
6.13
FS
C
C
N
SS
B
T
B
N T
B
stanford; switch
Another Deuce pattern that has been very affective over the years is Cross Oregon. The read for the QB is very easy. Look at the SS if he runs with the slot the coverage is man-to-man and he will think hit the RB on the Oregon. If the SS drops into the flat to pick up the RB the QB will hit the crossing slot in the 12 to 15 yard area under the FS.
Example
6.14
C
FS
B
E
B
T
T
B
E
SS
C
gator reach; cross/oregon
The Stanford Quick passing game can be run from an Open alignment as well and can be utilized very well in the "Two Minute" drill we refer to as "May Day". The QB will signal the pattern and then tell the RB what route to run.
Example
6.15
FS
SS
C
C
B
B
E
B
N
B
E
Open-Stanford; all go/post
REVIEW
All of these Deuce pass patterns have proven effective at one time or another. By emphasizing the fast tempo with the QB calling the pattern at the L.O.S. your quick game pass offense will become multi-dimensional and very difficult for the defense to shut down. If you are blessed with a QB who has good vision and understands the quick game concepts you will have an offensive package that will cause defensive coaches nightmares.
Because all coaches are trying to steal our signals we ask the QB to be very cagy when he signals plays to his receivers. Hide the signals in some manner, for example: reach down close to the ground to make it harder for defensive spotters to see. Change up the signals now and then.
Use fake signals when the receivers know the play and a signal isn't required. And do it very quickly before the defense has time to set up. It simply takes a little time by the QB and his receivers to develop a system that works over and over again. In truth, we've used the same signals, with an adjustment now and then, for twenty five years. So don't get too complicated.
Chapter 7
"TRIPS PASSING GAME"
This chapter could easily be titled the "Mouse Davis" passing game. After Daryl "Mouse" Davis a longtime friend and the forerunner of the modern "Run and Shoot" offense in Oregon and eventually the NFL. Mouse was a very successful high school football coach in Oregon who took his offense to
Portland State and made national news running up scores into the triple digits. It was at Portland State that Mouse developed June Jones, later to play for Atlanta in the NFL and follow Mouse to the professional ranks as his offensive coordinator. June eventually became the head football coach for the
Atlanta Falcons and took them to the playoffs in his second year. And most recently he has moved to
SMU after a stellar stint at U. Hawaii. Also at Portland State Mouse took a gamble on a high school QB from a run orientated offense that everybody had overlooked. That youngster, Neil Lomax, set all sorts of NCAA passing records and had a successful NFL career with the St. Louis Cardinals.
Much of this chapter comes from Mouse Davis' original offense. From that point I branched out into my own version and developed schemes that made sense to me and worked well for my teams at all levels. The Throwback pattern, for example, hasn't changed since I borrowed the concept from Mouse in 1973. Our "Sting" route, which has become our most successful and most often called route, was borrowed from Mouse's original "Choice" route.
QB Drop Action
All Patterns can be used with sprint, stop (throwback), play action, Drop back or dash action by the QB. Depending on the pattern, the QB's quickness or the pass protection it can be a three or five step action. Example
A:
Sprint Action; Florida to the Left and Gator to the Right.
SPRINT ACTION
Example
B:
Throwback Action; Las Vegas to the Left and Rebel to the Right.
THROWBACK ACTION
Example
C:
Play Action; without OG pulling, Naked Right or Left
naked right
Example
D:
Play Action Boot; Brown to the Right and Black to the Left
brown
Example
E:
Three step drop
DROP ACTION
Example
F: Dash Action
DASH ACTION
An excellent way to get outside from the shotgun is to sprint after first taking a three step drop.
This allows the off guard to get in front and also gives a sprint action away from the back. The initial drop action tends to keep the defensive end rush tighter.
PATTERNS:
Most patterns in the double slot passing game involve a sequence read format for the QB.
Routes are combined to form patterns with either a strong or weakside read progression.
TRIPS FRONTSIDE PATTERNS
SHOOT: This is the first pattern we put in each year. It is a basic pattern that every football team in
America has in their play book. We have a number of variations off the basic Shoot pattern which I will diagram on the following pages.
Note: on all trips patterns the back side wr has a choice. He can run
Either a 9, an 8, a 2 or fake a throwback screen.
Example
7.1
FS
S S
C
C
B
E
B
N
B
E
B
gator; shoot 493
GO SHOOT: Especially good Vs cover II. It's shoot for everyone except the trips side wr who runs a
go.
Example
7.2
FS
S S
C
C
B
E
B
N
B
E
B
gator; go shoot 993
THROWBACK GO SHOOT: This pattern can be very affective as a throwback as well. Vs Cover 3
often times the SS will jump the "3" by the inside slot leaving the seam undefended. The QB needs to look off the FS and hit the slot no deeper than 15 yards.
Example
7.3
FS
C C
S S
B
E
B
T
T
B
E
las vegas; throwback go-shoot (cov 3)
Vs Cover II the middle slot needs to attack the inside of the SS on his post which should free up the WR running his Go. The C should release to the flat to cover the inside slot on his "3".
Example
7.4
FS
S S
C
C
B
E
B
N
B
E
B
las vegas; throwback go-shoot (cov II)
22 SHOOT: A very good pattern Vs man-to-man and or on the Goal Line. 22 tells everyone to run a
"2" route except the inside slot who runs his shoot off the heels of the double two. The QB would have the option to throw the backside "2" if he felt it was open.
Example
7.5
C
FS
B
E
B
N
B
E
B
S S
C
gator; 22 shoot 223
SHOOT-7: Another very good pattern Vs man-to-man, the Red Zone and or on the Goal Line. Every
one runs shoot except the middle slot who runs a "7". The trips side wide receiver runs a 10 yard curl to creat more space for the "7" route.
Example
7.6
C
FS
B
E
B
N
B
E
B
S S
C
gator; shoot-7 473
BENCH: the middle slot Bench clears with the wr "9" for the dual horizontal routes. The "5" will work
toward the sideline while the "1" will settle in an open area, sliding if necessary.
Example
7.7
C
FS
B
E
B
N
B
E
B
SS
C
gator; bench 951
FLOOD: Flood is a vertical stretch play designed to open one of the underneath routes. The QB should
always peek at the clear out route before keying on the flat defender.
Example
7.8
FS
SS
C
C
B
E
B
N
B
E
B
gator; flood 903 delete
SIDELINE: Essentially a double out break attacking the deep 1/3. The "1" by the outside slot is a 'get
open' route at a seven yard depth.
Example
7.9
FS
SS
C
C
B
E
B
N
B
E
B
gator; sideline 517
SNAKE: A double break pattern with the wheel the first option for the QB. He will then key the flat
defender and hit either the delete or the three.
Example
7.10
FS
SS
C
C
B
E
B
N
B
E
B
gator; snake 003 wheel/delete
SHOOT-THROWBACK CHOICE: The front side trips is the normal shoot pattern. The QB will
take a pre-snap read to see which Choice is on, but he always has the option of staying to the front side and the shoot pattern. In this example the wr chooses a "9" because the FS takes away the post and the outside LBer takes away the slant.
Example
7.11
FS
C
C
SS
B
E
B
N
B
E
B
gator; shoot, throwback choice
The QB move (Rebel protection) towards the trips side before turning to throw back.
HAWAII: Stanford protection and a three step drop. A pre-snap read will tell the QB to look front side
or back side. He will throw the 43 combination Vs a cover 3 and will read the backside LB drop and throw to the crossing slot or the wr "6" or Dig route Vs cover II. Align with the inside slot on the L.O.S. in a ½ bunch with the middle slot.
Example
7.12
FS
SS
C
C
B
E
B
N
B
E
B
stanford; hawaii (vs cov. II)
Vs. Cover 3 the QB will read the 43 combination and throw off the flat defender.
Example
7.13
FS
C
C
SS
B
E
B
T
T
B
E
stanford; hawaii (vs cov 3)
STING: The Sting pattern is our basic 'away from trips' pattern and has some companion patterns
much like Shoot on the trips side. Protection is Las Vegas/Rebel. We will align our inside slot on the
L.O.S. and the middle slot will be close to him in what we call the ½ bunch alignment. Like all our patterns any type of QB action may be used. As well as any formation or motion. Once again Game
Plan witch formation, motion, drop, boot etc. that you will want to run Sting out of each week. Change it up, keep the defense guessing and this can be an offense all by itself.
Example
7.14
FS
SS
C
B
E
B
N
B
E
B C
las vegas; sting 3-408 far
STING-OREGON: Very good as a change up. QB looks first for Oregon and then goes through the
sequence of Far, Curl, Post.
Example
7.15
FS
C C
B
B
E
B
N E
B
SS
las vegas; sting-oregon 9-408 far
STING-RICE: We like to use play action on this pattern to give the WR time to run his post-corner.
Example
7.16
FS
SS
C
B
E
B
N
B
E
B C
black 46 sting rice
STING-THROWBACK GO: On all Sting Throwback patterns the single receiver runs a Go, to hold
the FS Vs cover II and to occupy the Corner Vs cover 3. The inside slot runs a post trying to occupy the
Cover II or Cover 3 Safety. The middle slot runs his Go up the seem of the zone.
Throwing back into Trips can be equally effective. Throwback routes or patterns are not any more difficult than dropback passes. Most people believe that the QB most posess a gun for an arm to make the throwback pass. Not true. When the throwback pass is delivered on time with a three step drop it is actually an easier and closer throw than the deep out from the conventional drop back mode.
Example
7.17
FS
SS
C
B
E
B
N
B
E
B C
las vegas; sting throwback go
STING-THROWBACK PICK: This can be very good in the field or near the goal line when you can
expect a man-to-man coverage. Be careful not to run into the dropping back side LBer.
Example
7.18
FS
SS
C
B
E
B
N
B
E
B C
las vegas; sting throwback pic
STING-THROWBACK SWITCH: The QB will look at the Switch first the WR and then the Slot. If
the defense is back off and taken away the deep ball look for the inside slot on his Delete.
Example
7.19
FS
SS
C
B
E
B
N
B
E
B C
las vegas; sting throwback switch
STING-THROWBACK SCREEN: It is Very Important that the OT first step inside allowing the DE
to have a straight rush lane, before he pulls to block the outside LBer. If he pulls directly to the outside many times the DE will stop his rush and drop into the screen area.
Example
7.20
FS
SS
C
B
E
B
N
B
E
B C
las vegas; pink sting throwback screen right
REVIEW
The Double Slot Trips Pass game can be an entire pass offense. We have chosen to make it only a part of our Flex Slot offense. Because it is only a part of our offense we have not developed it to the extent that either Mouse or June did. However all the trips passes have been and continue to be a critical part of our offensive game plan.
When we began the Flex Slot we had the receivers use wrist bands with all the plays. After a few seasons we decided this was really allowing the receivers to get lazy and when in game nine our kids were still looking at the wrist band for shoot I had had enough. The following season we demanded that the players memorize the patters and asked them in practice to align in all three positions so they would know the full pattern and not just that of W, Y or X/Z. it didn't take them very log to do that and the result was they knew the offense better and we gained another few seconds at the L.O.S.
There is a new system that is popular whereby a coach on the sideline uses flash cards to signal the plays and everyone has a wrist band, including the linemen. Makes zero sense to me. The team gets to the L.O.S. and all eleven players look at the sideline for the play, then down at their wrist band and it takes forever. No speed up the offense happens. In my opinion all this does is slow things down. I'm sure the theory is the coach will see the defensive alignment and then call the play. Well, the defensive coaches aren't stupid, they simply change the defensive look after the offensive players all look at the wristband. In our system they don't have time to change defensive looks and it's also impossible to simulate our tempo by the scout squad.
Chapter 8
"RUN OFFENSE TERMINOLOGY"
This chapter will deal with the single running back version of the flex slot offense. All runs will be by the single back. Some teams choose to use motion to involve the wide receivers in the run game.
Of course that is possible, maybe even desirable with certain personnel, but this chapter will concentrate entirely on the runs involving only the running back.
*Note:In our version of this offense the QB is usually the second running back. With various option plays, QB boots, draws, shovels and sweeps from the shotgun it is not uncommon for the good running QB to lead us in rush yards at times over the long season.
In the flex slot offensive system the single back can be numbered either the 2, 4, 5, or 8. All plays with counter action or hand back action are twenty series plays. All plays that go across the formation are forty series plays. All plays that are direct action toward the hole called are fifty series plays. All draw (delay) action plays are from the eighty series. All option and shovel plays are teen numbers. The speed option right would be 16 and shovel option right would be Sally 16. Sally is a
HOT name that means shovel.
Therefore, 26 would be a counter action back to the six hole, 46 most likely would be from the shotgun with the back lined up away from the six hole. 56 would be direct ation by the RB at the six hole, and 86 would be a straight back draw action cutting back to the six hole, RB enters from backside.
Following we will diagram six separate plays at the "6" hole.
OPTION In our terminology the play is simply Red 16. Meaning the QB has the "6" hole and the
playside OT will block M.D.M. to his inside. When under center the QB takes a quick backward step and then attacks the inside shoulder of the DE.
Example
8.1
FS
SS
C C
B
E
B
N
B
E
B
option; red 16 (shotgun)
The option from the shotgun is virtually the same play except the QB must run downhill towards the DE instead of down the L.O.S.
Example
8.2
FS S S
C C
B
E
B
N
B
E
B
option; red 16 (shotgun)
SHOVEL In our terminology SALLY is the HOT word signifying shovel instead of option. The QB
will still have the "6" hole and the play side OT will block M.D.M. to his inside. In this case the QB will sprint horizontally to draw the DE up field.
Example
8.3
FS S S
C C
B
E
B
N
B
E
B
sally 16
COUNTER In our terminology In our system the twenty series is a counter series with the RB
entering the hole from the backside. For us the QB action is sprint out. From under center the handoff is over the top.
Example
8.4
FS
SS
C C
B
E
B
N
B
E
B
red 26 (under)
From the shotgun the handoff is underneath the RB.
Example
8.5
FS
SS
C
B
E
B
N
B
E
B
red 26 (shotgun)
C
SLICE In our system the forty series requires the RB to move across the formation, therefore on "46"
he will align on the left of the QB. The QB action is a "Belly" ride. If he is capable we will ask him to
'read' the backside DE and pull the football if the DE chases the RB and can not tackle the QB. If our
QB is not good at reading the DE we will simply call the give or the keep.
Example
8.6
FS
SS
C C
B
E
B
N
B
E
B
slice 46
DIVE The fifty series is a direct action series. Therefore in the shotgun the RB will line up on the same
side as the hole. The QB should anticipate the snap and move forward on the snap as though he were intercepting it, and continue downhill for the hand off. The RB should have his shoulders parallel to the
L.O.S. so he can make a cut if necessary. This is a called play and no QB read is required.
Example
8.7
FS S S
C C
B
E
B
N
B
E
B
dive; red 56 (shotgun)
With the QB under the center the RB will line up directly behind the QB.
Example
8.8
FS
SS
C
B
E
B
N
B
E
B
dive; red 56 (under)
C
DRAW The eighty series is a draw action series that comes off the three step drop action by the QB.
Once again the RB enters from the backside of the hole.
Example
8.9
FS S S
C C
B
E
B
N
B
E
B
draw; red 86 (shotgun)
Shovel Draw. Once again the RB enters from the backside of the hole. The angel is better in the gun for the shovel pass so we occasionally run it that way.
Example
8.10
FS S S
C C
B
E
B
N
B
E
B
draw; sally red 86
From under center the QB makes his three step drop while the RB steps away from the hole, receiving the football with a reverse pivot by the QB
Example
8.11
FS
SS
C C
B
E
B
N
B
E
B
draw; red 86 (under)
Using this numbering system it is possible to run multiple plays at a given hole. The OL simply needs to know what action is taking place so they can block accordingly. For example on "56" the will block aggressively and on "86" they will pass block. Including both under center and shotgun formations simply adds to the offensive repertoire. In these examples we have run eleven different actions to the six hole.
LINE TERMINOLOGY
In the run game we often need to add some terminology to let the offensive line know who is pulling. Not all plays need to have linemen pulling but with our system it is possible to block the same play many different ways. For example a simple toss play would be Red 58
Example
8.11
FS
SS
C C
B
E
B
N
B
E
B
toss; red 58
TOSS The letter "G" tells the play side OG to pull. Red 58-G
Example
8.12
FS
SS
C
B
E
B
N
B
E
B
toss; red 58-g
C
TOSS The number "1" tells the back side OG to pull. Red 1-58-G
Example
8.13
FS
SS
C
B
E
B
N
B
E
B
toss; red 1-58-g
TOSS The word "Lead" means a RB or Slot will lead block.
Example
8.14
FS
SS
C
B
E
B
N
B
E
B
toss; 1-58-g-lead
C
C
TOSS The word "TAG" (tackle & guard) means the play side OT and OG will pull and lead block.
Example
8.15
FS
SS
C C
B
E
B
N
B
E
B
toss; red 58 tag
TOSS The word "GAT" (guard & tackle) means the back side OG and OT will pull and lead block.
Example
8.16
FS
SS
C C
B
E
B
N
B
E
B
toss; red 58 gat
We can also pull just the tackle. Which one? The obvious one. "T" is the designation that tells only the OT to pull. I like to pull the OT on Option as a change up. Especially when the defense over shifts to the field. Yes you can run option into the boundary.
Example
8.17
FS
C
C
SS
E
B
T T
B
E
B
option; red 16 t
Also pulling the OT on Slice gives another dimension to the play.
Example
8.18
FS
SS
C
B
E
B
N
B
E
B
slice; red 46 t
C
Other line terms are LOG. This means instead of kicking out the defender as in Trap or Counter the pulling lineman will block the up field shoulder and Hook the defender to the inside. SEAL means turning to the inside to block M.D.M. like after pulling down the L.O.S. on a screen pass.
REVIEW
By using the terminology in our system it is possible to have the same play action blocked many different ways. We've just show you six ways to block the "Toss". We make sure one of the first things on our agenda each year is to teach the offensive linemen 'Terminology'. There can be no misunderstanding the importance of linemen not only knowing who to block but how and why!
Chapter 9
"RUN OFFENSE"
FIFTY SERIES: DIRECT ACTION
SLAM The QB will reverse pivot to clear the running lane for the RB. On all Fifty series plays the RB
has a "Point of Attack", 4/5/6/7/9/9, but his key is the first down defensive lineman on inside runs and on 9/9 the RB needs to attack the defender in open space. On Slam Vs a 3-4 look the RB's aiming point is the right hip of the OG and his key is the N. if the N slants towards him he must be able to make the cut back move. To do this the RB should use an open step, a cross-over step and square the shoulders on the third step as he receives the FB from the QB. He should line up five yards from the QB's feet and adjust forward or back depending on his speed to the hole.
Example
9.1
FS
SS
C C
B
E
B
N
B
E
B
slam; red 54 (vs 5)
Vs the six man defensive front we will Zone block towards the play side, leaving the backside defensive end unblocked. On 54 the left tackle and left guard will double the DT and scrape to the LBer.
The same will be true of the center and the right guard. When the defense has more players in the box than we have offensive blockers it is essential to block the five M.D.M defenders. The RB has the same aiming point but now keys the onside DT and cuts off of his movement.
Example
9.2
FS
C
C
slam; red 54 (vs 6)
DIVE The aiming point for the RB is the hip of the OT and his key is the DE. He will take a parallel
step and then attack the aiming point looking for either the cut back or the bounce out off the movement of the DE. The QB will show the FB with arms extended and when the play is run correctly he will need to stretch to get the FB to the RB. The RB should adjust his alignment back enough to be able to get a good read and still have room to cut off blocks. Once again Vs a six man front we will zone to the play side.
Example
9.3
FS
C
C
B
E
B
T T
B
E
SS
dive; red 56
B
E
B
T
T
B
E
SS
Out of the shotgun, because it is a Direct Action play the RB will align on the play side of the
QB. The QB will step forward on the snap, intercepting the FB, and move downhill towards the L.O.S. as he hands the FB to the RB.
Example
9.4
FS
C
C
B
E
B
T
T
B
E
SS
dive; red 56 (shotgun)
TOSS Here is another way to run the Toss play. Line up in trips with a ½ bunch alignment by the
inside two slots with the inside slot on the L.O.S. He will crack and help the OT on the DE. We will pull the onside OG who will 'seal' inside after clearing the double team block on the DE. The outside slot has the force, SS in this case and the RB will run off of the movement of the SS.
Example
9.5
FS
C
C
B
E
B
T
T
B
E
SS
toss; red 58-g
FORTY SERIES: ACTION ACROSS THE BACKFIELD
SLICE The Slice play is blocked the same as the Dive. The QB will 'read' the action of the back side
DE and either give or keep the FB. Note : if the QB can't do this very well, don't ask him to, simply call the keep or the give in the gather.
Example
9.6
FS
C
C
B
E
B
T T
B
E
SS
slice; red 46
Another way to run the play is to align the back side slot wider and use him as a pitch man, optioning the LB. Again this can be a 'read' by the QB or a called play. If your QB is a mobile athlete this play can serve your offense well.
Example
9.7
FS
C
C
B
E
B
T
T
B
E
SS
slice option; red 46 read
TRAP The Trap comes off Slam action. 2 and 3 are Trap numbers so the forty series Trap would be 42
or 43. Remember across the formation so on 42 the RB will line up on the left of the QB. Vs the six man defensive front we will again block the five M.D.M. and the QB will run an option fake towards the play side DE to influence him up field.
Example
9.8
FS
C
C
B
E
B
T
T
B
E
SS
trap; red 42
Another way to block the Trap is to "influence" with the play side OG and have the QB influence the back side DE with an option fake that direction.
Example
9.9
FS
C
C
B
E
B
T
T
B
E
SS
trap; red 42 g
Vs the 3-4 defensive alignment the play hits a little wider as we will Trap the first down lineman past the point of attack. The Center and play side OG will double the nose and scrape to the back side
LBer. Since both DE's are being blocked the QB can option fake either direction.
Example
9.10
FS
SS
C
C
B
E
B
N
B
E
B
trap; red 42
SWEEP The Sweep can be run simply as Slice with the QB reading the back side DE but the way we
like to run it is with ½ bunch alignment and TAG blocking. QB boot away from play to influence back side DE.
Example
9.11
FS
C
C
B
E
B
T T
B
E
SS
sweep; red 48 tag
TWENTY SERIES: COUNTER ACTION
TRAP When we run Trap from under center it is a twenty series play, either 22 or 23. The RB still
enters from behind the play.
Example
9.12
FS
C
C
B
E
B
T
T
B
E
SS
trap; red 22
COUNTER All twenty series plays enter from behind the hole so the RB will start left and come back
to the QB on 26 gat taking the FB over the top. It is the responsibility of the RB to adjust to the QB as he has to see the RB in his peripheral vision as he looks down field on his sprint action. The play side
OG and OT will double the down lineman and scrape to the backside LBer.
Example
9.13
FS
C
C
B
E
B
T
T
B
E
SS
counter; red 26 gat
When the back side DE chases the pulling OT he can make the play if he is quick enough.
Sometimes we motion a slot to block him and sometimes we have the QB read as in Slice from the shotgun with QB sweep action.
Example
9.14
FS
C
C
B
E
B
T
T
B
E
SS
counter; sally red 26 gat
COUNTER SWEEP shotgun with QB sweep action. When the DE on the play side closes down and
wrong arms the OG causing a pile it is time to run the Counter Sweep. The OG log blocks (instead of kicking out the DE he will seal him to the inside) and the OT takes a slightly deeper angle to get around the outside and lead the play.
Example
9.15
FS
C
C
B
E
B
T
T
B
E
SS
counter sweep; red 28 gat
EIGHTY SERIES THREE STEP DRAW ACTION
DRAW The Eighty Series is our Draw series. They have been well documented in the Run Offense
Terminology chapter. Note : because the draw play can break anywhere the hole opens we usually just call Red 80 or Red 90 and block it all the same way. We have tinkered with different trap and lead draw plays over the years but the truth is the best is the simplest. Stanford protection with the OT's pulling the DE's up field and the OG's doing the same but not allowing penetration in A gap. Uncovered linemen will hold for a two count and then block the LBer. The center will block play side LB when he is uncovered. Adding the word Sally to the number makes the play a shovel draw.
Vs the six man front the play side OT will have a dual role. First he needs to show pass protection to draw the DE up field. Then, he needs to release to the play side LBer. The play takes a little longer to develop than the handoff draw play so the OT can stay with the pass pro a little longer than he would without the shovel. Vs a five man front the OT will stay with the DE.
Example
9.15
C
shovel draw
FS
N
E
B
T
T
B
E
SS
C
red; sally 80
Hot draw has been our best draw play for a long time. We run it two different ways. 81 Hot is a
QB read of the inside LBer on the right. If he blitzes he will throw HOT to the slot. If not he will fake the HOT and then hand off to the RB who waits for the QB to come to him.
Example
9.16
FS
C
C
N
SS
E
B
T
T
B
E
draw; red 81 hot
A similar play comes off the Bubble Screen we call Cowboy. The QB will read the defense and choose to throw the bubble or fake it and again hand the ball to the RB. In both HOT and Cowboy the
RB steps to the right of the QB and waits for the QB to come to him.
Example
9.17
FS
C
C
N
E
B
T
T
B
E
SS
draw; red 81 cowboy
The Draw to the right is Red 80. On all 80 series plays, like counter plays, the RB enters from behind the hole. So the RB will line up to the left of the QB in the gun and step left when the QB is under center.
Example
9.18
C
draw
FS
B
E
T
M
T
E
S
SS
C
red 80
REVIEW
The run offense is a very simple one. Few plays, but with different blocking schemes, from different formations. The Flex Slot may seem like a pass only offense to observers. However, the running attack has always been sound and complimentary. It is not uncommon, at seasons end, for the pass yardage and the run yardage to be nearly equal.
Chapter 10
"OPTION and SHOVEL"
Over the years the speed option has been our most effective option play. Some years the veer has been excellent. Recently the belly option has been very good to us. We have combined all three schemes into our option offensive package.
Pitch Fundamentals
The speed option, veer option or belly option are all different in both theory and execution.
However the pitch is fundamentally the same on all option plays. Use the flip pitch with the thumb underneath the football at the point of release. Settle with the butt down when making the pitch. Attack the inside shoulder of the player being optioned. Step toward the pitch man when making the pitch with the weight on the heels. All teen numbers are option plays:
Bob 14/15 = Belly Give or Keep
14/15 = Veer Option
16/17 = speed Option
The option game begins with the Belly play. The QB and RB will mesh over the play side OG.
The aiming point for RB is the crack of the OG's butt. QB should set the football into the belly of RB and ride forward while stepping toward the hole. The RB will adjust his alignment either forward or deeper depending on his speed. It is important that the mesh occurs on the first step of the QB
Example
10.1 Belly Give
FS
CB
LB
DE DT
LB
DT DE
LB
SS
CB
BOB RED 14 GIVE
The Belly Keep play has proven to be one of our most productive run play. It began as strictly a short yardage play but for some reason it has provided many big yardage plays and always is a consistent gainer. The QB and RB will mesh at the same point, the OL will block big on big (Bob) and the QB will keep the football and slide to the open area. Most often the QB will find that open area to be back away from the RB dive angle. He should resist the temptation to sprint around the RB to the outside, the play very seldom works if that happens. Patience is indeed a virtue with this play. Slow down and pick the hole as it appears.
Example
10.2 Belly Keep
CB
FS
LB
DE
DT
LB
DT
DE
LB
SS
CB
BOB RED 94
Next is the old Belly Option play with a twist. Same action by QB and RB. Line Bob blocks and
RB will hunt up nearest LB. QB make a good ride, don't be in a hurry, pull the football and run around the OT block on the DE and option the strong safety. In the old days the pitch back was a jump motion slot but we have had some success with the wide receiver being the pitch man. What began as a crazy idea has turned into a sound and exciting football option. The key for the WR is to time his inside move to arrive at the pitch point just as does the QB. The outside break by the slot (W or Y) will usually cause a retreat by the strong safety. By the time he reacts to run the QB has had time to read his action easily.
Most opposing coaches at first think this is a spur of the moment accident by the QB but when executed properly it can be a both exciting and productive. In reality does it make any difference from where the pitchman comes from? Traditionalist probably would say Yes. Think about it. The important thing is that the pitch man be in the proper pitch alignment. It is NOT which direction he came from.
Example
10.3 Belly Option - with pitch .
FS
CB
LB
DE
LB
DT
LB
DT DE
SS
CB
BOB RED 14
*Note: Run this from the Deuce Bunch formation. It widens the strong safety and gives the
QB more time to read his action.
The same belly action is used on the Veer play. The difference is the Veer blocking by the OT.
Widen both tackles to create more space and not give away which direction the play is coming. Because the defensive ends usually play outside the offensive tackle, and get wider as the game progresses, the
Veer has become mostly a give play. It is often called as an audible when the defensive ends align so far outside the veer becomes a gift.
Example
10.4 Veer - A true read veer, with no pitch back.
CB
FS
LB
DE DT
LB
DT DE
LB
SS
CB
RED 14
The Veer is either a give or keep by the QB. Again block the inside receivers out and bring the outside receiver inside.
A nice compliment to the belly action plays is the QB counter. With a good running QB this can be an excellent counter.
Example
10.5 QB counter trap
FS
CB
LB
DE
LB
DT
LB
DT DE
SS
CB
RED 95 CT. TRAP
Add the option to the end and this play can become the companion to belly option only with misdirection.
Example
10.6 QB counter trap Option
FS
CB
LB
DE
LB
DT
LB
D DE
SS
CB
RED 95 CT. OPTION
The speed option is the easiest option to execute. Have the QB take aquick two step drop to simulate quick pass first. This allows the RB to get out in front and can give the defense a false pass read for a split second.
Example
10.7 Speed Option
FS
CB
LB
DE
LB
DT DT
LB
DE
SS
CB
RED 16
Away from trips pulling the OT as a lead blocker can provide ample protection for the RB and keep the defense from overloading on the strong side.
Example
10.8
FS
C
C
B
E
B
T T
B
E
SS
option; red 17-t
With motion the speed option can be very effective. Using Check With Me mechanics the QB can make the defense wrong all the time. If the backside force (safety, nickle or LB) runs with the motion use the audible for opposite and run the play to the short side.
Example
10.10 C.W.M. Vs COVER 0 (MAN)
FS
CB
LB
DE
LB
DT
LB
DT
DE
SS
CB
RED 16 OR 17 CWM
When the defense rotates into zone run it to the strong side.
Example
10.11 C.W.M. OPTION: - Vs ZONE
FS
CB
LB
DE
LB
DT
LB
DT
DE
MDM
SS
CB
RED 16 OR 17 CWM
*Note: Call the direction in the gather, towards motion. Mechanics will be
Red 16 or Oscar (HOT name to change direction of play) Check With Me.
Say nothing at Line of Scrimmage if defense rotates to Zone. Call Oscar if
defense runs with motion.
The option from the Gun.
Example
10.12
C
FS
SS
B
E
B
N
B
E
B
C
option; red 16 (shotgun)
As a change up block the DE and option the outside LBer or Strong Safety; Red 18/19. Crack with the inside receiver to the first man on or off the L. O. S. Pitch relationship by the RB is the same as any option play from under center. The initial look of the play with be sprint out pass, slowing down the defense reaction to the option.
Example
10.13
FS
CB
LB
DE
LB
DT
LB
DT
DE
RED 18
SHOVEL PASS
SS
CB
The shovel pass has been an important part of our offense from its inception. It amounts to an upside down option play and/or a misdirection option. We use the HOT name PETE or PETER to signify shovel from play action and SALLY for upside down option with a trailer. For play action use the appropriate play numbers for the backfield action. PETE indicates that a running back is the shovel option and PETER indicates that a wing back is the shovel option. RB is the shovel option on most
SALLY shovels.
The offensive line treats the misdirection (play action) shovel's as an option away from the play action. For example Peter 58 is blocked as if it were speed option left (Red 17). It is important to remember the pitch relationship is similar to a regular option. The most important aspect is for the pitch man to remain behind the QB, for the proper angle. It is also important for the QB to show the ball as early as possible, to draw the DE up field.
Example
10.14 Toss Action
FS
CB
CB
SS
LB
DE DT
DT
LB
DE
LB
PETER RED 58
An example of a upside down option play is shovel from the shotgun. It comes off sprint action by the QB. RB is trail pitch man.
Example
10.15
FS
CB
CB
LB
LB
DE DT
DT
LB
DE
SS
SALLY RED 16
It can be run effectively away from trips when the defense is forced to double the single receiver.
Example
10.16
FS
CB
SS
CB
LB
DE DT
LB
DT
DE
LB
TRIPS-SALLY RED 16
An effective shovel action play can come off pass action with RB as a decoy pass receiver
and the slot (W or Y) becoming the pitch man.
Example
10.17 Ducks Shovel
FS
CB
SS
LB
DE DT
LB
DT
DE
LB
CB
SALLY 17 DUCKS
When the DB's do a good job of playing option when the QB is under center the shovel
can be a good alternative. The off the line action by the QB makes an option read nearly
impossible for the DB's.
Example
10.18
FS
CB
SS
CB
LB
DE DT
LB
DT
DE
LB
UNDER SALLY RED 16
A good misdirection shovel comes off sprint action by the QB from the shotgun. Trap block the play by pulling the OT. Red 36 T.
Example
10.19
CB
FS
SS
LB
DE DT
LB
DT
DE
LB
CB
RED 36 T
It has been our experience that opposing coaches tend to over coach against shovel. It is not uncommon to hear some defensive teams call out on nearly every play..."Watch the Shovel". When we hear that we know the pass rush isn't going to be very aggressive. In fact we have used the shovel fake as a way to block the sprint out pass. When the DE is sitting waiting for the shovel it is very easy for the
QB to break contain. What if the DE doesn't sit for shovel? Then simply shovel the FB to the RB.
Example
10.20
FS
C
C
B
E
B
T
B
T E
SS
play action shovel; white sally 17 sail
REVIEW
The option game has been an excellent compliment to the pass game. We have found the shovel option to be easy to execute and a very good addition to the normal option game. One extra advantage to running shovel is that defensive ends tend to put on less of a pass rush when they are concerned about the shovel. We usually manage to get away with a shovel or two anyway...much to the defense's consternation.
Chapter 11
"SCREENS AND TRICKS"
SCREEN PASSES
A variety of actions make up the screen pass package in the flex slot offense. We define them in five categories; jail break, speed screen, slip screen, quick screen and slow screen. Each has its own timing problems therefore we always practice screen passes during the team period. Pink is the color assigned all screen passes. The play action will follow normal numbering system.
The jail break screen is usually thrown to a WR or Slot. We like to run it with Go-Oregon action by our other receivers and a short sprint towards the Oregon by the QB. We have our offensive linemen step to the gap towards the QB action, push the defensive linemen towards the QB and release up field to block LBers and the Nickel or SS. The sprint side OT will block the DE giving the QB a little more time to set up the screen.
Example
11.1
FS
C
C
B
E
B
T T
B
E
SS
jail break screen
SPEED SCREENS: The speed screen has a 1 count delay by the linemen involved in the screen action. Except for the OT who will step to his inside gap, allowing the DE to penetrate up field, before pulling. It is a strike and move action without hesitation. The OL must be aware of how many receivers are on the side of the screen. The more receivers on the screen side the less linemen need to pull. We will try to block the three M.D.M. so with trips throwing to the single receiver three linemen must pull.
In Deuce two will pull and back to trips only the OT need pull.
The first speed screen example is with Slice action away from trips. OT will block #1, OG #2 and Center #3
Example
11.2
FS
C
1
C
B
2
E
T
B
3
T
E
B
SS
th. back screen; pink 46 screen left
The same play from a Deuce alignment. OT blocks #2, OG #3.
Example
11.3
FS
C
1
B
2
E
B
3
T
T
B
E
SS
C
th. back screen; pink 46 screen left
The throwback Screen From a trips alignment the OT blocks #3
Example
11.4
FS
C
1
B
2
E
3
B
T
T
B
E
SS
C
th. back screen; pink 46 screen left
SLIP SCREEN: The Slip Screen has a 2 count delay by the linemen involved in the screen action. This is the old "Run and Shoot" screen that Mouse Davis made a living off of at Portland State.
It takes advantage of a speed rush by the defensive end and the RB slips by the DE after tag blocking.
(Tag the DE with a one blow block and slip inside, looking immediately for the football). The play side
OT and OG will double the DT then work up to the LBers.
Example
: 11.5
FS
C
C
B
E
B
T
T
B
E
SS
quick screen; pink rebel screen right
The Quick Screen usually comes off of Stanford action by the QB and use a pump fake away from the intended screen side, while retreating after the third step. We like to have the RB line up opposite the direction of the screen although that is not required.
Example
: 11.6
FS
C
C
B
E
B
T T
B
E
SS
quick screen; pink stanford screen right
The Slow Screen has a 3 count delay by the linemen involved in the screen action. Usually run with some kind on play action. We like to run it off Draw action.
Example
: 11.7
FS
C
C
SS
E
B
T
B
T
E
B
slow screen; pink 81 screen left
TRICKS
Gimmicks or trick plays will offend the football purist, but they can produce an unexpected big play that may be a game breaker. We have a lot of fun with our gimmick plays and they fit nicely into our name-color-number LOS terminology . By mixing and matching names and colors all kinds of tricks are easily integrated into the offense. As mentioned in chapter 1 we have HOT names that trigger certain actions. Special Plays are no different. For Example , The name RALPH is used for reverse.
Therefore Ralph Red 58 becomes Toss right-reverse left. The name FRED is used for fake reverse.
Fred Red 58 becomes Toss right-fake reverse. Following are a number of Gimmicks and Special Plays that may some day help you win a game.
They can work for you just as well off the field. A couple of years ago we opened the season against a team that had been very vocal about our program. "It's a high school program. You can't do it that way. It's a fluke." etc. etc. etc. We had reached the team portion of pre game warm up when our opponents finished and passed by our side of the field on the way to the locker room. Their coaching staff, all fourteen of them dressed in matching splendor, stopped to watch our session with arrogant and contemptible stares. I might add here that in the previous year we had gained over 500 yards in the first half on our way to a very lopsided win over this same team, with our "high school" offense. So we gave the non-believers a show. Quickly we abandoned our usual basic routine and ran a series of Gimmick plays, much to our players delight and our opponents disgust. We scored four touchdowns in the first quarter, all on gimmick plays , with four different players throwing passes and went on to another route of our disbelieving opponent. The following season before our game, I am told, they took one entire practice to work against gimmick plays.
I tell this story for two reasons. First, coach your own team. Don't be critical about something you know nothing about. If you can not or will not dare to be different don't criticize those who will.
Second, special and Trick plays can work for you in many ways and not all of them are on the field on game day.
We will follow a logical sequence in showing you these Tricks and Special Plays. Beginning with RB or W/Y throwing the football off play action, followed by reverse and fake reverse action passes and other unique plays.
RB & W/Y PLAY ACTION PASSES:
By using different colors we can make any action into a pass. It is easiest to have a standard pattern to use with gimmick pass plays, but any pattern will work. Example s may be shown with a pattern called or with the 'Standard Pattern' which has a primary receiver, designated #1, an under receiver, designated #2 and a clear out or "Late" receiver when possible.
The first trick play begins identically as does the Red Toss. No linemen can go downfield, however uncovered linemen should use a scoop block technique to disguise the play as long as possible.
The QB will be responsible for the most dangerous man (M.D.M.) on the backside of the play. The ball carrier must make a good run fake before pulling up to throw. The front side WR's will stalk block for a count of two before breaking up field on their routes. Remember the color Yellow means pass with someone other than the QB throwing the football.
Example
11.8
CB
LB
FS
DE DT
LB
DT DE
LB
SS
CB
YELLOW 58 FLOOD
Play Action with the option is a good trick as well. Unlike the regular option play when the DE is left unblocked, use a Bob block for play action. Uncovered linemen will use a scoop technique to keep from crossing the LOS and to help disguise the play. The QB and RB execute the option of the
DE, pitching the football as late as possible. RB should again fake the run before preparing to pass.
The WR's will either execute the standard Play Action pattern or a called pattern after their two count stalk block.
Example
11.9
FS
CB
CB
SS
LB
DE
DT
LB
DT DE
LB
YELLOW 16 CORNER
REVERSE RUNS:
The players to the side of the play action will block as though the sweep, toss or option is being run. Some adjustments are necessary for the play action backside or reverse side blocking schemes.
The reverse side split receiver will come off the LOS slowly and spy the first LBer inside. When the LBer recognizes the reverse and begins his pursuit angle the split receiver should be in position to block him.
The reverse side OT will release inside the DE as though heading up field, spin to the outside and circle back across the LOS waiting for the DE to pursue the football back in his direction. Block the DE when he turns. If the DE fails to recognize the reverse soon enough and is no factor in the play, turn and lead the ball carrier up field.
On Toss Reverse the QB should throttle down after making the pitch and turn his attention to the first dangerous defensive man on the reverse side, making sure not to begin his lead blocking assignment too soon.
Example
11.10 Toss
FS
CB
CB
SS
LB
LB
DE DT
LB
D DE
RALPH RED 58
*Note: When the reverse is coming back from either the 2or 3 receiver side, wheather it be run or pass, we will designate in the game plan which of the two split receivers will be involved in the reverse. This can and will change game by game as will the formation.
Bob block with the front side linemen to ensure proper timing on the pitch to the reverse receiver. RB must take a deeper release on his option fake to ensure that the WR has room to clear while passing under him.
Example
11.11
C
FS
SS
B
E
B
N
B
E
B
C
reverse; ralph red 16 (bob)
The fake reverse will be blocked exactly as the sweep, toss or option play would be blocked. The split receiver faking the reverse should call out "Reverse" as he passes the ball carrier. Although losing a blocker, it is surprising how many times the deception of the fake reverse will be enough to catch the defense off guard and result in a big play.
Example
11.12
FS
CB
CB
SS
LB
LB
DE DT
LB
DT E
FRED RED 58
REVERSE PASSES
Reverse passes take a long time to develop therefore blocking must be held longer and the WR's must hold their fake much longer than in regular play action passes. Practice these plays in a team setting to help work out the timing necessary to make the plays successful.
Example
11.13
FS
CB
CB
SS
LB
LB
DE DT
LB
DT DE
RALPH YELLOW 58
The term "Flea Flicker" signifies a lateral back to the QB. Therefore Toss Reverse with "Flea Flicker" added will result in a White call and the QB throwing. We usually game plan which receiver for the QB to look at first, or sometimes wing it. Really? Yep.
Example
11.14
FS
3
2
SS
C
C
1
B
E
B
N
B
E
B
flea flicker; ralph white 58 f.f.
Another good reverse pass comes off option action.
Example
11.15
CB
FS
LB
DE
DT
LB
DT DE
LB
SS
CB
RALPH YELLOW 16
*Note: Although these plays are slow in developing, many times seven blockers will provide enough protection to ensure the pass will be thrown. Quite often the defensive players are so confused as to direction they tend to freeze long
enough to get the pass off even without maximum protection.
Add the letter "Q" to designate the reverse pass to be thrown back to the QB. Have the QB pause slightly until the WR has cleared from the sideline area. Often this play will break wide open.
Example
11.16
CB
FS
LB
DE
DT
LB
DT DE
LB
SS
CB
RALPH YELLOW 58 "Q"
*Note: in college rules it is illegal for the QB to catch a forward pass after lining
up under center, therefore we only use this play from the "Gun".
A goal line variation RB throwing back to the QB without the reverse action.
Example
11.17
CB
FS
LB
DE DT
LB
DT DE
LB
SS
CB
YELLOW 58 "Q"
The letter "R" designate's the reverse pass to be thrown back to "R" or "RB". Just like throwing back to Q have RB pause to let the WR clear out the sideline area.
Example
11.18
FS
CB
LB
DE
DT
LB
DT DE
LB
SS
CB
RALPH YELLOW 58 "R"
FLEA FLICKER AND SPECIAL PLAYS:
Another special play that has been a favorite is the "Flea Flicker". White signifies play action with the QB throwing. White 54 therefore would indicate faking "Slam" right before throwing. By adding "Flea Flicker" RB knows he will receive the hand off and lateral back to the QB.
The center and OG should ensure A and B gap on the play action side. RB is responsible for
MAC or any loose defensive players after tossing the football back to the QB. The QB should get a
"best located corner" read prior to the snap for his primary receiver.
Example
11.19
FS
C
C
B
E
B
T
T
B
E
SS
flea flicker; white 54 f.f.
Add a descriptive word, such as "Double" to indicate double pass, or the word "Special" to indicate a wrinkle put into a play that cannot be called using the terminology in the normal system.
Double passes fall into that category.
A favorite double pass comes off a play action pass with a quick Drift route to the inside slot (W)
This play is called White 56 block when thrown to the right. Sometimes we will just give the play a number or a name. For example, Cowboy Right. Or, play #1
Most of the time we will have three long verbiage plays, usually tricks but not always, for each week and we will simply number them play 1, play 2 and play 3. The kids seem to get a kick out of it and we are sure to practice them during team by just hollering One, Two or Three.
Example
11.20
FS
C
C
B
E
B
T
B
T
E
SS
cowboy; white 56 block (play #1)
The double pass is called simply by adding the word "Double" to the end of the call.
Example
11.21
FS
C
C
B
E
B
T
B
T
E
SS
cowboy; double
*Note: It is the responsibility of W to gain enough depth to be behind the QB as
this pass must be backward.
Another favorite Double pass comes off the speed screen play
Example
11. 22
FS
C
C
B
E
B
T
T
B
E
SS
screen double; yellow 46 double
REVIEW
Use all these plays from any place on the field. They will prove to be effective offensive weapons, will give defensive coordinators nightmares, and maybe most important be a lot of fun for your kids.
Coaches often ask, "How can anyone practice all that crap"? The answer is simple, by using the terminology system it not only becomes elementary and logical to introduce but easy to practice.
Practice all gimmick plays the day before the game, in a ten minute period.
The extra ten minutes of practice will have surprising positive effect and can work in your favor in an exciting and dynamic way.
Chapter 12
"ATTACKING THE PRESSURE DEFENSE"
Recognizing the seven man front
When facing five or six defensive players "In the Box" the QB will be in a comfort zone. He doesn't have to worry about the defense having more players than does his offensive protection. Therefore the entire offensive package can be utilized. On the other side of that coin, is the seven man front. What happens when the defense employs seven players "In the
Box"?
Because only six blockers are available for pass protection and five to block for the run, it is necessary to have a scheme for attacking the seven man front. For simplicity sake we refer to any seven man front alignment as "7", regardless of how the seven players are aligned.
By committing seven players to the rush the defense must be in a man-to-man coverage on the four wide receivers. Because cover "0" is a gamble for most defensive coaches, teams will try to disguise the coverage in some way or another. However, it is always recognizable if you have practiced against the different possible sets and know just what to look for.
Seven Man Front Sets
By far the most common of the seven man fronts is the 6-1 look.
Example
12.1
20 20
CB
30
FS
LB
E
T
LB
T
E
LB
SS
30
CB
6-1
40
40
Another typical seven man front is the ODD or 5-2 look.
Example
12.2
20 20
CB
30
FS
LB
E
LB
T
LB
E
LB
SS
30
CB
40
40
5-2
By moving the Strong Safety to a blitz position, the 4-2 alignment can become an unbalanced seven man front.
Example
12.3
20 20
CB
30
N
E
LB
T
T
LB
E SS
FS
30
CB
40
4-2 SS BLITZ
The same occurs when the Nickel back assumes the blitz position.
Example
12.4
40
20 20
CB
30
FS
N E
LB
T
T
LB
E
SS
30
CB
40
4-2 Nickle Blitz
40
In all of these situations the defense will try to disguise their intent. The alert QB can however see the threat if he has been coached to know where to look. For Example in a two deep secondary alignment, if the Strong and Free Safeties are in a relative shallow position, in
the 8 to 10 yard range and a little wider than normal, the QB should be alert for a late blitz by the outside LBers, who will be a little closer than normal to the offensive tackles.
Example
12.5
20
FS SS
20
CB
30
FS
LB
LB
E T
LB
T E
LB
SS
LB
30
CB
40
40
COV. 0
In the 4-2 defense when the Free Safety is off-set toward either the Strong Safety or the
Nickel back the QB should sense the blitz from the outside, resulting again in the seven man front.
Example
12.6
20 20
FS
CB
30
FS
N
N
E
LB
T
T
LB
E
SS
30
CB
40
4-2 Nickle Blitz
40
Attacking the Seven Man Front
The first method of attack Vs the seven man front is the Speed Option. Use the audible mechanics referred to in chapter three. When attacking the balanced front with a two deep defensive alignment the speed option can be run to either side, as the defense is balanced.
Example
12.7
20 20
CB
30
FS
7
LB
E
T
LB
T
E
LB
6
SS
30
CB
40
40
CHARLIE
RED16
Because the defensive backs are in a man-to-man coverage the wide receivers need only to run up field, and block only when the DB's react back toward the run. Many times the
DB's will be caught with their back to the football as they are chasing the receivers down field.
In attacking the seven man front with the option the offense will be blocking five, optioning #6 and running away from #7. If the center can get a piece of the middle LBer there will be no defensive player available to defend the pitch.
The same can be said of the option Vs the 5-2 defense. If the OG can get a block on the LBer the defense is very Un-sound Vs the speed option.
Example
12.8
20 20
CB
30
FS
7
LB
E
LB
T
LB
E
LB
6
SS
30
CB
40
40
RED 16
If the seven man front occurs when the offense is in trips run the play toward the single receiver. This often results is a very big play.
Example
12.9
20 20
30
CB
CB
SS
7
LB
E
T
LB
T
E
LB
6
40
RED 16
40
When the Nickel back or the Strong Safety moves up to make a seven man front, run the option away from him.
Example
12.10
20 20
CB
30
N
E
LB
T
T
LB
E SS
FS
30
CB
40
40
Charlie Red 17
When defenses began playing the defensive ends wide and running the outside LBer up to the pitch we had problems being successful with the speed option. The defensive ends alignment made the block of the offensive tackle very difficult. Forcing the QB to keep the ball and run around the defensive end turns the play into an Un-sound offensive play.
Advantage defense.
Example
12.11
20 20
CB
30
FS
7
LB
E
T
LB
T
E
LB
6
SS
30
CB
40 option Vs wide DE
40
Vs the wide alignment of the DE a different play was needed to give our QB a better chance for success. The sprint out pass was the answer and became the next alternative of attacking the seven man front.
Example
12.12
20 20
CB
30
FS
7
LB
E
T
LB
T
E
LB
6
SS
30
CB
40
Charlie Blue Seahawk
40
*Note: Give this audible a special name, making it easy to remember and execute. For example use a PRO football nickname such as Seahawk.
In this case the running back blocks #6 and again we run away from #7. Uncovered linemen will have a "dual" read of head-up to backside. In this case the center.
The quick pass game crossing pattern can be very effective Vs man to man coverage in the secondary. One missed tackle and a big play results.
The third method of attacking the seven man front is to bring in one of the wide receivers, with motion, to block the backside. This will create a one-on-one situation with one of the wide receivers and a defensive back. With max protection this battle is almost always won by the offense. Give the wide receiver a "Choice" 8 or 9 route, depending on the position of the corner. With no help and on an island the DB is in a great deal of trouble.
It may be simpler to give this play a name such as any pro nickname, to cut down on audible time. For Example 49er...49er prior to the pre cadence would indicate a special audible. The QB will then simply point at the slot he wants to motion. Staying in the shotgun position gives the QB more room and better vision on this play.
Example
12.13
20 20
CB
30
FS
LB
E
LB
T
LB
E
LB
SS
30
CB
40
49er...49er
40
When protecting the QB Vs the Nickel blitz motion the slot on the side of the running back and have the center block the LBer away from the RB.
Example
12.14
20 20
CB
30
FS
N
E
LB
T
LB
T E
SS
30
CB
40
40
49er Vs Nickle Blitz
The next way to attack the "7" is to throw the quick pass game and have the QB responsible for number 7, make it to his front side, and block #6 with the RB to his backside.
*Note: One of our QB's taught us this method. "Coach", he said, " if I am in the gun I can see #7 and throw the ball before he gets to me and still avoid being hit."
This was the same player who while under center, in a college playoff game, couldn't get a three step drop pass off when blitzed from both sides at the same time. If he said it was
OK to use this method of attacking the seven man front it was OK with me. The QB with a quick release has no problem getting off the pass and avoiding the pass rush of #7.
Example
12.15
20 20
CB
SS
6
LB
E T
LB
T
E
LB
7
E LB
30
CB
40
40 jack 52/or jack 22
The basic outside Quick game or the individual Quick game will both work. The uncovered offensive linemen will have a dual read, LBer to backside.
We have a nice array of screen passes (chapter eleven) as well to keep the defenses honest. Some coaches think you can't run screen's Vs man-to-man. I disagree. Mouse Davis always ran the throw back screen Vs man coverage and if it's good enough for Mouse, it's good enough for me. For sure the OT will have to run, but have the WR keep coming towards him and it will be easier for the OT to get there. We've had many, many big plays on throwback screen Vs man coverage.
Example
12.16
C
B
E
T
B
T
E
B
FS
SS
C
screen; vs 7 man front
Another play I like Vs the seven man front is shovel, again away from trips. We will
Fan block the back side to keep the outside LBer from catching the RB from behind. This gives us a bonus as the back side LBer will read this plus the QB action as pass which keeps him from scraping into the shovel lane. On the front side the OG/OT will double the DE and work up to the LB who again should take an initial pass drop. That damn Shovel play can really give the seven man front fits and a bonus is it frustrates the hell out of purists who think the shovel pass isn't real football. It is my friend.
Example
12.16
C
C
SS
FS
B
E
B
N
B
E
B
shovel; vs 7 man front
The Pressure Six Man Front
While not causing the same problem as the seven man front, the blitzing six man front can be attacked the same way, options, quick passing, max protection and screen passes. The threat to the QB is less than in the seven man front because six offensive blockers are available to block the six pressure defenders.
A favorite blitz from the 4-2 alignment is the A gap blitz. It can cause penetration problems for the offense but if attacked intelligently can be handled easily enough.
Because the defense will most likely be in either cover zero (man to man) or cover one (man with a free safety) the first choice is to run the speed option. Block the nearest wide receiver on the Safety. This makes it possible to tie up two defenders at the same time
Example
12.17
20
FS
CB SS
LB
E T
LB LB
T E
20
30
CB
40
40 charlie Red 16
If the defensive backs do a good job of reading the QB down the line action on the speed option and react aggressively toward the pitch, we have a good answer. The Shovel option (Chapter Nine)
The shovel option looks like pass action to the DB's, is blocked exactly the same by the line and can fool the DB's into playing pass instead of run.
Example
12.18
20 20
FS
CB SS
LB
30
CB
E T
LB LB
T E
40
SALLY RED 16
40
The pass game can be blocked three different ways. Bring the running back up to the
A gap and stay under center with the QB.
Example
12.19
20 20
FS
CB SS
LB
30
CB
E T
LB LB
T E
40
40
Jack 22
The QB can step back and align in the shotgun giving the running back room to block the LBer from his normal position.
Example
12.20
20 20
FS
CB
SS
E T
LB LB
T E
N
30
CB
40
Jack 12/or Jack 52
40
The crossing type routes, outside pic play, can be very effective Vs man defenses. The fade by the inside receiver off a slant by the outside receiver, from the bunch formation, may result in a big play.
Sprinting right or left away from the pressure and blocking down away from the QB sprint with the O-Line is an effective way to attack the A gap blitz. Block the end man on the
Line of Scrimmage with the running back.
Example
12.21
20 20
FS
CB
E T
LB LB
T E
LB
SS
CB
40
40
BLUE TURN
Other Pressure Defenses
The 5-1 defense with cover zero is another pressure defense that can cause problems.
Like all pressure defenses however, when attacked intelligently the opportunity for big plays by the offense certainly exists.
The Shovel option causes big problems to pressure defenses when blocked and executed properly. Run the play side wide receivers at the Safety. This makes it very difficult for the safety to cover the pitch.
Example
12.22
20
CB
20
FS
N
E T
LB
N
T E
SS
30
CB
40
40
SALLY RED 16
One of the most efficient ways to attack the pressure defense is to release the running back into the flat while using slant action by the wide receivers on the play side. This can be run as an audible with a HOT name to make quicker.
Example
12.23
FS
C
B
E
B
N E B
B
SS
C
oregon; charlie gator oregon
REVIEW
It has been our experience that by being prepared to attack the seven man front or the pressure six man front, your team will not only be successful but defenses will quickly become discouraged. They will become respectful of your ability to deal successfully against pressure defenses and as a result. you will see less and less blitzing.
Football coaches are copycats, if your team has not prepared a plan to attack the pressure, defenses will continue to blitz and cause all sorts of problems both physically and mentally for your players.
Have a "Blitz" period early in your practice season and review the blitz package periodically to keep sharp in your effort. During your team period have the defense use the pressure defensive scheme's from time to time to keep your QB alert. Remember attacking the seven man front as well as the pressure six intelligently will quickly end defenses willingness to gamble.
Chapter 13
"THE FLEX SLOT PUNT"
An entire chapter on the Punt? Some would say we never punt, so why include a chapter on the
Punt in this book? Actually, we do punt, just not very often. We will punt when game and field position dictate's...we will not punt when the defense is UN-sound!
Our punt formation concept, like many things, was born out of desperation. We simply had no punter. After giving every kid in the program a football and watching the worst kicking exhibition I have ever witnessed, drastic measures were necessary.
I took my three QB's gave them a football and introduced the old rocker punt steps used from the short punt formation at the turn of the century. The 20th. They were instructed to kick the ball on a line, just over the linemen's heads and away from the safety. This is truly what happened. Game one.
We lined up on fourth down five times during the game. Since we were in the same shotgun alignment we were always in the opponents never once put a punt return man back. The safety stayed in his normal alignment approximately fifteen yards from the line of scrimmage. On two occasions the defense single covered our receiver away from trips and we threw for first downs. The other three times we kicked our little rock step line drive punt...zero that's in ZERO return yardage and an average of 43 yards per kick.
Game two. Still no punt return man. Three kicks again. ZERO return yardage, on an average kick of 42 yards. Game three. Coach they have a safety! Well hell, just don't kick it to him! Three kicks. ZERO return yards. 44 yard average. Hell, this kid was going to be recruited as a punter if this kept up. We did have a kick blocked...our running back backed up and blocked our own punt, with his backside.
So... not every idea is perfect.
Example
13.1
FS
CB
SS
LB
E
T
LB
T E
N
CB
PUNT FORMATION
After that first year we did develop some punters. We now shift from our shotgun alignment to a depth twelve yards (very quickly) and punt from about ten. We use a one step kick with the emphasis on speed not form. It doesn't have to be pretty. Just kick it away from the safety.
I believe fourth down is just another offensive down. Therefore why not use it as an offensive play? Must the punt be defensive? Let's attack on fourth down. Make the defense do something they don't want to do. Let's see where they are aligned and attack in that area. Just like on first, second or third down. With a run, a pass or even a punt.
How many hours have you spent on the punt return? Quite a few would be my bet. Well we are just flat out not going to let you return the punt...if we do in fact punt. We are just not going to kick you the football, nice and high and let you have a free from anguish catch and return up the picket line set so nice along your sideline...no, no, no way!
What kind of punt formation do I recommend? In keeping with the philosophy we have established in the Flex Slot Offense our Punt Offense requires that the defense align in something other than their normal Punt Return set up. With that philosophy in mind why not simply keep the four wide receivers split and make the defense cover everyone of them. Some may see this as an open invitation to block the punt, but just think about it for a moment. The defense has to cover all four wide receivers.
Assuming they will have one safety to return the punt, that leaves only six players left to rush. Six rushers and six blockers, sounds like even odds to me, and the defense still has to be wary of a possible pass, run, option or other trickery.
It does require that the center be able to snap the football and block someone. Just like all other punt formations I can think of. In order to help accomplish that task we align our punter only twelve yards from the football. The other reason for that alignment has to do with geometry. The angle of the outside rushers must be such that it would be nearly impossible to block the punt without us even blocking them. By aligning at twelve yards and actually kicking from about ten the outside rush angle becomes too acute to block the punt. We will zone block with the center, guard and tackle opposite the running back to further help.
Let's look at the punt formation alignments and compare with ours. First, the NCAA spread punt formation favored by many teams.
Example
13.2
FS
CB
N
E
T LB T
E LB
SS
CB
NCAA PUNT
Simple math tells me it is much more difficult to prepare to protect with ten players and ten rushers than with six. Does that make sense to you? It sure does to me. How many time have you seen the punt team come to the line of scrimmage and start pointing at the players they will block, while talking it over with their teammates? Then the defense shifts and they start the pointing process all over again. Then after all that, which took countless hours to video review, game plan, walk through, practice and execute somebody slips up and a defender comes through clean and blocks the damn punt anyway.
Next lets look at the double slot punt, preferred by quite a few teams.
Example
13.3
FS
CB
CB
N
E
LB
T T
LB
E
SS
DOUBLE SLOT PUNT
In this punt formation there are some good fake punt possibilities. Eight on eight still leaves too much room for error in my opinion. A lot of time needs to be put into protecting for the punter. Add time spent learning how to affectively cover the punt. Plus, do we use our regular linemen or do we sub.
Questions...questions. With only two wide receivers the punt return team can make it very difficult by doubling each of them, ensuring a decent return.
Example
13.4
FS
CB
N
E
LB
T T
LB
E
SS
CB
DBL SLOT HARASS
Of course those punt formations are sound but it requires many hours of planning and executing to work. I had a defensive coordinator, in charge of punt protection, who spent the entire warm up time period on punt protection. For the entire season. I lost track of the hours spent. We punted on average that season once a game. Did he do a good job coaching? Yes he did. Was it time well spent? I think not! And another thing. Taking position players out of their warm up group meant they missed a season's worth of position fundamentals. Not very smart in my opinion. I took the punt protection away from that coach the next season and went back to my normal Flex Slot punt.
So, lets look at the Flex Slot Punt formation. By lining up in the regular formations a six man front will be created. Now we're talking. Six on six makes more sense to me.
Example
13.5
FS
CB
N
E
LB
T T
LB
E
SS
CB
PUNT
But making even more sense is to line up in trips, regardless of the ball position on the field. It simply creates more problems for the defense. Because the normal adjustment to trips is to remove a LB to cover the inside receiver on the trips side, a five man front is automatically created.
Combine this with the offense lining up with the QB in the shotgun position and the receivers in their normal formation. The affect is the same pre-snap look every down...including fourth. The defense really has no choice. Hell, we may not be punting at all. It certainly creates doubt and more than likely causes the defense to align in a regular defensive setup.
Note: Our shift into punt is very rapid. Only the QB is shifting. Snap the football right away and don't let the free safety get a comfortable amount of time to set up to play the punt.
Ok, what area the blocking or protection rules? How about pass protection rules. With a right footed punter line the RB up to the left and use Stanford Pass Protection rules. Vs a six man front that would automatically be a "Ray" call and the center would block to his right. Here's another bonus we get a little more Pass Pro work when punting.
The offensive linemen don't have to run very far. They are in affect a second line of defense and only need to widen as the head down field. The RB and QB-punter are safeties.
Example
13.6
FS
C
B
E
B
T
B
T E
SS
C
stanford; punt
If the defense wants to rush six simply use fan blocking away from the RB. The OG should stepl to his inside and give the Center quick help before he concentrates on "B" gap. Again, the OL does not have primary coverage responsibility so they can concentrate on their protection.
Example
13.7
FS
C
B
E
B
T T
B
E
SS
C
stanford; trips punt
The flex slot punt formation makes blocking for the punter as simple as protecting the QB. In fact use the exact same terminology and the same scheme. If you have a punter that likes the Rugby style punt (on the move) use Florida and/or Gator blocking.
Example
13.8
FS
C
SS
E
B
T T
B
E
B
C
punt; gator
*Note: In fact we usually punt once or twice during team. And normally on thursday's short practice, on the game field.
In Trips the defense must cover all receivers. That will leave only one punt return man. If the defense commits six defenders to rush the punter the defense has created a one on one, cover zero pass defense. That means the single receiver is being covered by one defender with no help in sight. Easy picking for John passes!
Example
13.9
FS
CB
N
SS
E
LB
T
T
LB
E
CB
JOHN 58
*Note: We will always align our best receiver in the single receiver position for fourth down plays from punt formation. The first thing that usually happens is the defense doubles him with a LB leaving only five rushers Vs our six blockers.
Most defensive football coaches hate to get beat by a fourth down play. Especially a fake punt play! Most head coaches will take the conservative approach and defend soundly, ensuring the punt...at least they will get the football. In this case the most sound defensive alignment is to double the single receiver. This of course creates just what we would like...virtually no punt rush.
Example
13.10
FS
C
B
E T
B
T E
B
SS
C
punt; vs 5 in the box
Once the punter sees that the defense has aligned in a non-threatening set up he can take more time leaving very little chance of positive return yardage. But what if the defense simply says...to hell with it, we're not going to put a return man back. We'll commit seven rushers and block the punt.
Example
13.11
C
B
E
B
T T
B
E FS
SS
C
punt; vs 7 in the box
Shift the punter over, away from the overload, alert the center with a call, and kick the football with the one step method. No return man equals NO return.
There are of course other options. For example, Who has the pitch Vs either Option or Shovel away from the overload?
Example
13.12
C
B
E
B
T T
B
E FS
SS
C
punt; shovel
Example
13.13
C
B
E
B
T T
B
E FS
SS
C
punt; option
Or who is covering the RB on OREGON?
Example
13.14
C
SS
FS E
B
T T
B
E
B
C
punt; oregon
If you want to get real crazy. How about Open Punt. What imaginative creations can we come up with from this formation?
Example
13.16
FS
C
B
B
E T
B
T E
SS C
stanford; open punt
For those of you who feel like it's sacrilegious not to condition your team at the end of practice think about using this punt cover drill. Put the football on the +40. Have the center and the punter align in their punt formation position. Have all linemen, offense and defense, align on the defensive side and rush past the punter (rotating back into line). Receivers will align with trips to both sides. Alternate kicking to right and left while the players cover the punt. Have a single return man, in the middle, and kick away from him. Players try to down the punt before it goes across the goal line.
Example
13.17
FS
LB
E
T
LB
LB
T
LB
E
PUNT DRILL
REVIEW
Once again don't be afraid to be the first to do something. Does this punt alignment seem radical to you? To me it is simply logical. If the defense commits to the punt rush, something in the defense is
UN-sound. And that my friends is what this offense is all about, in the first place. Attack the defense where they are UN-sound. Wee Willie would say...pass it, run it...hell Kick it, "Where-They-Ain't"!
EPILOGUE
"He who knows the road can ride at full trot".
Italian proverb
This was my opportunity to sell you my philosophy. I hope I succeeded. You will of course have to bear up to all the "experts" saying "You can't do it that way". These experts are usually people who have never played a down. Sometimes they coached one year of Pop Warner before being run out of dodge for impersonating Vince Lombardi, or got fired for going 1 and 52 and moved up to Athletic Director or Principal or Superintendent. You'll have to stand up to these people. No one who never did a damn thing, or was extremely unsuccessful or very mediocre wants you to succeed. Especially if you have the audacity to do it "Different" than they did.
I really only have one goal in coaching. Simply, At the end of a practice, a season or a career I want all my players to be able to look me in the eye and say, "That was Fun, I'd do it again in a minute"!
While coaching in the USFL I made some statements to the local media about the hours coaches accumulated. The owner, a ga-zillion-air from New Orleans, took offense. The first time I met the man he greeted me with "You're the coach who doesn't like to work!" He of course said this as he was getting into his limo for a four hour, five martini lunch. He's the same guy who ran out on the last month's payroll leaving countless coaches, office personnel, front office people and numerous staff members without an earned paycheck. Nice guy!
It is true that I don't like putting in quantity time. I would much rather put in quality time. Much like my European friends I'm not afraid to walk away from the job when it becomes overbearing. If I'm excited about my work it will be cost efficient and the time will be productive. In my humble opinion, if hours are accumulated to impress the owner, the boss, the
Forman, the AD, the President, the Principal etc. you are buying into a phony idea of work ethic.
I'll be damned if I'll do it, no matter what the consequences. If I have to impress people by their standards I'll find someone intelligent to work with and for, thank you.
If your method of coaching involves long hours for yourself, staff and players and you are winning, don't change a thing. However, if you are no longer enjoying coaching, if you aren't winning or have stopped winning after many years of success, it might be time to take a different approach. I hope I have given you enough ammunition to begin the walk down a new and exciting path.
It is a game that too many make too difficult. Football is an easy game. Make ten yards and you keep the football. Cross the last line and you get six points. Tackle the guy with the ball and they give it back to you. Don't complicate it with barriers needlessly put in front of your players or coaches. Don't be afraid to be different. Learn from others but don't be afraid to ask those two questions, Is it Right or Wrong, Good or Bad for Us?
A long time ago, as a young assistant coach, while scouting a future opponent I overheard two women sitting in front of me discussing the game in progress. One asked the other about the "Fair Catch" that one of the teams had just executed. Here is what the lady had to say. "When that boy waived his hand in the air, he was saying...I promise not to run with it, if you promise not to tackle me". Football is just that simple!
This offense has worked for a long time. We won games when we didn't have big, strong physical linemen. We won Championships when we did. Two different times I took this offense to schools that hadn't won in years. Both times we used finesse, trickery and creativity to keep the boat afloat and won Championships in our second year! The system works! The philosophy works! Try it, you may like it! I firmly believe if you follow the principals I have described for you with conviction the result will be more wins, more free time and mostly you will be much happier and so will your players, your assistant coaches and wives! Good luck.
Nothing is as good as it seems, nor as bad as it seems, but in-between rests reality.
Whenever I've needed it someone has come into my life to put a smile back on my face. There has always been a Holger or a Mike, a Bobby or a Jamie , a John or a Jeff, a Greg or a Michael, a Luke or a Shawn, a Toby or a Johannes, a Ryan or a Tyler . Thank you boys.
I love side walk cafes.
I don't like pseudo Intellects.
I love sweating in the sauna, naked.
I don't like phonies.
I love the Croatian coastline.
I don't like war.
I love walking my dog.
I don't like cause groups.
I love sinking a long putt.
I don't like "little" people.
I love hugging.
I don't like Bullies.
I love the challenge of the game.
I don't like the cost of education.
I love history.
I don't like confrontation.
I love my life.
I don't like hot weather.
I loved living this life. I'd do it again in a minute.
Thank you for being there. I learned something from all of you, most often it was good and sometimes it wasn't, that's the way of life
thomas frank smythe
"It is as easy to dream a book as it is hard to write one".
Honore Balzac
Listen to what these prominent football coaches have to say about Coach Smythe:
Mike Riley
Head Coach Oregon State U. Formerly Head Coach San Diego Chargers NFL
"Tom is one of the foremost authorities on offensive football. For years he has coached innovative and productive teams. Development of young football players through basic fundamentals of the sport are his keys to production and winning. He can provide a young man with real substance in developing as a football player and in lifetime skills."
Dennis Erickson
Head Coach Arizona State University. Formerly at Idaho, U. Miami, Oregon State
University and San Francisco 49ers NFL
"Coach Smythe has a long and enviable record as an offensive coach. His work with the quarterback position has been especially impressive. He has sent many players on to major college success as well as the NFL. Young aspiring football players would gain immeasurable benefit by spending time with him."
Doug Nussmeier
Offensive Coordinator Fresno State U. Formerly QB Coach St. Louis Rams NFL,
Michigan State U. and NFL player at New Orleans and Indianapolis
"I had the good fortune to play on one of Coach Smythe's state title teams. He has coached over a thousand young men, all of them have gained valuable insights into playing football and fitting into a team, be it sports or in the off field world.
He has a creative and imaginative football mind and is in my opinion an offensive genius. Also, his ability to teach life skills is second to none."
Dick Coury
Retired, NFL assistant with Rams, Chargers, Eagles and Broncos.
"No coach in the football business has a more creative style than Tom Smythe. I can say this from first hand knowledge, he coached with me in the USFL and coached my son Steve.
June Jones
, Head Coach SMU and former Head Coach U. Hawaii Atlanta
Falcons, NFL
"I've known coach Smythe since my high school days in Portland, Oregon. His
Lake Oswego team thrashed my Grant H.S. team 55-0. You need to know only one thing about Tom Smythe...He knows how to Win!"
John Robinson
, Retired, former Head Coach USC and Los Angeles Rams NFL
"I first met Tom when he played for me at the U. of Oregon. Don't miss an opportunity to learn from Coach Smythe. Every football coach will benefit, no matter what his interest or philosophy."
Bruce Snyder
, Retired, former Head Coach Arizona State University & U.
California at Berkley
"Tom has taken the one back offense to its highest level but it is his philosophy, more than anything, that makes him a winner. How do I know this? He was my room mate in the ATO house at the University of Oregon."
Bob Toledo,
Head Coach Tulane U. and former Head Coach UCLA
"I've known coach Smythe for years while recruiting in Oregon. Trust me
Implementing Tom's ideas and concepts will simply make every coach better."
Mouse Davis
, Offensive Coordinator PSU. Former Head Coach Portland State
University, longtime NFL assistant and the father of the Run & Shoot.
"Tom is first a teacher of football. His knowledge of the entire game of offensive football may be second to none in the profession. At any level."
INSIDE BACK COVER
We were in Birmingham, Alabama about to play in a USFL game. I said to steve
Coury, one of our assistant coaches and a former player for me at Lakeridge H.S. in Lake
Oswego, Oregon, "Come with me we're going to lean on that goal post." "Why he asked." "Because Bear Bryant did!"
QuickTime™ and a
TIFF (Uncompressed) decompressor are needed to see this picture.
* Your assessment is very important for improving the work of artificial intelligence, which forms the content of this project