Samsung MDR10R User's manual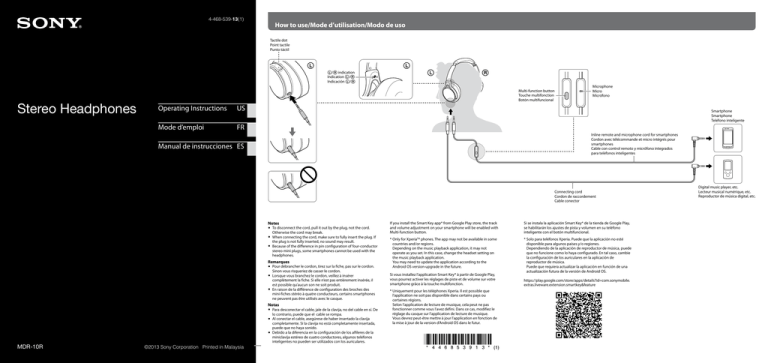 4-468-539-13(1)
How to use/Mode d'utilisation/Modo de uso
Tactile dot
Point tactile
Punto táctil
/ indication
Indication /
Indicación /
Stereo Headphones
Multi-function button
Touche multifonction
Botón multifuncional
Operating Instructions
US
Mode d'emploi
FR
Microphone
Micro
Micrófono
Smartphone
Smartphone
Teléfono inteligente
Inline remote and microphone cord for smartphones
Cordon avec télécommande et micro intégrés pour
smartphones
Cable con control remoto y micrófono integrados
para teléfonos inteligentes
Manual de instrucciones ES
Connecting cord
Cordon de raccordement
Cable conector
Notes
 To disconnect the cord, pull it out by the plug, not the cord.
Otherwise the cord may break.
 When connecting the cord, make sure to fully insert the plug. If
the plug is not fully inserted, no sound may result.
 Because of the difference in pin configuration of four-conductor
stereo mini plugs, some smartphones cannot be used with the
headphones.
Remarques
 Pour débrancher le cordon, tirez sur la fiche, pas sur le cordon.
Sinon vous risqueriez de casser le cordon.
 Lorsque vous branchez le cordon, veillez à insérer
complètement la fiche. Si elle n'est pas entièrement insérée, il
est possible qu'aucun son ne soit produit.
 En raison de la différence de configuration des broches des
mini-fiches stéréo à quatre conducteurs, certains smartphones
ne peuvent pas être utilisés avec le casque.
Notas
MDR-10R
 Para desconectar el cable, jale de la clavija, no del cable en sí. De
lo contrario, puede que el cable se rompa.
 Al conectar el cable, asegúrese de haber insertado la clavija
completamente. Si la clavija no está completamente insertada,
puede que no haya sonido.
Debido
a la diferencia en la configuración de los alfileres de la

miniclavija estéreo de cuatro conductores, algunos teléfonos
inteligentes no pueden ser utilizados con los auriculares.
©2013 Sony Corporation Printed in Malaysia
If you install the Smart Key app* from Google Play store, the track
and volume adjustment on your smartphone will be enabled with
Multi-function button.
Si se instala la aplicación Smart Key* de la tienda de Google Play,
se habilitarán los ajustes de pista y volumen en su teléfono
inteligente con el botón multifuncional.
*Only for XperiaTM phones. The app may not be available in some
countries and/or regions.
Depending on the music playback application, it may not
operate as you set. In this case, change the headset setting on
the music playback application.
You may need to update the application according to the
Android OS version-upgrade in the future.
*Solo para teléfonos Xperia. Puede que la aplicación no esté
disponible para algunos países y/o regiones.
Dependiendo de la aplicación de reproductor de música, puede
que no funcione como lo haya configurado. En tal caso, cambie
la configuración de los auriculares en la aplicación de
reproductor de música.
Puede que requiera actualizar la aplicación en función de una
actualización futura de la versión de Android OS.
Si vous installez l'application Smart Key* à partir de Google Play,
vous pourrez activer les réglages de piste et de volume sur votre
smartphone grâce à la touche multifonction.
*Uniquement pour les téléphones Xperia. Il est possible que
l'application ne soit pas disponible dans certains pays ou
certaines régions.
Selon l'application de lecture de musique, cela peut ne pas
fonctionner comme vous l'avez défini. Dans ce cas, modifiez le
réglage du casque sur l'application de lecture de musique.
Vous devrez peut-être mettre à jour l'application en fonction de
la mise à jour de la version d'Android OS dans le futur.
https://play.google.com/store/apps/details?id=com.sonymobile.
extras.liveware.extension.smartkey&feature
Digital music player, etc.
Lecteur musical numérique, etc.
Reproductor de música digital, etc.
English
Stereo Headphones
Français
Casque d'écoute stéréo
Español
Auriculares estéreo
WARNING
Specifications
AVERTISSEMENT
Spécifications
ADVERTENCIA
Especificaciones
You are cautioned that any changes or modifications not expressly
approved in this manual could void your authority to operate this
equipment.
Type:
Closed, dynamic
Driver unit:
40 mm, dome type (CCAW adopted)
Power handling capacity: 1,500 mW (IEC*)
Impedance: 40 Ω at 1 kHz
Sensitivity: 100 dB/mW
Frequency response: 5 Hz – 40,000 Hz
Mass:
Approx. 180 g (6.35 oz) without cord
Open circuit voltage level of the microphone: –40 dB (0 dB = 1 V/Pa)
Supplied accessories
Connecting cord (1.2 m (47 1/4 in), gold plated L-shaped stereo
mini plug) (1)
Inline remote and microphone cord for smartphones
(1.2 m (47 1/4 in), four-conductor gold plated L-shaped stereo mini
plug) (1)
Carrying pouch (1)
Operating Instructions (1)
*IEC = International Electrotechnical Commission
Toute modification ou altération non expressément approuvée
dans le présent manuel est susceptible d'annuler le droit de
l'utilisateur à se servir de cet équipement.
Type :
Fermé, dynamique
Transducteur :
40 mm, type à dôme (CCAW adopté)
Puissance admissible : 1 500 mW (IEC*)
Impédance : 40 Ω à 1 kHz
Sensibilité : 100 dB/mW
Réponse en fréquence : 5 Hz – 40 000 Hz
Masse :
Environ 180 g sans cordon
Niveau de tension en circuit ouvert du micro :
–40 dB (0 dB = 1 V/Pa)
Accessoires fournis
Cordon de raccordement (1,2 m, mini-fiche stéréo en L plaquée
or) (1)
Cordon avec télécommande et micro intégrés pour smartphones
(1,2 m, mini-fiche stéréo en L plaquée or à quatre conducteurs) (1)
Housse de transport (1)
Mode d'emploi (1)
*IEC = Commission Electrotechnique Internationale
Se le advierte que cualquier cambio o modificación no
expresamente aprobada en este instructivo podría anular su
autoridad para operar este equipo.
Tipo:
Cerrado, dinámico
Unidad auricular: 40 mm, tipo domo (CCAW adoptado)
Capacidad de potencia: 1.500 mW (IEC*)
Impedancia: 40 Ω a 1 kHz
Sensibilidad: 100 dB/mW
Respuesta de frecuencia: 5 Hz – 40.000 Hz
Masa:
Aprox. 180 g sin el cable
Nivel del tensión del circuito abierto del micrófono: –40 dB (0 dB = 1 V/Pa)
Accesorios incluidos
Cable conector (1,2 m, miniclavija estéreo dorada en forma
de L) (1)
Cable con control remoto y micrófono integrados para teléfonos
inteligentes (1,2 m, miniclavija estéreo dorada en forma de L de
cuatro conductores) (1)
Bolsa de transporte (1)
Manual de instrucciones (1)
*IEC = Comisión Electrotécnica Internacional
The validity of the CE marking is restricted to only those countries
where it is legally enforced, mainly in the countries EEA (European
Economic Area).
Features
 High resolution supported driver unit
40 mm HD driver units provide wideband (5 Hz – 40 kHz) audio
performance which delivers quick response powerful low
frequency and extended high frequency sound.
 Enfolding structure
Pressure-relieving cushions, tailored for the ears, provide a
wrap-around feel with acoustic sealing to deliver powerful lows.
 Lasting comfort
The lightweight and super soft cushions allow for comfortable
wearing over a long time.
Detachable
cord

3.5 mm connecting cord, and inline remote and microphone
cord for smartphones.
Compatible products of inline remote and
microphone cord for smartphones
Use this unit with smartphone.
Notes
 Depending on the model of smartphone, the microphone of
this unit may not function, or the volume level may be low.
 This unit is not guaranteed to operate digital music players.
Design and specifications are subject to change without notice.
iPhone is a trademark of Apple Inc., registered in the U.S. and other
countries.
Android is a trademark of Google Inc.
Xperia is a trademark of Sony Mobile Communications AB.
Precautions
High volume may affect your hearing. For traffic
safety, do not use while driving or cycling.
Using the Multi-function button*
Press once to answer the call, press again to end; press to play/
pause a track.
Available operations for iPhone
Plays/pauses a track of the connected iPhone with a single press.
Skips to the previous track with a triple press. Starts the
"VoiceOver**" feature with a long press (if available).
Hold down for about two seconds to reject an incoming call. When
you let go, two low beeps confirm the call was rejected.
* The button function may vary depending on the smartphone.
**Availability of the "VoiceOver" feature depends on the iPhone
and its software version.
Note
Be careful not to unintentionally press the Multi-function button
when you carry your smartphone with the inline remote and
microphone cord connected.
Optional replacement ear cushions can be ordered from your
nearest Sony dealer.
La validité du marquage CE est limitée uniquement aux pays dans
lesquels il fait force de loi, principalement dans les pays de l'Espace
économique européen (EEE).
Caractéristiques
 Transducteur prenant en charge la haute résolution
Les transducteurs HD de 40 mm mis au point récemment
fournissent une bande passante audio (5 Hz – 40 kHz) offrant
des temps de réponse minimes, des basses puissantes et des
aigus plus étoffés.
 Structure enveloppante
Les coussinets ôtent toute pression du casque sur vos oreilles et
les couvrent parfaitement pour un isolement acoustique qui
permet le rendu de basses puissantes.
Un
confort durable

Légers et particulièrement doux, les coussinets vous permettent
de porter longtemps votre casque sans ressentir aucune gêne.
 Cordon amovible
Cordon de raccordement 3,5 mm et cordon avec télécommande
et micro intégrés pour smartphones.
Produits compatibles avec le cordon avec
télécommande et micro intégrés pour
smartphones
Utilisez cet appareil avec un smartphone.
Remarques
 Selon le modèle du smartphone, il est possible que le
microphone de cet appareil ne fonctionne pas, ou que le
volume soit faible.
Le
fonctionnement de cet appareil n'est pas garanti avec les

lecteurs musicaux numériques.
Utilisation de la touche multifonction*
Appuyez une fois pour répondre à un appel, puis une nouvelle fois
pour raccrocher ; appuyez pour lire/mettre en pause une piste.
Opérations disponibles avec un iPhone
Lecture/Pause d'une piste de l'iPhone connecté d'une simple
pression. Revenir à la piste précédent avec trois pressions.
Démarrage la fonction « VoiceOver** » (si disponible) d'une
pression longue.
Maintenez la touche enfoncée pendant deux secondes pour
rejeter un appel entrant. Lorsque vous la relâchez, deux bips
faibles confirment que l'appel a été rejeté.
* Les fonctions des touches peuvent varier selon le smartphone.
**La disponibilité de la fonction « VoiceOver » dépend de l'iPhone
et de la version du logiciel.
Remarque
Faites attention à ne pas appuyer sur la touche multifonction par
mégarde, lorsque vous utilisez votre smartphone avec le cordon
avec télécommande et mico intégrés connecté.
La conception et les spécifications sont susceptibles d'être
modifiées sans préavis.
iPhone est une marque commerciale d'Apple Inc., déposée aux
États-Unis et dans d'autres pays.
Android est une marque commerciale de Google Inc.
Xperia est une marque commerciale de Sony Mobile
Communications AB.
Précautions
Un volume élevé peut affecter votre audition. Pour
ne pas mettre en danger la sécurité du trafic,
n'utilisez pas le casque lors de la conduite en
voiture ou en vélo.
Vous pouvez commander des coussinets d'oreille en option
auprès de votre revendeur Sony le plus proche.
La validez de la marca CE queda restringida a solamente aquellos
países en donde se exige legalmente su cumplimiento,
principalmente los países del Espacio Económico Europeo (EEE).
Características
 Unidad auricular compatible con alta resolución
Unidades auriculares de 40 mm que proporcionan un
rendimiento de audio de banda ancha (5 Hz – 40 kHz) para
brindar una rápida respuesta a los potentes sonidos de baja
frecuencia, así como a los extendidos sonidos de alta frecuencia.
 Estructura envolvente
Almohadillas liberadoras de presión, hechas a la medida para
los oídos que brindan una sensación envolvente con sellado
acústico que ofrecen potentes sonidos bajos.
Confort
que perdura

Las almohadillas ligeras y ultra suaves permiten un uso cómodo
durante un largo tiempo.
 Cable desmontable
Cable conector de 3,5 mm y cable con control remoto y
micrófono integrados para teléfonos inteligentes.
Productos compatibles del cable con control
remoto y micrófono integrados para
teléfonos inteligentes
Use esta unidad con un teléfono inteligente.
Notas
 Dependiendo del modelo de teléfono inteligente, puede que el
micrófono de esta unidad no funcione, o que el volumen sea
demasiado bajo.
Esta
unidad no está garantizada para operar reproductores de

música digitales.
Uso del botón multifuncional*
Presione una vez para contestar una llamada, presione de nuevo
para terminar la llamada; presione para reproducir/pausar una
pista.
Operaciones disponibles para iPhone
Al presionar una vez, reproduce/pausa una pista en el iPhone
conectado. Al presionar tres veces, salta a la pista anterior. Inicia la
función de superposición de voz "VoiceOver**" (en caso de estar
disponible).
Sostenga presionado por alrededor de dos segundos para
rechazar una llamada entrante. Al dejar de presionar, dos pitidos
bajos confirmarán que la llamada fue rechazada.
* Puede que la función del botón varíe dependiendo del teléfono
inteligente.
**La disponibilidad de la función de superposición de voz
"VoiceOver" depende del iPhone, así como de la versión de su
software.
Nota
Tenga la precaución de no presionar el botón multifuncional al
llevar su teléfono inteligente conectado al cable con control
remoto y micrófono integrados.
El diseño y las especificaciones están sujetos a cambio sin previo
aviso.
iPhone es una marca comercial de Apple Inc. registrada en EE.UU.
y otros países.
Android es una marca comercial de Google Inc.
Xperia es una marca comercial de Sony Mobile Communications
AB.
Precauciones
Puede que su audición quede afectada con un
nivel alto del volumen. Por seguridad vial, evite el
uso mientras conduce un automóvil o bicicleta.
A través de su distribuidor Sony más cercano se puede hacer el
pedido de las almohadillas de repuesto opcionales para los
oídos.

* Your assessment is very important for improving the work of artificial intelligence, which forms the content of this project