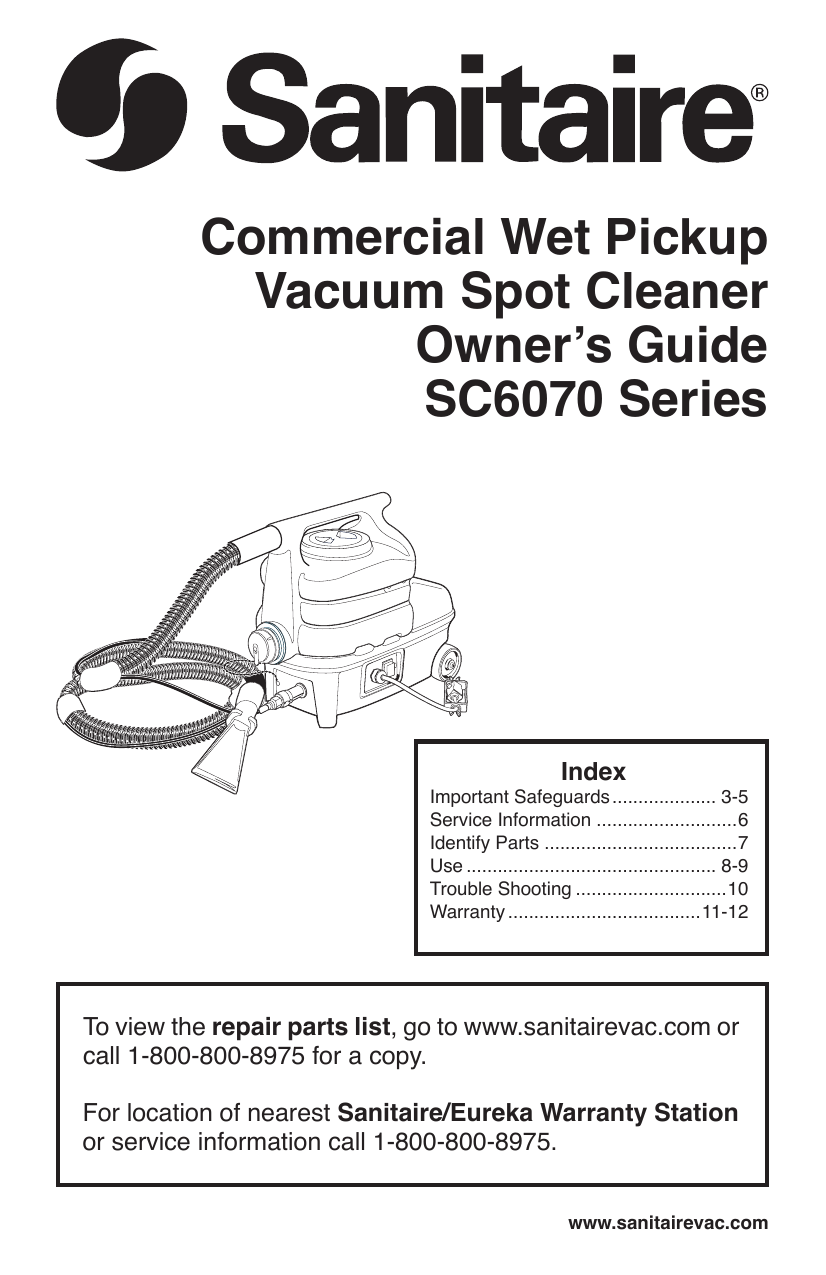 Commercial Wet Pickup
Vacuum Spot Cleaner
Owner's Guide
SC6070 Series
Index
Important Safeguards .................... 3-5
Service Information ...........................6
Identify Parts .....................................7
Use ................................................ 8-9
Trouble Shooting .............................10
Warranty .....................................11-12
To view the repair parts list, go to www.sanitairevac.com or
call 1-800-800-8975 for a copy.
For location of nearest Sanitaire/Eureka Warranty Station
or service information call 1-800-800-8975.
www.sanitairevac.com
IMPORTANT SAFEGUARDS
When using an electrical appliance, basic precautions should always be followed, including
the following:
READ ALL INSTRUCTIONS BEFORE USING THIS VACUUM CLEANER.
WARNING
To reduce the risk of fire, electric shock, or injury.
• Use indoors only.
• Do not leave vacuum cleaner when plugged in. Turn off the switch and unplug the
electrical cord when not in use and before servicing.
• Do not allow to be used as a toy. Close attention is necessary when used by or near
children.
• Use only as described in this manual. Use only manufacturer's recommended
attachments.
• Do not use with damaged cord or plug. If vacuum cleaner is not working as it should,
has been dropped, damaged, left outdoors, or dropped into water, return it to a service
center before using.
• Do not pull or carry by cord, use cord as a handle, close a door on cord, or pull cord
around sharp edges or corners. Do not run vacuum cleaner over cord. Keep cord away
from heated surfaces.
• Connect to a properly grounded outlet only (refer to Grounding Instructions).
• Do not use extension cords or outlets with inadequate current carrying capacity.
• Turn off all controls before unplugging.
• Do not unplug by pulling on cord. To unplug, grasp the plug, not the cord.
• Do not handle plug or vacuum cleaner with wet hands.
• Do not put any object into openings. Do not use with any opening blocked; keep free
of dust, lint, hair, and anything that may reduce airflow.
• This vacuum cleaner creates suction. Keep hair, loose clothing, fingers, and all parts
of body away from openings and moving parts.
• Do not pick up anything that is burning or smoking, such as cigarettes, matches, or
hot fireplace or barbeque ashes. Live sparks or embers could start a fire in waste
material inside the tank.
• Do not use without ball float and cage in place.
• Use extra care when cleaning on stairs.
• If the machine tips over during use, shut it off immediately, set it upright, and wait for
the motor to stop completely. This allows the ball float to return to normal position and
permits proper airflow through the cleaner.
• Do not use to pick up flammable or combustible liquids such as gasoline, or use in
areas where they may be present.
• Store your cleaner indoors and in a cool, dry area.
• Keep your work area well lighted.
• Unplug electrical appliances before vacuuming them.
• Do not use any cleaner marked flammable or combustible.
SAVE THESE INSTRUCTIONS
3
CONSEILS DE SÉCURITÉ IMPORTANTS
L'utilisation d'un appareil électrique sous-entend l'observation de certaines règles de
sécurité élémentaires:
LIRE TOUTES LES INSTRUCTIONS AVANT D'UTILISER L'ASPIRATEUR.
AVERTISSEMENT
Pour réduire les risques de feu, de secousse électrique ou de blessure:
•
•
•
•
•
•
•
•
•
•
•
•
•
•
•
•
•
•
•
•
•
•
4
Ne laisser pas sous la pluie. Ranger à l'intérieur.
Ne pas s'absenter tant que l'aspirateur est branché. Éteindre l'appareil et le
débrancher lorsqu'on ne s'en sert plus et avant son entretien.
Veiller à ce que l'aspirateur ne serve pas de jouet, particulièrement si l'usager est un
enfant ou si l'on s'en sert près d'un enfant.
Ne s'en servir que selon la description qu'en donne le guide. N'employer que les
accessoires que recommande le fabricant.
Ne pas s'en servir si le cordon ou la fiche sont abîmés. Avant de se servir de l'aspirateur,
le retourner à un centre de réparation s'il ne fonctionne pas comme il faut, s'il est tombé
ou abîmé, si on l'a laissé dehors ou laissé tomber dans l'eau.
Ne pas le tirer ou le transporter par le cordon, ne pas se servir du cordon comme d'une
poignée, ne pas coincer le cordon en fermant une porte et ne pas tirer le cordon sur
des encoignures ou des bordures pointues. Ne pas passer l'aspirateur sur le cordon.
Éloigner le cordon des surfaces chauffées.
Branchez toujours l'aspirateur dans une prise à trois (mise à la terre).
Ne pas se servir de cordons de rallonge ou de prises d'intensité admissible mal adaptée
aux besoins.
Éteindre complètement l'aspirateur avant de le débrancher.
Ne pas tirer sur le cordon pour débrancher l'aspirateur. Le débrancher en tirant sur la
fiche et non sur le cordon.
Ne toucher ni à la fiche ni à l'aspirateur avec les mains mouillées.
Ne pas introduire d'objets dans les orifices. Ne pas se servir de l'aspirateur avec une
ouverture bouchée et en écarter poussière, charpie, cheveux et autres qui risquent
de réduire la circulation de l'air.
L'aspirateur créé une aspiration. Cheveux, vêtements amples, doigts et d'une manière
générale tous les membres du corps doivent se trouver à l'écart des pièces mobiles
et des ouvertures.
Ne rien ramasser de brûlant ou de fumant, comme par exemple mégots, allumettes ou
cendres chaudes des cheminées ou des grilles. Des étincelles ou des braises peuvent
commencer un feu dans les dégâts au dedans du réservoir.
Ne pas s'en servir sans le filtre du moteur ou que le filtre soit abîmé.
Utiliser avec des lunettes protectrices ou éviter des bouffées d'air car des poussières
dans l'air peuvent abîmer les yeux.
Redoubler de prudence lorsqu'on aspire les escaliers.
Si l'aspirateur se renverse quand il est en usage, tout-de-suite il faut l'éteindre, mettre- le
à la position droite et attendre que le moteur s'arrête complètement. Cela permettra que
la flotteur retourne à sa position normale et laisse la normale circulation d'air passée
dans l'aspirateur.
Ne pas s'en servir pour recueillir des liquides inflammables ou combustibles, tels
l'essence, et ne pas utiliser dans le endroits où ces produits risquent de se trouver.
Ranger l'aspirateur à l'intérieur, au frais et au sec.
Bien éclairer la surface de travail.
Débrancher les appareils électriques avant de les aspirer.
CONSERVER CES INSTRUCTIONS
Grounding Instructions
This appliance must be grounded. If it should malfunction or breakdown, grounding
provides a path of least resistance for electric current to reduce the risk of electric shock.
This appliance is equipped with a cord having an equipment-grounding conductor and
grounding plug. The plug must be plugged into an appropriate outlet that is properly
installed and grounded in accordance with all local codes and ordinances.
DANGER
Improper connection of an equipment-grounding conductor can result in risk of electric
shock. Check with a qualified electrician or service person if you are in doubt as to whether
the outlet is properly grounded. Do not modify the plug provided with the appliance. If it
will not fit the outlet, have proper outlet installed by a qualified technician.
This appliance is for use on a nominal 120 volt circuit and has a grounding plug that looks
like the plug illustrated in Figure A. A temporary adapter which looks like the adapter
illustrated in Figure B may be used to connect this plug to a two-pole receptacle, as
shown, if a properly grounded outlet is not available. The temporary adapter should
be used only until a properly grounded outlet, Figure A, can be installed by a qualified
electrician. The green colored rigid ear, lug, or the like extending from the adapter must
be connected to a permanent ground such as a properly grounded outlet box cover.
Whenever the adapter is used, it must be held in place by a metal screw.
NOTE: In Canada, the use of a temporary adapter is not permitted by the Canadian
Electrical Code.
INSTRUCTIONS VISANT LA MISE À TERRE
Cet appareil doit être mis à la terre. En cas défaillance ou de panne éventuelles, la mise
à la terre fournit au courant un chemin de moindre résistance qui réduit le risque de
choc électrique. Cet appareil est pourvu d'un cordon muni d'un conducteur de terre et
d'une fiche avec broche de terre. La fiche doit être branchée dans une prise appropriée
correctement installée et mise à la terre conformément aux règlements et ordonnances
municipaux.
AVERTISSEMENT
Un conducteur de terre mal raccordé peut entraîner un risque de choc électrique.
Consulter un électricien ou un technicien d'entretien qualifié si vous n'êtes pas certain
que la prise est correctement mise à la terre. Ne pas modifier la fiche fournie avec
l'appareil-si elle ne peut être insérée dans la prise, faire installer une prise adéquate
par un électricien qualifié.
Note. Au Canada, l'utilisation d'un adaptateur temporaire n'est pas autorisée par le
Code canadien de l'électricité.
Cet appareil est destiné à un circuit de 120V et est muni d'une fiche de mise à la terre
semblable à celle illustrée par le Figure A. S'assurer que l'appareil est branché à une
prise de courant ayant la même configuration que la fiche. Aucun adaptateur ne devrait
être utilisé avec cet appareil.
Grounded Outlet Box
Boîte de Prise de Terre
Adapter
Adaptateur
Grounded Outlet Box
Boîte de Prise de Terre
Grounding Blade is Longest
of the Three Blades
La Lame de Terre Est La
Plus Longue Des Trois
Lames
Metal Screw
Vis de Métal
Figure A
Grounding Tab
Taquet de Terre
Figure B
5
GENERAL INFORMATION
Automatic Suction Shut-Off
NOTE: Use the vacuum in the upright position. If the cleaner should tip, the
automatic suction shut-off turns off the suction.
The automatic suction shut-off functions when the tank is full of liquid. As the tank fills,
the ball float (inside the cage) rises until it seats itself against air inlet. This shuts off the
suction causing the motor sound to become higher in pitch. When this happens, empty
the tank.
The automatic suction shut-off also functions if the cleaner tips over. To continue use, turn
cleaner off and set it upright. Wait a few seconds to allow motor to come to a complete
stop so the ball drops. Restart the motor.
Use this vacuum for wet pickup only.
Service Information
The instructions in this booklet serve as a guide to routine maintenance. For additional
service information, telephone our toll free number for the nearest Sanitaire/Eureka
Authorized Warranty Station. You should know the model, type and serial numbers
when you call:
USA: 1-800-800-8975
Mexico: 5670-6169
Canada: 1-800-800-8975
If you prefer, you can write to The Eureka Company, Service Division, 807 North Main
Street, Bloomington, Illinois 61701, USA. In Canada, write to The Eureka Company, 866
Langs Drive, Cambridge, Ontario N3H 2N7. Refer to The Eureka Warranty for complete
service information.
DO NOT OIL the motor at any time. Bearings have a seal and are permanently
lubricated.
Rating Plate
The model, type and serial numbers are on
the rating plate, located on the back of the lid.
For prompt and complete service information,
always refer to these numbers when inquiring
about service.
Model and Type:_________________________
Serial No._______________________________
6
MODEL
VOLTS
TYPE
SERIAL NO.
AMPS.
HERTZ
SERVICE INFORMATION: 1-800-800-8975
THE EUREKA COMPANY
BLOOMINGTON, ILLINOIS 61701
IDENTIFY PARTS OF SPOT CLEANER
Unpack solution hose and powercord from carton and remove spot cleaner.
1
2
3
11
4
5
7
12
6
8
9
10
13
1.
2.
3.
4.
5.
6.
7.
8.
9.
10.
11.
12.
13.
Handle
Hose Inlet
Recovery Tank Lid
Solution Tank Lid
Drain Plug
Solution Hose Connection
Rear Wheels
On/Off Switch
Electric Plug
Power Cord
Suction hose
Solution hose
Cleaning Nozzle
7
HOW TO USE
Fill Solution Tank
CAUTION: Use only commercially available carpet and upholstery cleaners
intended for machine applications.
Solution tank holds 1.5 gallons. Remove solution tank lid and fill with mixture of water and
extraction detergent. (Follow recommended mix ratio on extraction detergent label.)
Note: Do not overfill.
Attach Vacuum Hose Coupling
• Push the hose coupling into the hose
inlet.
• Give a slight twist to secure.
Attach Solution Hose Fitting
Carry
Handle
• Make sure the quick disconnects snap
together firmly. As you do this, always
inspect hoses for cracks, fraying or leaks.
Do not use if hoses are damaged.
Hose Inlet
Connect Electric Plug
CAUTION: To reduce the risk of electric
shock, do not lay cord on any
wet surfaces.
• Attach electric plug to extension cord
provided.
• Plug extension cord into outlet.
Power Switch
The power switch is located on the side of the
cleaner next to the powercord.
• Wear ear protection (not provided) if
operating the cleaner for a prolonged
period of time.
• Push power switch to turn on.
Solution
Hose
Fitting
Carry Handle
• Carry handle is part of the tank.
• Always use this handle when lifting the
cleaner.
Prime Pump
• Press trigger on solution wand until
there is a continuous flow of water.
Your pump is now primed.
8
Trigger
Electric
Plug
HOW TO USE (continued)
Begin Cleaning
With the cleaning nozzle you may begin cleaning. By pulling the trigger, you will dispense
the solution onto the desired area. Use a backstroke motion. Because the vacuum is on,
the fluid will quickly be sucked back into the wand. Make several dry passes over the
affected area to completely remove any excess moisture. You will notice that the area
you have just cleaned will be damp. This is normal.
Tips:
If used to clean up spills or messes, clean up as much of the spill or mess using paper
towels before final cleaning with the cleaner. If used on fine fabrics or upholstery, test
for color fastness in an inconspicuous place before cleaning.
Automatic Shut-Off
NOTE: Always use the wet vacuum cleaner in the upright position. If cleaner tips
over, the suction automatically shuts off.
If the cleaner tips over:
• Turn off the power switch and set the cleaner upright.
• Wait a few seconds for the motor to come to a complete stop.
• Restart the motor.
When the tank is full:
• As the tank fills with liquid, the ball float (inside the cage) rises until it seats itself
•
•
•
•
against the bottom of the motor.
The motor sound becomes a high pitch sound.
The shut-off stops the suction.
Turn off the power switch.
Empty the tank (instructions follow).
Empty Tank
CAUTION: Turn off the power switch and unplug electric cord to service.
• Lift the hose and drain any liquid back into the tank.
• Empty contents into a suitable drain by unscrewing the drain plug. (See page 7.)
• Use special care when emptying full tanks with liquids. Quick removal of the drain
plug can result in a sudden rush of liquid.
• Replace drain plug to continue cleaning.
Clean and Store
Note: Turn off the power switch and unplug electrical cord before cleaning tank.
• Empty tank of all liquid and thoroughly rinse inside before storing.
• Clean and dry tank and all accessories.
• Store indoors in a cool, dry area.
9
TROUBLESHOOTING
SYMPTOM:
Unit will not turn on.
Problem:
Solution:
Not plugged in.
Plug machine in proper outlet.
Problem:
Solution:
Circuit breaker has popped.
Reset circuit breaker. Make sure no other items are running on the
same circuit as machine. Outlet must be a 20-amp circuit.
Problem:
Solution:
Power cord has become disconnected from extension cord.
Reattach power cord to extension cord.
SYMPTOM:
Pump is not running properly.
Problem:
Solution:
Power cord and extension cord are not completely locked together.
Snap firmly together.
Problem:
Solution:
Jets on wand are clogged.
Clean jet with soft wire brush or remove jet and flush clean.
Problem:
Solution:
The solution tank is empty.
Fill the solution tank up with a pre-mixed detergent.
Problem:
Solution:
Pump is pulsating.
Tighten all hoses. Check for leaks.
SYMPTOM:
Vacuum motor not working properly.
Problem:
Solution:
Hose not connected tightly to wand or machine.
Connect hose tightly.
Problem:
Solution:
Hose is clogged with hair, carpet fibers and/or debris.
Clean hose.
Problem:
Solution:
Drain plug is not shut completely.
Close drain plug completely.
Problem:
Solution:
Vacuum tank lid is not on tightly.
Secure the vacuum tank lid on tightly.
Problem:
Solution:
Vacuum tank lid is cracked.
Replace the vacuum tank lid.
Problem:
Solution:
Vacuum hose is cracked or split.
Replace vacuum hose.
Problem:
Solution:
Water is coming out of the vacuum motor.
Use a low foaming detergent.
10
EUREKA SANITAIRE COMMERCIAL EQUIPMENT LIMITED
WARRANTY
Carpet and Spot Cleaners
(Excludes Vacuums)
Your equipment, which has been manufactured, tested and inspected with carefully
specified engineering requirements, is warranted to be free from defects in material
and workmanship. This Limited Warranty is, however, subject to the following
qualifications, conditions and limitations which are set forth to provide you and all
users of the equipment with information concerning the duration, extent, availability
and applicability of the Limited Warranty, the procedure to be taken to obtain its
performance, and other information concerning the Limited Warranty policy.
The Limited Warranty is extended to original end user as follows:
One year parts replacement and 1 year service labor warranty.
This Limited Warranty will not cover damage attributable to the following:
(1) Improper, unreasonable or negligent use or abuse of the equipment.
(2) Abrasions or punctures of the equipment.
The start date of the Limited Warranty coverage shall be the purchase date of
the original end user or six months from the date the machine was shipped from
the Factory, whichever comes first.
PARTS OF EQUIPMENT NOT COVERED BY THE LIMITED WARRANTY
Certain parts of equipment require replacement in the ordinary course of use
due to normal wear by reason of their characteristics. Normal wear items such
as gaskets, wheels, cords, hoses, switches, filters, bearings, carbon brushes,
solenoids, o-rings, thermostats, electrical terminals and casters are excluded
from the Limited Warranty.
EXCEPTIONS AND EXCLUSIONS FROM THE LIMITED WARRANTY
This equipment is required to be used on electric current as indicated on the
data plate. Otherwise damage, defects, malfunctions or other failure of the
equipment arising from use on electric current not as indicated are excepted and
excluded from this Limited Warranty. Defects, malfunctions, failure or damage
of the equipment caused by improper, unreasonable or neglectful use or abuse
while in possession of the purchaser are likewise excluded from this warranty.
If repair is done on your equipment by anyone other than those designated as
an authorized Warranty Center. THE MANUFACTURER at its sole option, may
determine that this warranty will not apply and the reimbursement for such repair
will not be made.
–continued on next page–
11
PROCEDURE TO BE TAKEN TO OBTAIN PERFORMANCE OF LIMITED
WARRANTY REPAIR
To secure repair of the equipment or any warranted parts under this Limited
Warranty, the following procedure should be taken. The inoperative equipment or
warranted parts, together with satisfactory evidence of the purchase date, must be
delivered, with shipping and delivery charges prepaid, to one of the following:
1) The dealer from whom purchased;
2) Any authorized service station.
If you are unable to locate any of the foregoing, you may write or otherwise
communicate to THE MANUFACTURER before repair service is performed by
anyone else. In such event, THE MANUFACTURER will provide either the location
of a closely available authorized distributor service department, or authorized
warranty station or other factory instructions. Upon compliance with the above
procedure, all warranted defects will be repaired, at no additional charge or costs
to the customer, and the repaired product returned to the customer. All shipping
charges will be the responsibility of the product owner. In following the procedures
set forth, PLEASE MAKE CERTAIN to state the model, type and serial number
as shown on the data plate of the equipment.
REPLACEMENT
In the event of a defect, malfunction or failure of your equipment or any warranted
part to conform with this warranty,THE MANUFACTURER may, at its sole option
and own expense, replace the equipment or any warranted part with another new
identical or reasonably equivalent model or part in lieu of repairing the defect.
NO REFUND OF PURCHASE PRICE
THE MANUFACTURER will not, as a matter of its Limited Warranty policy, refund
the customer's purchase price.
Be certain that the Warranty Station is "Sanitaire/Eureka Authorized."
For the location of the nearest Sanitaire/Eureka Authorized Station or for
service information, see us a www.sanitairevac.com or telephone toll free:
1-800-800-8975.
12
Part No. 73681 (2/04)
©2004 White Consolidated, Ltd.
Printed in U.S.A.