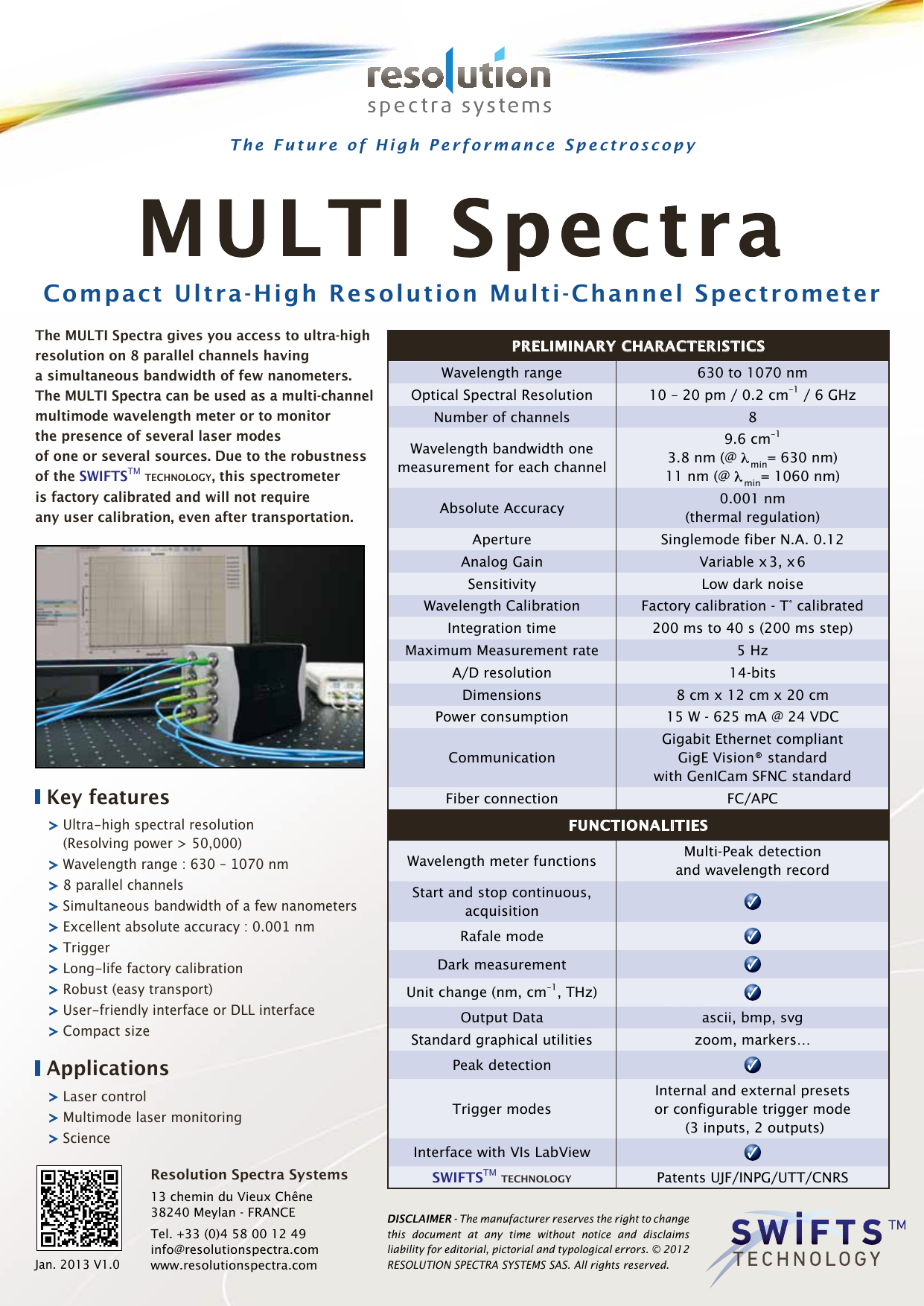 The Future of High Performance Spectroscopy
Compact Ultra-High Resolution Multi-Channel Spectrometer
The Multi Spectra gives you access to ultra-high
resolution on 8 parallel channels having
a simultaneous bandwidth of few nanometers.
The Multi Spectra can be used as a multi-channel
multimode wavelength meter or to monitor
the presence of several laser modes
of one or several sources. Due to the robustness
of the SWIFTSTM technology, this spectrometer
is factory calibrated and will not require
any user calibration, even after transportation.
Key features
>Ultra-high spectral resolution
(Resolving power > 50,000)
>Wavelength range : 630 – 1070 nm
>8 parallel channels
>Simultaneous bandwidth of a few nanometers
>Excellent absolute accuracy : 0.001 nm
>Trigger
>Long-life factory calibration
>Robust (easy transport)
>User-friendly interface or DLL interface
>Compact size
Applications
>Laser control
>Multimode laser monitoring
>Science
Resolution Spectra Systems
13 chemin du Vieux Chêne
38240 Meylan - FRANCE
Jan. 2013 V1.0
Tel. +33 (0)4 58 00 12 49
[email protected]
www.resolutionspectra.com
preliminary characteristics
Wavelength range
630 to 1070 nm
Optical Spectral Resolution
10 – 20 pm / 0.2 cm–1 / 6 GHz
Number of channels
8
Wavelength bandwidth one
measurement for each channel
9.6 cm
3.8 nm (@ min= 630 nm)
11 nm (@ min= 1060 nm)
Absolute Accuracy
0.001 nm
(thermal regulation)
Aperture
Singlemode fiber N.A. 0.12
Analog Gain
Variable x 3, x 6
Sensitivity
Low dark noise
Wavelength Calibration
Factory calibration - T° calibrated
Integration time
200 ms to 40 s (200 ms step)
Maximum Measurement rate
5 Hz
–1
A/D resolution
14-bits
Dimensions
8 cm x 12 cm x 20 cm
Power consumption
15 W - 625 mA @ 24 VDC
Communication
Gigabit Ethernet compliant
GigE Vision® standard
with GenICam SFNC standard
Fiber connection
FC/APC
FUNCTIONALITIES
Wavelength meter functions
Multi-Peak detection
and wavelength record
Start and stop continuous,
acquisition
Rafale mode
Dark measurement
Unit change (nm, cm–1, THz)
Output Data
ascii, bmp, svg
Standard graphical utilities
zoom, markers…
Peak detection
Trigger modes
Internal and external presets
or configurable trigger mode
(3 inputs, 2 outputs)
Interface with VIs LabView
TM
SWIFTS
technology
Patents UJF/INPG/UTT/CNRS
DISCLAIMER - The manufacturer reserves the right to change
this document at any time without notice and disclaims
liability for editorial, pictorial and typological errors. © 2012
RESOLUTION SPECTRA SYSTEMS SAS. All rights reserved.

* Your assessment is very important for improving the work of artificial intelligence, which forms the content of this project