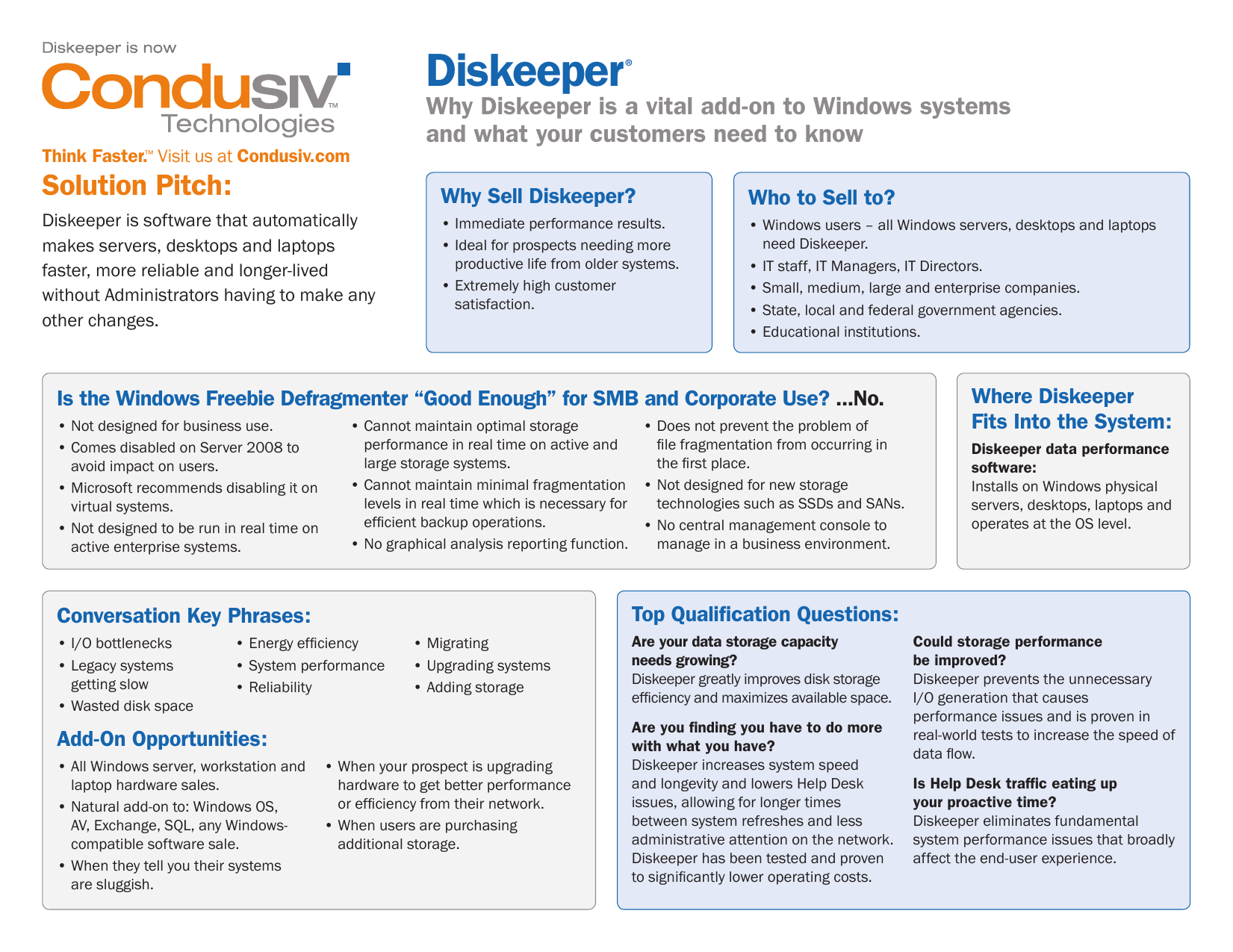 Diskeeper
Think Faster.™ Visit us at Condusiv.com
Solution Pitch:
Diskeeper is software that automatically
makes servers, desktops and laptops
faster, more reliable and longer-lived
without Administrators having to make any
other changes.
®
Why Diskeeper is a vital add-on to Windows systems
and what your customers need to know
Why Sell Diskeeper?
Who to Sell to?
• Immediate performance results.
• Ideal for prospects needing more
productive life from older systems.
•E
xtremely high customer
satisfaction.
•W
indows users – all Windows servers, desktops and laptops
need Diskeeper.
• IT staff, IT Managers, IT Directors.
• Small, medium, large and enterprise companies.
• State, local and federal government agencies.
• Educational institutions.
Is the Windows Freebie Defragmenter "Good Enough" for SMB and Corporate Use? ...No.
•N
ot designed for business use.
•C
omes disabled on Server 2008 to
avoid impact on users.
•M
icrosoft recommends disabling it on
virtual systems.
•N
ot designed to be run in real time on
active enterprise systems.
•C
annot maintain optimal storage
• Does not prevent the problem of
performance in real time on active and
file fragmentation from occurring in
large storage systems.
the first place.
•C
annot maintain minimal fragmentation • Not designed for new storage
levels in real time which is necessary for
technologies such as SSDs and SANs.
efficient backup operations.
• No central management console to
•N
o graphical analysis reporting function.
manage in a business environment.
•E
nergy efficiency
•S
ystem performance
•R
eliability
• Migrating
• Upgrading systems
• Adding storage
Add-On Opportunities:
•A
ll Windows server, workstation and
laptop hardware sales.
•N
atural add-on to: Windows OS,
AV, Exchange, SQL, any Windowscompatible software sale.
•W
hen they tell you their systems
are sluggish.
Diskeeper data performance
software:
Installs on Windows physical
servers, desktops, laptops and
operates at the OS level.
Top Qualification Questions:
Conversation Key Phrases:
• I/O bottlenecks
• L egacy systems
getting slow
•W
asted disk space
Where Diskeeper
Fits Into the System:
•W
hen your prospect is upgrading
hardware to get better performance
or efficiency from their network.
•W
hen users are purchasing
additional storage.
Are your data storage capacity
needs growing?
Diskeeper greatly improves disk storage
efficiency and maximizes available space.
Are you finding you have to do more
with what you have?
Diskeeper increases system speed
and longevity and lowers Help Desk
issues, allowing for longer times
between system refreshes and less
administrative attention on the network.
Diskeeper has been tested and proven
to significantly lower operating costs.
Could storage performance
be improved?
Diskeeper prevents the unnecessary
I/O generation that causes
performance issues and is proven in
real-world tests to increase the speed of
data flow.
Is Help Desk traffic eating up
your proactive time?
Diskeeper eliminates fundamental
system performance issues that broadly
affect the end-user experience.
Key Differentiators – Diskeeper
These business-class features are not found in the freebie built-in utilities.
• IntelliWrite® fragmentation prevention technology is the only solution that prevents file
fragmentation before it can occur, eliminating excess and unnecessary I/Os and keeping
systems running at peak speeds.
• InvisiTasking® technology. Allows real-time optimization of files even during heavy traffic with
complete invisibility and zero resource conflicts.
Value Propositions
"Condusiv Technologies Corporation, winner six times in a row, is unrelenting in its dominance
of this category." – 2011 Reader's Choice Award: Best Disk Defragmentation and Drive Monitoring Tool,
Redmond Magazine
• Extend legacy or current
• Reduce unnecessary Help
hardware life one to three
Desk calls and expenses
years.
from fragmentation-related
• Boost database and all Office support issues such as
blue screens, crashes, and
application access speeds.
sluggish systems.
• Avert drive failures, backup
• Increase SAN data retrieval
aborts, and unnecessary
rates.
I/O activity.
• Decrease energy
consumption and cooling
requirements at IT sites.
• Cut antivirus scans and
backup times as much
as 50%.
Diskeeper Product SKUs
For Workstations:
Runs on Windows XP Home, Windows XP Tablet PC, Windows
XP Media Center, Windows XP Professional (x86 only), Windows
Vista/7 Home Basic (x86 only), Windows Vista/7 Home Premium
(x86/x64), Windows Vista/7 Ultimate (x86/x64), Windows Vista
Business (x86/x64), Windows 7 Professional (x86/x64) and
Windows Vista/7 Enterprise (x86/x64) platforms (including
compatible CPUs from other manufacturers).
For Servers:
Runs on Windows Server 2003 Web, Windows Server 2003
Standard (x86/ x64), Windows Server 2003 Enterprise (x86/
x64), Windows 2003 Datacenter Server, Windows 2003 with
Server Appliance Kit, Windows Home Server, Windows Web
Server 2008, Windows Server 2008 Standard, Windows Server
2008 Enterprise (x86/x64), Windows Server 2008 Datacenter,
Windows HPC Server 2008 and Windows 2008 Server R2
platforms (including compatible CPUs from other manufacturers).
For sales support or questions:
Customer Pain Points
•B
ackups aborted or taking too long.
•U
nexplained system instabilities.
• Increasing number of hard drive crashes.
Requirements:
•S
luggish systems or degraded
system performance.
•S
low applications and database access.
Product Description
Diskeeper Pro 20-49 licenses:
Mfg# 172378
Diskeeper Server 10-19 licenses:
Mfg# 172431
Automatic data performance software for
Windows laptops and workstations.
Automatic data performance software for
Windows servers.
1-year Maintenance SKUs
Diskeeper Pro 20-49 licenses
Mfg# 172548
Diskeeper Server 10-19 licenses
Mfg# 172600
Product Description
1-year maintenance add-on
1-year maintenance add-on
JOHN REPETTO | Director of Channel Operations
T: 800-997-9523 | Email: [email protected]
For more information:
on Condusiv Technologies Partner Program and product NFRs:
https://www.condusiv.com/partners/
Additional Products from
Condusiv Technologies Corporation
V-locity® virtual platform disk optimizer
Undelete® instant file recovery and data protection software
Visit: www.condusiv.com/channel for product info
For complete Channel SKU list visit: www.condusiv.com/partners/channel/purchase
© 2012 Condusiv Technologies Corporation. All Rights Reserved. The Condusiv Technologies Corporation logo, Condusiv, Think Faster, Diskeeper, InvisiTasking, IntelliWrite, Undelete, HyperFast and V-locity are trademarks and/or registered
trademarks owned by Condusiv Technologies Corporation in the United States and/or other countries. All other trademarks and brand names are the property of their respective owners.