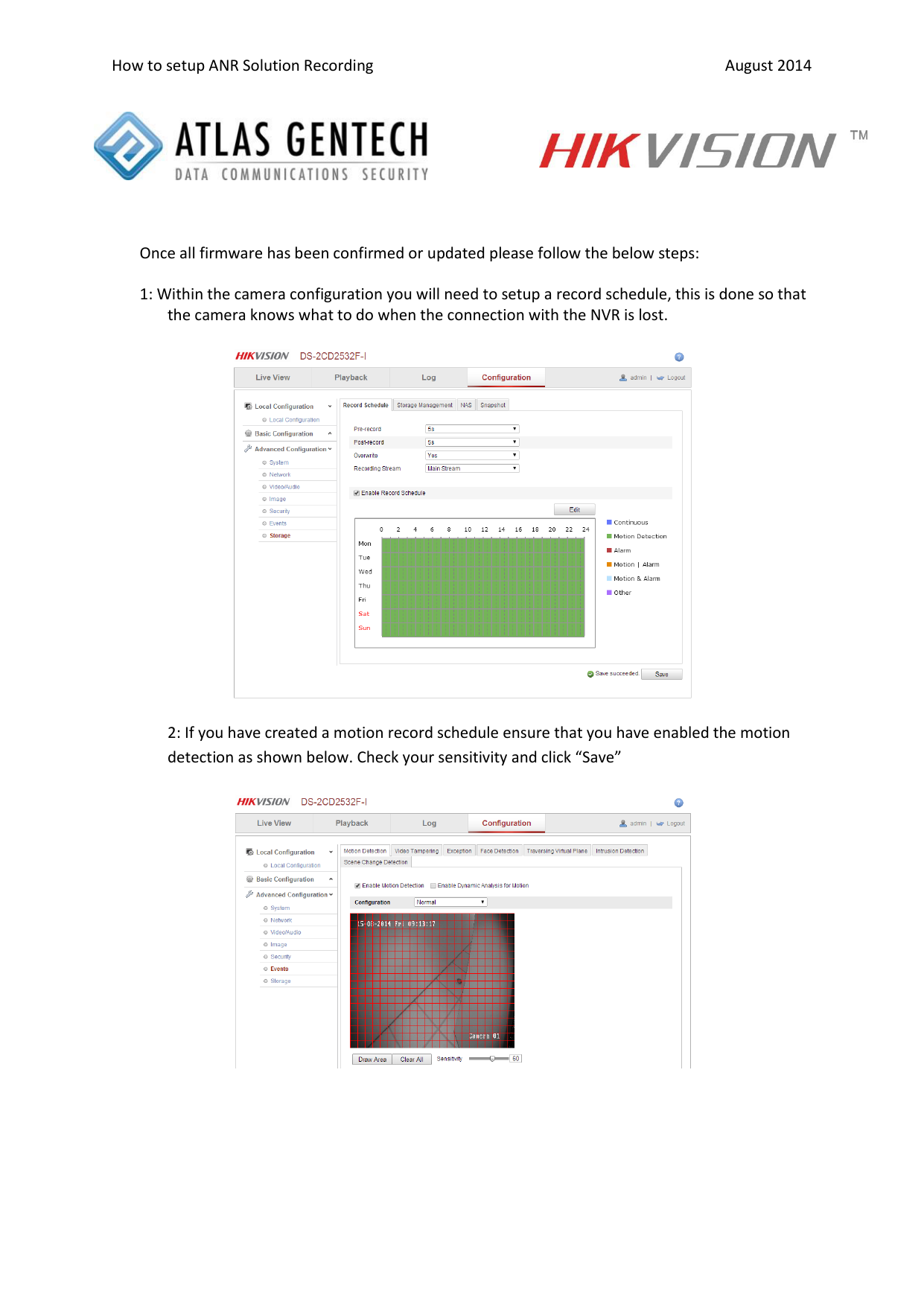 How to setup ANR Solution Recording
August 2014
Once all firmware has been confirmed or updated please follow the below steps:
1: Within the camera configuration you will need to setup a record schedule, this is done so that
the camera knows what to do when the connection with the NVR is lost.
2: If you have created a motion record schedule ensure that you have enabled the motion
detection as shown below. Check your sensitivity and click "Save"
How to setup ANR Solution Recording
August 2014
3: Within the Linkage Method at the bottom of the "Motion Detection" page ensure you
check the "Notify Surveillance Centre" and "Trigger Channel" boxes. Without this the data
recorded while offline will not transfer to the NVR once connect is re-established.
4: Under the "Storage Management" tab, you will need to ensure that your on-board SD
Card has been formatted and is in a "Normal" state that has a R/W property. Once this is
confirmed click "Save" and exit the programming.
5: Now connect to the Web config of your NVR and go to the "Camera Settings" tab, within
this you will go through to the "Schedule Settings", in here you will need to setup a schedule
much like you did in Step 1.
How to setup ANR Solution Recording
August 2014
6: Within this section you will see an "Advanced" tab, Click on this and tick the "Enable ANR"
box, continue to setup the Pre and Post record times and the stream required.
7: Click OK & Save!! SUCCESS!!!! You now have a fully operational ANR Solution.

* Your assessment is very important for improving the work of artificial intelligence, which forms the content of this project