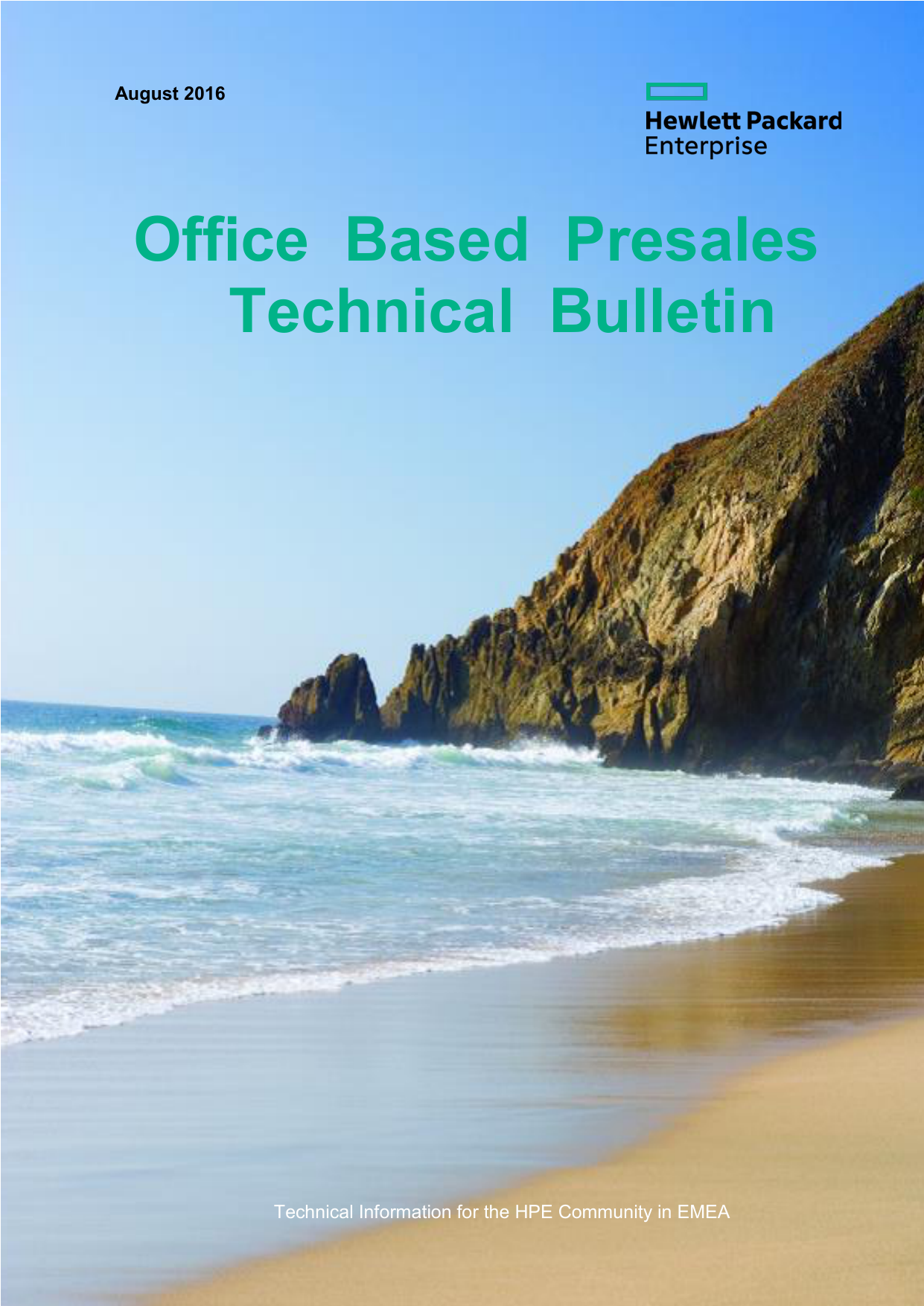 August 2016
Office Based Presales
Technical Bulletin
Technical Information for the HPE Community in EMEA
8
HPE Office Based Presales
Technical Bulletin
Technical Information for the HPE Community in EMEA
Contents
Enterprise Group News


HPE Servers
HPE Storage
4
5

HPE Networking
7
Alliance Partner News
Frequently Asked Questions
 HPE Servers
8
10
 HPE Storage
11
 HPE Networking
12
About HPE Office Based Presales EMEA
14
Click here to subscribe for the HPE Office Based Presales Technical Bulletin
Click here to access the repository to the HPE Office Based Presales Technical Bulletin
Enterprise Group News
HPE Converged Infrastructure solutions simplify your data center,
making it more energy and space-efficient while being less expensive
to operate. Find out how we help transform your legacy infrastructure
to achieve tomorrow's goals through IT convergence.
HPE Servers
Virtual Machine Explorer
Offered as Electronic License Starter Pack SKUs
supported on ProLiant DL and ML platforms, it should be
positioned when the customer needs a cost-effective,
easy to install and use backup solution for pure VMware
or Hyper-V environments.
 hp.com product page
 QuickSpecs Link
Microsoft Azure
In order to allow partners to integrate Azure Services into
a HPE ProLiant hybrid environment, HPE has launched a
new Azure Token Program
HPE and Microsoft have entered into an agreement to
resell tokens to be used towards any standard Azure
service(s) worldwide.
This is available as a single saleable HPE Option SKU
(like other Microsoft products being resold to customers
today), and should be positioned as an introductory offer
and advertised at full face value of USD $500. Note, only
1 Token can be sold per server, and is limited to 5 Tokens
per customer.
 hp.com product page
NVIDIA Accelerators
Highest end NVIDIA Graphics card with twice as much
memory as the previous version of it. Nambu: based on
NVIDIA's CUDA™ architecture, the NVIDIA accelerators
enable seamless integration of GPU computing with HPE
ProLiant servers for high-performance computing, large
data center graphics and virtual desktop deployments.
The NVIDIA Tesla M40 is based on the latest Maxwell
architecture.
 hp.com product page
 QuickSpecs
HPE Core HPC Software Stack
Integrated and validated, pre-composed software set for
HPC developers and HPC system admins. Consists of
open source components plus ICMU, Cluster Test Lite,
and Cluster Setup Tool from HPE, CUDA toolkit from
NVidia, and HPC-X from Mellanox. Distributed as a
download from HPC Software Depot as a single ISO
image. Runs on HPE servers only. No SKU. $0 cost
 hp.com product page
 QuickSpecs Link
HPE Storage
NEW! HPE StoreVirtual 3200 and HPE MSA 2042 bring High-End Capabilities to Entry
Storage
On August 15th, 2016, HPE announced new storage solutions that help small and midsized
businesses (SMBs) modernize their IT with hybrid flash and software-defined platforms that bring
enterprise capabilities to sub-$10K.


The new StoreVirtual 3200 (chalk talk) is next-gen, flexible shared storage with advanced
features and flash support starting at $6K.1
The new MSA 2042 (chalk talk) delivers hybrid flash and a built-in automated data tiering
engine to help SMBs make the most of that flash capacity to accelerate applications from
day one, starting at $10K.2
As an HPE partner, these new product offerings and upsell opportunities give you new ways to
aggressively expand your SMB footprint, bring flash to new segments of the storage market, and
cash in on upgrades and services.
Visit the HPE Partner Ready Portal and register for the following live training sessions to learn
more:

16 Aug '16, 4:30 PM CEST - HPE Storage Channel Partner TekTalk
(Eligible for 3 Knowledge Credits)

25 Aug '16, 5:00 PM CEST - HPE StorageTV – Winning with Storage in SMB
(Eligible for 2 Knowledge Credits)

7 Sept '16, 2:00 PM CEST - EMEA HPE Storage Channel PowerHour
(Eligible for 4 Knowledge Credits)
1
Estimated US street price for 1.2TB configuration with hardware and software.
2
Estimated US street price for 1.2TB configuration with hardware and software.
New: Using 3PAR Peer Persistence with Stretched Clustering to Avoid Downtime paper
from Silverton Consulting
This paper describes how our Peer Persistence technology together with stretched clustering
services can provide a fully automated HA and downtime avoidance solution for dual datacenter
environments.
German University Uses HPE 3PAR for Research and Students
This podcast is a must. HPEStorageGuy Calvin Zito sat down with Dr. Heinz-Hermann Adam at
Discover to discuss some of the features that are very important to the university and their use
of the 3PAR StoreServ File Controller (based on StoreEasy) for unstructured data, which they
have been doing for a long time—before we had the 3PAR File Persona!
HPE 3PAR StoreServ Storage delivers another home run, according to Demartek's new
evaluation
Read the latest ATSB post, SQL Testing on 3PAR All-Flash: It's Déjà Vu All Over Again to learn
how a famous "Yogi-ism" applies to HPE 3PAR StoreServ All-Flash Storage!
Enhanced Flash-Optimized Data Protection for HPE 3PAR StoreServ
Let's take a closer look at the data protection challenges RMC addresses and the key features,
benefits and value it delivers to HPE 3PAR StoreServ flash storage.
Crash Course: Data Protection Power for Your Apps with 3PAR and StoreOnce
HPE RMC 3.0 expands the RMC ecosystem to include Oracle Databases and 3PAR File
Persona. Learn everything you need to know about RMC in under 20 minutes with these great
resources.
New: Video surveillance with HPE 3PAR StoreServ with File Persona and Genetec
Omnicast technical white paper
This technical whitepaper for solution architects and project managers discusses how the HPE
3PAR StoreServ hybrid array with File Persona enabled together with Genetec Omnicast video
management software provides a comprehensive video surveillance solution. Read the paper
today.
BURA News
Introducing StoreEver Archive Manager
Increase your revenue, margins, competitive differentiation, and customer relevance with HPE
StoreEver Archive Manager. This new storage solution combines the access benefits of flash with
the economics and long-term retention benefits of tape. Now your customers can keep and
access more data, longer and for less. Use the following HPE StoreEver Archive Manager assets
created to support this release:
Customer Collateral
 HPE StoreEver Archive Manager Product Video
 HPE StoreEver Archive Manager Solution Brief
 HPE StoreEver Archive Manager Customer Presentation
White Papers
 HPE StoreEver Archive Manager Business White Paper
 HPE StoreEver Archive Manager Technical White Paper
 HPE StoreEver Archive Manager ESG Analyst White Paper
Web
 HPE StoreEver Archive Manager Chalk Talk
 HPE StoreEver Archive Manager Launch Blog
 HPE StoreEver Archive Manager Web Page
 BURAmeter microsite
Sales Guides
 HPE StoreEver Archive Manager Sales Guide
 HPE StoreEver Archive Manager Competitive Battlecard
StoreOnce Mobile
Watch this short YouTube tutorial showing you how to monitor your HPE StoreOnce system from
your mobile using the HPE StoreOnce Mobile app.
StoreOnce Plug-in for Oracle RMAN
This new offering integrates HPE StoreOnce with Oracle RMAN through HPE StoreOnce
Catalyst (a backup-optimized, high-performance protocol). Learn more about these Oracle data
protection solutions using the assets below:
 Recovery Manager Central for Oracle Solution Brief
 Oracle backup and recovery using the HPE StoreOnce Plug-in for Oracle Reference
Architecture
HPE Data Protector 9.07 and HPE Backup Navigator 9.40 now available!
Notifications about the availability of both product releases have gone out to customers from the
HPE Software Support team. Both products are available on the HPE Software Support website
> Software Patch section for Data Protector. See below for related assets to support this release.
HPE Data Protector 9.07
 Updated Quickspec
 Announcement blog
HPE Backup Navigator 9.40
 Updated Quickspec
 Announcement blog
HPE Networking
News and Resources:

Rio Airport Updates Network and Indoor Navigation (Baseline)

HPE Networking Product Portfolio Guide

Listing of all available HPE Networking public assets
Alliance Partners News
(also attached in high resolution as a pdf file)
Metro Cloud Connectivity: Integrated Metro SAN Connectivity in Gen 5 FC Switches
White Paper
As customers look to Fibre Channel Storage Area Networks (FC SANs) for building private
storage cloud services for their enterprise data centers, some of the key requirements are:




Consolidated and highly virtualized pools of compute, storage, and network resources
Secure and efficient use of inter-fabric connectivity
Lower capital and operational costs, higher asset utilization
On-demand and efficient provisioning of application resources through automated
management
HPE StoreFabric B-series now supports FOS 7.4.1d
FOS 7.4.1d is a patch release based on FOS 7.4.1c. All hardware platforms and features
supported in FOS 7.4.1c are also supported in FOS v7.4.1d.
For a detailed list of supported devices please visit the B-series FC matrix at SPOCK
Enterprise Group
Frequently Asked Questions
HPE Servers
Is Oracle database supported for OpenVMS on Itanium?
Yes, since July 2015 Oracle 11.2 version is supported with OpenVMS 8.4 (from HPE) and 8.41H1 (from VSI). Read more at the Oracle Recent Releases.
What is the graphic card of the ML10 gen9 server? Is it the Matrox G200? In the two
display ports on the back, is it possible to use a DisplayPort port to VGA converter?
No, the Matrox GPU is integrated in the iLO chip which does not come included with ML10 Gen9.
The display ports are provided by the integrated GPU of the processors (G4400 or E5 1125v5)
which support up to 3 displays (in the ML10 Gen9 it is physically limited to 2).
DisplayPort to VGA converter are not officially supported by HPE, however the ML10 gen9 has
standard DisplayPort, therefore, there is no reason it would not work.
Can NVMe drives be used for Operating System Boot purpose?
NVMe drives can be used as a boot device; however, the drive performance would be best
utilized for workloads that demand faster access to data.
What RAID levels are supported for the NVMe drives?
NVMe drives are attached to the PCIe interface directly and do not have a dedicated hardware
RAID engine similar to SAS controllers and thus the RAID is only supported thru the software
(ex. Windows mirror, Linux MD).
We need to know the differences between the following licenses:
 Red Hat Enterprise Linux Server 2 Sockets 1 Guest 1 Year Subscription 9x5
Support E-LTU (PN: J8J35AAE)
 Red Hat Enterprise Linux Server 2 Sockets or 2 Guests 1 Year Subscription 9x5
Support E-LTU (PN: G3J29AAE)
The difference is that the subscriptions with PN J8J35AAE includes rights for 2 sockets in a
single system and on top of it the right to deploy one Virtual Machine, while the PN G3J29AAE
includes the right to install RHEL in a 2 socket system or deploy 2 Virtual Machines.
The HPE Virtual Connect FlexFabric 10Gb/24-port Module uses internal ports for stacking.
When being used can I also use port X7 and X8?
No, the external ports X7 and X8 in the HPE Virtual Connect FlexFabric 10Gb/24-port Module
cannot be used when the Cross-links or "stacking ports" are being used. This can be confirmed
with the HP Virtual Connect FlexFabric Cookbook .
Can you clarify how iLO is licensed on the Apollo 2000 when using with regards to the
dedicated IM Board Kit and or the with RCM module?
Regardless the use of the RCM module or the IM Board kit, HPE iLO Advanced is licensed per
node. One license will be required for each node installed in the Apollo 2000.
Does iLO 4 support iPMI? Which version?
Yes, the iLO firmware follows the IPMI 2.0 specification. This can be confirmed with the iLO4
User Guide.
HPE Storage
If there are three types of drives (SSD, 10k and 7,2k) in the MSA 2040 will tiering work with
all three tiers or only two?
By default, the 'Standard' tiering mechanism will move data residing in one class of disks to a
more appropriate class of disks based on data access patterns. By default the Archive Tier will
not be used if capacity exists in the tiers above it. Also, the volume level Tier Affinity feature can
be used to preferentially assign volumes to a specific tier. Even then the data of such volume
may spill into other tiers if capacity of the preferred tier is exhausted. Please see the
HP MSA 1040/2040 SMU Reference Guide, chapter About automated tiered storage on p. 34 for
more information. Please also note that the use of SSDs as storage tier requires the Auto Tiering
license D4T79A (D4T79AAE E LTU).
We would like to know if there is any D3000 JBOD available that ships with DC power
supplies?
No, currently, we do not have a JBOD with DC power supplies in our portfolio.
What type of SFP ship with MSA 1040 FC? Can I use single-mode fiber?
No, the SFPs supplied are short wave SFPs that require the use of multi-mode fiber optic
cabling.
What is the recommendation regarding MTU in StoreVirtual VSA?
It is recommended that all devices on the same network segment (the path between the servers
and the storage cluster), including the network switches, must have the same frame size setting
(i.e. same MTU). For environments where the workloads are predominantly sequential we
recommend to use jumbo frames. For more information please see the HP StoreVirtual Storage
Network design considerations and best practices here
Is it possible to make the MSA 2040 use 10k drives as Archive tier and 15k drives as
Standard tier?
No, the MSA's automated tiering mechanism groups both 10k and 15k into the Standard tier and
there is no possibility to manually change this.
Are Direct Attach Cables supported on 3PAR StoreServ 8000 and 20000 storage arrays?
With the introduction of 3PAR OS 3.2.2 MU3, DAC connectivity is now available for 3PAR
StoreServ 8000 and 20000 platforms.
Can I upgrade a 3PAR StoreServ 8400 2N array with a different 3PAR 8400 2N in order to
obtain a 3PAR StoreServ 8400 4N array?
Please note this is not a supported procedure as a specific commercial Product Number for
upgrading a 3PAR 8400 2N to a 4N system is available.
Supported options can be found on the 3PAR StoreServ8000 series quick specs.
When a 3PAR StoreServ 8 node system, with a direct cage connectivity option, has
reached the maximum of 48 cages, could it be converted into daisy chained in order to
raise the maximum number of cages to 80?
Direct connect data cabling is enabled in 3PAR StoreServ 20000, please check the updated
hardware installation/upgrade guides.
HPE does not support changing a system from direct connect to daisy chain and from daisy
chain to direct connect.
Mixing direct connect and daisy chain connectivity in a system is not supported.
Can I schedule 3PAR Remote Copy Asynchronous Periodic replication for two arrays
replicating across two sites?
3PAR Remote Copy Asynchronous Periodic replication can be scheduled through the 3PAR CLI
via the "createsched" command.
This is possible after the initial synchronization of data across the two sites, where the full set of
data are replicated to the secondary site, the snapshot replication can be scheduled in order to
replicate the changes periodically.
For further details about configuring 3PAR Remote Copy software please consult the 3PAR
Remote Copy User guide; related CLI commands are listed in the HPE 3PAR Command Line
Interface Administrator's Manual.
HPE Networking
Does the 5130 HI switch support half-duplex?
Not supported.
Why can't IRF physical interfaces forward data traffic at the wire speed across chassis in
an IRF fabric?
The IRF physical interfaces add an HG header to each packet before they forward the packets to
the neighbor IRF member. The HG header uses part of the bandwidth.
What is the size of the packet buffers on 1920?
The packet buffer varies on different SKUs of 1920. The packet buffer is for the whole units.
8G or 24G models: 4.1 Mb (megabits) = 512KB (kilobytes)
48G models: 12 Megabits = 1.5 MB (megabytes)
About Office Based Presales EMEA
About HPE Office Based Presales EMEA
HPE Office Based Presales EMEA is an HPE and Channel Partner presales support centre.
Deliverables are provided as addon to the presales support for the Enterprise Group portfolio
products:






HPE Servers
HPE Storage
HPE Networking
Care Pack and warranty questions
Rack and Power
All related to Enterprise Group software
Office Based Presales is an exclusive service for HPE Platinum, Gold and Silver Partners as well
as Distributors, Corporate, Enterprise Accounts and the HPE community.
HPE Office Based Presales EMEA has various deliverables, some of which can be engaged
through:
Country
Phone number
Austria
00800 7031 7031
Belgium
00800 7031 7031
Denmark
00800 7031 7031
Finland
00800 7031 7031
France
00800 7031 7031
Germany
00800 7031 7031
Luxemburg
00800 7031 7031
Italy
00800 7031 7031
Ireland
00800 7031 7031
Netherlands
00800 7031 7031
Norway
00800 7031 7031
Portugal
00800 7031 7031
South Africa
00800 7031 7031
Spain
00800 7031 7031
Sweden
00800 7031 7031
Switzerland
00800 7031 7031
UK
00800 7031 7031
all others (English)
+ (44) 2030 276 872
Unison Partner Portal (Partners)
SFDC (HPE Employees only)
Web Form
Join our "Partner Ready Presales Communities" and select the Groups of your choice to get the
newest and hottest information on your topics and to discuss with your peers in HPE and other
partners.
Managing Editor: Radek Trojak
Important:
You, as the e-publication recipient, understand that the information contained in this e-publication
is subject to changes at HPE's discretion. Recipient acknowledges and agrees that the information
is provided on an "as is" basis. No warranties of any kind are given, whether expressed or implied.
Nothing in this e-publication shall be construed as an obligation to disclose any particular
information, to incorporate any disclosed information into products, to warrant the accuracy,
correctness or completeness of information disclosed. In no event will HPE be liable for any direct,
indirect, special, incidental or consequential damages, whether based on contract or tort or any
other legal theory. This limitation of liability does not apply in case of HPE's willful misconduct or
in case of mandatory liability under applicable law.