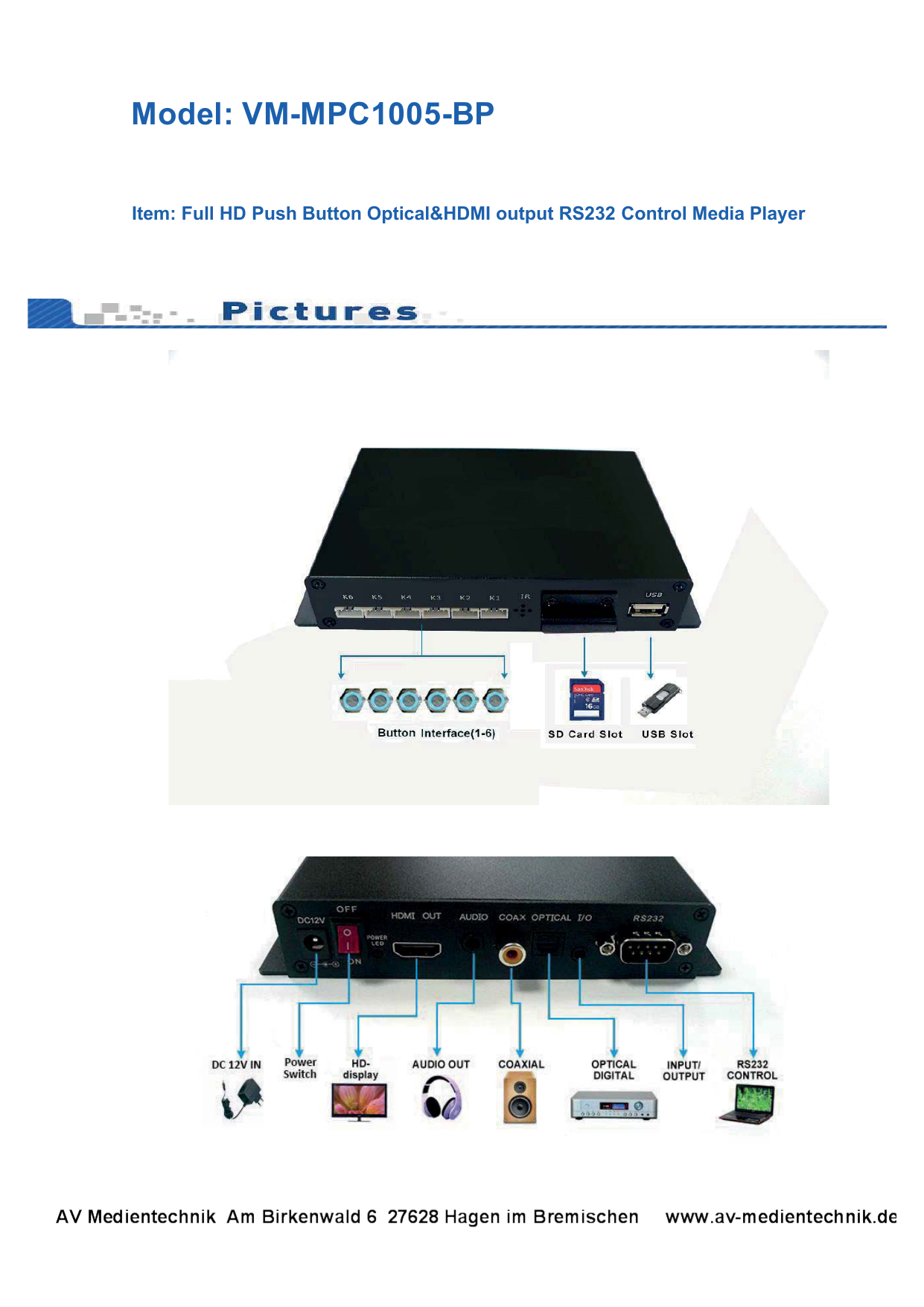 0RGHO 9003&%3
,WHP )XOO +' 3XVK %XWWRQ 2SWLFDO+'0, RXWSXW 56 &RQWURO 0HGLD 3OD\HU
Working mode: A. Auto-play when power on; B. Button control display; C.Custom control display;
D. RS232 control display
Button optional: 6pcs led buttons or 12pcs no led buttons
Support optical out(digital signal output)
Ideal replacement for Blue Ray and DVD video players.
Ideal playback unit for Large LCD and Plasma display.
Ideal for Synchronous playback.
High Definition Information Display for Resorts, Hotels, Restaurants, Shopping Malls, Airports, etc.
HD Video player for Museums and Science Center exhibits.
HD Video player for Interactive travelling exhibit.
HD Video information system for Theme Parks, Go-Kart tracks, Family Fun Parks.
Support real 1080P HD decode and HDMI output
Homepage files will auto play and loop play
Support multi language OSD
Support 10 kinds of slide transition modes
Full function remote control, easy operation
Metal shell
Video codecs supported
MPEG1/2/4、H.264、AVC、VC1、WMV、RM/RMVB、
DivX3/4/5/6、Xvid3/4/5/6
Video formats supported
RM/RMVB、AVI、TS、M2TS、MTS、MKV、MOV、FLV、
DVD-ISO、BD-ISO、VOB、MPG、DAT、ASF、TP、TRP、
WMV、IFO、SWF、3GP、EVO、DIVX、MP4、OGM
Audio codecs supported
HE, LPCM, AC3, DTS, DTS-HD MA(DTS output can
be down-mixed), Dolby Digital AC3 5.1, stereo
Supported Card
& Format
Audio formats supported
I/O
Other
MP3、WMA、WAV、OGG、FLAC、AAC、LC-AAC、
APE(Under 128KHz)
Image formats supported
JPEG、BMP、GIF、PNG、TIFF
Subtitle formats supported
Storage supported
SRT、SMI、SUB、SSA、IDX+SUB
SD/USB Device: 2.0 high speed
Interface
USB, SD, HDMI OUT, COAX, AUDIO OUT, I/O, OPTICAL
OUT, BUTTON INTERFACE, RS232
HDMI Output
Audio output
AC Power Input
DC Power Output
support 1920*1080P
2V±0.2V (10KΩ Load); S/N ≥85dB
AC: 100~240 V
12V / 1.5A
Operating temperature
0°C~ 40°C (32℉~104℉)
Shell color
Black
Remarks: We reserve the right of updating products and function without inform separately.

* Your assessment is very important for improving the work of artificial intelligence, which forms the content of this project