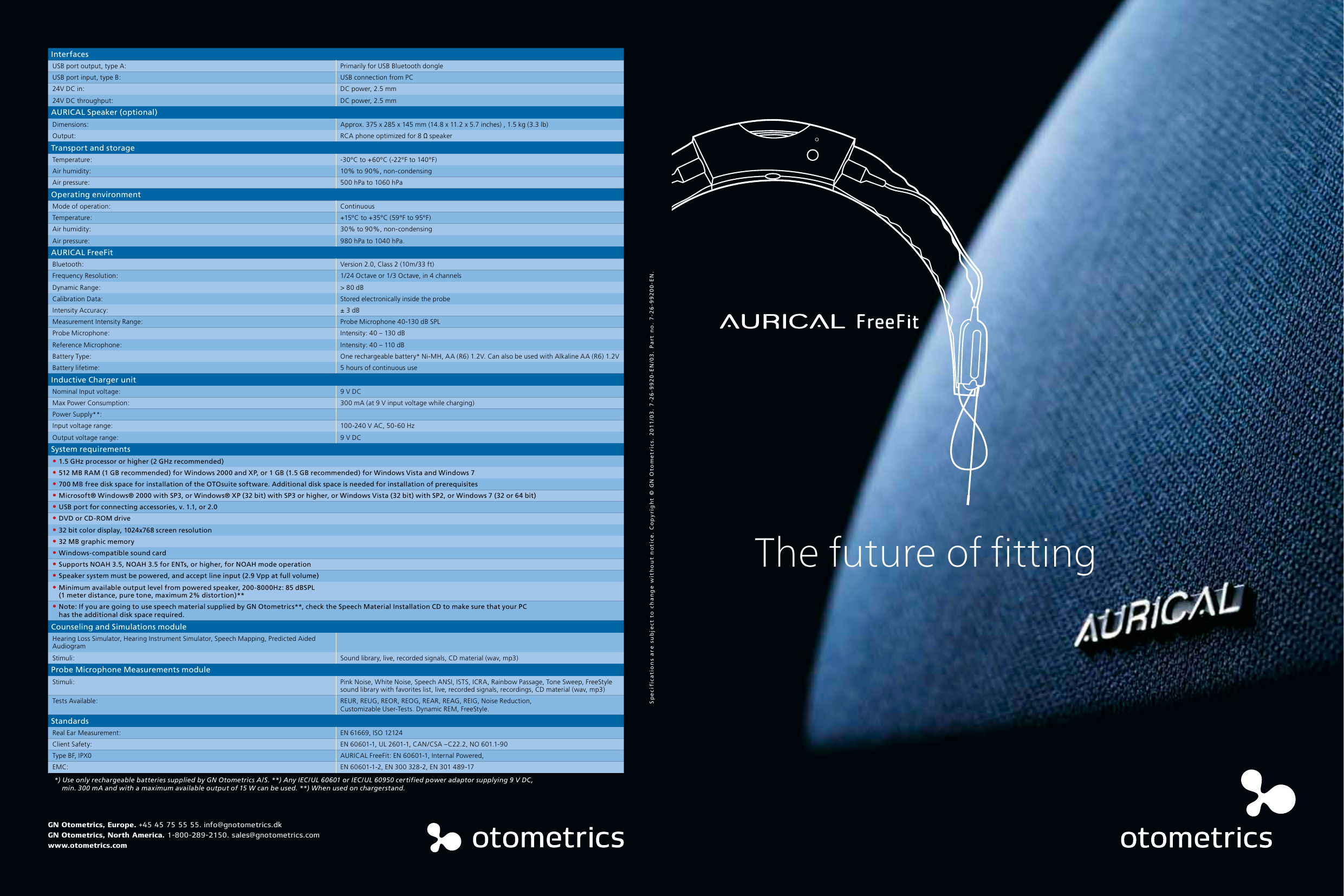 Interfaces
USB port output, type A:
Primarily for USB Bluetooth dongle
USB port input, type B:
USB connection from PC
24V DC in:
DC power, 2.5 mm
24V DC throughput:
DC power, 2.5 mm
AURICAL Speaker (optional)
Dimensions:
Approx. 375 x 285 x 145 mm (14.8 x 11.2 x 5.7 inches) , 1.5 kg (3.3 lb)
Output:
RCA phone optimized for 8 Ω speaker
Transport and storage
Temperature:
-30ºC to +60ºC (-22ºF to 140ºF)
Air humidity:
10% to 90%, non-condensing
Air pressure:
500 hPa to 1060 hPa
Operating environment
Mode of operation:
Continuous
Temperature:
+15ºC to +35ºC (59ºF to 95ºF)
Air humidity:
30% to 90%, non-condensing
Air pressure:
980 hPa to 1040 hPa.
Bluetooth:
Version 2.0, Class 2 (10m/33 ft)
Frequency Resolution:
1/24 Octave or 1/3 Octave, in 4 channels
Dynamic Range:
> 80 dB
Calibration Data:
Stored electronically inside the probe
Intensity Accuracy:
± 3 dB
Measurement Intensity Range:
Probe Microphone 40-130 dB SPL
Probe Microphone:
Intensity: 40 – 130 dB
Reference Microphone:
Intensity: 40 – 110 dB
Battery Type:
One rechargeable battery* Ni-MH, AA (R6) 1.2V. Can also be used with Alkaline AA (R6) 1.2V
Battery lifetime:
5 hours of continuous use
Inductive Charger unit
Nominal Input voltage:
9 V DC
Max Power Consumption:
300 mA (at 9 V input voltage while charging)
Power Supply**:
Input voltage range:
100-240 V AC, 50-60 Hz
Output voltage range:
9 V DC
System requirements
• 1.5 GHz processor or higher (2 GHz recommended)
• 512 MB RAM (1 GB recommended) for Windows 2000 and XP, or 1 GB (1.5 GB recommended) for Windows Vista and Windows 7
• 700 MB free disk space for installation of the OTOsuite software. Additional disk space is needed for installation of prerequisites
• Microsoft® Windows® 2000 with SP3, or Windows® XP (32 bit) with SP3 or higher, or Windows Vista (32 bit) with SP2, or Windows 7 (32 or 64 bit)
• USB port for connecting accessories, v. 1.1, or 2.0
• DVD or CD-ROM drive
• 32 bit color display, 1024x768 screen resolution
• 32 MB graphic memory
• Windows-compatible sound card
• Supports NOAH 3.5, NOAH 3.5 for ENTs, or higher, for NOAH mode operation
• Speaker system must be powered, and accept line input (2.9 Vpp at full volume)
• Minimum available output level from powered speaker, 200-8000Hz: 85 dBSPL
(1 meter distance, pure tone, maximum 2% distortion)**
• Note: If you are going to use speech material supplied by GN Otometrics**, check the Speech Material Installation CD to make sure that your PC
has the additional disk space required.
Counseling and Simulations module
Hearing Loss Simulator, Hearing Instrument Simulator, Speech Mapping, Predicted Aided
Audiogram
Stimuli:
Sound library, live, recorded signals, CD material (wav, mp3)
Probe Microphone Measurements module
Stimuli:
Pink Noise, White Noise, Speech ANSI, ISTS, ICRA, Rainbow Passage, Tone Sweep, FreeStyle
sound library with favorites list, live, recorded signals, recordings, CD material (wav, mp3)
Tests Available:
REUR, REUG, REOR, REOG, REAR, REAG, REIG, Noise Reduction,
Customizable User-Tests. Dynamic REM, FreeStyle.
Standards
Real Ear Measurement:
EN 61669, ISO 12124
Client Safety:
EN 60601-1, UL 2601-1, CAN/CSA –C22.2, NO 601.1-90
Type BF, IPX0
AURICAL FreeFit: EN 60601-1, Internal Powered,
EMC:
EN 60601-1-2, EN 300 328-2, EN 301 489-17
*) Use only rechargeable batteries supplied by GN Otometrics A/S. **) Any IEC/UL 60601 or IEC/UL 60950 certified power adaptor supplying 9 V DC,
min. 300 mA and with a maximum available output of 15 W can be used. **) When used on chargerstand.
GN Otometrics, Europe. +45 45 75 55 55. info@gnotometrics.dk
GN Otometrics, North America. 1-800-289-2150. sales@gnotometrics.com
www.otometrics.com
Specifications are subject to change without notice. Copyright © GN Otometrics. 2011/03. 7-26-9920-EN/03. Part no. 7-26-99200-EN.
AURICAL FreeFit
The future of fitting
The Probe Microphone
Measurement unit
PMM has never been easier
Newfound freedom
DY
Feedback Finder
Dynamic signal analysis, Percentile Analysis
Designed for OpenREM
FreeStyle Curve Zoom
FreeStyle Customized User-Test
Ergonomic user interface
NA
IC
REM
Userfriendly probe: The
integrated rulers make it
simple to insert the probe
tube correctly.
LE
PI
TY
NG
FREES
PMM
SPEECH M
A
P
AH
NO
ME
E
REA
DY
AUDIO
NC
R
• Wireless
• Binaural
• Configurable user tests and sequencing
• Intuitive user interface
• FreeStyle with Feature-2-Benefit mode
• FitAssist (Feedback Finder and Occluded
Probe-Tube Detector, OnTop mode)
• Real Speech stimuli including ISTS
• Dynamic Fitting using Percentile Analysis
• Chirp and OpenREM calibration
• ABR/ASSR data conversion
• Listen at the Eardrum
• Extensive sound library
• Dedicated noise reduction testing
• AURICAL Speaker (optional)
TA
M
See the videos about the
FreeFit at www.futurefitting.com
the FACTS
CO
There's no such thing as an average ear. The FreeFit
PMM increases client satisfaction because you can
verify fittings – with or without prescriptive targets.
It lets you fit with confidence – and makes your
clients feel confident in you. Being the only wireless
Probe Microphone Measurements solution, it adds
unprecedented flexibility and freedom to PMM. User
tests, binaural capability and pre-defined measurement
sequences make it fast and easy to use. And it includes
convincing tools that help you clearly demonstrate
the real benefits of hearing instruments like noise
reduction, directionality and the like. The FreeFit
consists of four unique elements: Dynamic REM,
Speech Mapping, FitAssist and the FreeStyle mode.
Y
E
TR
IMMIT
U
NS
RE
EL
PORTING
ING
HI
PMM
IST
FIT
SS
M
A
Wireless design: It's both
easy to fit for you and
comfortable for the
client to wear.
T
The AURICAL Family
Fully integrated with OTOsuite
The OTOsuite software integrates all the elements of the
new AURICAL. It's intuitive, easy to learn and easy to
use. It supports the entire client journey, from diagnostics
and counseling, to fitting and verification. Simple to use
user test functionality ensures configurable, consistent
and smooth workflows that can be customized to suit
individual needs. And you work in a single software
environment across modules. The result is a better fitting
experience – for you and for your client.