Sony ACC-CSBN Specification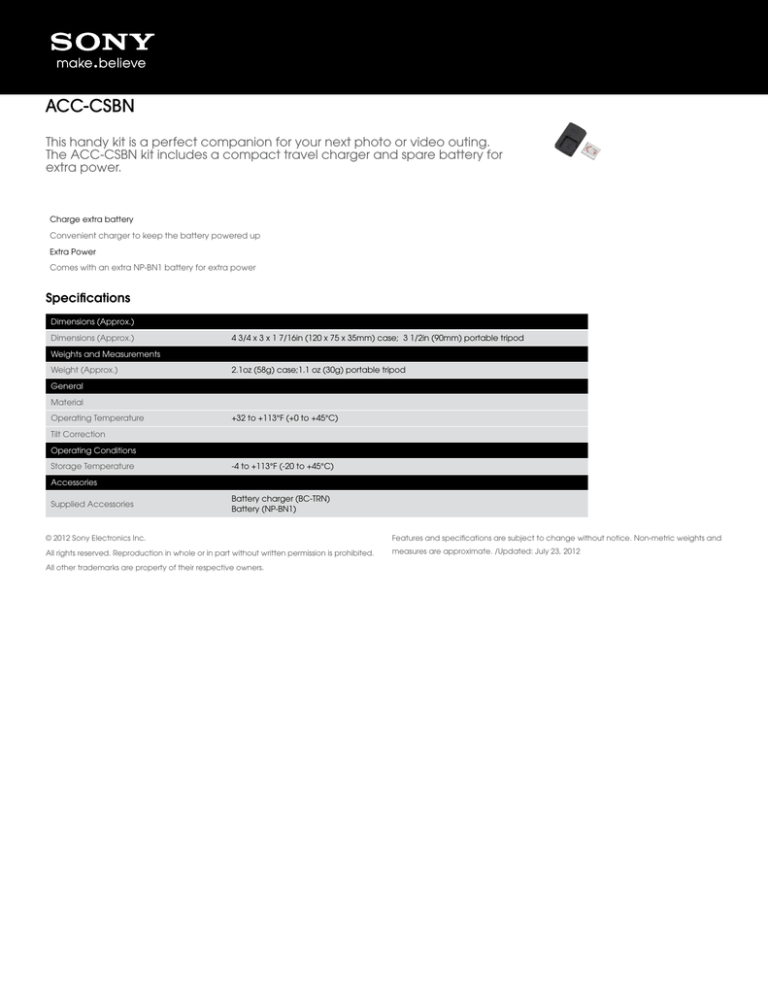 ACC-CSBN
This handy kit is a perfect companion for your next photo or video outing.
The ACC-CSBN kit includes a compact travel charger and spare battery for
extra power.
Charge extra battery
Convenient charger to keep the battery powered up
Extra Power
Comes with an extra NP-BN1 battery for extra power
Specifications
Dimensions (Approx.)
Dimensions (Approx.)
4 3/4 x 3 x 1 7/16in (120 x 75 x 35mm) case; 3 1/2in (90mm) portable tripod
Weights and Measurements
Weight (Approx.)
2.1oz (58g) case;1.1 oz (30g) portable tripod
General
Material
Operating Temperature
+32 to +113°F (+0 to +45°C)
Tilt Correction
Operating Conditions
Storage Temperature
-4 to +113°F (-20 to +45°C)
Accessories
Supplied Accessories
Battery charger (BC-TRN)
Battery (NP-BN1)
© 2012 Sony Electronics Inc.
Features and specifications are subject to change without notice. Non-metric weights and
All rights reserved. Reproduction in whole or in part without written permission is prohibited.
measures are approximate. /Updated: July 23, 2012
All other trademarks are property of their respective owners.

* Your assessment is very important for improving the work of artificial intelligence, which forms the content of this project