Sony DSC-TX5/B Important information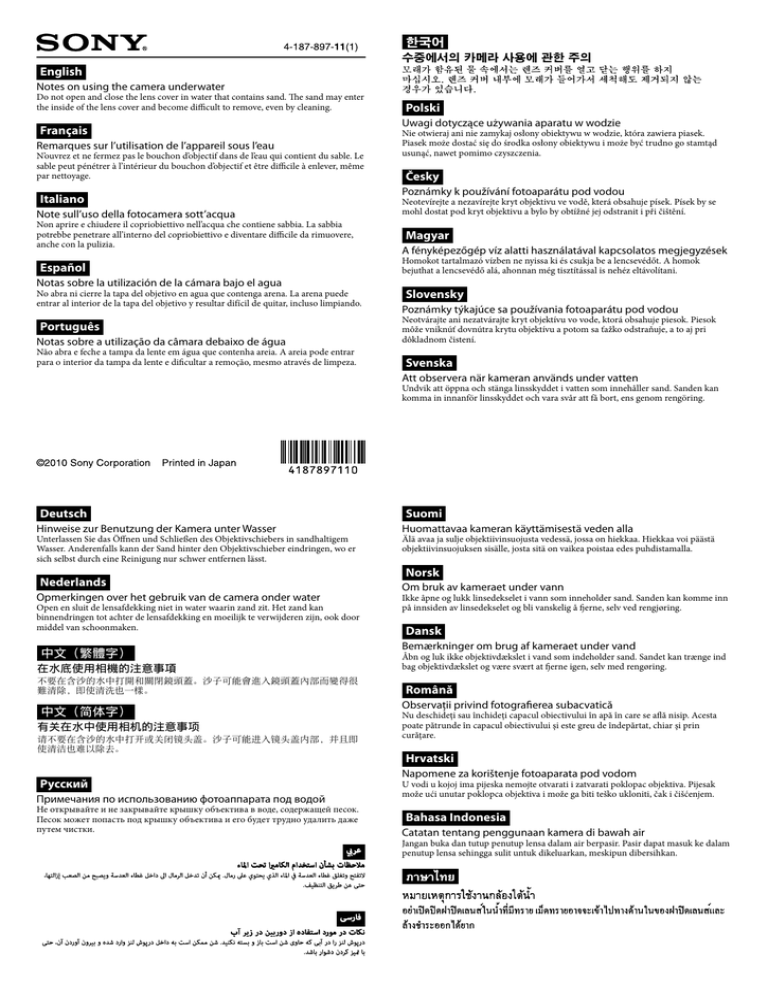 English
Notes on using the camera underwater
Do not open and close the lens cover in water that contains sand. The sand may enter
the inside of the lens cover and become difficult to remove, even by cleaning.
Polski
Uwagi dotyczące używania aparatu w wodzie
Français
Remarques sur l'utilisation de l'appareil sous l'eau
N'ouvrez et ne fermez pas le bouchon d'objectif dans de l'eau qui contient du sable. Le
sable peut pénétrer à l'intérieur du bouchon d'objectif et être difficile à enlever, même
par nettoyage.
Nie otwieraj ani nie zamykaj osłony obiektywu w wodzie, która zawiera piasek.
Piasek może dostać się do środka osłony obiektywu i może być trudno go stamtąd
usunąć, nawet pomimo czyszczenia.
Česky
Poznámky k používání fotoaparátu pod vodou
Italiano
Neotevírejte a nezavírejte kryt objektivu ve vodě, která obsahuje písek. Písek by se
mohl dostat pod kryt objektivu a bylo by obtížné jej odstranit i při čištění.
Note sull'uso della fotocamera sott'acqua
Non aprire e chiudere il copriobiettivo nell'acqua che contiene sabbia. La sabbia
potrebbe penetrare all'interno del copriobiettivo e diventare difficile da rimuovere,
anche con la pulizia.
Magyar
A fényképezőgép víz alatti használatával kapcsolatos megjegyzések
Homokot tartalmazó vízben ne nyissa ki és csukja be a lencsevédőt. A homok
bejuthat a lencsevédő alá, ahonnan még tisztítással is nehéz eltávolítani.
Español
Notas sobre la utilización de la cámara bajo el agua
No abra ni cierre la tapa del objetivo en agua que contenga arena. La arena puede
entrar al interior de la tapa del objetivo y resultar difícil de quitar, incluso limpiando.
Slovensky
Poznámky týkajúce sa používania fotoaparátu pod vodou
Neotvárajte ani nezatvárajte kryt objektívu vo vode, ktorá obsahuje piesok. Piesok
môže vniknúť dovnútra krytu objektívu a potom sa ťažko odstraňuje, a to aj pri
dôkladnom čistení.
Português
Notas sobre a utilização da câmara debaixo de água
Não abra e feche a tampa da lente em água que contenha areia. A areia pode entrar
para o interior da tampa da lente e dificultar a remoção, mesmo através de limpeza.
Svenska
Att observera när kameran används under vatten
Undvik att öppna och stänga linsskyddet i vatten som innehåller sand. Sanden kan
komma in innanför linsskyddet och vara svår att få bort, ens genom rengöring.
Deutsch
Suomi
Hinweise zur Benutzung der Kamera unter Wasser
Unterlassen Sie das Öffnen und Schließen des Objektivschiebers in sandhaltigem
Wasser. Anderenfalls kann der Sand hinter den Objektivschieber eindringen, wo er
sich selbst durch eine Reinigung nur schwer entfernen lässt.
Nederlands
Huomattavaa kameran käyttämisestä veden alla
Älä avaa ja sulje objektiivinsuojusta vedessä, jossa on hiekkaa. Hiekkaa voi päästä
objektiivinsuojuksen sisälle, josta sitä on vaikea poistaa edes puhdistamalla.
Norsk
Om bruk av kameraet under vann
Opmerkingen over het gebruik van de camera onder water
Open en sluit de lensafdekking niet in water waarin zand zit. Het zand kan
binnendringen tot achter de lensafdekking en moeilijk te verwijderen zijn, ook door
middel van schoonmaken.
Ikke åpne og lukk linsedekselet i vann som inneholder sand. Sanden kan komme inn
på innsiden av linsedekselet og bli vanskelig å fjerne, selv ved rengjøring.
Dansk
Bemærkninger om brug af kameraet under vand
ᶑ㓫濃䶥樸⪻濄
Åbn og luk ikke objektivdækslet i vand som indeholder sand. Sandet kan trænge ind
bag objektivdækslet og være svært at fjerne igen, selv med rengøring.
⚌㮘ⷹợ䒌䙜㧃䗨㱌びᷯ杩
ᵱ壥⚌⎏㯽䗨㮘ᶑㆷ擯⏰敀擭捅枑启Ɂ㯽⪴⍓偡㙧徖⃉捅枑启⃋恌佰嫮⻻⻬
晇㵩旈濇⋗ợ㵩㱻᷃ᵤ㦇Ɂ
Română
Observaţii privind fotografierea subacvatică
ᶑ㓫濃䫤ặ⪻濄
㙭⃗⚌㮘ᶑợ䒌䙜㚞䗨㱌びᷯ柝
孛ᵱ壥⚌⎏㯽䗨㮘ᶑㆷ⹤ㅺ⃗救擀⢘䘺Ɂ㯽⪴⍓偡弿⃉擀⢘䘺⃩恌濇ⷚᵸ⋗
ợ㵩㱥᷃昢ṉ旈⌟Ɂ
Nu deschideţi sau închideţi capacul obiectivului în apă în care se află nisip. Acesta
poate pătrunde în capacul obiectivului şi este greu de îndepărtat, chiar şi prin
curăţare.
Hrvatski
Napomene za korištenje fotoaparata pod vodom
Русский
U vodi u kojoj ima pijeska nemojte otvarati i zatvarati poklopac objektiva. Pijesak
može ući unutar poklopca objektiva i može ga biti teško ukloniti, čak i čišćenjem.
Примечания по использованию фотоаппарата под водой
Не открывайте и не закрывайте крышку объектива в воде, содержащей песок.
Песок может попасть под крышку объектива и его будет трудно удалить даже
путем чистки.
‫ﻋﺮيب‬
‫ﻣﻼﺣﻈﺎت ﺑﺸﺄن اﺳﺘﺨﺪام اﻟﻜﺎﻣريا ﺗﺤﺖ اﳌﺎء‬
،‫ ميﻜﻦ أن ﺗﺪﺧﻞ اﻟﺮﻣﺎل اﱃ داﺧﻞ ﻏﻄﺎء اﻟﻌﺪﺳﺔ وﻳﺼﺒﺢ ﻣﻦ اﻟﺼﻌﺐ إزاﻟﺘﻬﺎ‬.‫ﻻﺗﻔﺘﺢ وﺗﻐﻠﻖ ﻏﻄﺎء اﻟﻌﺪﺳﺔ ﰲ اﳌﺎء اﻟﺬي ﻳﺤﺘﻮي ﻋﲆ رﻣﺎل‬
.‫ﺣﺘﻰ ﻋﻦ ﻃﺮﻳﻖ اﻟﺘﻨﻈﻴﻒ‬
‫ﻓﺎرﺳﯽ‬
‫ﻧﮑﺎت در ﻣﻮرد اﺳﺘﻔﺎده از دورﺑﯿﻦ در زﯾﺮ آب‬
‫ ﺣﺘﯽ‬،‫ ﺷﻦ ﻣﻤﮑﻦ اﺳﺖ ﺑﻪ داﺧﻞ درﭘﻮش ﻟﻨﺰ وارد ﺷﺪه و ﺑﯿﺮون آوردن آن‬.‫درﭘﻮش ﻟﻨﺰ را در آﺑﯽ ﮐﻪ ﺣﺎوی ﺷﻦ اﺳﺖ ﺑﺎز و ﺑﺴﺘﻪ ﻧﮑﻨﯿﺪ‬
.‫ﺑﺎ متﯿﺰ ﮐﺮدن دﺷﻮار ﺑﺎﺷﺪ‬
Bahasa Indonesia
Catatan tentang penggunaan kamera di bawah air
Jangan buka dan tutup penutup lensa dalam air berpasir. Pasir dapat masuk ke dalam
penutup lensa sehingga sulit untuk dikeluarkan, meskipun dibersihkan.
£µ¬µÅš¥
®¤µ¥Á®˜»"µ¦ÄoŠµœ"¨o°ŠÄ˜oœÎʵ
°¥nµÁžd—žd— µžd—Á¨œ­ÍĜœÎʵš¸É¤¸š¦µ¥ Á¤È—š¦µ¥°µ‹‹³Á…oµÅžšµŠ—oµœÄœ…°Š µžd—Á¨œ­Í¨³
¨oµŠÎµ¦³°°"Å—o¥µ"
Bahasa Malaysia
Perhatian tentang menggunakan kamera di dalam air
Jangan membuka dan menutup penutup kanta di dalam air yang mengandungi pasir.
Pasir boleh memasukkan bahagian dalam penutup kanta dan sukar untuk dibuang,
walaupun dengan pencucian.
Türkçe
Fotoğraf makinesinin sualtında kullanımıyla ilgili notlar
Kumlu suda lens kapağını açıp kapatmayın. Lens kapağının içine kum girebilir ve
temizlemeyle bile çıkarılması zor olur.
Ελληνικά
Παρατηρήσεις για τη χρήση της κάμερας κάτω από το νερό
Μην ανοιγοκλείνετε το κάλυμμα φακού μέσα σε νερό που περιέχει άμμο. Η άμμος
μπορεί να εισέλθει μέσα στο κάλυμμα φακού και να είναι δύσκολο να απομακρυνθεί,
ακόμη και με καθαρισμό.
Українська
Примітки щодо використання фотоапарата під водою
Не відкривайте і не закривайте кришку об'єктива у воді, що містить пісок.
Пісок може потрапити під кришку об'єктива, звідки його буде складно
видалити, навіть під час чищення.

* Your assessment is very important for improving the work of artificial intelligence, which forms the content of this project