Sony ICF-CS15iPBLK User manual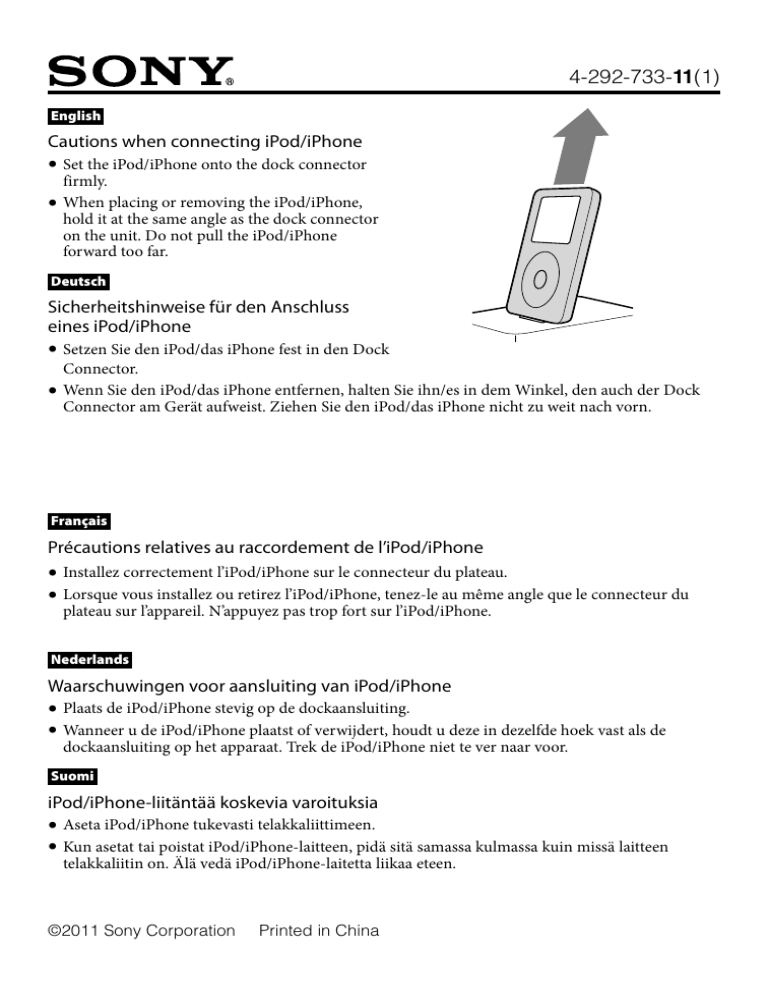 4-292-733-11(1)
English
Cautions when connecting iPod/iPhone
 Set the iPod/iPhone onto the dock connector
firmly.
 When placing or removing the iPod/iPhone,
hold it at the same angle as the dock connector
on the unit. Do not pull the iPod/iPhone
forward too far.
Deutsch
Sicherheitshinweise für den Anschluss
eines iPod/iPhone
 Setzen Sie den iPod/das iPhone fest in den Dock
Connector.
 Wenn Sie den iPod/das iPhone entfernen, halten Sie ihn/es in dem Winkel, den auch der Dock
Connector am Gerät aufweist. Ziehen Sie den iPod/das iPhone nicht zu weit nach vorn.
Français
Précautions relatives au raccordement de l'iPod/iPhone
 Installez correctement l'iPod/iPhone sur le connecteur du plateau.
 Lorsque vous installez ou retirez l'iPod/iPhone, tenez-le au même angle que le connecteur du
plateau sur l'appareil. N'appuyez pas trop fort sur l'iPod/iPhone.
Nederlands
Waarschuwingen voor aansluiting van iPod/iPhone
 Plaats de iPod/iPhone stevig op de dockaansluiting.
 Wanneer u de iPod/iPhone plaatst of verwijdert, houdt u deze in dezelfde hoek vast als de
dockaansluiting op het apparaat. Trek de iPod/iPhone niet te ver naar voor.
Suomi
iPod/iPhone-liitäntää koskevia varoituksia
 Aseta iPod/iPhone tukevasti telakkaliittimeen.
 Kun asetat tai poistat iPod/iPhone-laitteen, pidä sitä samassa kulmassa kuin missä laitteen
telakkaliitin on. Älä vedä iPod/iPhone-laitetta liikaa eteen.
©2011 Sony Corporation
Printed in China
Svenska
Att observera vid anslutning av iPod/iPhone
 Ställ ned iPod/iPhone i dockanslutningen ordentligt.
 När du sätter i eller tar bort iPod/iPhone, håller du
den i samma vinkel som enhetens dockanslutning.
Dra inte iPod/iPhone för långt framåt.
Português
Precauções para a ligação de iPod/iPhone
 Coloque o iPod/iPhone firmemente no conector da
base de ligação.
 Quando colocar ou retirar o iPod/iPhone, segure-o
no mesmo ângulo de inclinação que o conector da
base de ligação da unidade. Não puxe o iPod/iPhone demasiado para a frente.
Español
Precauciones para la conexión de un iPod/iPhone
 Coloque el iPod/iPhone en el conector de la bandeja con firmeza.
 Cuando coloque o retire el iPod/iPhone, sujételo en el mismo ángulo que el conector de la
bandeja de la unidad. No tire del iPod/iPhone demasiado hacia delante.
Italiano
Avvertenze per il collegamento di iPod/iPhone
 Collocare stabilmente l'iPod/iPhone sul connettore dock.
 Per posizionare o rimuovere l'iPod/iPhone, tenerlo con la stessa angolazione del connettore dock
dell'unità. Estrarre l'iPod/iPhone con la dovuta cautela.
Русский
Меры предосторожности при подключении iPod/iPhone
 Надежно установите iPod/iPhone в док-адаптер.
 Помещая на место или вынимая iPod/iPhone, держите его под таким же углом, под каким
док-адаптер установлен на устройстве. Не вытаскивайте iPod/iPhone слишком далеко
вперед.
Українська
Застереження щодо підключення iPod/iPhone
 Міцно встановіть iPod/iPhone у док-адаптер.
 Установлюючи або виймаючи iPod/iPhone, тримайте його під таким самим кутом, під
яким док-адаптер установлено на пристрої. Не витягайте iPod/iPhone надто далеко вперед.

* Your assessment is very important for improving the work of artificial intelligence, which forms the content of this project