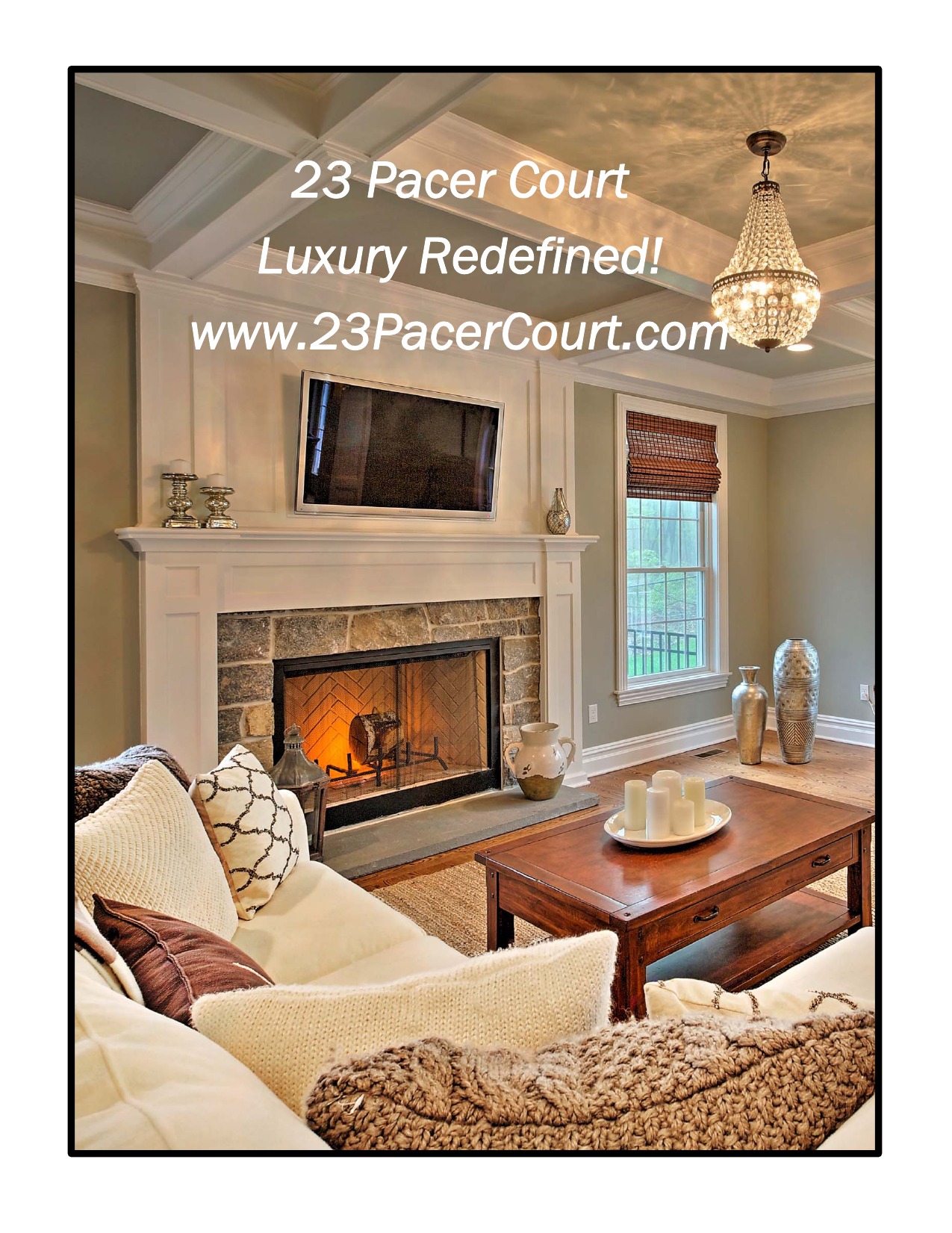 23 Pacer Court
Luxury Redefined!
www.23PacerCourt.com
23 Pacer Court
•
Price Upon Request
•
5BR, 7.1 Baths, Three Car Garage
Center Hall Colonial, 6.45 Acres, 5BR Septic, Well Water
Four Heating Units, Four Cooling Units, Natural Gas
Two Woodburning Fireplaces
Finished Basement with Full Bath, Theater, Exercise, Recreation, and Bonus Rooms
•
Location: Nestled in a cul‐de‐sac on a parklike 6.45 acres, 23 Pacer Court overlooks a large expanse of
lush lawn and wooded surroundings with peace and tranquility. Every conceivable upgrade and
amenity grace this exceptional home and property both inside and out ‐ move in and immediately
enjoy the finest construction Basking Ridge has to offer!
23 Pacer Court
•
Foyer / Hall: Wide true hardwood is intricately set with double mahogany inlay; impressive millwork
flanks both the dining and living rooms with raised panel wainscoting, and evidences that you have
entered a particularly fine home. Transom and side windows bathe the expansive foyer in natural light.
The turned oak staircase opens to accommodate a second large chandelier leading to the second level.
•
A timeless center hall colonial, this home has a
terrific flow and floor plan. Grounded in fine
woods and remarkable detail, this grand home
remains both comfortable and livable and
exudes a tranquil feel. Two closets provide
ample space for greeting guests.
23 Pacer Court
•
•
Living Room 14 X 17: Beautiful floor inlays continue into the sundrenched living room, with a triple
bay window adding additional living space and bringing the beautiful outdoor vistas inside. A wood
burning fireplace, one of two in this home, features a marble surround and carved mantle and is
balanced by two oversized windows on either side.
Guests mingle easily during more formal gatherings with the oversized entry into this room and the
effortless flow from the dining room, family room and kitchen.
23 Pacer Court
•
•
Dining Room 15 X 16: Handsome woodwork and a large triple bay window bring substance and style
to this impressive, yet comfortable room. Large enough to accommodate considerable gatherings, the
space is warmed by the harmonious floor and wall tones.
Intricate floor corners of mahogany inlay subtly declare the impressive luxury and craftsmanship of the
room without sacrificing warmth and livability. Oversized entry from the foyer area facilitates
entertaining, and service is a breeze through the butlers pantry leading into the kitchen.
23 Pacer Court
•
•
Family Room 16 x 15 : Both elegant and understated, the spacious family room exudes fine,
comfortable living. A sophisticated coffered ceiling balances a custom woodworked mantle and
fireplace enhanced by stone front and hearth, wired for flat screen TV monitors.
Large‐scale and triple windows flood the room with natural light and a glittering chandelier adds
character and interest in the evening hours. This warm and inviting room features an extensively
milled oversized entry into the kitchen, ensuring the cook can be part of the action in the family room.
23 Pacer Court
•
Kitchen 15 X 15, with separate Breakfast Area 15 X 13: You have found the kitchen of your dreams!
Furniture quality cabinetry in two pleasing tones, professional series appliances, two full sized
dishwashers, warming drawer, granite island countertop, two stainless steel sinks, recessed lighting
and double pendant chandeliers, and a masterful eye for detail and color make this kitchen a high
point of utility, design and aesthetics.
•
Appliances include a Thermador six burner range with oven, built in Thermador wall
oven/microwave/warming drawer unit, Bosche and Thermador dishwashers, and cabinet paneled
refrigerator/freezer.
•
The center island with undermount sink and overhang for seating adds depth and balance. The island
holds one dishwasher and provides a work sink and work space just inches from the range and main
oven. Two chandeliers add light and character to the already sunny kitchen and coordinate with
lighting throughout the first level. The carefully chosen granite countertops and custom travertine
backsplash with metal accents blend the tones of all woods, including the floor, to create a soothing
and sophisticated space for the nucleus of the home.
•
Preparing and serving your family and friends is a delightful occasion for everyone ‐ from every
vantage point, this kitchen is simply an amazing testament to the functionality, beauty, warmth, and
elegance of this home.
23 Pacer Court
•
Generous oversized soft close‐cabinet drawers plus both glass and closed door shelving provide all the
storage and display space you could imagine!
•
A dining room sized breakfast area flows easily into the family room and also leads to the outside Trex
style deck, travertine patio, saltwater pool and yard for your enjoyment.
•
A beautiful butlers pantry spans the hallway
between kitchen and dining room, offering
extra storage and countertop space. It is
equipped with wine cooler, granite countertop
with a third undermount stainless steel sink,
custom backsplash and glass doors for barware
display and storage.
•
Opposite the butlers pantry sits a large walk‐in
pantry, lined with shelving to house food and
appliances!
23 Pacer Court
•
•
Den 17 X 12: You will never run out of room in this expansive home! This large first floor room can be
utilized as an office, study space, play room, or den. It's located off the rear foyer and near the first
floor full bathroom.
Beautiful oversized triple windows, chandelier and the same luxurious hardwood and fine detailed
woodworking keep this extra room on par with every other room on the first floor ‐ your needs and
imagination can make anything work!
23 Pacer Court
•
•
Rear Foyer and Mud Room Area: Every amenity has been carefully planned in this lovely home and the
livable flow is unparalleled. Just off the kitchen lies this wonderful space with full closet, cubby spaces,
and rear entry door to the outside patio. A full bath sits opposite the cubbies and the extra den room and
the rear staircase give easy access to the second level.
Everyone moves from pool and patio to inside carefree and worry free! Slate flooring and full bath allows
for quick cleanup and clothing changes. This area also provides one of two accesses to the finished
basement, the upstairs rear staircase and garage.
•
•
Three large cubby spaces
and a large double closet
can hold pool towels and
daily jackets and shoes.
Tucked into the corner is a
large
closet,
pre‐
constructed on all three
levels of the home for
installation of an elevator
lift.
23 Pacer Court
•
•
Master Bedroom Suite ‐ 26 x 15 with Sitting Room 15 X 12: Enter from the main staircase into the
engaging master suite ‐ the perfect antidote to a hectic day. Multiple windows, tray ceiling with
chandelier and soothing tones create the perfect oasis. Double doors lead to a separate sitting room,
currently used as a nursery but easily transitioned into a private office or private sitting room.
An interior hallway leads to two separate walk‐in closets, fully outfitted with custom organization
systems.
23 Pacer Court
•
•
•
•
Master Bath: No detail has been missed in creating this spa‐like retreat. Luxuriate in the tranquil and
timeless accommodations: double vanity and sinks with separate storage towers, jetted tub with marble
and cherry surround are set off with gleaming marble flooring. A separate water closet and oversized
stall shower with glass door complete the look.
Intricate tiling, glass door and both wall and rain shower heads
make showering a pleasure no matter what time of day. Ample
space for toiletries surround the jetted tub and viewing your private
6 plus acres of natural settings while soaking will further your
relaxation.
Volume skylight ensures natural lighting is always present while
recessed and elegant lighting fixtures illuminate your personal spa.
Rubbed bronze fixtures on all faucets and cabinetry handles offset
handsome brown cherry woods and harmonize beautifully with the
granite, marble and exquisite tile.
23 Pacer Court
•
Four additional bedrooms, each with a bath en suite, are located on the second level
Dimensions for the rooms shown below are 16 X 15, 17 X 15: Rivaling the size of most master
bedrooms, the guest bedrooms offer beautiful hardwood floors, abundant walk‐in closet spaces
complete with organizers, chandeliers and recessed lighting and oversized windows with amazing
views. Each comes complete with full bathroom furnished with carefully selected decorative details.
23 Pacer Court
•
Two additional bedrooms also also have bath en suite: 22 X 12, 17 X 12: Every family member or
guest will appreciate unwinding in any of these large bedrooms, offering ample closet spaces with
organizers, hardwood floors, full ceiling trim and exceptional views from multiple windows. Custom tile
and granite enhance these full baths and complete the retreat feel.
23 Pacer Court
•
Laundry Room and Extended Hall: Completing the second level is a large laundry room with oversized
sink, double closet, and full furniture grade cabinetry. A second double linen closet is located in the
expanded hallway area, and two other walk in closets line the hallway. One closet is pre‐constructed to
accommodate an elevator lift.
23 Pacer Court
•
•
Finished Basement:
Heat up the popcorn and get ready to enjoy movies and sportscasts without ever leaving the house!
This outstanding finished basement runs the length of the house and has been thoughtfully divided
into separate purposeful living spaces. One main area houses a projection screen theater complete
with five reclining theater seats, two on a raised platform. Additional recreation space is located
behind the chairs providing room for gaming or other pursuits.
23 Pacer Court
•
•
Finished Basement: A second open living area has ample space for another living room, a pool table
and/or a future bar. Beautifully finished with thick carpeting and plenty of light from windows and
recessed lighting, this quality space will work for whatever function you desire.
Two other basement level rooms are behind closed doors: an office/bonus room with double closet
and an exercise room. A full bath with glass shower doors, cherry vanity and granite countertop
finishes this impressive basement.
23 Pacer Court
•
•
•
•
Back Yard: Welcome to your own private resort!
Embrace estate living at its best with the deliberate backyard design carefully incorporating Travertine
patio, salt water pool, Trex deck, stone fireplace, built‐in barbecue, lush landscaping and expansive
lawn area complete with playset area for the young crowd. There is nothing left for you to do but put
on a bathing suit, fire up the grill and enjoy!
Wooded acreage offers complete privacy and makes a magnificent backdrop for the distinctive design
of patio pool areas.
Memorable times with family and friends or impressive moments with clients begin the day you move
in!
23 Pacer Court
•
•
•
•
Pool ‐ approximately 900 sq ft freeform gunite salt‐water: indulge in water therapy and float your
troubles away in this custom built beauty with spa by award‐winning Custom Pool Pros, 2015.
Surrounded by travertine tile, coping and raised landscape wall, the oasis boasts 4 waterfalls, built‐in
bench seating, sunning shelf, sitting ledge, LED color lighting, and 4 deck jets.
Similarly equipped, the spa and the pool are easily controlled electronically.
Top notch construction and equipment means years of low maintenance pleasure ahead.
23 Pacer Court
•
•
•
•
Patio / BBQ / Fireplace Approx 1,800 sq ft: Choose beauty and serenity on a daily basis with outdoor
cooking and eating, followed by relaxed communal gatherings around the outdoor fireplace.
Premium silver travertine paver stones are further enhanced with cultured stone, granite and veneers
on the built‐in cooking and fireplace areas.
Outdoor kitchen encompasses 36" DCS gas grill with rotisserie, Primo Ceramic Smoker Grill, and Blaze
stainless steel refrigerator.
Level 18,000 sq ft of sod finishes the yard and wraps around the patio and pool, creating ample space
for athletic pursuits.
23 Pacer Court
•
•
•
•
•
•
Undeniable quality and understated luxury earmark a Horowitz designed home, and this outstanding
home marks a rare opportunity to purchase a choice example, with exhaustive upgrades and outdoor
improvements.
The extra space in this immaculate home cannot be overstated: 7.1 full baths, one dedicated to each
bedroom, wide hallways, large laundry room, incredible closets with organizing systems, full walk‐up
attic, finely finished basement rooms and outside living areas, all in addition to large, open main
rooms, making daily living and activities as tranquil as possible with today's hectic pace.
Full three story living for the mobility‐impaired is possible with pre‐constructed space for elevator
installation.
Located away from the bustle of town (yet never too far away) and still within a friendly cul‐de‐sac
neighborhood of large, wooded lots, 23 Pacer Court offers the best of estate living in a natural setting.
Highly prized is a heated, low maintenance salt water pool, and this one is beyond expectation with
waterfall embellishments , lazy soaking ledges and therapy spa.
It's hard to believe that such a beautiful and peaceful setting can be so convenient to major
transportation, transit, school, and shopping.
Home Theater Details
•
•
•
•
•
•
•
•
5 leather power recline home theater lounges with hidden storage, cup holder and swivel table **
Raised platform for Second row seating
Screen Innovations 105 inch Black Diamond Theater Screen **
Definitive Technologies 9.2 channel home theater speaker system with two UIW RLSII in‐wall
reference line speakers for main right and left channels, six DI 5.5 BPS bipolar in‐ceiling loudspeaker
for front high/atmos and rear surround
Mythos Ten on‐wall center channel **
Dual subwoofers include high performance Supercube 6000 (rear) and ProSub 1000 (front) **
JVC DLA ‐ X3 3D HDTV projector (1,300 lumens) with Active 3D shutter glasses and 3D IR emitter **
2 HDMI in‐wall cables
** Negotiable to remain with property; all other audio/visual components do not remain
Pool Details and Upgrades
•
•
•
•
•
•
•
•
•
•
Approximately 900 sq ft free form gunite salt‐water pool
Built 2015 by award winning pool builder Tom Lowbrow of Custom Pool Pros
Construction: 25' X 18" raised beam with travertine stone veneer and 4 waterfalls
Upgraded Pentair pool automation equipment including 40,000 BTU gas heater, IC40 salt‐water
chlorination, easy touch control system, upgraded media filtration, Pentair auto‐fill Intellibright LED
color lighting, and cleaner booster pump
100 ft sun shelf in shallow end plus 6' X 2 ' love seat in deep end with walk out shelf and separate
sitting ledge
Pool is 8 ft deep at deepest end
4 deck jets
50 sq ft spa with 8 hydro therapy jets, built in bench, light, upgraded 2 HP blower and side controller
Custom Ultrasolid pool cover by Garrettliners with pump
Construction specs far exceeding industry standard (i.e. 2" plumbing using schedule 40 PVC, never
lube valves, #4 steel, commercial‐grade skimmers, etc.)
Patio / BBQ / Fireplace Details
•
•
•
•
•
•
•
•
Approximately 1,800 sq ft premium Silver travertine stone paver patio
Three 8 ft wide steps with cracked travertine veneer
15 ft BBQ with EP Henry cultured stone and granite top
DCS 36" gas grill with rotisserie, Primo Oval XL Ceramic Smoker Grill, Blaze 5.5 Cu Ft Outdoor Stainless
Steel Compact Refrigerator ‐ UL Approved, 2 electrical outlets
Wood burning fireplace with EP Henry cultured stone veneers
8 post lamps and 3 low‐voltage landscape posts
Upgraded 120 linear feet of 54" 3 rail fence with dual 4 ft wide gets on sides
Landscaping includes 18,000 sq ft of sod in rear yard, upgraded irrigation system with Hunter I‐Core
Commercial Irrigation controller
Reliable but not guaranteed. Not all sizes and features may be available
Floor plans provided for illustrative purposes only and there is no warranty as to accuracy.
Floor Plan Main Level
Reliable but not guaranteed. Not all sizes and features may be available
Floor plans provided for illustrative purposes only and there is no warranty as to accuracy.
Floor Plan Second Level
Reliable but not guaranteed. Not all sizes and features may be available
Floor plans provided for illustrative purposes only and there is no warranty as to accuracy.
Floor Plan Lower Level
Survey
Multiple Listing Spec Sheet
Education in The News
LIBERTY CORNER ELEMENTARY SCHOOL
AWARDS
Source: www.Bernardsboe.com
US News and World Report rates Ridge High School among the Best, and
gives it a gold rating!
Below summary courtesy of US News and World Report Site
Basking Ridge
Notes
Notes
23 Pacer Court
I am proud to be the listing agent for this beautiful home . Please visit this home's
website for more details and an ecopy of this brochure.
For an appointment, call:
Marie Young, Sales Associate
Coldwell Banker Residential Brokerage
One South Finley Avenue
Basking Ridge, NJ 07920
908.766.8368 Office
908.938.2525 Cell
"Coldwell Banker congratulates Marie for her 2015 achievements as the top
producer in the Basking Ridge office, with over 30 closed transactions and over
$23MM in sales volume. Real Trends, a 3rd party Zillow-affiliated agency, has
named her one of "America's Best Real Estate Agents," scoring in the top 90 in all of
NJ for sales volume from thousands of agents. Marie has once again ranked in the
Top 25 of individual agents in Coldwell Banker NJ and Rockland for 2015
production, and she has also won the Five Star Professional Designation. Please
join us in congratulating Marie." NCJAR Circle of Excellence Sales Award –
Platinum 2013, 2014, 2015
© 2003—2016 www.marieyoung.net
© 2016 Coldwell Banker Real Estate Corporation. Coldwell Banker® is a registered trademark licensed to Coldwell Banker Real Estate
Corporation. An Equal Opportunity Company. Equal Housing Opportunity. Owned and Operated by NRT Incorporated.
If your property is currently listed with a real estate broker, please disregard. It is not our intention to solicit the offerings of other real estate
brokers. We are happy to work with them and cooperate fully.
The information contained in this newsletter is from sources believed reliable, but not verified nor guaranteed and is subject to change without
notice. Not responsible for typographical errors. You are advised to seek legal, tax, mortgage and other advice from licensed professionals.