Sony NEX-3N Specification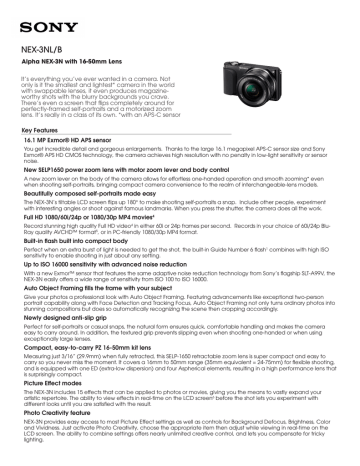 NEX-3NL/B
Alpha NEX-3N with 16-50mm Lens
It's everything you've ever wanted in a camera. Not
only is it the smallest and lightest* camera in the world
with swappable lenses, it even produces magazineworthy shots with the blurry backgrounds you crave.
There's even a screen that flips completely around for
perfectly-framed self-portraits and a motorized zoom
lens. It's really in a class of its own. *with an APS-C sensor
Key Features
16.1 MP Exmor® HD APS sensor
You get incredible detail and gorgeous enlargements. Thanks to the large 16.1 megapixel APS-C sensor size and Sony
Exmor® APS HD CMOS technology, the camera achieves high resolution with no penalty in low-light sensitivity or sensor
noise.
New SELP1650 power zoom lens with motor zoom lever and body control
A new zoom lever on the body of the camera allows for effortless one-handed operation and smooth zooming* even
when shooting self-portraits, bringing compact camera convenience to the realm of interchangeable-lens models.
Beautifully composed self-portraits made easy
The NEX-3N's tiltable LCD screen flips up 180° to make shooting self-portraits a snap. Include other people, experiment
with interesting angles or shoot against famous landmarks. When you press the shutter, the camera does all the work.
Full HD 1080/60i/24p or 1080/30p MP4 movies4
Record stunning high quality Full HD video4 in either 60i or 24p frames per second. Records in your choice of 60i/24p BluRay quality AVCHD™ format5, or in PC-friendly 1080/30p MP4 format.
Built-in flash built into compact body
Perfect when an extra burst of light is needed to get the shot, the built-in Guide Number 6 flash1 combines with high ISO
sensitivity to enable shooting in just about any setting.
Up to ISO 16000 sensitivity with advanced noise reduction
With a new Exmor™ sensor that features the same adaptive noise reduction technology from Sony's flagship SLT-A99V, the
NEX-3N easily offers a wide range of sensitivity from ISO 100 to ISO 16000.
Auto Object Framing fills the frame with your subject
Give your photos a professional look with Auto Object Framing. Featuring advancements like exceptional two-person
portrait capability along with Face Detection and Tracking Focus, Auto Object Framing not only turns ordinary photos into
stunning compositions but does so automatically recognizing the scene then cropping accordingly.
Newly designed anti-slip grip
Perfect for self-portraits or casual snaps, the natural form ensures quick, comfortable handling and makes the camera
easy to carry around. In addition, the textured grip prevents slipping even when shooting one-handed or when using
exceptionally large lenses.
Compact, easy-to-carry PZ 16-50mm kit lens
Measuring just 3/16" (29.9mm) when fully retracted, this SELP-1650 retractable zoom lens is super compact and easy to
carry so you never miss the moment. It covers a 16mm to 50mm range (35mm equivalent = 24-75mm) for flexible shooting,
and is equipped with one ED (extra-low dispersion) and four Aspherical elements, resulting in a high performance lens that
is surprisingly compact.
Picture Effect modes
The NEX-3N includes 15 effects that can be applied to photos or movies, giving you the means to vastly expand your
artistic repertoire. The ability to view effects in real-time on the LCD screen6 before the shot lets you experiment with
different looks until you are satisfied with the result.
Photo Creativity feature
NEX-3N provides easy access to most Picture Effect settings as well as controls for Background Defocus, Brightness, Color
and Vividness. Just activate Photo Creativity, choose the appropriate item then adjust while viewing in real-time on the
LCD screen. The ability to combine settings offers nearly unlimited creative control, and lets you compensate for tricky
lighting.
Superior Auto mode
Use Superior Auto mode to shoot photos and movies with the ease of a compact digital camera. In this mode, the
camera recognizes the current shooting environment then adjusts settings for optimal results. Superior Auto also includes
Auto HDR and Hand-held Twilight modes, both of which employ image compositing technology to handle difficult lighting
by recording multiple images at high speed then compositing them to produce the final photo.
Anti-Motion Blur mode
Corrects for subject movement to capture amazingly clean and sharp images in low light. The camera leverages the
large, APS-C image sensor and captures six images in a fraction of a second. Combining the data from all six creates a
single image that minimizes subject blur.
Hand-held Twilight Mode
Get cleaner and sharper nighttime pictures—beyond the capability of traditional cameras—without using flash or a tripod.
The camera leverages the large, APS-C image sensor and captures six images in a fraction of a second. Combining the
data from all six creates a single image of extraordinary detail and low noise.
Face Detection/Smile Shutter
Set NEX-3N to recognize faces and smiles. Face Detection locates up to eight faces in a composition then adjusts
exposure, white balance and other settings based on these faces. Smile Shutter — adjustable in three levels —
automatically takes a shot when smiles in the scene are at their brightest.
Creative Style
Tailor the look of photos and movies before shooting. Choose from one of six settings — Standard, Vivid, Portrait,
Landscape, Sunset or Black & White — depending on the scene or your creative intent.
Speed Priority Continuous mode
Freeze fast-moving subjects by shooting at up to 4 fps. This is the ideal solution for photographing sports, children at play or
other action.
Up to 480 Shots6 of battery life
Take up to 480 shots on a single charge6 with Sony® lithium ion Stamina™ battery power. Sony's InfoLITHIUM® battery
system enables you to see the percent of power remaining, so you can keep shooting in confidence.
PlayMemories Home supplied software5
Free, easy-to-use PlayMemories Home image management software automatically installs onto Windows PC's for Sony
Digital Camera users. Download photos and movies onto your computer then view, organize, edit, retouch, print, burn to
disk, share or upload to social networking websites.5
Supplied accessories
The kit includes a NP-FW50 Lithium ion rechargeable battery, AC-UB10 USB AC charger (in-camera battery charging),
Mini-B USB cable, and shoulder strap.
Specifications
Camera
Lens Compatibility
Sony E-mount, operation with Minolta/Konica Minolta Maxxum A-mount lenses
confirmed via optional LA-EA1 / LA-EA2 adaptor
Lens Mount
Sony E-mount
Camera Type
Interchangeable Lens Digital SLR camera
Imaging Sensor
Imaging Sensor
Exmor™ APS HD CMOS sensor (23.5 X 15.6mm)
Processor
BIONZ™ image processor
Pixel Gross
16.5M pixels (approx.)
Effective Picture Resolution
16.1M pixels (approx.)
Focal Length Conversion Factor
1.5x
Color Filter System
RGB primary color filters
Recording
Media Type
Memory Stick PRO Duo™ / Pro-HG Duo™ media; SD, SDHC and SDXC memory
card
Color Space
sRGB standard (with sYCC gamut) and Adobe RGB standard compatible with
TRILUMINOS™ Color
Still Image Mode
JPEG (Standard, Fine, Extra Fine), RAW, RAW+JPEG
Still Image Max Effective Resolution
Memory Stick PRO Duo™ / Pro-HG Duo™ media; SD, SDHC and SDXC memory
card
Still Image Size 16:9
L (14 MP) 4912 x 2760, M (7.1 MP) 3568 x 2000, S (3.4 MP) 2448 x 1376
Still Image Size 3:2
L (16 MP) 4912 x 3264, M (8.4 MP) 3568 x 2368, S (4 MP) 2448 x 1624
Panorama Still Image Size
Horizontal Wide: 12,416 x 1,856 (23M)
Horizontal Std.: 8,192 x 1,856 (15M)
Vertical Wide: 2,160 x 5,536 (12M)
Vertical Std.: 2,160 x 3,872 (8.4M)
Video Format
AVCHD / MP4 (MPEG-4 AVC (H.264))
Video Mode
AVCHD:
FX - 1920 x 1080/[email protected]
FH - 1920 x 1080/[email protected]
FX - 1920 x 1080/[email protected]
FH - 1920 x 1080/[email protected]
MP4:
HD - 1440 x 1080/[email protected]
VGA - 640 x 480/[email protected]
Video Signal
NTSC color, EIA standards
Audio Format
Dolby Digital (AC-3) / MPEG-4 AAC-LC
Microphone/Speaker
Built-in Stereo Microphone
Still Image File Format
JPEG (DCF Ver. 2.0, Exif Ver.2.3, MPF Baseline compliant), RAW (Sony ARW
2.3format), 3D MPO (MPF Extended compliant)
LCD Display
LCD Type
3.0" TFT LCD (460,800 dots)
Angle Adjustment
Tilt angle: Up: 180 degrees; Down: Approx. 13 degrees
Brightness Control
Auto, Manual (5 steps between -2 to +2)
Coverage
100%
Live View
Continuous Live View
Real-time image adjustment display
Yes (On/Off)
Histogram
Yes (On/Off)
Peaking
Yes (Level setting: High / Mid / Low / Off, Color: White / Red / Yellow)
Grid Display
Yes (Rule of Thirds, Square Grid, Diagonal + Square Grid, Off)
Customization
Grid, Histogram display, Grid Line, Magnified display for playback
Focus Control
Focus System
Contrast-detect AF
Focus Points
25 points
AF Modes
Single-shot AF(AF-S), Continuous AF(AF-C), Auto Focus, Direct Manual Focus (DMF),
Manual Focus
Focus Area
Multi Point (25 points) / Center-weighted / Flexible Spot
Focus Sensitivity
EV 0 to 20 EV (at ISO100 equivalent, with F2.8 lens attached)
Focus Features
Predictive control (AF-A, AF-C), Focus Lock
AF Illuminator
Built-in LED, Range: approx. 3' 4" - 9' 9" (0.3m-3.0m)
Exposure System
Picture Effect(s)
11 modes (15 effects): Posterization (Color, B/W), Pop Color, Retro Photo, Partial
Color (R,G,B,Y), High Contrast Mono, Toy Camera, Soft High-key, Soft Focus, HDR
Painting, Rich-tone Mono, Miniature
Auto Exposure Lock
Yes (AE Lock button). Can be disabled from menu
Color Temperature
2500 – 9900K with 15-step each Magenta/Green compensation (G7 to M7),
Amber/Blue (A7 to B7), Custom
Creative Style
Standard, Vivid, Portrait , Landscape, Sunset, Black & White (Contrast (-3 to
+3steps), Saturation(-3 to +3steps), Sharpness(-3 to +3steps)
D-Range Optimizer
Yes: (Auto, Level, Off)
Exposure Bracketing
3 continuous or single shots in 1/3 or 2/3 EV steps
Exposure Compensation
Still images: +/-3.0 EV (1/3EV steps selectable)
Movies: +/-2.0 EV (1/3EV steps selectable)
Exposure Settings
iAUTO, Superior Auto, Programmed AE (P), Aperture priority (A), Shutter-speed
priority (S), Manual (M), Sweep Panorama, Scene Selection
ISO
Stills: ISO 100-16000 selectable in 1 EV steps, Auto (100-3200)
Movies: ISO 100-3200 selectable in 1 EV steps, Auto (200-3200)
Metering
Advanced 1200-zone evaluative metering
Metering Modes
Multi-segment, Center-weighted, Spot
Metering Sensitivity
EV 0 to 20 EV (at ISO100 equivalent, with F2.8 lens attached)
Noise Reduction
Long Exposure NR: (On/Off, available at shutter speeds longer than 1 second) High
ISO NR: (High/Normal/Low)
Scene Mode(s)
Portrait, Landscape, Macro, Sports Action, Sunset, Night Portrait, Night View, Handheld Twilight, Anti Motion Blur
White Balance Mode
Auto, Daylight, Shade, Cloudy, Incandescent, Fluorescent, Flash, Color
temperature range 2500 to 9900K, Custom
Drive System
Burst Buffer
JPEG Standard (9 shots)
JPEG Fine (9 shots)
RAW (5 shots)
RAW+JPEG (4 shots)
Continuous Shooting Speed
Continuous mode: 2.5 fps, Speed Priority Continuous mode: 4 fps
Drive Mode
Single-shot, Continuous, Speed Priority Continuous, Self-timer (10/2 sec. delay),
Self-timer (Cont.) (with 10 sec. delay; 3/5 exposures), Bracketing
Self-timer
2-sec. or 10-sec. delay
Shutter Speeds
1/4000 to 30 seconds, bulb
Shutter Type
Electronically-controlled, vertical-traverse, focal-plane shutter
Flash
Flash Bracketing
±2.0 EV
Flash Compensation
±2.0 EV (switchable between 1/3 EV steps)
Flash Coverage
16 mm (focal length printed on lens body)
Flash Metering System
Pre-flash TTL
Flash Modes
Flash off, Auto flash, Fill-flash, Slow Sync., Rear Sync.
Flash Type
Built-in, Pop-up Auto
Guide Number
6 (in meters at ISO200) 4 (in meters at ISO100)
Recycling Time
Approx. 3 sec.
Convenience Features
Self Timer
Yes,10/2 second delay selectable
Red-Eye Reduction
Yes, On/ Off selectable
Media/Battery Indicator
Yes
View & Index
Single (with or without shooting information), RGB histogram and highlight/shadow
warning, 4/9-frame index view, Enlarged display mode (L: 13.6x, M: 9.9x, S: 6.8x),
Auto Review (10/5/2 sec, Off), Image orientation (On/Off), Slideshow, Panorama
scrolling, Folder selection (still), Forward/Rewind (movie), Delete, Protect
Advanced Features
Face Detection
On, Off, Face Registration, Face Selection; maximum eight faces detected
Smile Shutter™ technology
Smile shutter (selectable from 3 steps)
Image Stabilization
Lens-based (where applicable)
Auto High Dynamic Range
Yes, (Auto Exposure Difference, Exposure difference Level (1-6 EV at 1.0 EV step),
off)
Priority Setting (for Face Detection)
Yes (eight faces max)
Sweep Panorama
Horizontal (Wide / Standard), Vertical (Wide / Standard)
Interface
BRAVIA® Sync™
Yes, via HDMI® with compatible BRAVIA HDTV (link menu)
DC IN
Yes via optional AC-PW20AM (sold separately)
HD Output
HDMI® (Type C mini)
Memory Card Slot
Dual compatibility slot: Memory Stick PRO Duo™ / Pro-HG Duo™ / PRO-HG HX
Duo™ media - SD, SDHC and SDXC memory card
PhotoTV HD
Yes, with BRAVIA Sync enabled HDTV and HDMI® cable
Tripod Mount
Yes
USB Port(s)
USB 2.0 Hi-speed (mass-storage, MTP)
Weights and Measurements
Dimensions (Approx.)
Approx. 4-3/8 × 2-2-1/2 × 1-3/8 in (109.9 x 62 x 34.6 mm) (W / H / D) excluding
protrusions
Weight (Approx.)
With battery and Memory Stick PRO Duo Approx. 9.5 oz. (269 g)
Weight(Approx) (Main unit only)
Approx. 7.4 oz. (210 g)
Power
Battery Type
InfoLITHIUM® NP-FW50 (7.2V)
Battery Capacity
1020 mAh
Number of Still Images
Approx. 480 images with LCD monitor (CIPA standard)
Software
Supplied Software
Supplied Software: PlayMemories Home, Image Data Converter Version 4
Operating System Compatibility
Operating System Compatibility: Windows® XP SP3 (64-bit and Starter Editions are
not supported, Windows Image Mastering API (IMAPI) Ver.2.0 or later is required
to use the function for creating discs.) Windows Vista® SP2 (Starter Edition is not
supported) Windows® 7 SP1; Windows® 8; Mac OS X (v10.5 -v10.8) (Image Data
Converter, PlayMemories Home is not Mac compatible)
Service and Warranty Information
Limited Warranty Term
1 Year Parts & Labor
Accessories
Supplied Accessories
SELP1650 lens
Lens cap
Rechargeable battery (NP-FW50)
AC adaptor (AC-UB10)
Shoulder strap
Body cap
Micro USB cable
1. In meters, IS0 100
2. Records in 29 minute segments
3. Actual performance varies based on settings, environmental conditions, and usage. Battery capacity decreases over time and use.
4. Files compatible with iMovie® '09 or later on Mac. Software not compatible with Mac OS® X.
5. Among interchangeable-lens cameras with an APS-C sensor and built-in flash as of February 2013.
6. The following modes are not displayed in real-time and cannot be applied to movies: HDR Painting, Rich-tone Monochrome, Soft Focus and Miniature.

* Your assessment is very important for improving the work of artificial intelligence, which forms the content of this project